A GoPride Interview
Sarah Silverman
The divine Sarah: an interview with Sarah Silverman
Letting your freak flag fly is something, no matter who you are, that takes great bravery, straight up.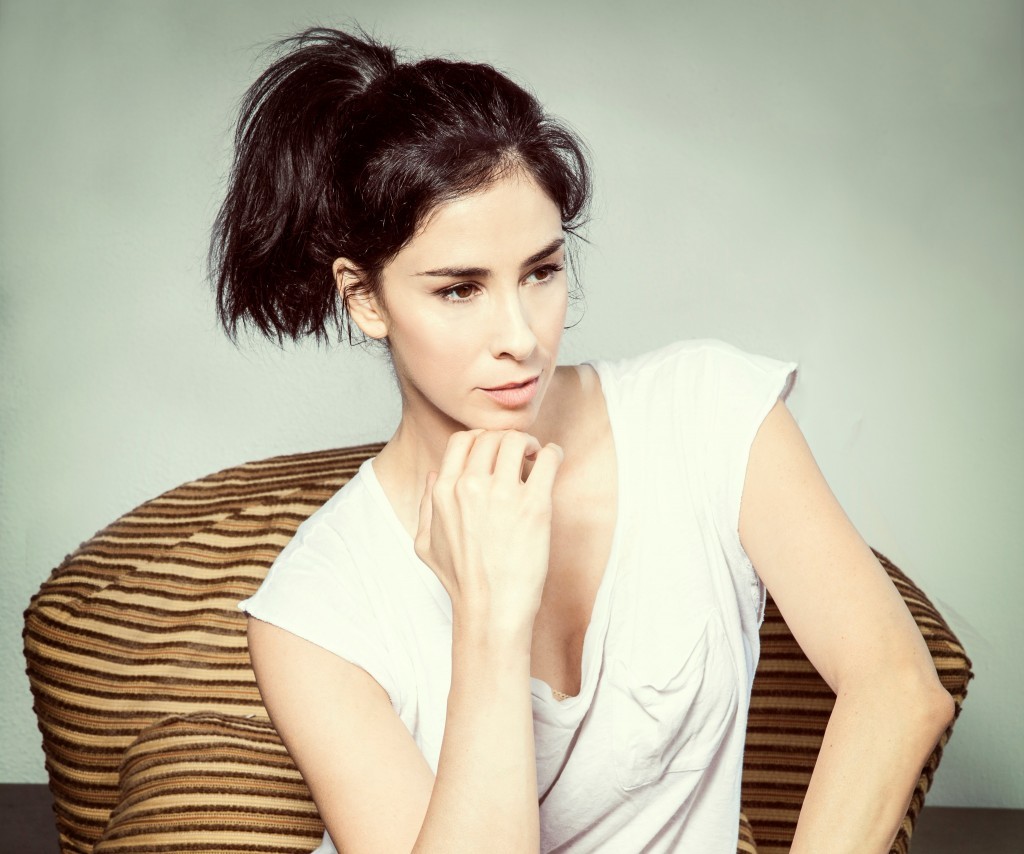 photo credit // robyn von swank
Sarah Silverman headlines Milwaukee Pridefest on June 12
Sarah Silverman is a stitch. Her timing and delivery are impeccable and she's not afraid to make us laugh (and think) about subjects we might not ordinarily think of as traditional comedic material. But she does it effortlessly and gets away with it more often than not. An Emmy Award-winning comic, Silverman strikes gold via her stand-up on stage, on television, and on record (check out her 2014 Sub-Pop album We Are Miracles). As an actress, Silverman is able to move confidently from comedy to more serious subject matter, including her fantastic performances in Showtime's Masters of Sex, as well as her devastating lead role in the heavy 2015 drama I Smile Back. Silverman took time out from her busy production schedule to answer some questions in May 2016.
Gregg Shapiro: Sarah, you are performing at Milwaukee Pridefest on June 10. What are the first three things you think of when you think of Milwaukee?
Sarah Silverman: Fonzie, Laverne, and Shirley, obviously. 
GS: If there was going to be a movie version of the Milwaukee-set `70s sitcom Laverne & Shirley, would you rather be cast as Laverne or Shirley?
SS: Excellent question, Gregg!  My knee jerk reaction is Laverne, but after much thought, I'd go Shirley. Wait. No. Laverne. Is Golden Gloves fighter and ballet dancer Carmine Ragusso an option? 
GS: He could be! Milwaukee Pridefest has a long history of bringing in comedy legends, including Joan Rivers, Kathy Griffin and Mo'Nique. What does it mean to you be performing at an event such as Pridefest?
SS:  I love the crowds and the spirit. There's such a sense of fun in the air. But make no mistake, that "fun" comes with a history of incredible strength. Letting your freak flag fly is something, no matter who you are, that takes great bravery, straight up.  
GS: When did you first become aware that you had gay fans and a following in the LGBT community?
SS:  I never really thought of it that way. People who like what I do come in all shapes and sizes. Not sure what the common denominator is per se. Oh, it's meeee!  But to be embraced by a progressive community means something to me and this one feels like home. 
GS: Gays have long found a place in your comedy, for example the "gigantic, orange, and gay" neighbors played by Steve Agee and Brian Posehn on The Sarah Silverman Program. Please say something about the gays in your comedy and the gays in your life.
SS:  I don't really like saying "the gays" ... I'm not sure why.  I suppose I say "the Jews." but I don't say "the blacks." I guess because I'm a Jew for all intents and purposes and to group people together of which I am not one in such a casual way feels disrespectful. No?
GS: As one of the gays, that was not my intention.
SS: Yes, well for the Sarah Silverman Program I liked the idea of having these neighbors/friends that were best friends and happened to also be in love and didn't conform to this most basic TV version of what America says as "gay man."  
GS: In recent years, we've seen your serious acting side on Showtime's Masters of Sex, in which you played Betty's lover Helen, and in the 2015 film I Smile Back. What is the most rewarding thing about playing a dramatic role?
SS:  I guess the challenge of not having my comedy tool box to rely on, you know? 
GS: Yes. You recently portrayed Betsy Ross on the History Channel's Great Minds show. As interest in school subjects goes – including math, science and English, where does history stand on your personal list and why?
SS: Well, I was madly in love with my high school history teacher, Mr. Berk. He was so cool.  I was an excellent student, but because I was so distracted I got a C in his class. I do remember fighting for partial credit on a fill in the blanks test where the question was, "The Prime Minister of Japan is ____" and I put, "Japanese" which I felt was inarguably correct.
GS: As a comedian, how does the 2016 Presidential season compare to previous election years in terms of material?
SS:  I think you know the answer to that. It's bananas!
GS: It is! In addition to joining you at Milwaukee Pridefest, Lizz Winstead and Todd Glass will be accompanying you in various cities on your current concert tour. What do you like best about working with Lizz and Todd?
SS:  They are two of my closest friends and I admire them both for their conviction and bravery and they're both hilarious.  I could go on and on and on about both of them.  So proud of Todd for living his truth, and he makes me cry with laughter.  Lizz is a true hero who does her work from her soul yet puts no weight on it herself.  And she calls everyone Marge – genuinely – as if everyone's name is Marge.
GS: What's next for you, Sarah, in terms of movies and television?
SS: Popstar, the Lonely Island movie comes out June 3, then a movie I did with awesome Naomi Watts called Book of Henry (opens) in August, I think. I'm shooting a movie now called Battle of the Sexes about Billie Jean King played by Emma Stone and she's amazing in it. I cannot say enough about her as an actress and human person.  Then I'm on the road and come to you guys! I can't wait.
Related: Record-setting, star-studded PrideFest Milwaukee set for June 10-12
Interviewed by Gregg Shapiro. Gregg Shapiro is both a literary figure and a music and literary critic. As an entertainment journalist, his work appears on ChicagoPride.com and is syndicated nationally.