A GoPride Interview
Rebecca Makkai
Life during Wartime: an interview with Rebecca Makkai
I keep joking that I'm a reincarnated gay man from the 1920s.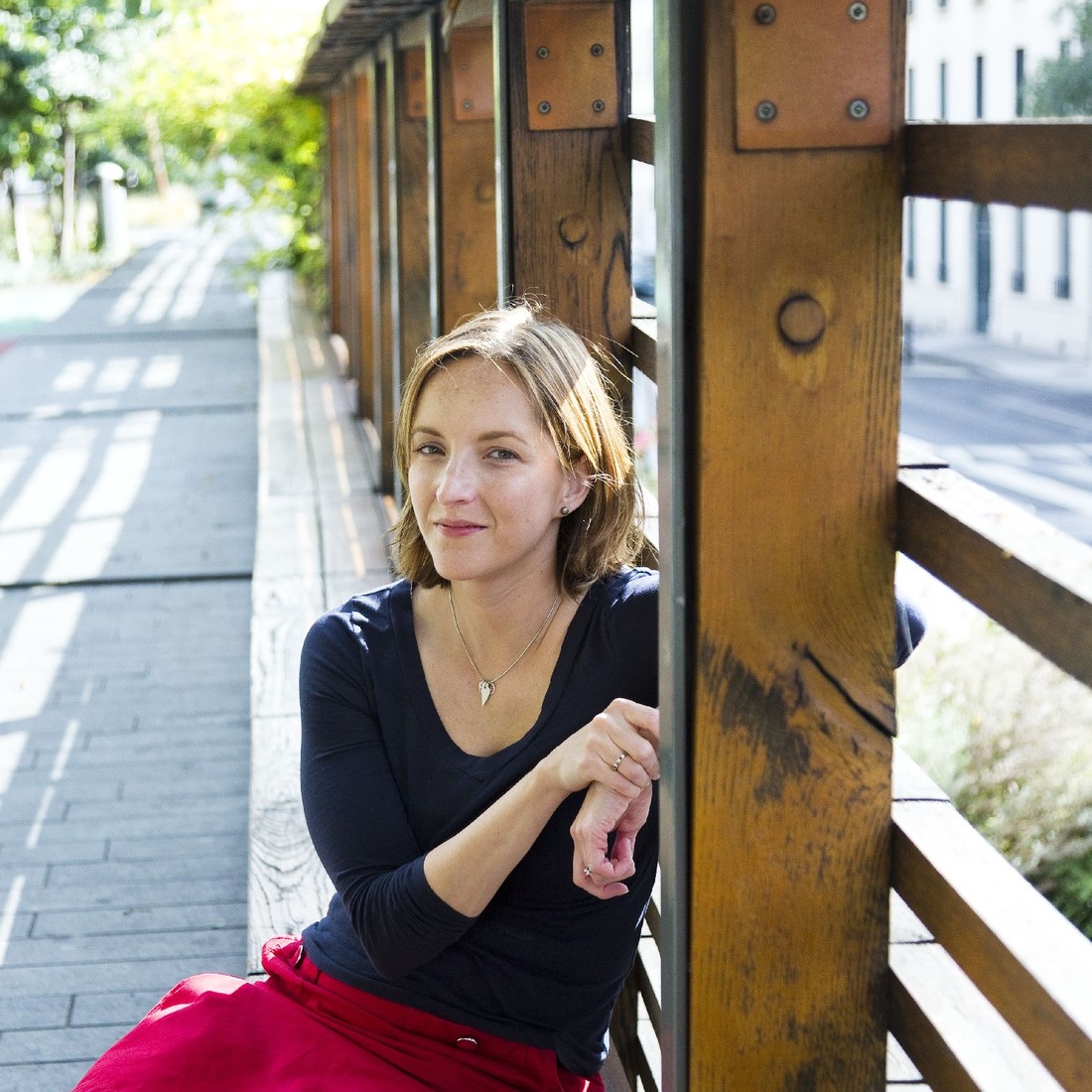 photo credit // philippe matsas
Rebecca Makkai enchants readers with melodic short story collection.
Lake Bluff native and Lake Forest resident Rebecca Makkai is a North Shore treasure. Her debut novel The Borrower and her second novel The Hundred-Year House not only earned her high critical praise and awards, but also a dedicated following of readers who love her talent for telling marvelous stories. Both books also featured fully realized queer characters. Makkai's aptitude is once again on display, this time in a marvelous short story collection titled Music For Wartime (Viking). The 17 stories, including one as short as a little more than a page, feature an assortment of creative and fascinating characters – musicians and composers, photographers and other visual artists, circus people and reality TV people – some of whom are queer and all of whom are survivors in one way or another. It's no exaggeration to say that Music For Wartime is easily one of the best books of 2015. I spoke with Makkai about the book and more in July 2015. [Makkai reads on Aug. 12 at 10:30 a.m. at Highland Park Public Library in Highland Park, on Aug. 13 at 7:30 p.m. at Women and Children First in Chicago and on Aug. 16 at 5:30 p.m. at The Whistler in Chicago.]
Gregg Shapiro: Rececca, if you don't mind, I'd like to begin by talking about the Music For Wartime cover, which is sort of reminiscent of a bygone era. I know that authors aren't usually involved in the book cover process, but I was wondering what you think of it.
Rebecca Makkai: I love it! I know plenty of authors who have no say-so in their book jackets. I'm fortunate that my agent and I basically have veto power on the cover. My editor is amazing and she lets us gives a lot of input into things like what artists we're choosing. My first two books had hand-drawn covers and we worked with the artist on that. For Music For Wartime, it's hard for a story collection because there's not one central image that you can necessarily latch onto the way that for The Hundred Year House they could put a house on the cover. They sent us some proposals that were cool. There was one with a bird's talons swooping down. Nothing was quite right. They were getting sort of close and then suddenly, out of nowhere, they sent us this (image that became the cover). It was so bold and graphic and cool. The font, I felt, was sort of a throwback, like you said, to an earlier era. It almost feels like a reissue of Kafka or something.
GS: It made me think of Nine Stories by Salinger.
RM: Yes! I liked that; I liked the vote of confidence the publisher was implying through that choice. They weren't trying to sell it in some cutesy way, but asking people to take it seriously and show that they were taking it seriously. I think it helps the book in a way to stand out on the shelf or on the table. It's gotten some nice press in the glossy magazines like O, W and Martha Stewart (Living) and I think part of that is that it photographs really well. Those magazines have a lot of integrity in what they're reviewing and talking about. They're not just choosing based on the cover. But it certainly doesn't hurt when putting together a beautiful magazine to have a beautiful book cover. People latch on to it.
GS: Can you please say something about determining the order of the stories in a collection such as Music For Wartime?
RM: I thought of it in terms of putting together an album. Of course, no one listens to whole albums anymore. But back when we did…
GS: …actually, all the kids are listening to vinyl these.
RM: [Laughs] Great! The way a musical artist put together an album – they were trying to tell a story with the order as well as with each song. There's a lot to the order of this collection. It starts with the story "The Singing Women" and it ends on an image, in the story "The Museum of the Dearly Departed," of two people singing, and this woman listening to them and not knowing what to make of it; those two moments bookend the collection. Also, there are stories about my own family history that are woven through that build up as you go and also cast light on the other stories and why I would write them. It was important for me to balance the humor and the darkness in the collection by not having too many very heavy or light stories next to each other. (I wanted) to change the texture as I went and keep it in balance.
GS: The stories in Music For Wartime were written before, during and after the publication of your novels The Borrower and The Hundred-Year House. Were any of the stories in the book originally intended to be novel-length, as well?
RM: The only story that I thought of originally as a novel is that last story, "The Museum of the Dearly Departed." It's a story about this apartment building in Chicago where there's been a gas leak and most of the tenants have died. These people are coming in and cleaning out the apartments and there's this woman who's inherited an apartment and doesn't really know what to do with all of the things. [Laughs] it gets more complicated from there. I originally had it plotted out as a novel. It was going to be about all of these people coming back to these apartments. It would actually be a pretty heavy book, but I think it would work as a novel. The reason I decided to do it as a short story was that I think it was what was missing from the collection. I was looking at the stories wondering what notes did I not hit. What is the story that would wrap everything up together at the end and cast light back on the whole book. That seemed to be the story. It took me a while to take this bigger idea that I had and whittle it down into a story. I'm happy with the way it turned out. Maybe someday I'll do a novel that is similar to that. But I feel like I wrote my way out of it. I'm pretty done with it now.
GS: I'm glad you said something about hitting notes. As one could glean from the title of the collection, music is a recurring theme in the book. Do you play an instrument?
RM: I do. Not seriously or anything. I play the piano and I sing. I should say that I sing like most people sing, in the car. I should say that I sang pretty seriously through college, doing a touring chamber ensemble and things like that, as well as musical theater. The piano was also during college, but I was never going to make a career of it. I did have a senior recital in college, so I was studying it seriously even as it was my main focus. My sister is a piano teacher and went to Oberlin Conservatory for piano performance. My parents were both talented musicians. My mom played the organ and my dad was an amazing piano player. That wasn't their career. They were both linguistics professors. I grew up going to the Chicago Symphony Orchestra. There were concerts in my house when I was a kid, which was something I put into one of the stories in the collection. As I started assembling stories, I noticed that there was music in a lot of them, and the other arts were coming up, too. I decided to make that a focal point of the collection. To a certain extent, I wrote a couple of stories to fill that in. The story "Cross" is about a string quartet. I specifically thought – "If I'm going to make music the focus of the collection, I really need a story about actual practicing professional musicians somewhere in here. Fortunately, I managed to find the help of a professional violinist to read a couple of the stories involving string instruments because I was winging it on that stuff [laughs].
GS: In the story "Cross" that you mentioned, the main character, Celine, comes home after being away to discover that a memorial shrine has been erected in front of her house because of an accident in which deaths occurred. Why do you think that the phenomena of crosses and shrines at accident sites has become increasingly popular and what do you think of them?
RM: I think that's why I wrote that story. I'm really disturbed them. Not in the same way that the character in my story is disturbed. For her, it's her house where it happened. The people making the memorial have made it incredibly tacky and she feels she might be a snob for thinking that. She's having religious issues with it. I go on a lot of long cross-country trips with my family and you see them everywhere. They probably make me a more careful driver. It's really disconcerting to see, "Oh my gosh, all these people died on this road!" In many cases they are on somebody's property line. They're going to be seeing it every time they look out their window. The issues that someone could have with that is that it is a marker of death, which is disturbing, and also that it's an overtly religious symbol. It came to me the way a lot of stories come to me where I'm noticing something in real life and sort of dwelling on it and obsessing  about it and then realizing that there might be something there to write about.
GS: The downtown NY art world is referenced in "St. Anthony Come Around." In 2015, that world also figures into Kim Gordon's memoir Girl In A Band and Brad Gooch's memoir Smash Cut, as well as the movie Downtown 81, starring Jean-Michel Basquiat, which was just reissued on DVD. What do you think it is about that scene that has made it undergo such a renaissance?
RM: I don't if it's the amount of time that's passed. I'm noticing it in other ways, too. The novel that I'm currently working on is set in 1985, in Chicago, with the specter of AIDS looming in the background. It's also set partly in the present day. Because I've been writing about it, I've been really in tune with what's being published and talked about. Dale Peck just wrote a book called Visions and Revisions: Coming of Age in the Age of AIDS. Hanya Yanagihara wrote a novel called A Little Life that's been getting a ton of press and seems to be about a circle of gay friends in the `80s. From what I understand, she eclipses the AIDS issue in an interesting way. I've been questioning why I would want to write about that in this story and in my next novel. I was born in 1978. I was alive (then), but I wasn't part of the Chicago or New York art scenes [laughs]. My life wasn't directly impacted by AIDS in the sense that I didn't lose anybody. I wonder if it's just that we've had processing time for the AIDS issue, the art scene and everything that was going on in the `80s. There used to be more of a kitschy fascination with it. When I was in college there were a lot of `80s parties and we would dress up like the 1980s. Which is kind of funny because it was only the mid-`90s; it wasn't that far in the past. I think maybe we're ready to think about it more seriously and look at what we gained and what we lost in that period.
GS: You make reference to movies in "The Museum of the Dearly Departed." Which, if any of these stories, would you like to see made into a movie and why?
RM: Mmm, cool! That's great question. If you were to expand the plot greatly and add a lot of stuff to it, I think that "Saint Anthony Come Around" would be an interesting one. There's this huge mystery at the heart of it. There's a man who has disappeared and you have a lot of different characters that you could theoretically follow around through the 1980s art world, all of whom would have their own stories.
GS: There are a number of queer characters in stories including "Good Saint Anthony Come Around," "The November Story," "Cross" and "Peter Tornelli, Falling Apart," as well as in both of your novels. Can you please say something about that?
RM: It's funny, because I keep asking myself this. It's not something that I ever particularly set out to do, except in The Borrower, which is very overtly about gay rights issues. In my other stories and in The Hundred-Year House, the characters just sort of showed up that way. You start writing a character that's just who they end up being. I keep joking that I'm a reincarnated gay man from the 1920s [laughs]. Partly I'm joking because I don't know what else to say and partly to give myself license to write that stuff, although I don't think you need license to write that particularly.  In general, I'm drawn to intellectual and artistic characters. That's a theme of my fiction throughout. It's something I had to learn to embrace early on in my writing. I used to try to write gritty stories about people on the streets or something like that. It just made no sense. I was raised by professors; I don't know anything about that. I need to write about artsy, brainy, thoughtful people. In my experience, queer people might be overrepresented in that population of artsy, brainy, thoughtful people [laughs]. If I want to write about the art world, there are going to be a lot of gay characters [laughs]. Likewise, if I want to write about the music world. I'm not sitting there to trying to fill some quota – "This story really needs a gay guy in it" [laughs]. Now I'm writing a novel about AIDS. Sometimes I feel like I ought to back off of it because people will wonder why I'm doing it. You worry about things like appropriation. Especially when writing about AIDS, although I'm writing about a lot of other stuff, too. At the same time, I can only write the stories that come to me and those are the stories that come to me.
Interviewed by Gregg Shapiro. Gregg Shapiro is both a literary figure and a music and literary critic. As an entertainment journalist, his work appears on ChicagoPride.com and is syndicated nationally.