A GoPride Interview
Skaters
Talented trio: NYC's newly minted band talks about life as a Skater
I believe we can refer to us as a baby band.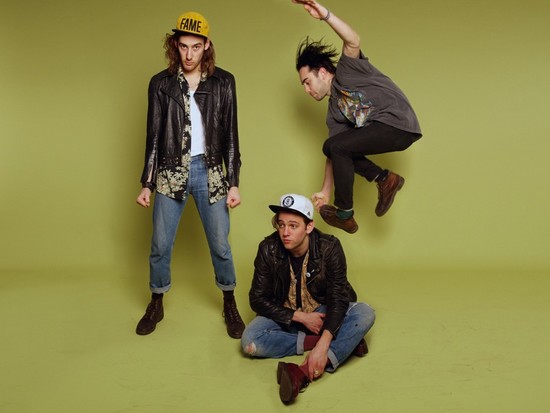 photo credit // peter voelker
New York-based band SKATERS is made-up of Boston suburb natives Michael Cummings (lead singer) and Noah Rubin (drummer) and Joshua Hubbard (guitar), who they met on a trip to Los Angeles. They named their pop-punk trio SKATERS shortly after the band started to play in early 2012. Ironically the SKATERS guys don't skate.

SKATERS released their first album 'Schemers', which reached over 10,000 downloads from their website before being signed to Warner Bros.

Jerry Nunn talked to SKATERS after a recent Chicago show about their androgynous video, extensive tour schedule and life as a SKATER.

JN
: (Jerry Nunn) Hi, guys. How did this group come together?

NR
: (Noah Rubin) Mutual friends. Me and Michael met in LA.

MIC
: (Michael Ian Cummings) Josh and I had known each other for a long time but we had never met each other. We had mutual friends on Facebook. We met at a party and we talked about starting a band. I thought he was full of shit but he wasn't. He showed up in New York City and we started a band the moment he showed up. Noah gave us twelve hours notice that he was coming to New York. He wanted to start a band and move there so we did. The next day we booked three shows.

NR
: (Noah Rubin) A week later we found Dan Bourke on Chat Roulette. He was playing bass naked! He was called "the buff bassist" and we didn't know what that meant but we know we wanted it.

JH
: (Joshua Hubbard) I think he meant tough bassist but he misspelled it.

JN
: How long have you all known each other?

MIC
: About a year and half now.

NR
: Eighteen months in baby time!

JH
: I believe we can refer to us as a baby band.

MIC
: This band doesn't know how to walk yet.

JN
: How did you get on Warner Bros.?

MIC
: Warner Bros loves babies.

JN
: I heard you put out music and they heard about it.

NR
: We put out an EP out of my apartment then it kind of like took on a life of its own. Warner Bros. started coming to our shows because of all of the people in New York. They just showed up to the right show at the right time. It took on a life of its own.

JN
: How great that we are listening to Sara and Tegan who are on Warner Bros right now in the background.

MIC
: I think it's Tegan and Sara, the other way around.

JH
: I like those girls a lot. I like their bass player, too. Jasper is very sexy.

NR
: We like sexy things and he is very sexy.

JN
: Your album is produced by John Hill who has worked with some amazing artists like Santigold and M.I.A. What was it like working with him?

MIC
: John is an eccentric.

NR
: He hears music in colors.

MIC
: He doesn't talk in normal musical terminology. "This should sound more yellow. This should sound more gray."

JH
: We had to listen to him and say, "What the fuck are you talking about, man?"

MIC
: He gave us a bunch of literature to understand his terminology.

JH
: He started hanging up dreamcatchers all over the place.

JN
: So he is kind of spiritual?

MIC
: Yeah, and he only talks in William Faulkner quotes, which is really weird. I barely have read Faulkner.

NR
: He then simplified it all. "This is sick" or "This is not sick." When things were sick we continued and when they were not sick, we tried to make them sick.

MIC
: When he simplified his language for us then it made the process much smoother. He took an existential thing and made it very elementary so we could understand it.

NR
: He realized we were not as educated as him.

JN
: In your video for "Armed" you picked a character who is very androgynous. Is she a lesbian.

NR
: She is not a lesbian.

JH
: She is from another planet. Have you seen Mork and Mindy?

JN
: Yes.

MIC
: In all honesty we collaborated with an artist and the director's job was to make each shot look beautiful. She was a friend of a friend and we thought she looked stunning on camera. It added to the depth of the story.

NR
: It has nothing to do with sexuality.

JH
: She is just a gorgeous girl.

NR
: She is a sexy alien and very striking.

MIC
: The strength is just making very cinematic beautiful shots. Having subjects like her made it very easy for us.

JN
: It was very cool to see all of the frozen in time segments.

MIC
: Yeah, lots of pictures.

JN
: It seemed very Quentin Tarantino.

MIC
: Yes, very photographic.

JN
: What is next for you guys?

MIC
: We are going to Oslo, Sweden to play some festivals out there.

NR
: We are then going to put out our record and you can talk to us again when we headline Lollapalooza!

JN
: You must be tired of doing interviews all day.

NR
: What went wrong today is that at one point we skipped breakfast and lunch.

JN
: We need to feed these Skaters! When are you all coming back to Chicago so we can eat?

JH
: As soon as possible because the crowd here is fucking amazing.

MIC
: Chicago is like New York and we love it here.

SKATERS debut album will be released in February of 2014. Visit www.skatersnyc.com to follow their exploits.
Interviewed by Jerry Nunn. Jerry Nunn is a contributing writer to the GoPride Network. His work is also featured in Windy City Times, Nightspots Magazine and syndicated nationally. Follow @jerrynunn