A GoPride Interview
DJ Joe Gauthreaux
Travelin' man: Acclaimed DJ Joe Gauthreaux talks about his musical journey
Wed. August 8, 2012 by ChicagoPride.com
The boys in Chicago have soul and I love that so much.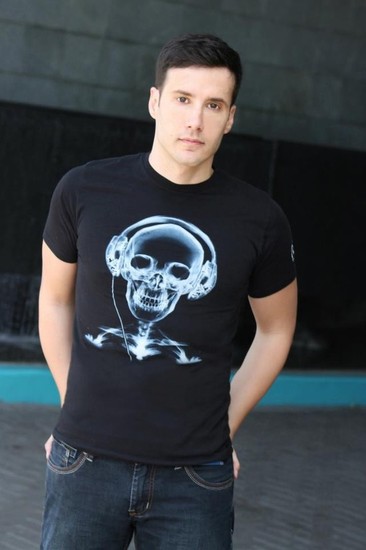 photo credit // james franklin
DJ Joe Gauthreaux, a native of New Orleans who is now based out of Los Angeles, is among the premiere group of high-profile traveling DJs. Widely acclaimed and admired for his DJing versatility, Gauthreaux remains at the top of his game and one of the most sought after DJs in the U.S. and abroad.
His schedule is chock full of gigs, ranging from pool parties and tea dances to main event and after-hours parties. Given his proven ability to put wide smiles on so many different dance floor faces, it only makes sense for DJ Joe Gauthreaux to headline Superhero Revolution at Chicago's House of Blue over Market Days Weekend.
Gauthreaux recently took time to answer our questions before he arrives in the Windy City.
CP:
So you're returning to Chicago for Circuit Mom's Superhero party. What can we expect?
JG:
A very upbeat set that is uniquely mine in many ways. I work very hard to make sure that I have my own sound and even if it's something as simple as editing a track, or completely reconstructing it, I make sure that a majority of my set is stuff that you can't hear anywhere else.
CP:
This is not your first time working with Matthew Harvat, who knows how to throw a party. Are you excited to reconnect with Circuit Mom?
JG:
Of course, we go back further than i think either of us would like to admit. (laughs) But I love Chicago and he knows what the boys there want.
CP:
You've been a regular guest DJ at Hydrate and you're very familiar with Chicago. Describe Chicago's nightlife.
JG:
The boys in Chicago have soul and I love that so much. You don't find that in many cities. I know when I come to Chicago the crowd here wants me to bring my A game because they know music and they won't settle for less. It's great!
CP:
How does the Chicago crowd respond to your A game?
JG:
They've been awesome so far. I can't say I've had a bad night in Chicago. Everytime I come everyone is just so excited to hear the music that I'm playing. You really can't ask for more than that. The crowd energizes me so much.
CP:
You're certainly easy on the eyes, do you consider yourself a gay sex symbol?
JG:
I don't really like to talk about this stuff, but thank you.
CP:
And very humble, as well.
JG:
If i start talking about things like this then people might start to picture me naked and that's not how I want people to think of me. (laughs)
CP:
You're from the Big Easy, moved to the Big Apple and are now in LA. Why the move?
JG:
I hate being cold, I love being in a warm climate. Although I'm realizing that maybe New York wasn't so bad. So who knows where I"ll end up.
CP:
And you've said you're a New Orleans boy at heart.
JG:
I am. I was born and raised in Louisiana. I don't think I'll ever grow out of that.
CP:
What have you been up to this year?
JG:
This year has been a little crazy, but I think i say that every year. I've been to Asia, Brazil and I just got back from an Atlantis Cruise. Those are always so much fun to do. Everyone is just so nice on those boats, I love it. I've also been remixing a lot, too.
CP:
I've heard your remix of Justin Bieber's Boyfriend. What are some of your current and favorite remixes?
JG:
Thanks, I was really happy with that remix actually. I just finished a new remix for Ne-Yo called "Let Me Love You" that I think will be the surprise late song of the summer. I'm so excited with how the remix turned out. I can't wait for everyone to hear it!
CP:
What would you say is your favorite dance track for 2012?
JG:
My personal favorite would have to be Million Voices by Otto Knows. It just puts me in the best mood. I don't play it every night, I have to feel it.
CP:
You've cited Junior Vasquez, Susan Morabito, Frankie Knuckles, Lydia Prim and David Morales as his major musical influences. Pick one and tell us why?
JG:
Susan Morabito, because she was the first DJ who I heard that made me realize that I wanted to be a big room DJ. I'll never forget she was playing the Halloween party on the Wharf in New Orleans and she just took that crowd on a journey and it was amazing. to this day, that's what I try to. Take people on a ride that they couldn't take themselves.
CP:
And finally, what can we expect from you in the future?
JG:
Just more awesome music. I feel like I'm just getting started.
DJ Joe Gauthreaux returns with his super human talent to save the crowd from the chaos of the street fair when he headlines Superhero Revolution, Saturday, August 11 at the House of Blues, 329 N. Dearborn. For more information on Superhero Revolution, visit facebook.com/circuitmom
Interviews:
Olivia Newton-John
|
Sheena Easton
|
Adam Barta
Market Days Entertainment Schedule:
Sat., Aug. 11
|
Sun., Aug. 12
Related:
Navigate Market Days with 'Out & About' mobile apps
Interviewed by ChicagoPride.com