A GoPride Interview
Michelle Visage
Fierce reality: Michelle Visage dishes on Drag Race
I feel the show didn't start until season three, not because of the addition of me although I think that is part of it, but that is when the magic started.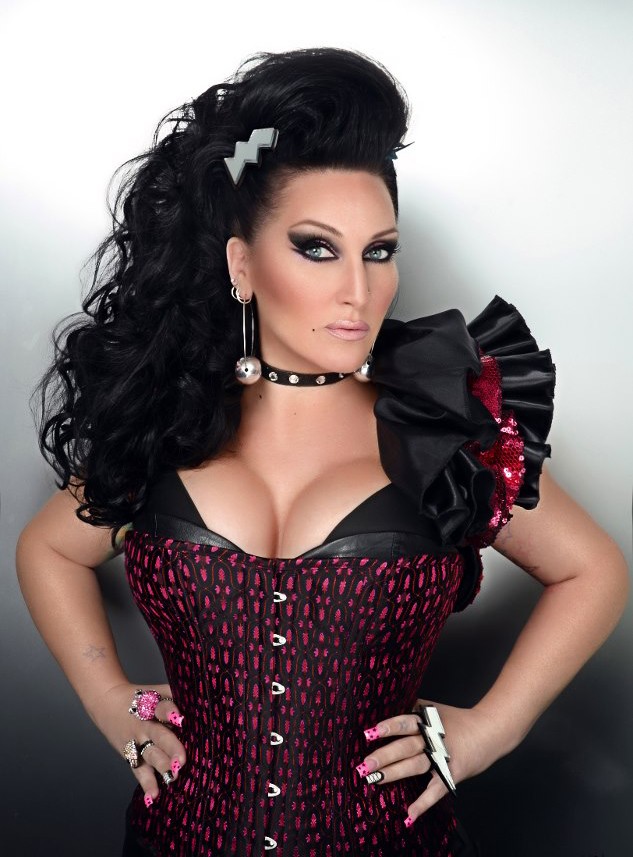 photo credit // jose a guzman colon
Jersey born Michelle Visage always wanted to be in the spotlight and those dreams became reality.
Visage, the "always keepin' it real" judge on season three of
RuPaul's Drag Race
, is a lady of many talents. She was a part of the all girl group Seduction and covered such hit songs as "Two to Make It Right" and "It's Gonna Be a Lovely Day." Visage later took her fierce humor and sass to morning radio and has since joined the judging panel on
Drag Race
, which has lead to the successful podcast called
RuPaul: What's the Tee? with Michelle Visage
.
The fierce diva heads to Chicago this week and is dragging along a few friends with her. Jerry Nunn talked to her about the upcoming show, The Sickening Six, Tuesday, June 24 at Roscoe's.
JN:
(Jerry Nunn) Hi, Michelle. RuPaul's Drag Race has grown in popularity since the last time we have chatted.
MV:
(Michelle Visage) I hope it keeps growing so I can stay employed!
JN:
It seems to get bigger every season.
MV:
That is what I expected and let me tell you why. I felt like when it first started not everyone had Logo. It is a pay channel, not unlike HBO so not everyone has it. I think word of mouth has to spread.
This is no shade against any of the queens on seasons one and two because I loved those seasons even if I wasn't on them. I feel the show didn't start until season three, not because of the addition of me although I think that is part of it, but that is when the magic started. People started tuning in then and the prize money went up. Queens started kicking the game up more and more. The camp value has gone up as well. The word has started getting around and Ru has released all of these queens into the wild so now people see them and the caliber of talent.
It gets bigger and better with every season. I know when Ru and Worlds of Wonder cast the show that is what they are looking at. They look at upping the ante every year.
JN:
When do you start recording the next season?
MV:
Over the summer.
JN:
What advice do you give people auditioning?
MV:
I have nothing to do with the casting but it is important that they be true to who they are. Ru will see through it if they are not. If they are being someone who Ru wants them to be versus who they are Ru will see through that farce. He has x-ray vision that way.
Also not just be true to yourself but be authentic. Don't do a video the way a friend would do the video. Do it your way. Do what works for you that shows you in the best light.
JN:
It is about being well rounded these days. You can't just be pretty anymore.
MV:
Oh no. You can see through that stuff instantly. It is so much more than a look! We are going into season seven. If you guys don't know that you need to have a strong character for that Snatch Game and you probably have to sing, dance, and act then you shouldn't probably be on the show.
JN:
People need to do their homework.
MV:
Sure and watch every episode. At the same time you have to be way more than just a look.
JN:
Have you had a special bond with anyone out of all the casts?
MV:
No, I don't have just one because there are so many that I am very close with and talk to on a regular basis. I think I got really close with Alaska when we were doing Rocky Horror Picture Show together because we lived together. We went through a lot together and the break up together, and her getting sober together. I do have a special bond on a different level that I don't have with anyone else.
I'm close friends with Raven. Sharon and I have a great relationship. Jinkx and Juju I love. Manila and I are so close. The list goes on and on. I could never pick one, it is like Sophie's Choice!
JN:
On some episodes this season you clashed with Santino. Is there any beef with him?
MV:
[laughs] There's no beef at all. The reason I could be like that with him is because he's my brother. It's like, "Girl, shut up!"
JN:
You go out on the road all time. I don't see Santino out at the bars.
MV:
Uh, do you want to see Santino? I'm kidding! I'm a showgirl and I am like every gays mother. If I could nurse the entire gay community off these boobs I would! I have always been a people person. I like to be out at the masses and the crowds. I like to walk the walk and talk the talk. If I am going to consider myself part of the community and not be a part of it then that's hypocrisy and me going against everything I stand for.
JN:
Hats off to you for going out in the trenches with the cast members.
MV:
That is what I have always done since I ventured into the community when I was 18 years old. It is what I will always do. I love to sing a song. If I am going to perform for anybody then it will be my core audience and that is my gays.
JN:
At Roscoe's are you judging a contest, emceeing, singing, or what are you doing?
MV:
I do everything. When I go out on the road I do whatever the club wants me to do. If they want me to perform then I do or they want me to host then I host. I know at Roscoe's they like me to emcee the event. I mess around with the audience and the queens. Maybe I will sing a song, who knows? Roscoe's has been so good to me. They are family there.
JN:
It gets crazy busy in there.
MV:
It does get crazy but that is what I like about it. My husband is from Chicago so I am there a lot. It is home for me. I love being in Chicago.
JN:
Many of the cast members are traveling to World Pride in Toronto. I will be covering that up there.
MV:
My thoughts will be with you there. I will be in New York celebrating Pride for the first time since 2001.
JN:
How was the experience of Ben DeLaCreme looking so much like you?
MV:
For me I thought it was amazing because it was my chance to actually compete! I would try to compete from the judges table but they would never let me win. The first time I had no idea who she was or what she did then she came around that corner I thought, "Oh my god, she stole my face!"
She didn't do it because she loved or admired me, she did it because that's the way she looks in drag. She's been doing it close to 20 years I think. It was not something she saw watching Drag Race, it is something that she has always been. I thought it was great.
Little children tweet that it was my fault she was voted off because she looked like me but that would be the opposite. This was my one chance to win the contest and I wanted Ben to stay in! She's amazingly talented. She's another one I am good friends with.
JN:
Ben will be with you at Roscoe's.
MV:
Yes, and I adore her.
JN:
What's your take on changes to the show such as no more she-mail?
MV:
I'm not one for change but I like to roll with the punches. I come from radio so we are creatures of habit. People like to hear the same morning show and when it's not there then they freak out.
Logo felt the need to change it. Of course they don't want to offend anybody. I have been involved in the community for a long time and have lots of trans brothers and sisters whom I love, admire, and respect. I can tell you from the bottom of my heart that there was no harm coming from that at all.
No one had a problem with it for six years.
JN:
It was a play of Tyra Banks Top Model show.
MV:
Of course it was, honey. That's the key word. It was a play. It was not a shady mean thing. Sometimes things come to an end and it is what it is. I am not offended either way. If it upsets them then we don't want them to be upset of course.
JN:
I always love talking to you because you are honest and you say what is on your mind. I appreciate the interviews over the years.
MV:
Ah, thank you for caring and asking me questions.
JN:
When cast members came to Roscoe's this last time people were lined down the street. I have never seen it that busy before.
MV:
That makes me really happy and I can't wait to tell Ru.
Visage is joined by Drag Racers Courtney Act, Ben DeLaCreme, Miss Darienne Lake, Adore Delano, Bianca Del Rio, on Tuesday June 24 at 7:00 p.m. Visit roscoes.com for ticket information.
Interviewed by Jerry Nunn. Jerry Nunn is a contributing writer to the GoPride Network. His work is also featured in Windy City Times, Nightspots Magazine and syndicated nationally. Follow @jerrynunn