A GoPride Interview
Patricia Velasquez
September song: an interview with actress Patricia Velasquez
I'm an Aquarius. One of the things about people born under the sign of Aquarius is that we live for our friends.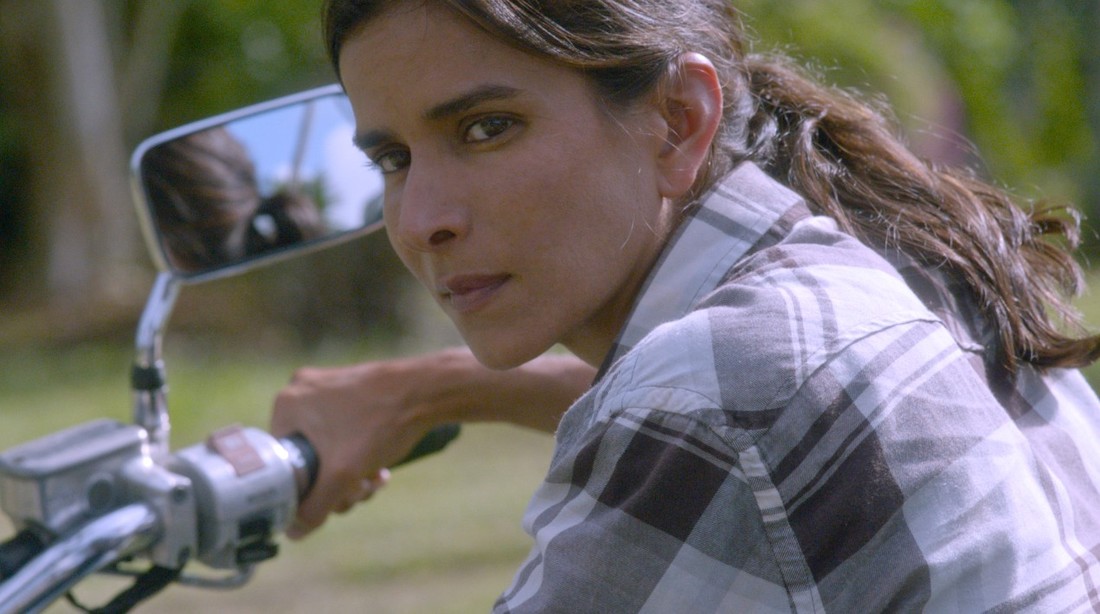 liz in september stars patricia velasquez
photo credit // cinema management group
Lesbian actress/model Patricia Velasquez takes the lead in movie
Based on the cherished play Last Summer at Bluefish Cove by the late lesbian playwright Jane Chambers, Liz In September may change the location from Long Island Sound to the Caribbean, but Fina Torres' film adaptation still maintains the heart and soul of the story. A group of friends gathers at the beach, knowing that it will be the last time they will be together with dying friend Liz (Patricia Velasquez). There is plenty of dyke drama, but there are also laughs and camaraderie. However, when a straight woman, on the run from her husband, joins the close-knit circle, and commands Liz's attention, the mood of the gathering changes. Actress and model Patricia Velasquez stars as Liz in this three-hankie production (you've been warned) and gives the titular character considerable energy and spirit. I had the pleasure of speaking with Velasquez about the movie and more. [Liz In September will be available on DVD from Wolfe Video on November 3, 2015.]
Gregg Shapiro: You play the title character in the movie Liz In September. What are the challenges and rewards of being the lead in a movie?
Patricia Velasquez: If we start with the challenges, with this specific movie where there are a lot of women, it's always a challenge because these are phenomenal actresses. Two of them, Mimi (Lazo) and Elba (Escobar) have been acting for many years. Elba has a big history and reputation in my country. It's a little challenging when you're the lead and you want everyone to feel the same. I found myself trying to make everyone feel equal. You feel like the weight of the film is on your shoulders. I studied Kabbalah for many years and I always try to look at the positive side. The glass is half full, not half empty. Playing the lead in a movie is challenging, but at the same time, the rewards are amazing. You have more of a say with the director, Fina Torres, in talking about all of the characters. You have the director's ear to listen to what you have to say. I feel very fortunate.
GS: Have you ever had the opportunity to see a stage production of the play Last Summer at Bluefish Cove on which Liz In September is based?
PV: I haven't seen a stage production of the whole play. I have seen a video. I belong to a Master Class in Los Angeles (taught) by an amazing acting coach named Ivana Chubbuck. I had been doing scenes from this play in class and I invited (director) Fina because we had been working together on a different project. Fina said to Ivana, "Patricia is doing a scene from Last Summer At Bluefish Cove? I can't believe this! I tried to get this movie off the ground six years ago and we couldn't." When she saw me performing the scene, we changed projects. Fina decided to get the rights. While she was doing all that, I kept working on scenes from the play in class. It gave me such a deep connections to all of the characters, not just Liz. By the time Fina got the rights and decided to put the movie together, I knew these characters from the inside out.
GS: It's interesting that Liz In September is the first movie version of a Jane Chambers play. What do you think it says that it's a Venezuelan production and not an American one?
PV: They've been trying to get this specific play off the ground (for some time), but I can't tell you what happened. It took someone like well-known director Fina Torres (to do it) who knew some of the people involved in getting the play adapted for film. She put all her energy and effort into doing it. For her adaptation of the play, what she did was add the vibe of the Latin people, the humor, the environment that she's so famous for.
GS: Liz is a dog person and is very attached to Lola, her Golden Retriever. Are you also a dog person?
PV: If you go on my YouTube channel you will see a video of the Labrador that I had. The idea of having a dog in the film was because I have my house on Margarita Island (Venezuela) where I kept my dog that has now passed away. Fina came to Margarita Island. Retrievers are famous for their love of water. Every morning we'd wake up and go to the beach and the dog runs and runs. When I went in the water, she went in the water with me. Fina saw this for a couple of days and was fascinated by this relationship I had with my dog to the point that while we were sitting there, she said, "I really think we should have a dog in the film." I said I would love it.
GS: Liz has a wonderful and loving circle of friends, including an ex with whom she is still close. Do you have a similar circle of friends?
PV: Yes, 100 per cent! I'm an Aquarius. One of the things about people born under the sign of Aquarius is that we live for our friends. I have a circle of friends in Venezuela that I speak to every day. That's how close we are. I started the Wayúu Tayá Foundation for indigenous communities and everyone is involved. I am proud to say that I have a group of friends like that. By the way, some of the people in the movie are some of those friends! I'm very good friends with Mimi and Eloisa (Maturen) and Danay and Arlette. Making this movie made us very passionate about each other and about the project. This is a project that has never been done before; a movie about female gay characters has never been done before in the Hispanic world. We thought that we were doing something important. To see it resonate and be embraced within the LGBT community, and hopefully other communities, is wonderful. It made us think it was worth all the effort.
GS: One of the subjects that Liz In September addresses is assisted suicide. Where do you stand on the subject?
PV: I am all for it. We should have the power to make the decision about what we want to do with our lives. God forbid I am ever in that situation, but if I was I wouldn't want to be a burden to other people. In that way, Liz and Patricia are very similar.
GS: Liz is also a limit-pusher. Are you, too?
PV: No. In that respect I'm not like Liz. If anything, I'm the opposite. One of the things we learn to do when training as actors is to never judge characters. You get to the point where when you don't judge a character you are able to learn from them. I'm not a limit pusher. Honestly, I have to tell you I'm actually a very fearful person. Liz taught me to live a little more in the moment, but it's still something I have to work on. That's why acting is such an amazing experience, a learning process. It allows you to do things you would never do on your own.
GS: Liz falls for Eva, a woman who is married to a man. Have you ever fallen for a straight woman, and if so, how did it turn out?
PV: Yes, I can sincerely tell you that I have. One of the loves of my life was a married woman. I ran away [laughs] because I don't like getting in the middle of relationships. She left her husband. For a long time she wanted something, but I wasn't letting it happen. Then we were together for a while. But she had a really hard time accepting that she was gay. Or bisexual, I don't know. She had a hard time in the society in which she lived and with her family. I was living in New York and I was open about the way I lived my life. Eventually it didn't work out. Now I look back and I think sometimes we expect other people to do what we do. That's a mistake. We have to give people the benefit of the doubt. Everyone tries their best and maybe didn't see it because we live in a different world. It was a good lesson for me. Who was I to judge if she was doing the best she could, even if she wasn't doing it the way I wanted.
GS: Finally, since we're talking about movies, you recently published your memoir Straight Walk (Post Hill Press). If there was a movie version of Straight Walk who would you want to play you?
PV: You have no idea how many people have asked me that question [laughs]! The problem is that I'm too close to my book. I never wrote the book thinking that it could be a movie. Never for a minute! Now that the book is out, people keep asking me. I have to tell you that I don't know.
Interviewed by Gregg Shapiro. Gregg Shapiro is both a literary figure and a music and literary critic. As an entertainment journalist, his work appears on ChicagoPride.com and is syndicated nationally.