A GoPride Interview
Geoff Davin
Geoff Davin talks Kinky Boots as the Tony winning musical returns to Chicago
We are sharing this message about not judging a book by its cover and we need to learn that lesson as well...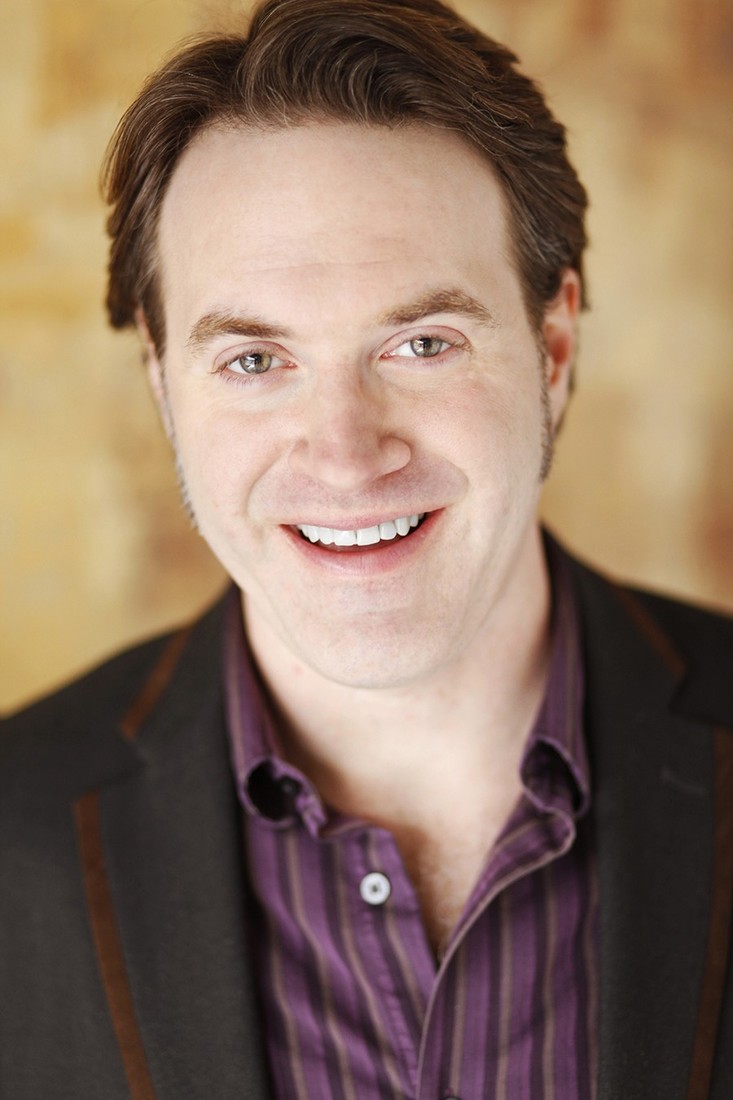 geoff davin, kinky boots (mr price)
Prior to this week's opening of the national tour for Kinky Boots in Chicago, we chatted with Geoff Davin (Mr. Price) about the tony-winning musical and it's resounding message of love and acceptance.
The show, which began its pre-Broadway engagement in Chicago in 2013, opens at Broadway In Chicago's Cadillac Palace Theatre, and plays for a limited one-week engagement from January 22-27, 2019.
Pop icon Cyndi Lauper wrote the music to the show that won six Tony Awards, including Best Musical. The award-winning musical features direction and choreography by two-time Tony Award-winner Jerry Mitchell (Legally Blonde, Hairspray) and is based on a book by Broadway legend and four-time Tony Award-winner Harvey Fierstein (La Cage Aux Folles),
The musical tells the story of Charlie Price, who has inherited his father's bankrupt shoe factory. In an attempt to save his family business, Charlie finds inspiration in the form of Lola, a gorgeous drag diva (who just happens to be a professional boxer) in need of some sturdy stilettos. As they work together, this unlikely pair finds that they have more in common than they ever dreamed possible. 
ChicagoPride.com talked to Davin (Mr. Price) about his role in the musical and the positive message that comes from the show. His recent credits include Tuck Everlasting (The Man in the Yellow Suit), Chicago (Billy Flynn), A Midsummer Night's Dream (Oberon and Theseus), and The Rocky Horror Show (Frank-N-Furter). 
MI: (Matthew Inawat) So Geoff, what drew you to Kinky Boots?
GD: (Geoff Davin) I used to live in New York, but live in Nashville now. I've been there about 9 years and had sort of gotten away from theatre a little bit, doing more writing and singing soul and country music and a little theatre in that part of the country. 
Last year I made a promise to myself that I wanted to expand my circle again and this was the first audition I had sort of honoring my promise to myself to do it again - to get back into that world - so it was very heartening to be able to get it.
MI: Were you familiar with the show? 
GD: Yes, I had seen it before. I actually saw it when it came through Nashville on tour. 
MI: Do you have a favorite message that comes from the show?
GD: To me it is the message of acceptance, of love, of embracing the truest expression of who you are, because we all take that journey in our lives. 
I am in the process of retaking that journey for myself as a 42 year old man at this point in my life. I had taken some different avenues and sort of came back around to this in a new way and a new light. And I think throughout our lives we all redefine ourselves and want acceptance of that - and that is the best thing about the show is that it drives home that message.
MI: And the show does it in an amazingly inspiring way!
GD: Yeah, it's not preachy. It's just fun and you look out and you see everyone from children to the elderly standing up and dancing. During our preview we had a senior home come in and they were in their 70's, 80's and they were screaming and laughing! They were having the best time of their lives and I think the best thing that I take away for me, when we go into some of these smaller cities and we prejudge them, is that I need to stop doing that. 
We are sharing this message about not judging a book by its cover and we need to learn that lesson as well, and we have been proven wrong every single time. The audiences, no matter the location, have been so loving and so welcoming and so warm it has been pretty incredible!
MI: So tell us a little bit about yourself and your personal story. How did you get involved in music and theatre?
GD: I live in Nashville, but I grew up in Norwood, Massachusetts and I knew from very very early on that theatre was
something that I was interested in. I'd rent movie musicals, VHS tape movie musicals and I'd hold up my tape recorder and record the entire thing and then my father built me a small proscenium stage. I would use my sister's Barbies and my G.I. Joes and I would stage like full musicals to the audio I had recorded and that was what I did for play time when I was 6, 7 years old, so it was a pretty solid trajectory for me that I was going to do something in that world. 
I went to NYU for a year in musical theatre and I acted in New York for a number of years, before I moved to Nashville.
MI: Tell us about life in Nashville. 
GD: While I was in New York I had started singing for an old country band. I started writing country music and so that is kind of what drew me to Nashville. I was starting to get a little frustrated with living in New York and I was looking for someplace else that was interesting to me, but that also had a good arts scene and was a little vibrant.
I went to Nashville thinking I would be there maybe 2 or 3 years and I've been there for 9 years now. I fell in love with it. I absolutely love it there!
MI: It truly is a great city! So, other than Barbie and G.I. Joe, who have been some of your acting and performance influencers over the years?
GD: Let's see. I would say there are certainly artists I love, but I have always taken inspiration from what is right in front of me. I try to learn from the people that I am working with. 
When I work with someone who is extemely talented I like to watch what they are doing and soak up from them. I feel like the rehearsal room is where you learn so much about the craft. So when you are able to share a scene with somebody you exchange that energy; it is pricesless.
MI: What are you looking forward to the most about being in Chicago for a week?
GD: Well, we have just come off of a stretch of one-nighters so being in one place for a week is going to be really lovely. I've got a bunch of friends in Chicago who are coming to the show, so I'm excited to see them. 
I've only been to Chicago once and, in fact, it was this past January, so I am revisiting Chicago again in the month of January. I wrote a show that was at the New York Musical Festival last year and I'm really trying to bring the show to the stage and Chicago is one of my target cities so while I am there I am going to be looking at some different venues as a possible opportunity to bring my show there. It's a show where I am female and wear some pretty  amazing heels and it is actually something I do not get to do in Kinky Boots. I am one of the few people who don't get to wear boots!
MI: They need to bring Mr. Price back out at the end wearing Kinky Boots or something! A la Fantine and Eponine at the end of Les Mis, but with bright red boots!
GD: I know! I agree with you. Seriously there was no sadder day in my life than the day they brought the boots out for the cast to try on and I was just sitting there. And they are spectacular! They are really beautiful!
MI: Are there any charities or causes that are personally important you that you would like the readers to know about?
GD: This has nothing to do with the show at all, but I am a huge animal lover. I love to support animal sanctuaries, particularly for cast-aside farm animals. 
MI: Is there a dream role in any play or musical that you would love to play?
GD: Sweeney Todd. 
MI: Good choice! Now, sum up your theatrical life in one title!
GD: "DILF Diva! The soul of a diva in the body of a daddy." This truly is the story of my life. Even in my 20's I was always being seen for characters in their 40's.
MI: That's awesome! So tell us about the musical you are putting together...
GD: It has one of the longest titles in musical theatre history. It is called The First Church of Mary the Repentent Prostitute 5th Annual Revival and Potluck Dinner.
I play a female Southern Evangelist preacher. It is almost like a Southern Hedwig. It's me and a band and three backup singers and kind of an immersive piece. There is no fourth wall. The audience kind of plays the role of the parishioners in this church. It is kind of a commentary on corruption in religion, or corruption in power, I should say, with a backdrop in religion. It is very loosely based on my last attempt on working on something.
MI: Well Geoff, thanks for taking the time to chat today! I hope that you get a chance to enjoy a little bit of Chicago.
GD: I plan to!

TICKETS
Tickets are available now for groups of 10 or more by calling Broadway In Chicago Group Sales at (312) 977-1710. Tickets are available at all Broadway In Chicago Box Offices (24 W. Randolph St., 151 W. Randolph St., 18 W. Monroe St. and 175 E. Chestnut), the Broadway In Chicago Ticket Line at (800) 775-2000 and online at www.BroadwayInChicago.com.
Interviewed by Matt Inawat. Ron Matthew Inawat is president of the GoPride Network and contributes to ChicagoPride.com, PrideLA.com and other sites within the GoPride Network. Follow @cpmatthew