A GoPride Interview
Khristianne Uy
Something is cooking in Chef K's kitchen and the whole world is watching
I do work long hours everyday so I hope I don't look lonely.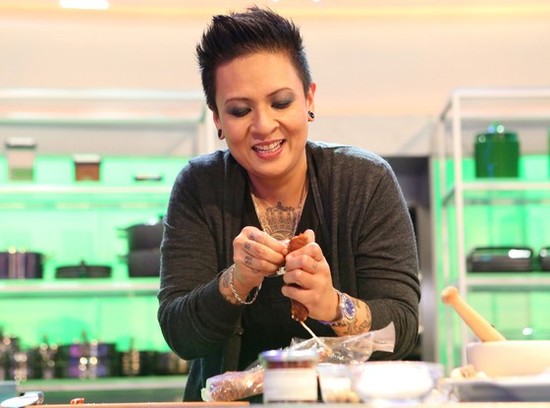 photo credit // abc/adam taylor
Something is cooking in Chef K's kitchen and the whole world is watching. Celebrity chef Khristianne Uy's past clientele has included American Idol's Simon Fuller, Academy Award-winner James Cameron, and most recently actor Charlie Sheen. Now she is quickly becoming a star herself.
Chef K took home first place on ABC's The Taste and is now the first lesbian to be featured on Bravo's The Millionaire Matchmaker.
We talked to chef who isn't afraid to stir thing up loud and proud!
JN:
(Jerry Nunn) Hey, Chef K. Tell me about your background.
KU:
(Khristianne Uy) I grew up in the Philippines. I taught myself to cook and have been living in LA ever since. Growing up was a little different. My dad was a cop and my mom was in the jewelry business. My dad is a homophobe. I have two brothers, one is gay and the other one is a homophobe. I think my mom is a fag hag. We have one of each. It is complicated. My dad was the disciplinarian, Catholic guy. He didn't know what the culinary arts were. He thought I would be drawing! He thought I would be stuck in front of the stove. In the Philippines there is not difference between a chef and a cook. He wanted me to be a nurse instead.
JN:
So way different way of life for you in the United States.
KU:
Way different.
JN:
Is there a lot of homophobia in the Philippines still?
KU:
It really depends. There are a lot of gays but a lot of homophobia because they are very traditional. Catholicism is huge but everyone is gay in the Philippines, I believe. It's like there was a big trigger bomb that was dropped there a long time ago!
JN:
I got to get over there and find me a boyfriend! [both laugh] Did you cook there or here to begin with?
KU:
I finished high school over here. My mom would always cook us dinners and our family would get together around food. The food brought warmth even if the family was arguing. All of the problems went away when it came to food. I remember being young in the Philippines and cooking for the drivers or the maids. There was no balsamic vinegar in there so I would find something like soy sauce and do that. When I moved here I told my mom that I really wanted to go to culinary school. That is when the complications started. They were really shallow about things at that time. My dad wasn't supportive and cut me off. I finished four years of culinary school and being a female in the culinary field wasn't so easy starting off. There is a lot of bullying but it just made me work harder and stronger. It made me perfect my food even better. Two years into it I mastered the motto that the chef is always right. I never argued. I just took the hardcore training and took the rest from there.
JN:
How did you get The Taste?
KU:
There is a casting producer that has wanted to cast me for Top Chef and all of that. I wasn't really ready. They have been trying to cast me for three years. I finally got a call where they pitched me my favorite show and my favorite chef Anthony Bourdain on it. I decided to give it a shot. With the help of Denise Richards and Charlie Sheen I feel a little comfortable in front of the cameras.
JN:
You have been a personal chef to a lot of famous people.
KU:
I know and some that were hard in the beginning. James Cameron when he first saw me looked at me like I was an alien when I walked in the house. Maybe it was being a tattooed, Asian lesbian. I'm not your normal chef.
Three days into it is my rule. It is a probation period. I just show my craft, my art, and my passion through the food. With Suzy Cameron her favorite was my butternut squash soup.
JN:
You won her over.
KU:
I did. When I cooked for the royal family I didn't know what I was getting myself into. I didn't know if I had to cover my face or bow. I knew I couldn't shake the princesses hand. She surprised me though. She would go in the kitchen and tell me to make something easy. I feel very fortunate to do something that I love to do and waking up to it. It brings me the biggest joy that the food lights up people's faces.
JN:
Was it intimidating cooking for Simon Fuller?
KU:
Yes. He's the silent type. He wouldn't say much. That was thing that worried me. Those eyebrows, the little smirk… but if I lasted a long time then I knew I was doing something right. The kitchen is where the heart of the home is. You see all the tears, all the laughter, all the fights and become one of the family. They trust you and you become a part of them. The Camerons were the hardest client I have had but by the second year there was a gift for me underneath the Christmas tree! It is a sense of belonging. It just fires me up that this is it. This is what I love to do. All the aches and pains, cuts on my hands are all worth it. It is not so easy. I don't have a Christmas or Thanksgiving. It has been 12 years since I spent any of that with my family. It is a big sacrifice but now it is really paying off.
JN:
You are the first lesbian on Millionaire Matchmaker. She has had many gays on there before.
KU:
She's never had one before me.
JN:
It's about time!
KU:
Yeah, right? Denise Richards used to ask me when I would cook for her if I were single. She was clearly trying to set me up. I do work long hours everyday so I hope I don't look lonely. Denise told me she had a friend that could help me meet someone. She said her name is Patti. I knew it was Patti Stanger and was worried she would pick on me. Denise said she liked that I look different on the outside. Denise said that I'm really warm and likable on the inside. That was the convincing point so I said I would do it. Then I talked to Charlie and he said, "Fuck yeah, do it!"
JN:
When I have talked to Patti before she tends to generalize people. She told me that gay boys all have dating A-D-D. Did she do the same thing with lesbians?
KU:
Well, I have a funny story about her. At the meet up we were kept in a separate room. I was scared shitless, Jerry. I was so scared. The producer came in and said Patti was scared of me. I was worried about what to say but she was so nice. When we first started filming I was speechless. I was staring at her. She is so good. She can look at a person and know what that person is about. She's really good about that.
JN:
She's a third generation matchmaker so she is experienced.
KU:
One thing that stood out is that we talked so much about my life. Sometimes we are so into our lives that we can let anyone in. People asked how she can be a matchmaker and not in a relationship but she sacrificed her own relationship status perfecting other people's. It's like how can I cook for my family when I am cooking for other people's holidays? So it is understandable.
JN:
Did you watch the recent episode with the gay dessert chef?
KU:
I did. How did you feel about him?
JN:
He got a little bitchy.
KU:
He was a bit of a diva. I know he is good and stuff but he didn't have to put an exclamation point on it to the whole world!
JN:
Have you been to Chicago?
KU:
No, and my best friend lives there. I'm dying to but it is just hard to get out of town right now.
JN:
I look forward to seeing the episode on Matchmaker.
KU:
You are going to be so proud. I am going to flip the bar for our community. I am going to put a big-ass fucking rainbow on this town soon!
JN:
I hope you find love whether it is on the show or somewhere else.
KU:
I do thanks to Patti!
If you missed the episode look for repeat performances of Millionaire Matchmaker this week on Bravo. Visit www.bravotv.com for listings and details.
Interviewed by Jerry Nunn. Jerry Nunn is a contributing writer to the GoPride Network. His work is also featured in Windy City Times, Nightspots Magazine and syndicated nationally. Follow @jerrynunn