A GoPride Interview
Ultra Nate
House 'Hero': Ultra Nate powers up the dance floor
I go back and forth between four to the floor bangers and very vocal house music.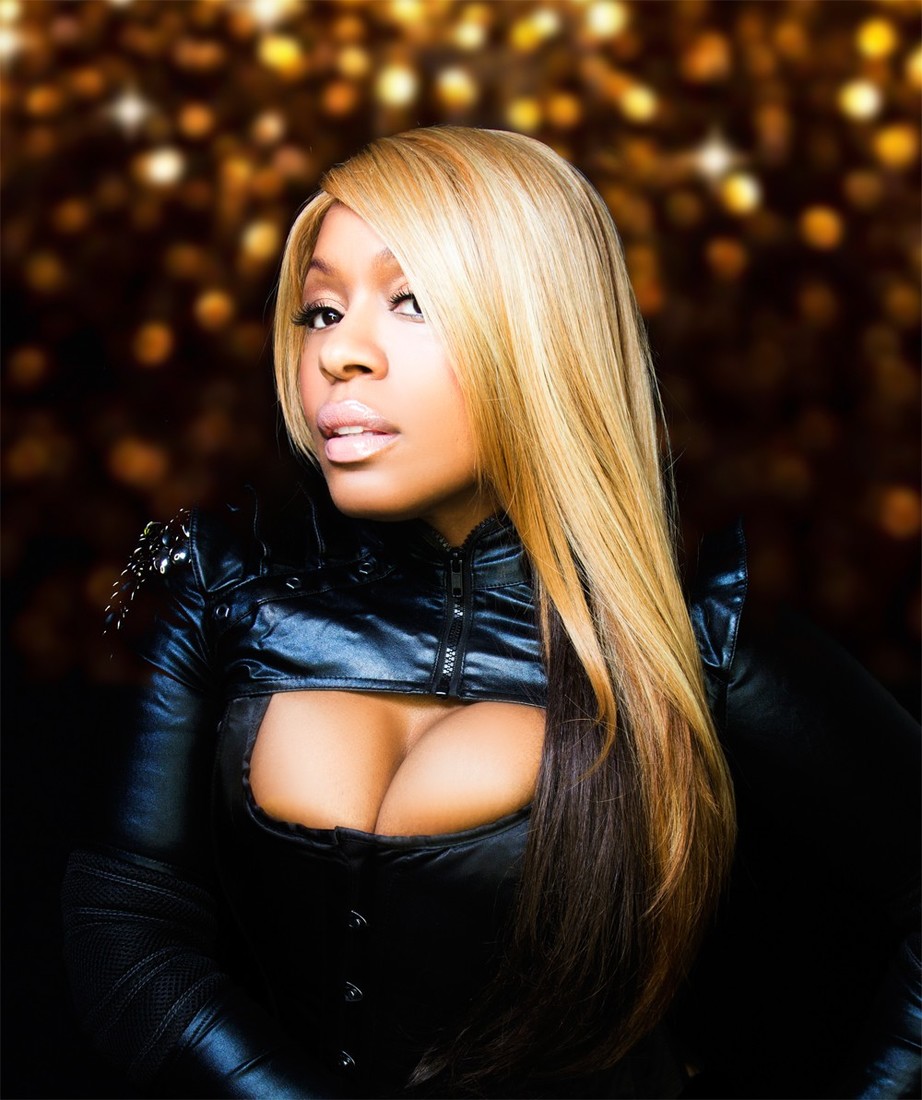 photo credit // karl giant
Ultra Nate has created some of the most unforgettable dance hits over the years. From "Free" to "Automatic" she has been powering up the dance floor at gay clubs everywhere.

Her high-energy cover of Gordon Lightfoot's "If You Could Read My Mind" had her teaming up with Amber and Jocelyn Enriquez as Stars on 54 to mainstream success. She recently released "Turn It Up" off her latest progressive house record Hero Worship.

Jerry Nunn recently talked to Ultra Nate about her upcoming appearance at Roscoe's Tavern in Boystown and to discuss her new and old music.

JN: (Jerry Nunn) Where in the world are you calling from?

UN: (Ultra Nate) I'm in Baltimore.

JN: Oh, that's right, you are from Maryland.

UN: That is correct.

JN: You are in your hometown for the holidays?

UN: I am home for the holidays and just came from yoga class.

JN: So you are feeling very zen right now.

UN: Yes, hopefully that work out in the wash with a song later today.[laughs]

JN: What song are you working on?

UN: I haven't heard the track just yet. I just received it from my manager to see if I want to work on the project or not. I can't say what it is for because that might jinx it. When it comes together later I will let you know that is the song I was talking about.

JN: You better! I am on the edge of my seat now.

UN: You are on it. You have to be my good luck charm today.

JN: I'm sending you good vibes. I have to tell you that Party Girl is one of my favorite movies.

UN: That is the craziest little movie I tell you. A lot of people love that movie. It is so funny.

JN: I like your title song for it.

UN: Well, that's good. My mother just called me the other day about 54 to say, "That was a really fun movie!"

JN: What was your favorite moment from working with the girls on "If You Could Read My Mind?"

UN: That whole project was such a whirlwind. Actually being in the building of Studio 54 where all of the legends of the club industry happened was really surreal. It was cool and scary at the same time because I had never been involved in movies. It all kind of happened out of the blue. We recorded the track quickly then they rewrote the ending of the movie with us in it. We filmed it the week after so it happened very fast.

JN: I was at Frankie Knuckles birthday party when you were there earlier this year.

UN: I was just thinking about that. This time last year we were planning to be at his party. We were the surprise guests. He knew some things but they kept me as part of the surprise.

I can't believe he is gone. That was my buddy and really good friend. He was a beacon of light for this industry in a lot of ways.

JN: You performed very well at the party.

UN: Thank you. It was all kind of spontaneous. Inaya Day and I had never done that song together before, which Frankie had produced for Inaya's upcoming album. That was our first opportunity to go over it. It was a surprise to Inaya so she didn't even know to rehearse it. It was an unpredictable night but it was all about love. In those kind of situations there are no mistakes. You are feeding off of each other's energy and the crowd's energy. The nostalgia is what the night is about and enjoying yourself.

In the background we knew what kind of condition Frankie was in and we found out he wasn't going to be able to play that night. It was bittersweet at the same time.

JN: You look really good. Does yoga help you stay in shape?

UN: Yoga has always been an integral part of my life. I started practicing in 2002. It keeps my mind, body, and spirit together in a way that nothing else does.

I do train in the gym. I do believe in cardio and heavy training in the gym. It is very important. You have to create balance. All of those disciplines work together for the body. I also do palates sometimes.

JN: I saw on Twitter that Worlds of Wonder are sending you chocolate so you have to be careful with that.

UN: Right? I know! The boxes are so beautiful I don't even want to open them to eat the chocolate. Obviously over time the chocolate is going to go bad. It is a beautiful keepsake. I'm really torn about eating them.

JN: I know those guys after interviewing them so they better send me some chocolate.

UN: They send the best presents let me tell you...

JN: How do you know them?

UN: They did my video for the single "Free" years ago. That was their madcap idea to do a hospital theme and all of that.

JN: I have to watch that video again. So you are coming to Roscoe's soon...

UN: I am excited about being in Chicago for New Years weekend. I love being domestic, home, and in Chi-town. It's a win win.

JN: You have a lot of gay fans if you hadn't noticed.

UN: I have a lot of gay fans and a lot of straight fans in Chicago. I didn't come for Pride this last summer but I did the year before and had a wonderful time. I always have a great time in Chicago. There are some really great fans there.

JN: Are you bringing dancers with you?

UN: It will just be myself and my road manager.

JN: Talk a bit about your Ibiza gig.

UN: The Ibiza residency has been a work in progress for many years. It is for a party brand called Cafe Ole. It is built on the whole Ibiza nightlife culture. It is the real Ibiza and the true people of Ibiza, not the tourist Ibiza. It is the heart and soul of the culture. The party has always been at Space. I have been bringing them the party every year once or twice a season for the last eight years, maybe longer. The year before last they decided to bring me in for a residency so I came in for a month last season in 2013. I was there the whole month of July for five Mondays. It was wonderful. I had an awesome time and my son was with me. When my time was over they asked me to come again for the whole season. They made good on it. I was there for the first time living in Europe for four months straight. I had a lovely apartment both years. I have a lot of friends there as well who are Spanish and from there. I have industry friends who stay for the season. It is a great experience because I only work one night a week and then the rest of the time is my own.

JN: That sounds so nice.

UN: It is a dream come true. The island is amazing. There are plenty of things to see and do or not, you can completely veg out. You get in what you fit in with party culture. If you want to live it up 24 hours a week there is something always going on. It is also a great place to relax with gorgeous beaches too. That was pretty much what my life was like during those weeks, hanging with friends, going to dinner, and working out with friends. I would have gigs on the weekend periodically all over Europe too. I could hop over to this or that country having a home base in Spain.

JN: I need a vacation.

UN: That is why I told my friends to get their coins together and come visit. The rest of them had to watch my life online and now they want to come see me for the 2015 season. My apartment is probably going to be full of friends. I have a sexy apartment with a swimming pool and it's private. They really look out for me and it's like a family because I have worked with them for so long. They have really great sound, lighting, and tech people. The whole production is really like a family. Everyone is working hard to make sure everyone comes off amazing for the party.

JN: Are you DJing or singing?

UN: For Ibiza proper I was just doing performance this season but I am also a resident for Cafe Ole in their outside tours. I have done Mexico and Moscow with DJing.

JN: What kind of music are you into as a DJ?

UN: I usually play deep soulful house. I go back and forth between four to the floor bangers and very vocal house music. My set really varies from Baltimore style to New York then to world music, and European tinged. I don't stay in one lane at all. There is a way to integrate all of those vibes and make it make sense together. At the end of the day the thought that I subscribe to is as long as you play good music the crowd will always follow you no matter what. It's about programming really good music that people want to dance and sing to. It's about making people feel good!

JN: What are you planning for 2015?

UN: I am always song writing. I have a new album in the works that I have been working on for the last four or five years. I was writing two albums simultaneously.

The Hero Worship album came out last summer and I have also been writing my next album called Black Stereo Faith that is a collaborative project with Quentin Harris. We are in the process of that with getting things mixed down and figuring out how we want to set it up. That album will finally be coming to light.

I have a new track with Eddie Amador that will come out any second now called "Take Care of My Heart."

I just released one of the tracks from the Hero Worship album called "The Rush" a soulful remix with Dave Harness from San Francisco. The original version is from DJ Spinna from New York.

I have two songs with David Morales for his new project coming out in 2015.

The list goes on. There is something new always coming down the pike!

Find Ultra Nate after the New Year at Roscoe's, 3356 N Halsted, on Friday, Jan. 2 with a $10 cover charge after 11 p.m.
Interviewed by Jerry Nunn. Jerry Nunn is a contributing writer to the GoPride Network. His work is also featured in Windy City Times, Nightspots Magazine and syndicated nationally. Follow @jerrynunn