A GoPride Interview
Beth Leavel and Taylor Iman Jones
Meet Devil Wears Prada Musical's Beth Leavel (Miranda Priestly) and Taylor Iman Jones (Andy Sachs)
that said, I have such easy access to my inner diva...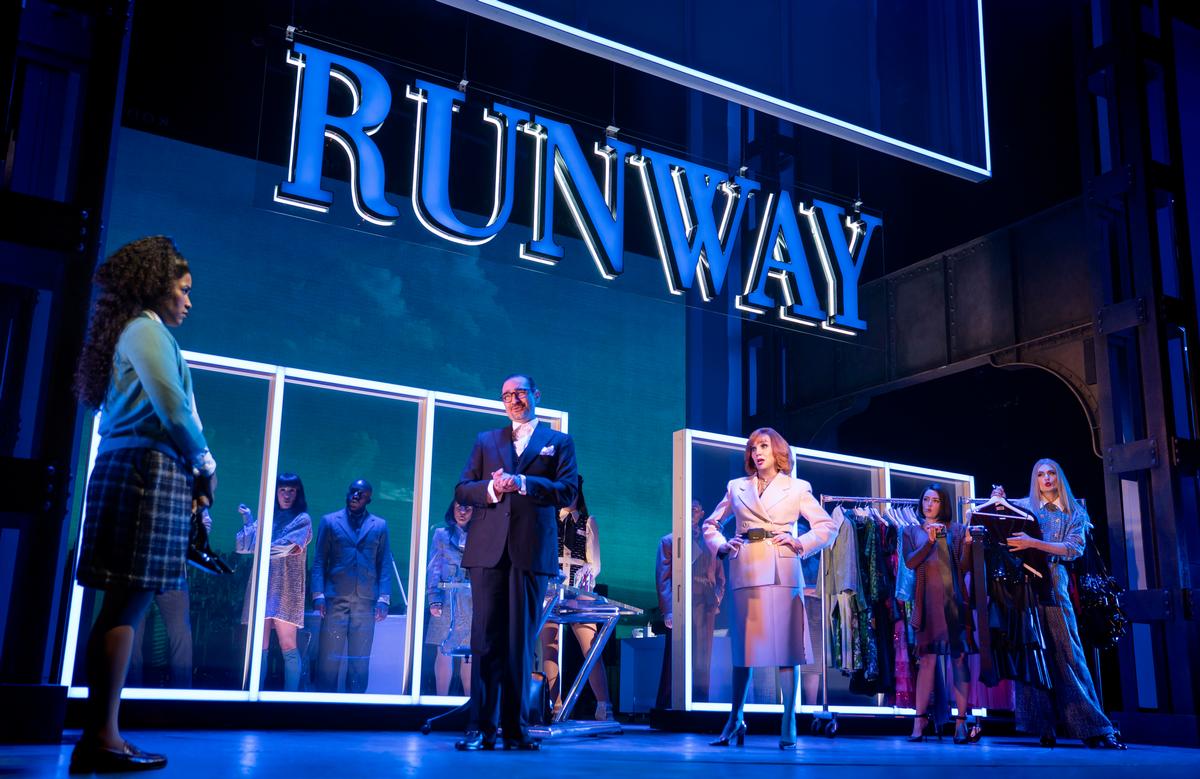 the cast of the devil wears prada the musical
photo credit // joan marcus
Devil Wears Prada the Musical radiated fashion and fabulousity in a delightful and devilish new musical that opened in Chicago this past Sunday. The World Premiere Event will run for only two more weeks at the James M. Nederlander Theatre through August 21.
We chatted with Tony Award winner Beth Leavel and Taylor Iman Jones, who have taken on the respective roles of Runway chief Miranda Priestly and her personal assistant Andy Sachs, before their huge opening night in Chicago.
MI: (Matt Inawat) Tell us a little bit about your journey to being a part of Prada. What drew you to each of your roles?
TIJ: (Taylor Iman Jones) What drew me to the production was the movie, the film, the material that's already there. And then after a series of auditioning, I realized, "Oh, I actually relate more to Andy than I ever thought." There's so much of me in this character. Now, getting to originate, it is so cool to marry the two. And obviously to get to work with the best people on the planet, it's awesome.
BL: (Beth Leavel) I play Miranda Priestly. Who would not want to play Miranda Priestly? It's like the King Lear of new roles for women divas.
TIJ: Yes.
BL: So, it's been a blast learning and continuing to learn how very similar I am, apparently, to Miranda Priestly.
MI: What do you bring from your own personal experiences into the characters?
BL: Well, that's a more of a difficult question for me because Beth Leavel is kind of the antithesis of Miranda Priestly. But however, that said, I have such easy access to my inner diva and to be able to be cast in a role where I'm not the funny one. Where I am the ground, the center, which all this other energy revolves around, is thrilling. Then I get all these fabulous lines, iconic lines...
...and some new ones. I don't even want to talk about those!
TIJ: For me, it's fun to play a young woman who is discovering herself in the world. Andy is a few years younger than me, so it's nice to tap into moments that I've had before that I know have helped me become who I am today. I'm hoping that I get to share that experience with the audiences where they can be like, "Oh, I remember what that was like. Yeah, yeah, yeah."
BL: Oh, I did that.
MI: So, how does the show stay true to the novel and the film, while reflecting our world as it is today?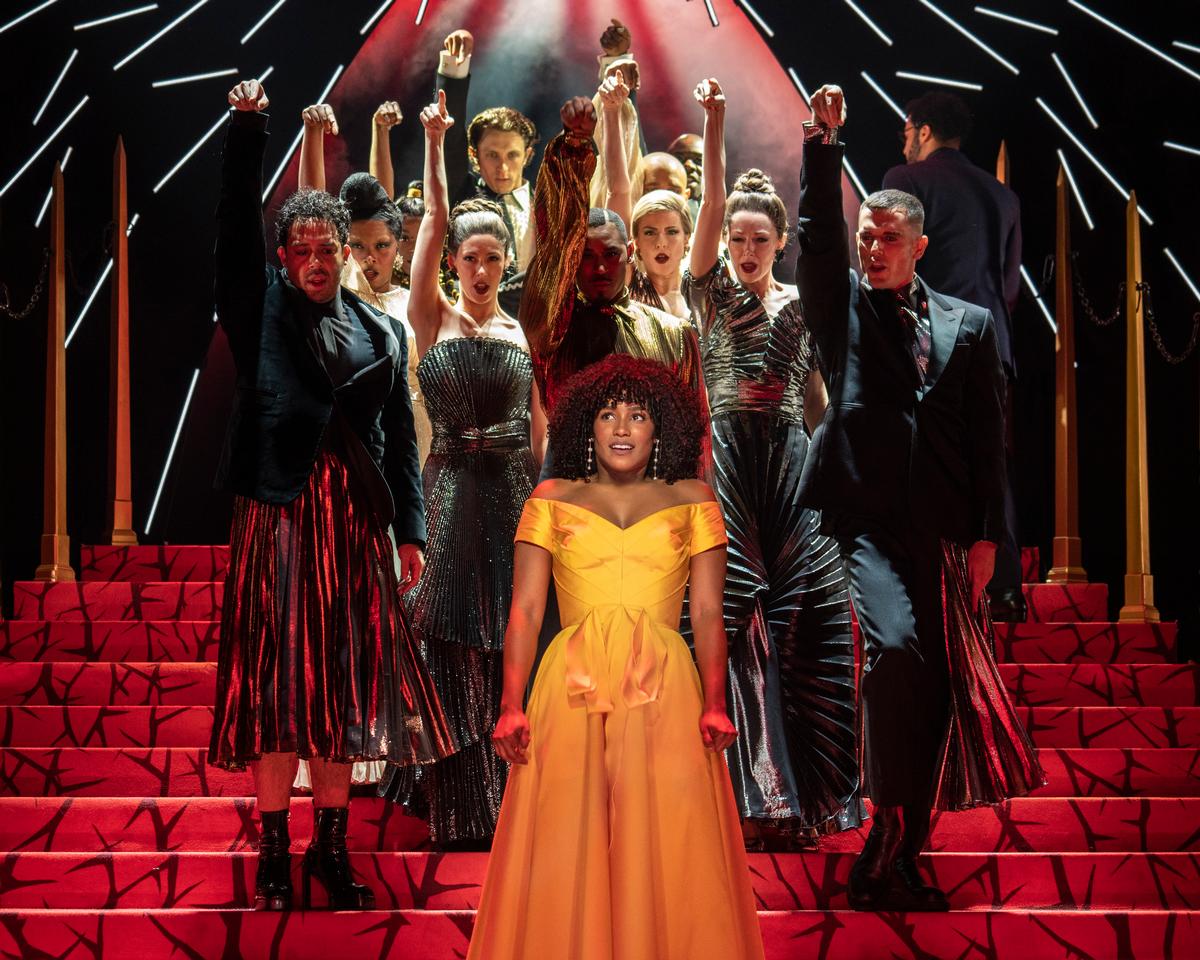 Taylor Iman Jones and The Cast of The Devil Wears Prada; credit: Joan Marcus
TIJ: The storyline is there. We know the movie, so we know the beginning, middle and end, but how we tell the story, it has been updated for 2022. The representation in our show is so much more diverse than the movie was, is, and not just in our skin colors, but people's self expression.
The fashion is updated. The fashion is more open and breaks a lot of rules that I think 2016 kind of had to follow 16 years ago. That is really exciting to be a part of that in this new world.
BL: And to take all of that, and then it's a musical. So, we sing our feelings or we dance them. And still remain truthful to that fabulous novel and loving and respecting the film and some of those great lines that I would've been so disappointed if I didn't get to say, so I get to say a lot of them.
MI: So, what's your favorite part about working with this team that's been assembled for Prada?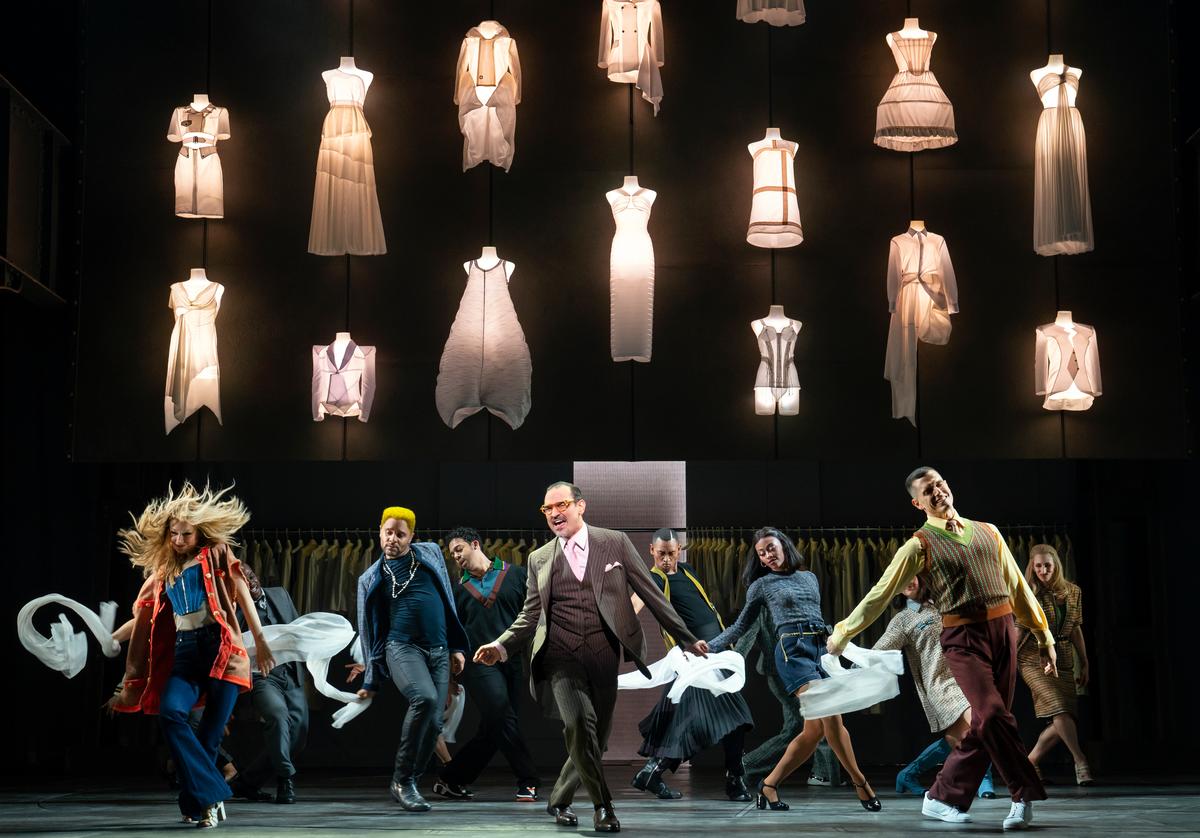 Javier Muñoz and The Cast of The Devil Wears Prada; credit: Joan Marcus
BL: Oh, my gosh. It's been one of the most satisfying creative rooms to be in.
It's a room full of women. It's a room full of ridiculously smart women, who have created such a safe space for us to come in and throw everything we have up against the wall and them go, "Yes, no, yes."
We're very, very close. We've been involved in this one way or another, even if it's waiting for three years and we've still stayed this community. So, finally to be able to share it with Chicago, it's about time.
TIJ: The team has been so generous in celebrating who we are as actors, but they've also really taken care of us as people. Like the whole cast. They've made sure that we are good at our jobs on stage, but they've made sure that we are held and supported outside of the production, which is in a way that I've never experienced before.
BL: Me neither.
MI: That's some amazing praise there. So, you're going to be here in Chicago for the next four to five weeks - is there anything that you need to do in Chicago while you're here? That's on your to-do list?
TIJ: See The Bean.  I know. It's not far from here.
MI: Haven't had the chance to see it yet?
BL: Not enough free time. People go, "What have you seen?" I've said, "I've seen the theater and my bed, that's about it." So, we're all making lists of things so we can be tourist once we open.
MI: Beth and Taylor, thank you so much for taking the time to sit with me and we can't wait to see this amazing, amazing show and your performances on stage!
DEVIL WEARS PRADA THE MUSICAL stars Tony Award winner Beth Leavel as Miranda Priestly, Taylor Iman Jones as Andy Sachs, Javier Muñoz as Nigel Owens, Christiana Cole as Lauren Hunter, Megan Masako Haley as Emily Charlton, Tiffany Mann as Kayla Ward, Michael Tacconi as Nate Angstrom, and Christian Thompson as Christian Thompson.
Based on Lauren Weisberger's best-selling 2003 novel and the 2006 blockbuster film, the musical is a glamorous and hilarious story about finding your place and discovering what matters most. 
The new musical features an all-star creative team led by Tony, Grammy and Academy Award winner Elton John, Tony Award winning director Anna D. Shapiro, with lyrics by singer-songwriter Shaina Taub, and a book by Kate Wetherhead, music supervision by Nadia DiGiallonardo, and choreography by James Alsop.
Ticket prices for THE DEVIL WEARS PRADA, THE MUSICAL range from $35-$120, with a select number of premium tickets available. Tickets are available now for groups of 10 or more by calling Broadway In Chicago Group Sales at (312) 977-1710 or emailing GroupSales@BroadwayInChicago.com. For more information and to check the playing schedule, visit www.BroadwayInChicago.com.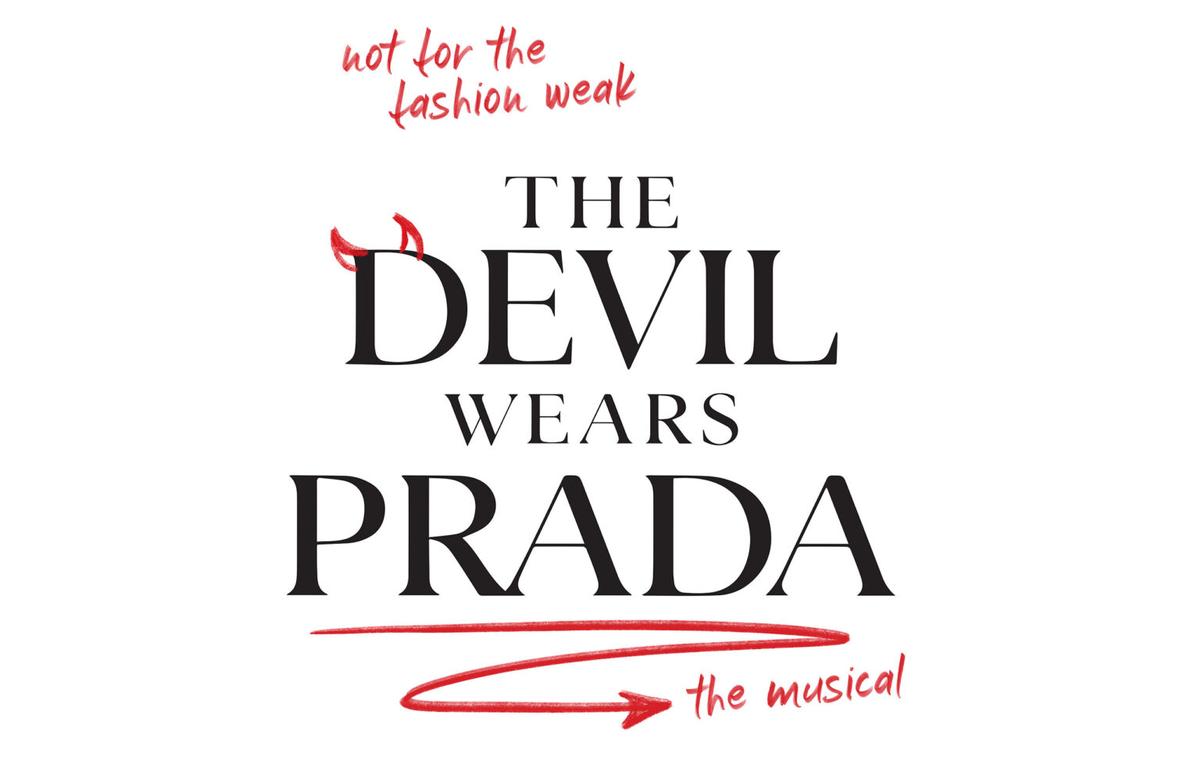 Devil Wears Prada The Musical; credit: devilwearspradamusical.com
Interviewed by Matt Inawat. Ron Matthew Inawat is president of the GoPride Network and contributes to ChicagoPride.com, PrideLA.com and other sites within the GoPride Network. Follow @cpmatthew