A GoPride Interview
Deena Cortese
Deena Nicole Cortese on Jersey Shore's final farewell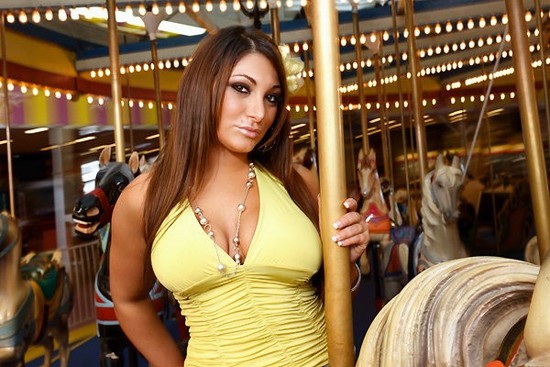 deena nicole cortese in "jersey shore"
Jersey Shore fist pumped its way into our hearts on in 2009. When the MTV reality series first began, there was a great deal of controversy about stereotypes and how Italian-Americans were portrayed in the Seaside Heights, New Jersey household. The show overcame the controversy and has gone on to become a hit show - with college courses even been dedicated to its topic.
Nicole "Snooki" Polizzi and fellow "meatball" Deena Nicole Cortese are standouts on the show. Deena replaced cast member Angelina Pivarnick when she left after season two.
We talked to the "walking holiday" right before the Shore drew to a close after three years and six seasons.
JN:
(Jerry Nunn) Hi, Deena. So from the beginning you were cast on the show because of Snooki?
DC:
(Deena Cortese) It had more to do with the producers but Nicole did invite me down.
JN:
Where did you first meet her?
DC:
I met her through friends. She was dating my friend so that is how I met her.
JN:
Your life was changed through that meeting.
DC:
My life has definitely changed in the last two years. It was a great experience.
JN:
How do you feel about things being portrayed on television?
DC:
I think everything has turned out the way it should have. It's the Jersey Shore. You go down and have a good time. As you grow then your life changes. I think that is exactly what it showed.
JN:
Did you personally have problems with the hurricane?
DC:
Luckily I'm more inland so what we had was a little bit of flooding. We had a couple of trees down but we were okay. I have been down to volunteer. I did work the Restore the Shore telethon to try and raise money. I did a couple of charities. I wanted to help as much as I can.
JN:
I noticed out of the whole cast that you stated you love the gays on the show.
DC:
Thank you, I do!
JN:
I think Jersey Shore has a lot of gay fans and sometimes that is not shown on there.
DC:
Yeah and I love them all! Honestly gay guys are my biggest fans. They are the people that I love to be around the most so it is great.
JN:
I wonder what it would have been like to have a gay cast member on the show?
DC:
I would have loved it. That would have been my favorite thing to have a gay roommate.
JN:
How did you lose weight between seasons of the show?
DC:
I started a diet then I went to Jenny Craig. I just kept it off and worked out. I still try to keep it off but I indulge here and there, especially now that I am not on camera 24 hours a day, seven days a week. I do it for myself and try my best. I feel more comfortable now.
JN:
Great. Do you want to be on more reality television after this experience?
DC:
For right now I need to take a break from reality TV. Jersey Shore was filmed around the clock with no privacy. It was hard for me and took a lot out of me. I think maybe another type of reality TV eventually but for right now I need to take a break. I can focus on other things like my life.
JN:
Seems like many viewers want to see what will happen to the group in the future. I'm sure there will be offers.
DC:
I'm very happy with how my life turned out. The show has really opened doors and opportunities. If those work out that's great but I'm very happy with my life and what is going on with it now. I'm very down to earth and low key these days.
JN:
Speaking of projects, you have tons of products on your website www.deenanicole.com.
DC:
I'm working on a couple of things and hopefully they work out the way they should. I'm working on a hair product line called Wisper. I have a clothing line called Shore Couture. On the website I have a lot of good gifts, stocking stuffers with good prices. I have jewelry and t-shirts. So yeah, I have some stuff going on.
JN:
Is the business aspect something that you have always wanted to do?
DC:
No, I'm still getting used to it as it comes. My whole life has changed in the last two years. It changed really fast. I'm still grasping what all has happened!
JN:
I heard a story that Michael "The Situation" Sorrentino is having financial problems. Do you have to be careful with your money and whom you surround yourself with?
DC:
Absolutely. I save all of my money. I mostly have my parents working with me with that because I wanted to keep my money for my future. I don't know where I am going to go from here or what I will be making so this is my money for my future.
JN:
That's good to hear. The final episodes look great from the previews.
DC:
I haven't seen them either. I look forward to seeing how it turned out.
JN:
Relationship wise everything is still going good with you?
DC:
Yes, me and Chris are great. He's a great guy and makes me laugh. We have been together a little over a year now.
JN:
Many fans tweeted to me telling that they want to hug you.
DC:
Aww, that's sweet.
JN:
Have you been to Chicago before?
DC:
I did an appearance in Chicago a year and a half ago. I had so much fun. I would totally come back.
JN:
I have met a few cast members but not you yet.
DC:
We would have a blast.
JN:
A "blast in a glass!"
DC:
Hell yeah.
The finale of Jersey Shore aired on December 20. Visit www.mtv.com for more information and scheduled re-runs.
Interviewed by Jerry Nunn. Jerry Nunn is a contributing writer to the GoPride Network. His work is also featured in Windy City Times, Nightspots Magazine and syndicated nationally. Follow @jerrynunn