A GoPride Interview
Miles Brown
Miles Brown Is Back in Town
Jenifer is the diva of our set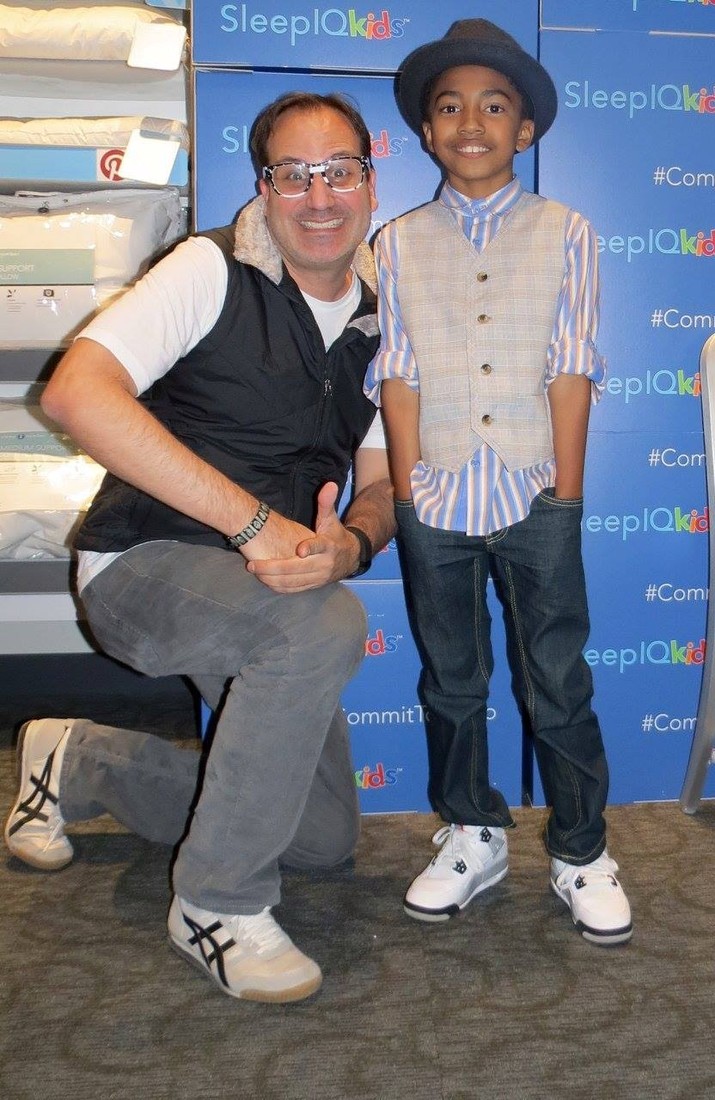 jerry nunn with miles brown
photo credit // jerry nunn
Interview with Black-ish star Miles Brown
The super talented young actor Miles Brown is growing up right before our eyes on the ABC television show Black-ish. He plays Jack Johnson on the hit show and was recently nominated for two NAACP Image Awards.
A long time performer, he captivated audiences on America's Got Talent with dancing skills. He is currently working on a new Cirque du Soleil show and a feature film called Believe.
We talked to Baby Boogaloo at a recent Sleep Number appearance at Woodfield Mall in Schaumburg.
JN: (Jerry Nunn) Miles Brown is back in town. Is this your first time in the Chicago area?
MB: (Miles Brown) No. This is my sixth time. First time being in this mall.
JN: It is huge!
MB: We are about to go to the Cinnabon.
JN: How are you involved with Sleep Number?
MB: I partnered with Sleep Number to help kids sleep better because 69 percent of kids have at least one sleep problem. That can be sleep walking or talking. It is a big problem.
JN: Kids probably don't think about it.
MB: They don't They just think the next night they will get more sleep but they don't.
JN: You have one of these fancy beds yourself?
MB: Yes. I have a SleepIQ Kids K2. It is really good and I love it.
JN: You have been performing since you were really little?
MB: Since I was three or four. I just love entertaining people.
JN: How did your nickname Baby Boogaloo begin?
MB: My dad and I love to dance. My dad would bring dance videos from across the world because he loves to travel. He does music. We just copied Michael Jackson. He said that I needed to make a name for myself so we started brainstorming and we came up with that name.
JN: How did you wind up on America's Got Talent?
MB: I was actually on Ellen Degeneres first then I went on America's Got Talent. I auditioned with my friend and made it all the way to the semi finals.
JN: You really stood out on that show. Did you have a favorite judge?
MB: Howie Mandel. He was the nicest.
JN: But he won't shake your hand...
MB: Yes, only a fist bump.
JN: Explain how you got on Black-ish.
MB: I did an audition. I also auditioned for a Kevin Hart show. It didn't get picked up. Both were supposed to air at the same time and they both were fighting over me. When they sent the scripts for the pilots we liked the Black-ish one more. They offered me the part.
JN: Are you like a real family on the set of Black-ish?
MB: Yes, Anthony Anderson and Tracee Ellis Ross feel like my parents.
JN: How is Laurence Fishburne?
MB: He is really cool. Him and Jenifer Lewis are great and play my grandparents. Jenifer is the diva of our set. When she wants things to be quiet, it will be quiet. She is not afraid to be a diva!
JN: Do you go to school on the set?
MB: I have a set teacher and a real teacher because I still go to public school. The communicate with each other so I don't get behind.
JN: You are going to be in a Cirque du Soleil show?
MB: I am doing one night on March 18 at One Drop. It will be really good.
JN: Where can people see this?
MB: At The Smith Center in Las Vegas.
JN: Oh Vegas where Britney Spears is. You better rock!
MB: I will be hitting it!!!
One Drop is a fundraiser on March 18 at 7 p.m. at The Smith Center in support of safe water around the world. Visit onenight.onedrop.org for ticket information. Learn more about sleep at SleepNumber.com/SleepDebt
Interviewed by Jerry Nunn. Jerry Nunn is a contributing writer to the GoPride Network. His work is also featured in Windy City Times, Nightspots Magazine and syndicated nationally. Follow @jerrynunn