A GoPride Interview
Michael Rourke
Executive Producer Michael Rourke on "I'm Having Their Baby"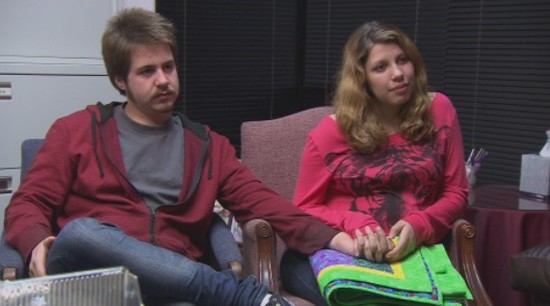 photo credit // oxygen media
The Oxygen Channel's docu-series "I'm Having Their Baby" covers adoption - by both gay and straight couples - in a six part series airing Monday nights.

The executive producer for the series, Michael Rourke, a veteran of NBC News who has been running Hudson Media Productions in New York and Los Angeles. His company has produced a number of different shows such as Pregnant in Heels for Bravo.

ChicagoPride.com's Jerry Nunn talked to Michael Rourke before "I'm Having Their Baby" debuted.

JN: (Jerry Nunn) Hi, Michael. Why did you feel Oxygen was the right network for this show?

MR: (Michael Rourke) Well, Oxygen was the right network for this show for 100 reasons, mostly because of their core audience and the stories that their core audience is interested in.

We wanted to do the show because you rarely get the opportunity to tell stories that haven't been told. The story of adoption and the changing face of adoption, which is undergoing some real transitions is a story that deserved to be told.

We were really thrilled to have the opportunity from Oxygen to tell the story. Then we were equally honored that these families chose to allow us to tell their stories. So I'm really psyched to be part of it.

JN: Where did you come up with the concept of the show?

MR: The concept was developed at Oxygen and they came to us. There was a development team at Oxygen. They came up with the area of looking at adoption through the eyes of birth moms. They came to us to develop and produce it. So that's how the idea came to be.

JN: The subject is very popular on television right now with Teen Mom and your show Pregnant in Heels. I even heard Logo is casting an adoption series now.

MR: I don't think that I'm Having Their Baby fits into the category with those other shows. And I produced one of them so I can say that.

I'm Having Their Baby is really about a very, very unique story and it's a really special story. I think what we are as a country and sort of as a society looking at is what makes a family. I think that's a big story for us these days.

Teen Mom and Pregnant in Heels have their fans, which is great. They have people that are interested in watching those shows. I do feel like this show is very different from those shows.

JN: I am gay and adopted so I am interested in any updates from the gay couple in the first episode.

MR: Yes they're great. They were a couple that is actually in the second episode. And they are up in Anchorage, Alaska. The last we spoke to them they're doing terrific. Amanda, the birth mom, is in touch with them and stays in touch with them. She hasn't yet been up there, but is making plans on doing it.

They were great because if you've seen the show they have had quite a journey to get to the point of adopting their son and had had some false starts and really great guys. And interestingly enough while marriage is not legal for them up in the state of Alaska, same-sex adoption is. So it's kind of terrific for them.

JN: Is it more complicated being in Alaska?

MR: I don't know if it's more complicated but every state is different and especially when it comes to single-sex adoptions or single-parents adoptions.

Same-sex co-parenting it can get complicated from state to state. Some states allow it. Some states don't. Alaska is one where they can both be a parent of this child.

JN: That storyline meant a lot to me. I really liked the way it was handled.

MR: Oh great. Thank you.

JN: Was it difficult for the women to trust you with their stories?

MR: It wasn't easy. Sometimes when we would meet with them or meet with their counselors and talk to them about the process it takes a while for them to trust us. It was almost always in the third trimester, but generally it could be anywhere in the process.

And the truth is what we realized is that it didn't really matter where they were in the process. It was still emotional, interesting and a pretty compelling story. And the process that she was going through which was so unique to her was special no matter where she was in her process.

JN: Where did you find the birthmothers?

MR: So we worked with adoption agencies and counselors throughout the country. We worked with them and they would talk to their clients. And if their clients were interested they would put us in touch with them and we would sort of get it that way. So it was all through agencies and counselors.

It was a much more sensitive process than I think a lot of what we do although from my years in news definitely very similar to that in the fact that you have a trusted person introduce you. So first we gained the trust of the counselor and the agencies and then have them introduce us to their clients in hopes that their clients would want to tell a story.

JN: Did every mother choose adoption in the end?

MR: Not every mother chooses adoption in the end. They were structured in the story subjects, the 12 women who allowed us to follow their journey. And they're all different.

Watch I'm Having Their Baby on Oxygen finale is Monday August 27 and past episodes can be found online or rerun on the channel. Visit www.oxygen.com for details and listings.
Interviewed by Jerry Nunn. Jerry Nunn is a contributing writer to the GoPride Network. His work is also featured in Windy City Times, Nightspots Magazine and syndicated nationally. Follow @jerrynunn