A GoPride Interview
Rhea Butcher
Butcher than all of you: an interview with lesbian comedian Rhea Butcher
I feel like you could work on a joke forever, but at some point they've got to leave the nest.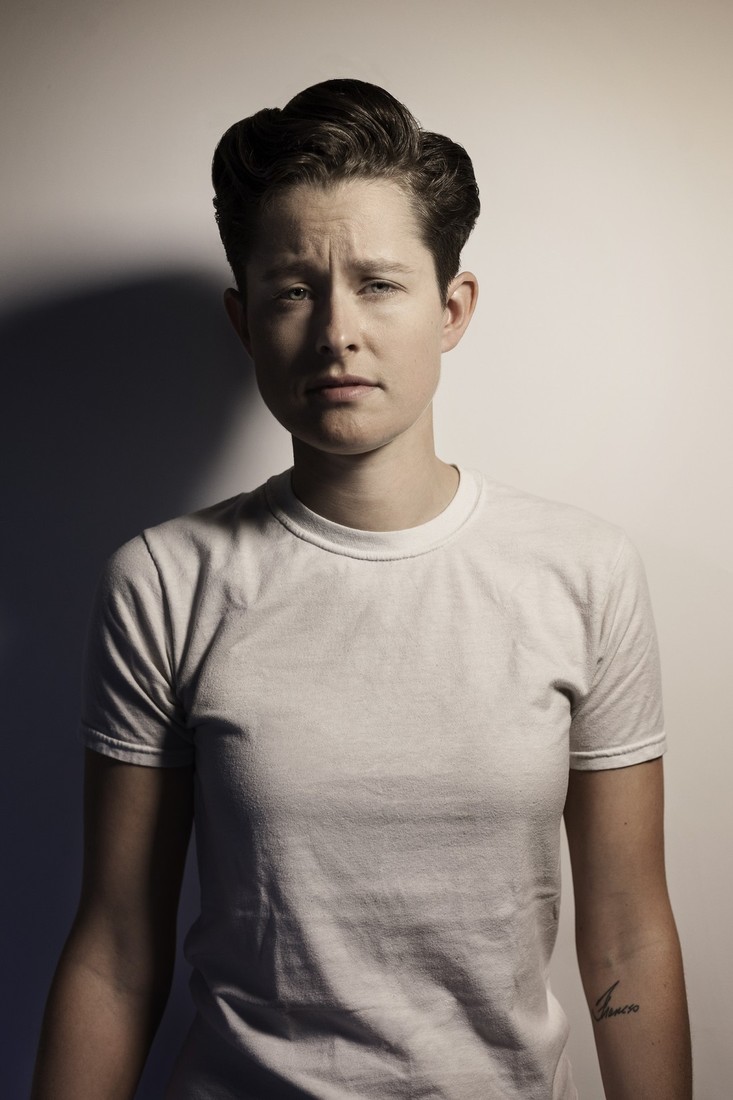 photo credit // megan thompson
Lesbian comedian Rhea Butcher is seriously funny.
Comedian Rhea Butcher goes a long way to dispel the myth of the humorless lesbian on her brilliantly funny comedy debut album Butcher (Kill Rock Stars). The secret to creating a comedy record that stands the test of time is how it holds up to repeated listens, and Butcher passes with flying colors. Butcher's original and very humorous perspective and material, touching on surnames, vegetarianism, pets, pizzle sticks, gender identity, hair, and baseball vs. softball, among other subjects, deserve to be enjoyed by all comedy fans, gay and straight. I spoke with Butcher before the release of her album.  
Gregg Shapiro: Rhea, who do you consider your strongest comedy influences to be?
Rhea Butcher: When I was growing up I watched a lot of stand-up comedy, specifically Stand Up Spotlight on VH1. That show was hosted by Rosie O'Donnell and featured a lot of women, so when I was that age, I really thought women doing stand up was a normal thing. I really liked Rosie, Ellen (DeGeneres), Brett Butler, Elayne Boosler. Then, when I actually started doing stand up in Chicago, my biggest influences were Maria Bamford and Paul F Tompkins.
GS: Regarding the material on your debut comedy album Butcher, how did you know that these were the jokes that you wanted to commit to record for posterity?
RB: These were jokes that I have been working on for about five years. I feel like you could work on a joke forever, but at some point they've got to leave the nest.
GS: You incorporate your hair into your comedy, as we can hear on "Haircuts and Flight Attendants" on Butcher.
RB: I talk about my haircut because cutting my hair short was a big moment for me, as a lesbian. I think for queer people, things like haircuts are a turning point: when I cut my hair it was a big statement to the world. It was also me taking control of my gender. I got to make myself look the way I wanted to look.
GS: You touch on a number of other funny lesbian hot button issues on the disc, beginning with manual transmissions. When you drive a car, do you prefer a manual or automatic transmission, and why did you choose what you did?
RB: I do drive stick. I purchased my car 10 years ago on my own: I researched and test-drove cars until I found the car I still drive today. At the time I wanted a manual transmission because I was still living in the Midwest and wanted the extra amount of control in the snow. It's also great on gas mileage. Now that I live in LA it's really just a point of pride that I can even drive stick.
GS: You have a great line about being a vegetarian in which you say that you're a vegetarian because you like animals, not because you like vegetables. How true is that?
RB: 100%. I am a Midwesterner through and through.
GS: The baseball versus softball bit is as funny as it is topical. Donald Trump's Vice President pick Mike Pence recently spoke out against women in the military, so that probably doesn't bode well for women playing baseball. Do you have hope that that will change in your lifetime?
RB: I do have hope for it in my lifetime because there are many women playing baseball on a professional level, and three of them have been placed on the Sonoma Stompers minor league team: Kelsie Whitmore, Stacy Piagno, and Anna Kimbrell. Kimbrell and Whitmore played as the first all female battery (pitching and catching) since the All American Girls Professional Baseball team (from A League Of Their Own) recently. That plus the popularity of Mone Davis and the TV show Pitch debuting on Fox this fall, it's not far off.
GS: Back in the old days, major labels such as Warner Brothers released comedy albums by everyone from Bob Newhart to Steve Martin and Gilda Radner, and more recently Jimmy Fallon. Your album, Butcher, is on hipster indie label, Kill Rock Stars, and recent releases by Sarah Silverman and Tig Notaro are on equally hip indies Sub Pop and Secretly Canadian, respectively. What does it mean to you that comedy has found a home on Kill Rock Stars?
RB: Kill Rock Stars has been an influential label to me for years. They have put out such amazing music for so long and when I saw that they decided to move towards comedy, I thought it was a perfect fit. In some ways, the internet has democratized comedy and allowed for so many diverse voices to be heard. Kill Rock Stars is a natural extension of that voice. I am really proud to be on the label and to have the label mates who are featured on KRS.
Rhea Butcher's comedy album "Butcher" is set to release on August 19th and her half-hour, single-camera original series "Take My Wife" premiered on SeeSo on August 11th. 
Interviewed by Gregg Shapiro. Gregg Shapiro is both a literary figure and a music and literary critic. As an entertainment journalist, his work appears on ChicagoPride.com and is syndicated nationally.