A GoPride Interview
Amy & Freddy
Cabaret duo Amy Armstrong and Freddy Allen on how they met, music and more
You know, I kinda faded just now. All I got out of that story was that you thought I was a drag queen!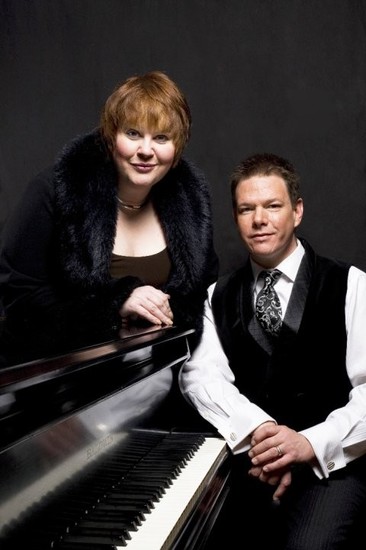 amy armstrong and freddy allen
There are very few performers you know by their first name; Sonny & Cher, Donny & Marie and of course Amy & Freddy. I caught up with Chicago's first couple of cabaret Amy Armstrong and Freddy Allen as they get ready to bid farewell to summer with their final concert of the season on Thursday, August 16.
MJR:
(Michael J. Roberts) Hi Amy and Freddy. You are two of my favorite people in the world! Can you tell me about your upcoming concert?
A&F (Amy Armstrong): You are one of our favorite people too Michael. Well, we are very excited because it is the first time we are doing a full concert at the Center on Halsted in the Hoover-Leppen Theater. We have done some charity events but never a full concert. It is the Amy & Freddy Cabaret Show and will be a fun night including showtunes, cabaret standards and of course, a little bit of dirty! There is also going to be drinking involved and they are going to be making a Cabaret Cosmo! I may have to have two or five.
A&F (Freddy Allen): It is really going to be very eclectic show with the material we selected.
Along with show-tunes, there are going to be performing songs I wrote, along with some blues and jazz. We just want to do something really fun in the community since it is our last show of the summer. It has been a long time since we have done a show in Boystown because we have been working up north at the Mayne Stage for a while, so it is good to get back here.
MJR:
You two have been performing for so such a long time now. Take us back to the day when you first met each other. Give us the origin story!
A&F:
(Amy) I was at an open mike night at….
(Freddy) No, I want to tell the story. I was at the Gentry on Halsted sitting at the bar having a drink. Amy walked in the door with her hair all done up. She had jewels around her neck and was dressed to the nines. Honestly, I thought she was a drag queen. But then she got up and she sang. I soon realized she was not a drag queen, just a fierce singer. Dave Edwards, the owner, came back and asked me who that was. I told him I had no idea but you need to hire her. David loved her, hired her and gave us our start.
(Amy) You know, I kinda faded just now. All I got out of that story was that you thought I was a drag queen!
(Freddy) And I said you were fierce.
(Amy) That's right, I was fierce. And realize drag queens that drag did come from women so don't be against the vagina! I want to say that it was also the drag queen FiFi Depraved who helped me get my start. The first time I ever sang in the city was at Charlie's. I had no money whatsoever. FiFi said, 'sing in my ear and if you are good, I will let you go on.' I remember I made $42 that night in tips. I cried so hard and just hugged her. FiFi said 'don't worry, we will always take care of good people and you are good people.'
MJR:
How has your relationship with each other changed over the years?
A&F:
(Freddy) It keeps getting better and stronger. We are family.
(Amy) We always have each other's back and it is also the conformability factor. We learn songs in a heartbeat now. We know each other and we emotionally connect.
MJR:
I understand you have a new CD that just came out entitled "We Get Along". What type of material did you choose for it?
A&F:
(Amy) Can you believe it. This is our fifth recording together and it took us five years to make this one. Fred and I went through a lot of personal problems these past few years. We both have been through divorces and hard times in our lives recently and this album reflects that. We went through all that stuff and now we are the stronger for it.
(Freddy) I wrote the title song We Get Along about our relationship. Wherever we go, we get along, whatever we do, we get along. It is just perfect. We love making music together and in life, we face the highs and lows together.
(Amy) There is another song on the CD that I love by Abby Lincoln called Throw It Away. It basically says anything that bothers you, anything that gets on your nerves, just let it go and throw it away. Just live your life, give love and throw away all the bullshit. When you let stuff go it makes your life so much easier.
MJR:
Amen to that! Do you have any cruises planned?
A&F:
(Amy) Yes, Grease! Not the movie the country. In September we are flying into Athens and then we are taking a clipper ship and doing a different port every day (insert joke here).
(Freddy) Then in February we have our own headlining Caribbean cruise for LGBT friends and families. It is going to be so much fun and we are so excited! It is also going to be very affordable which is fantastic.
MJR:
Well it was great catching up with you.
A&F:
(Amy) Same here. Make sure you all come out and see us at the Hoover-Leppen Theater and wish us a bon voyage to summer! Did I mention there are cocktails being served?
Catch Amy & Freddy's Cabaret Show, August 16, 2012 in the Hoover-Leppen Theatre at the Center on Halsted, 3656 N. Halsted. Cocktails at 6 p.m.; performance at 7 p.m. Purchase tickets at www.centeronhalsted.org or call (773)472-6469. To order Amy & Freddy's new album "We Get Along" visit www.cdbaby.com or download in iTunes. To find out more information on Amy & Freddy's LGBT Friends & Family Group Sailing Cruise, visit www.conciergetravel.cc or call (877)-775-9616. For all things Amy & Freddy, visit their official website, www.amyfreddy.com.
Interviewed by Michael J. Roberts. Michael J. Roberts is theatre editor for the ChicagoPride.com covering Chicago's diverse arts and entertainment scene.