A GoPride Interview
Cesar Millan
Cesar Millan and Son Bite Into Dog Nation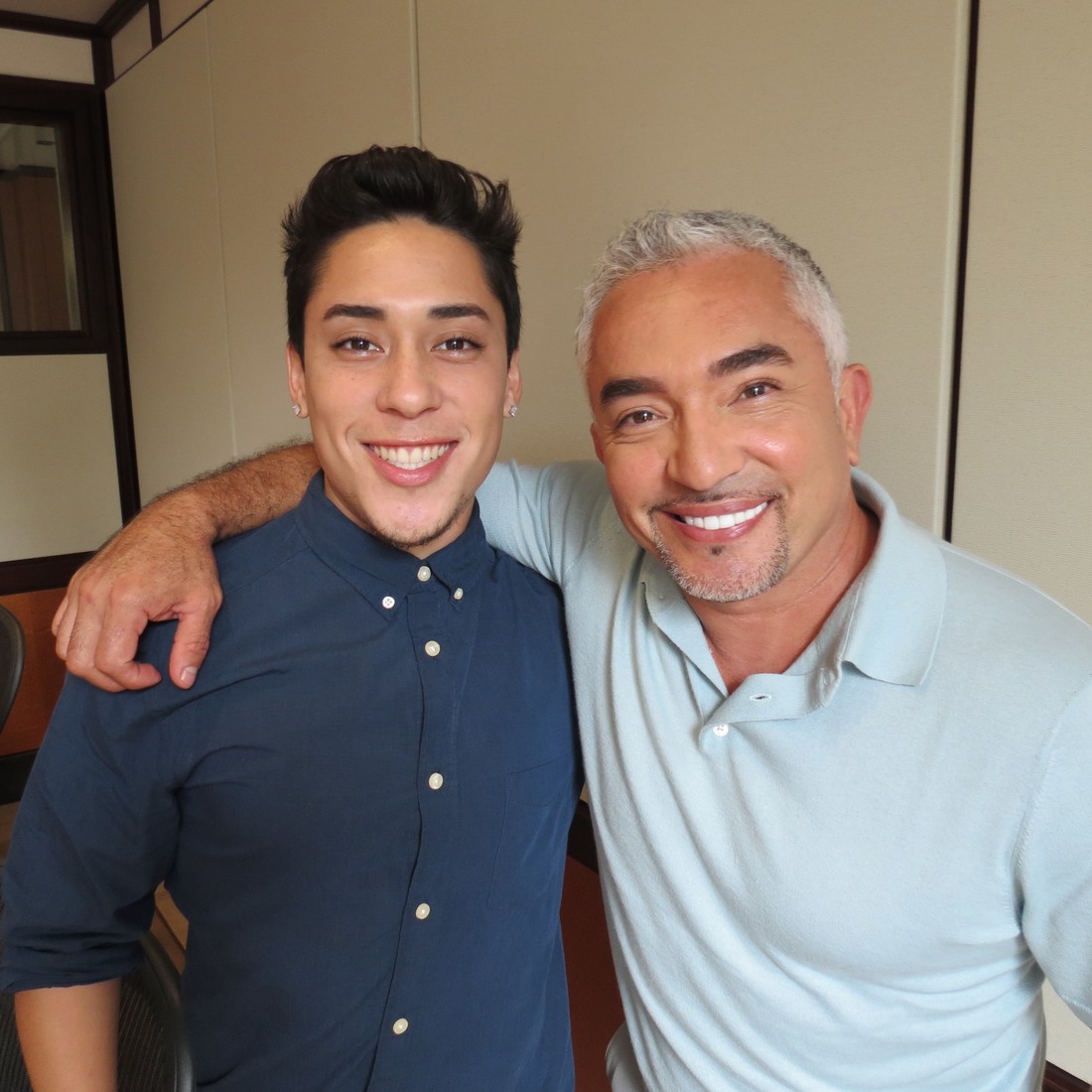 photo credit // jerry nunn
Cesar Millan and his son Andre Millan meet up to talk about new TV show
Cesar Millan's life has gone to the dogs. The Mexican mogul is a massive success as an author and television star. This leader of the pack became popular on the series The Dog Whisperer where he showed viewers how to assert themselves with their animals and is currently on a show called Cesar 911. He's played himself in movies like Beethoven's Big Break and The Back-Up Plan. 
Now he's bringing his son Andre into the act with a new project called Dog Nation on Nat Geo Wild. Nunn sat down with the doggie dynamic duo to discuss this new endeavor. 
JN: (Jerry Nunn) Hi, guys. How was filming Dog Nation in Chicago?
AM: (Andre Millan) It's a beautiful city. 
CM: (Cesar Millan) It is a father and son team. I'm teaching him, well he already knows, so I will say practicing, as a generational millennial to pass on my information. Hopefully this generation will be more preventative. The generation I am working with did everything wrong so I have to rehabilitate those behaviors. 
JN: This show could have a wide range of viewers then…
AM: That is the goal. We want to reach my generation, I'm 22 years old, and then go up in age range. 
JN: How many dogs do you own?
CM: He has one. My two kids have their own homes, so I am happy about that [laughs]. This is a family that can't live without a dog. He has a pug and my other son has one dog.  
AM: I have one in my household and one at the ranch. 
CM: That's true. I personally have four at home and 20 at the ranch. 
JN: You filmed an episode of Dog Nation in the South Side of Chicago?
CM: We find out that in the South Side here there are a lot of stray dogs. They need a lot of help. 
We wanted to give a platform and put a spotlight on the animal rescue there. We want to be part of something great for the community. What keeps a nation strong is really the community. It is about people helping each other. If they have a platform like what I have on TV then we can continue with what I do. I want people to know they can count on us. 
JN: What do you think of the dog parks in Chicago?
CM: Dog parks are all pretty much the same. They are created by the people. Some of them have fences. The one in New York is the same park but has dog events at certain times. It's an unofficial dog park there. 
Since it is the people who make it the rules are dictated by the human. I want people to understand there is a such a thing as creating a harmonious experience between the dogs and the humans. 
A lot of times in parks the large dogs and little dogs separate. That creates the opposite of social. Sometimes dogs run back in forth with a fence dividing them so it is fence fighting with social interaction. 
There are a lot of things that people are doing unconsciously wrong. 
JN: Is a doggie beach a different thing?
CM: People at the beach have a different energy. There are no boundaries and people know their dogs more. There is a level of excitement due to the water, and throwing the ball. People understand that the animal has to be kept away from each other. People have a tendency to bring food and sit down. There is much more control at the beach compared to a dog park. 
JN: Let's take a few fan questions from online. Have you talked to a dog from the other side?
CM: A have relationship with a dog named Daddy who helped me raise my kids. I think the spirit of a dog is with us. He was a very wise dog. 
AM: We see him in our dreams. We will all sometimes have the same dream about him. 
CM: We were very connected. 
JN: Someone asked how she can be an Alpha and mom at the same time. 
CM: There is a balance. I love my son Andre but I have to lead this guy. Love is leading. People think it has to be two different roles but it is the same. It is tougher for a dog to live without rules because he doesn't know what is expected of him. It is the mind, the body, the heart, not just the heart. Love is not enough. 
JN: What is the dynamic of handling small dogs and large dogs?
CM: With small dogs people don't reinforce the same behavior that they do on a larger dog. If you are a driver no matter what size car you have it doesn't matter. Same thing goes for any gender. All the rules are the same. 
People with strong breeds are trying to be in control because their dog is labeled as aggressive or dangerous. That tells us how ignorant we are even though we love dogs. 
Little dogs bite more than big dogs but they get away with it. We have all sizes of dogs. The way we show love to the pack is to give them all the same rules. I do the same with my family. I have two kids and they have the same rules. We have to do this as a community. 
JN: So equal rights for all dogs? Big dogs, little dogs, gay dogs, straight dogs…
CM: Yes! It is like freedom of speech but freedom of being a dog. 
Dog Nation premieres in early 2017. Visit www.cesarsway.com to keep up with Millan.
Interviewed by Jerry Nunn. Jerry Nunn is a contributing writer to the GoPride Network. His work is also featured in Windy City Times, Nightspots Magazine and syndicated nationally. Follow @jerrynunn