A GoPride Interview
Adam Barta
Sexy Party: Adam Barta on performing with Octomom, sexuality and music
I always throw in some element of fun, comedy, and not taking myself too seriously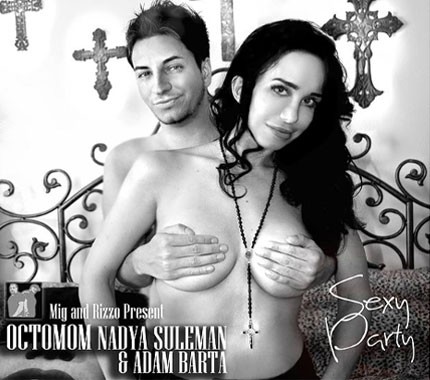 sexy party cover features topless octomom with adam barta
photo credit // adam barta
Adam Barta is more than just another pop voice on the scene and his accomplishments - from having the #1 ultimate sexiest video of all time on Logo to scoring a Top 20 Billboard hit with Kathy Sledge of Sister Sledge - reflects that in spades. He is about to bring even more fun to pop music with a sexy, independent style never before seen.
Barta's music career launched in 2005 with his single "Dirty Girls," which debuted on Maxim Radio and The Beat on Sirius. He's since produced a number of chart topping hits including his dance single, "I Wanna Hold You," which was heard in Abercrombie & Fitch stores throughout the country.
Other hits include "Standing in the Rain," "VIP," "Give Yourself Up," which was another collaboration with Kathy Sledge, and "Q&A."
In June, Barta recorded a new single with Nadya Suleman, aka Octomom, who is renowned for giving birth to octuplets in 2009. "Sexy Party" will be released in September.
Adam Barta spoke to ChicagoPride.com's Michael J. Roberts before heading to Chicago for Market Days.
MJR:
(Michael J. Roberts) Hi Adam. I am a huge fan of yours! Who were some of your musical influences growing up and how can we hear those influences in your music now?
AB:
(Adam Barta) I grew up listening to everything from Madonna to Sinead O'Conner to Guns N' Roses. I owned the original "Use Your Illusion" Volume 1 and 2 on cassette tape. True story! (laughs) My musical tastes were all over the place. I also listened to pop icons like Kathy Sledge, who I was lucky enough to work with. But one memory that sticks out is being obsessed with dancing all over my living room - in boots - at age five watching Olivia Newton John's concert on tape. I think it was her Xanadu tour. I remember a lot of mist, smoke, and cool 80's costume changes! I was in love with her voice and her style.
MJR:
Do you find it difficult for an out gay artist to break into "mainstream' outlets, especially getting your music on traditional radio stations?
AB:
I have a lot of friends in radio and it's difficult for all artists to break-through really. There's only a limited number of slots available for airplay and it all comes down to what advertisers are going to pay for that's going to draw the most listeners to the station. So of course, the major artists always get priority. It's a business and you have to treat it as such. However, the loudest bird always gets the worm. You have to make them take notice of you! This is something I've crafted an art around, getting highly publicized people to pair with me in unique ways to make noise.
That being said, it can be very difficult for gay artists, but gays are very loyal and have shown how powerful their voice can be in the media and in our society. So for every mainstream outlet that would shy away from gay artists, there is a gay outlet that's willing to try that much harder to promote them, and that's where we need to tap into.
MJR:
How did your collaboration with Kathy Sledge come about and what was the process like working with such a legend.
AB:
It was the product of our agent Gehrig Petersen, in Chicago. He emailed me one day and was like, 'would you want to work with Kathy Sledge?' I had to do a double take and respond by asking if he meant the actual, real Kathy Sledge. After I regained my breath, I responded as quickly as my fingers could allow, 'YES!'
Kathy and I had instant chemistry. It's funny because I now lovingly refer to her as "aunt" Kathy. She's not only become a great singing partner, but also a friend, mentor, and confidant. Just yesterday she was on the phone with me at length giving me advice on something that was stressing me. She is truly one of the most genuine, sweet, and down to earth people in this business. One day when I was feeling particularly low, she called me up and said something like 'you know Adam, you are an incredibly talented, hard working guy, and there's no doubt in my mind you are going to be a huge success in your career and life.' I almost started crying. To get that kind of validation from someone like Kathy is worth it's weight in gold.
MJR:
You have had the Sexiest Video of All Time, do you ever worry that your gorgeous looks, fantastic body, hot... (laughs) Well anyway, I digress... overshadow how good your music is, or do they work in tandem?
AB:
What's funny is I don't really think of myself as a sex symbol at all. It was definitely a huge, huge honor and I am forever grateful to Logo and the fans. But as you see from my other videos, I always throw in some element of fun, comedy, and not taking myself too seriously. I think that offsets any sexy component overshadowing my talent or career. I like to be sexy in my video, but always let people know I'm not taking it too seriously.
And yes, for the fans asking, I will finally address this - the pool crawling sequence in Give Yourself Up was inspired by Lady Gaga's Poker Face.
MJR:
You have a new single coming out next month with the notorious Octomom, Nadya Shuleman. Who came up with that idea and how was she to work with?
AB:
It was the product of our amazing manager Gina Rodriguez of GR Entertainment. She wanted to include Nadya to record a line at the end of my Q&A music video saying 'let's do a duet... on my new album' as a way of making the video go viral. When it did, the media started reporting that we were working on a new song together and we had to make it happen. Nadya is actually a very sweet woman and we have become good friends. I adore her. She's so easy to work with and actually has musical talent. I think people are going to be surprised. She studied music for 6 years in school, so this wasn't like other reality stars who do music for a fluke. She actually has a background in it.
MJR:
After getting to know her, what, in your opinion, is the biggest misconception people have about Nadya? Is she a big supporter of the LGBT community?
AB:
Probably that she isn't smart. Sometimes when we talk she spouts out scientific facts that goes around my head. She's actually very, very intelligent. She studied to become a doctor. She's also a huge LGBT supporter. That's part of what our song Sexy Party and the cover are about. It's being free with your sexuality and comfortable who you are.
MJR:
Do you think being paired with you with help change her image or at least start to reshape it?
AB:
It's definitely making my image get out there in a big way. It's amazing, our cover made international news. I'm in the tabloids now. Blogs are quoting my tweets. It's insane the kind of media coverage that has come with it, but I embrace it all and just want to keep going. It's giving me a huge platform for my artistry and for people to hear my music and that's an amazing gift.
MJR:
Tell us more about you. Are you single, dating? Who is your ideal man?
AB:
I'm recently single as of May. It was a very difficult break up because I'm still very much in love with my ex, but it wasn't working and I needed to re-evaluate what I want out of my career and life and where it's going.
My ideal man is someone who is honest, cute - in a boy next door kinda way - smart, and confident. Nick Lachey or David Boreanaz do it for me. Or, as Lisa Lampanelli offered in the Q&A music video, maybe she can set me up with Clay Aiken. (laughs)
MJR:
Where would you like to see your career in ten years?
AB:
Still making music but also branching out having my own reality show - which we're working on - having a Grammy, VMA award, and even getting more into producing both TV and music.
MJR:
What are some of your upcoming projects?
AB:
Sexy Party releases September 4th on iTunes. I'm also taking calls on DialAStar.com where I can talk to fans directly on the phone for a connection fee, which is exciting. We're going to be shooting a music video for Sexy Party and I have a couple upcoming music projects which I'm excited about for later this year including new solo music which fans have been clamoring for a while for. Make sure to follow me on twitter to keep up with everything @adam_barta.
Editor's Note:
Adam Barta shared the new cover (above) for Sexy Party. "Here it is everyone," he said. "The cover you have been waiting for, Octomom the topless album cover."
Adam Barta will be performing at Northalsted Market Days on Sunday, August 12 at 5 p.m. on the North Stage Rivers Casino. Market Days spans six city blocks and features three music stages with more than 40 musical acts performing, including Olivia Newton-John, The Pointer Sisters, Sheena Easton and Matt Zarley.
Interviews:
Olivia Newton-John
|
Sheena Easton
|
Eric Himan
Market Days Entertainment Schedule:
Sat., Aug. 11
|
Sun., Aug. 12
Related:
Navigate Market Days with 'Out & About' mobile apps
Interviewed by Michael J. Roberts. Michael J. Roberts is theatre editor for the ChicagoPride.com covering Chicago's diverse arts and entertainment scene.