A GoPride Interview
Brandon Rivera
Meet three queer performers who found a safe space in Sanctuary City
The writing will move people and I have seen people wipe tears away.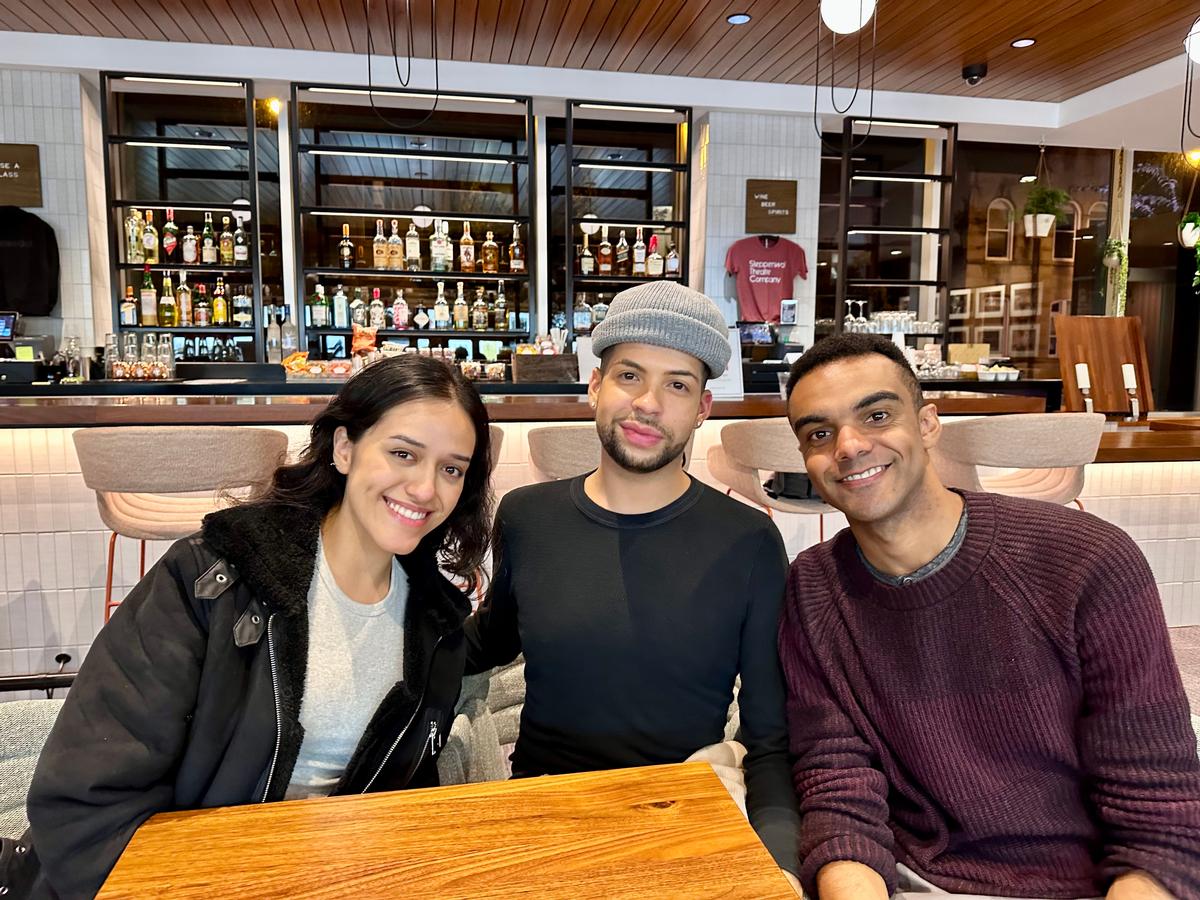 jocelyn, brandon and grant
photo credit // jerry nunn
Steppenwolf Theatre Company opens its 48th season with Sanctuary City
Steppenwolf Theatre Company opens its 48th season with the Chicago premiere of Sanctuary City. This story about two teenagers in Newark, New Jersey was written by Pulitzer Prize winner Martyna Majok and is brought to life by director Steph Paul and three queer-identifying cast members.
Grant Kennedy Lewis is starring in his first Steppenwolf Theatre Company production as B. His background includes shows at Theater Wit, Drury Lane Theater and Compass Theatre.
Jocelyn Zamudio plays G  and this marks her second Steppenwolf endeavor after I Am Not Your Perfect Mexican Daughter. Previous credits include Rust at Goodman Theatre and Bull: a love story at Paramount Theatre.
Brandon Rivera will surprise audiences as Henry with his Steppenwolf debut. He was also in Rust with Zamudio at Goodman Theatre and is an ensemble member of Steep Theatre.
The talented trio met up for a post-show talk at Steppenwolf's Balcony Bar to discuss their work in Sanctuary City.
JN: (Jerry Nunn) What led each of you to Sanctuary City?
GKL: (Grant Kennedy Lewis) Well, I saw that Steppenwolf announced this show as the first one of the season, and I researched it a little bit because I didn't know much about it. I immediately felt connected to the character of B. He talks the same way that I talk and I love how the play is written.
I messaged my agent to see if there was any way to get into this room to audition. I got the audition, did the initial tape and had a callback. It was a very quick process.
This was a show that I connected with the material and the character, especially being a queer man who went through some sort of hiding while I was growing up.
JZ: (Jocelyn Zamudio) I have a friend who worked at Steppenwolf so I asked what the tea was for Sanctuary City. I was the original Gs stand-in for the television show Chicago P.D. so this made a full circle moment for us.
The three of us are at the same agency so they sent the script to each of us. I speed-scrolled through it because I was so immersed and invested at the time. The rapidness of part one snowballs into a powerful story. I was shaken after reading it because these are people I know and have walked through life with. I am from Waukegan, which is a very working-class, Black and Brown neighborhood. I saw similarities between these cities.
We all did the callback and found out a few days later that we were cast. I had worked with Brandon in a previous show and I had a class together with Grant.
BR: (Brandon Rivera) I was born and raised in Chicago. I grew up in Logan Square and went to Lincoln Park High School. My first introduction to Steppenwolf was on a field trip where our high school had a residency to see shows. My sophomore year I saw an adaption of The House on Mango Street. It was an all-LatinX cast and it was a moment where I realized I could perform professionally. I graduated high school and undergrad, and now here I am performing on a Steppenwolf stage.
This is the first time that there is a co-production with a full Membership Series run and Steppenwolf for Young Adults, so halfway through our run we switch to student matinees where high schools from the Chicagoland area will come to see our shows. My high school drama teacher will be here with his class, so it will be wild and full circle. I hope I can reach at least one student who will think that they can do this too, not only as a Brown, LatinX representation but also queer, which is something I don't take lightly.
JN: I am getting the chills! How do you describe Sanctuary City to people without giving things away?
JZ: I don't give any spoilers. All of my friends are queer so I want them to get into the story organically and have no preconceived ideas. The story is minimal and moves fast. There is a lot of nuance in the beginning where the relationship is establishing itself. It doesn't turn romantic so people may wonder why or what is underlying within the plot. I don't tell them shit! [all laugh]
GKL: I give people a little background. I tell everyone what the characters B and G are going through and that is all I say.
BR: I tell people it is about two undocumented teenagers and their relationship. Halfway through the story fast forwards over three years and my character comes in and stirs everything up!
That is the backstory I give them because it is exciting to watch something without having much knowledge about it.
JN: I think queer audiences will want to come even if they know the secrets within the show.
BR: Totally. In my work, I have never been concerned with passing for straight, in real life or on the stage. In my life, I will always be Brown and queer. That is a part of my identity and those are the stories I want to tell. The people who know me and follow my work can expect that.
JN: Have you ever met the playwright Martyna Majok?
BR: She came to opening night.
GKL: She has an energy that draws people to her and she gives big hugs. She's incredible.
JZ: She hung out with us until the end of the night. She went to the after-party and seemed so happy to hear as if this was the first Sanctuary City.
BR: She went to grad school in Chicago, so Steppenwolf has always been a dream of hers to work with, so this production specifically means a lot to her and she made a point to be here for the opening.
She wrote this play and our dreams came true for working on it in this international institution!
JN: It's a good resume builder [all laugh]! How much practice was involved with the time jumps at the beginning of the show?
GKL: Reading it for the first time was like a puzzle when it would jump around. Piecing everything together was the challenge for rehearsing the first part.
Our assistant director printed out the entire script and she color-coded each scene that went together. We made a beautiful mind map where we tacked it on the wall and could see it as a whole before splitting it up. That made it easier to digest and we could have different emotions throughout it. Our genius director Steph Paul made the transitions make sense in our minds.
JZ: We started rehearsing without any lights and sound, so that allowed us to get into our bodies and not rely on other things to tell the story. When tech week started it became a dance.
JN: Was it hard to not be distracted while performing the show in the round inside the Ensemble Theater?
BR: There is no time to get distracted with this play!
GKL: Your mind can't wander and you have to be in it.
BR: The script is so well written that you have to live in it, especially the second part. It is a 30-minute rumble and because it is in the round it feels like a wrestling ring.
JN: That is a good way to think about it, then the audience could be loud without distracting from the onstage banter.
BR: Exactly and we have some ruckus audiences who are very vocal.
GKL: We hear gasps from the audience sometimes and it fuels me.
JZ: Depending on where you sit can change what team you are on because you can see the reaction of another person.
GKL: My mother is coming to see it for the second time and I encouraged her to sit in a different seat. It will give a different perspective.
JN: What are your thoughts on the LGBTQ+ community being used as a plot device?
BR: It is exciting with this show because it is not about anyone's queerness. We are now multidimensional people in stories. Queer people can be both right and wrong while making decisions. That creates fully human people.
JN: There are things to like or not like about all the characters in Sanctuary City now that I think about it.
BR: No one is right in this play.
JZ: And no one is a villain. Martyna told Steph that the characters fight this hard because they love this hard.
JN: I can see how they are all victims in their own way.
BR: No one walks away winning anything.
JN: What do you think would happen to these characters if there was a Sanctuary City part two?
GKL: I picture B getting his citizenship. I wonder if he ran back into G and Henry after that and what it would be like when he is a citizen.
BR: This story is set in 2006 and we know gay marriage eventually becomes legal. I hope Henry finishes law school and finds love, whether it is B down the line or someone else.
JZ: The play ends with hope. I picture them all walking out of the same door and choosing themselves. I think it is beautiful to pick yourself first after putting so many others before you at times. I hope G finishes school and doesn't go back to New York. There is something to say about changing environments and not going back. I think that is the point of the final scene to not stay but to go.
JN: Does anyone have projects after Sanctuary City?
BR: Not yet. This is a two-month run that goes until the middle of November.
JZ: We hope that the strike is resolved so we can do movies and television. I hope to get back to work at Cinespace.
GKL: In January I have the lead in an indie film coming out called The Premiere.
JN: What would the three of you hope that audiences take away from Sanctuary City?
JZ: We are so excited for the young adults to come and see the show. They will be able to see characters much like themselves on the stage. There is a lot of representation for them to see.
Adults will love the coming-of-age story and this one is really special. The writing will move people and I have seen people wipe tears away. I hear the sniffles and the laughs. Everyone can share joy and pain together with live theater which is really lovely.
GKL: Theater for young audiences is truly theater for all audiences. This particular show will have both students and adults watch it who are possibly going through the things in this story. I think it is important to share that with both generations.
BR: I hope people see a story about people they may not interact with on a day-to-day basis, but can relate and empathize with them. Hopefully, when they leave this theater and see someone who doesn't look like them they will think a little differently about the other person after watching Sanctuary City.
Find your Sanctuary City at Steppenwolf, 1700 North Halsted Street, which is running now through November 18, 2023.
Pride is never over and this September, Steppenwolf's LookOut Series is presenting three shows in conversation with Sanctuary City.
Find out more at Steppenwolf.org.
Interviewed by Jerry Nunn. Jerry Nunn is a contributing writer to the GoPride Network. His work is also featured in Windy City Times, Nightspots Magazine and syndicated nationally. Follow @jerrynunn