A GoPride Interview
Isabelle McCalla
Isabelle McCalla takes us on a magic carpet ride as Jasmine in Disney's Aladdin musical
Oh my gosh! I was squealing the entire time!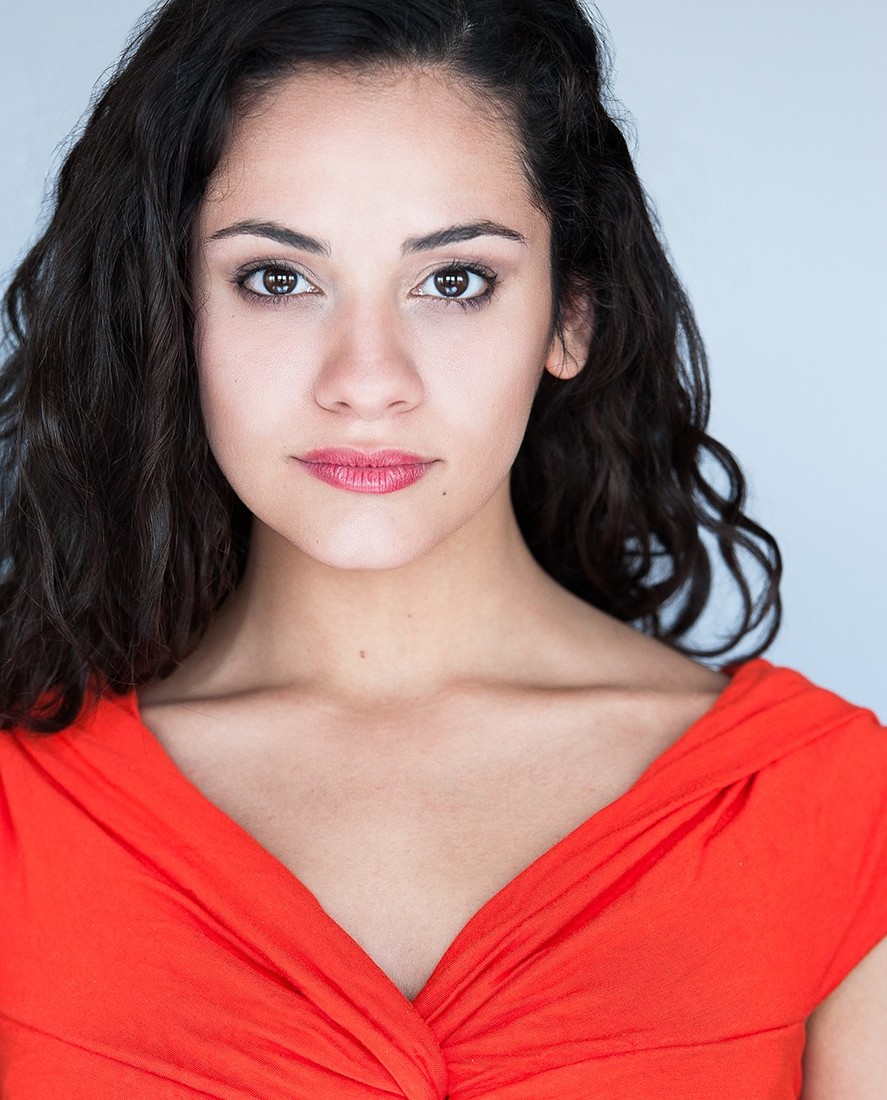 The national tour of Disney's hit Broadway musical Aladdin premiered at the Cadillac Palace Theatre to rave critical reviews and an explosive box office, extending the run until September 10, 2017.  
The great interview Genie granted my request to speak to Princess Jasmine herself, actress Isabelle McCalla as we discuss what makes Aladdin such a cross-generational successful musical. For tickets and a complete performance schedule for Aladdin, visit www.BroadwayInChicago.com.
MJR: Thank you so much Isabelle for talking with me today and congratulations on the success of Aladdin.
IM:  Thank you for having me.
MJR: The critics have praised your portrayal of Princess Jasmine as being far more grounded in reality than other incarnations of the role.   What about the role connected with you as an actress allowing you to bring her humanity to the forefront?
IM:  Well, thank you for saying that.   When I was very young it was Princess Jasmine who I gravitated to above all of the other Disney Princesses because of her independence, her strong will and her sense of adventure.  My parents always instilled in me that just because you're a girl doesn't mean you can't do anything a boy can do, if not better.
So when I finally got to play her on stage it was not the Princess factor that motivated my character.  It was that she was a woman who was ahead of her time who knew traveling was the best form of education.    For me, just because she was royalty didn't mean that she didn't have a heart, soul, feelings and thoughts.   So I was really excited to explore those sides and make her complicated.
MJR: How did you approach your character choices with the show's director Casey Nicholaw (who also helmed The Book of Mormon)?
IM: On the first day of rehearsal Casey told us that even though this is Disney, we are going to treat the script like Shakespeare because that is the only way you can accurately and truthfully portray any material.  I knew when he said that, we were going to be in good hands because any performance has to come from some place real.   For my character, he told me that Jasmine is a woman ahead of her time.   He also said that he cast me because I had a lot of "spunk" but also that I needed to work on her more regal aspects because in my own personal life I'm more street wrap than princess.
MJR: You also get to work with the original Broadway Aladdin, Adam Jacobs.  How do you think his performance has changed working with a more grounded Jasmine?
IM: Let me tell you that Adam has been the most amazing scene partner I have ever worked with.   I was definitely intimated knowing that the guy who originated the part on Broadway was coming to do the tour with me.    Adam was always incredibly patient and kind and is so present in our scene work.   He is constantly adapting to what I'm doing and I am constantly adapting to what he is doing, which makes it feel fresh and organic every night.
MJR: Tell me what it was like first time you got on the magic carpet and it took off?
IM: Oh my gosh!  I was squealing the entire time.  We sang the song (A Whole New World), and I knew that I either was going be at one emotional extreme or another…..either sobbing  or giggling.  Well, the giggling took over and I couldn't continue singing.  It was utterly magical.   Every time we get on that carpet, as the balcony pulls away and you hear the gasps from the audience, it makes all the hard work worth it.  It is true Disney magic.
MJR:  It can be argued that the themes that are explored in Aladdin, including politics, feminism, economical hierarchy, are the most adult of any of Disney's adaptations.
IM:  Absolutely.  I also think what is so great about this new musical adaptation is that we have all these added songs that adds to the characters' backstory.   Songs like "Proud Of Your Boy" which Adam gets to sing, shows how the entire evening is driven by Aladdin's need to better himself and not be defined by his circumstances.   Jasmine also has a great song "These Palace Walls" which speaks to how she wants others to know the actual person she beyond her royalty.
MJR: What was it like the first time you got to perform the show in front of an audience?
IM: It was thrilling.  The audience was so receptive and responsive.  I remember being on such a high and I kept thinking "this isn't really my life!"   But it is the whole company that makes the show work as we all work together as a family.  We all realize that it is about the show and not about any individual.
MJR: When did you know you wanted to work in the theater?
IM: My mother wanted me to be a nuclear physicist, but that obviously didn't work out.     She put me in ballet class when I was eight for the discipline of it.  I danced from primary school through high school where I did all the usual musicals. But I never really considered it as a valid career path until  I got accepted to the University of Michigan where I could have access to both the best acting classes as well as the best academia classes that my career path in theatre became solidified.
MJR: What have been some your favorite roles you have played and what roles would you like to tackle?
IM: One of the most difficult roles I ever played was Sally Bowles in "Cabaret".  The way Sally is written made it very hard for me to find what actually motivated her.   One of the most fun roles was playing Anita in "West Side Story" at the Actors Playhouse.  That was always a dream role of mine.  For roles I would one day like to play, well, I would love to play Sally again in "Cabaret", Polly in "Crazy For You" and most of all Beatrice in "Much Ado About Nothing".
MJR: Since Chicago is the first stop on Disney Aladdin's national tour, are you looking forward to life on the road?
IM: I am.  I have always loved traveling and getting to know different cities and getting to make them my own.   With this tour I will be going to a lot of cities I have never been to before so it is really exciting for me to get to know the different architecture and see the sites.   I have to tell you how much I love Chicago.  It is the most incredible city.
MJR: Thank you so much Isabelle for you time and talent!
IM: Thank you Michael.

Related interviews: Jonathan Weir (Jafar) and Mathew and Lissa deGuzman (Swing, Ensemble) from Aladdin.

Show Info
Disney Theatrical Productions and Broadway In Chicago are thrilled to announce Aladdin, as part of the North American tour launch in Chicago at the Cadillac Palace Theatre (151 W. Randolph Street), has extended its run through September 10, 2017. 
Adam Jacobs, who originated the title role in Aladdin on Broadway, plays the iconic role in Chicago.
Joining Mr. Jacobs are Anthony Murphy (Genie), Isabelle McCalla (Jasmine), Chicago native Jonathan Weir (Jafar), Reggie De Leon (Iago), JC Montgomery (Sultan), Zachary Bencal (Babkak), Philippe Arroyo (Omar), Mike Longo (Kassim), Korie Lee Blossey (Standby Genie & Sultan), Ellis C. Dawson III (Standby Genie & Babkak) and Adam Stevenson(Standby Jafar & Sultan).
Rounding out the cast are Mary Antonini, Michael Bullard, Michael Callahan, Bobby Daye, Lissa deGuzman, Matthew deGuzman, Olivia Donalson, Michael Everett, Karlee Ferreira, Michael Graceffa, Clinton Greenspan, Adrienne Howard, Albert Jennings, Kenway Hon WaiK. Kua, Jason Scott MacDonald, Angelina Mullins, Celina Nightengale, KameRon Richardson, Jaz Sealey, Charles South, Manny Stark, Annie Wallace and Michelle West.
Aladdin opened to critical acclaim on March 20th, 2014 and quickly established itself as one of the biggest new blockbusters in recent years; last year only the smash musical Wicked was seen by more people on Broadway. Since its opening, Aladdin has set 12 New Amsterdam Theatre house records and welcomed over four million people worldwide. Its global footprint has expanded to include productions in Tokyo, Hamburg, London and Sydney and the two U.S. productions.
Aladdin, adapted from the Academy Award-winning animated Disney film and centuries-old folktales including "One Thousand and One Nights," is brought to fresh theatrical life in this bold new musical. Aladdin's journey sweeps audiences into an exotic world of daring adventure, classic comedy and timeless romance. This new production features a full score, including the five cherished songs from the Academy Award-winning soundtrack and more written especially for the stage.
Aladdin is designed by seven-time Tony-winning scenic designer Bob Crowley, six-time Tony-winning lighting designer Natasha Katz, two-time Tony-winning costume designer Gregg Barnes and sound designer Ken Travis.
The production team also includes illusion designer Jim Steinmeyer, hair designer Josh Marquette and makeup designer Milagros Medina-Cerdeira. The music team is headed by music supervisor and music director Michael Kosarin, who also created the vocal and incidental music arrangements, joined by orchestrator Danny Troob and dance music arranger Glen Kelly.
For tickets and a complete performance schedule for Aladdin, visit www.BroadwayInChicago.com.
Photo Credit: Deen Van Meer
Interviewed by Michael J. Roberts. Michael J. Roberts is theatre editor for the ChicagoPride.com covering Chicago's diverse arts and entertainment scene.