A GoPride Interview
Patrik-Ian Polk
Taking wing: an interview with Blackbird filmmaker Patrik-Ian Polk
Mo'Nique is a consummate professional. I was pinching myself when she told me she wanted to, not only star in Blackbird, but executive produce it with her husband.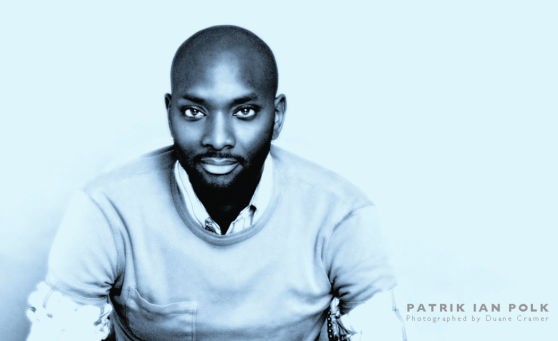 photo credit // duane cramer
Patrik-Ian Polk brings beloved gay novel Blackbird to the big screen
If you've ever seen any of Patrik-Ian Polk's films, you know one thing for certain. Polk is a master of the ensemble cast. Beginning with Punks and continuing through Noah's Arc (both the move and the TV series), as well as The Skinny, Polk has a knack for creating characters who are smart, sincere, sensitive, and exceptionally sexy.
With Blackbird (Hicks Media), Polk steps out of his comfort zone as a screenwriter and adapts (with the aid of Rikki Beadle Blair) the titular Larry Duplechan gay lit classic for the big screen. A difficult and emotional tale of a confused high school student named Randy who is struggling to come to terms with his sexual identity, Blackbird touches on topics ranging from coming out to religious fanaticism, from manhood to madness, from family relationships to relationships with chosen families, all guided by Polk's deft hand.
Gregg Shapiro: Patrik-Ian, when I interviewed you a couple of years ago about The Skinny, you were already in pre-production on Blackbird. Why did you choose Larry Duplechan's gay lit classic Blackbird to be your first adapted work for film?
Patrik-Ian Polk: I first read Larry Duplechan's book when I was a teenager in college in Boston. It was the first contemporary gay coming-of-age novel told from a black character's perspective, so I related to it. And Duplechan's storytelling is so magical; I knew I wanted to turn it into a film someday. I think I wrote my first draft of the script back in 1991, in film school. I kept that project on the shelf, knowing one day it would happen. Twenty-five years later, here we are, and the story is still just as relevant. We've seen gay white coming-out stories told every possible way, there are literally dozens of these films. I thought it was about time we saw that story told from a black gay man's perspective.
GS: Has Larry seen the film, and if so, what does he think of it?
P-IP: Larry has seen the film. He was at our world premiere at Los Angeles' Pan African Film Festival, where we won the Founder's Award for Best Feature. He liked it. He was aware that I'd made a bit of a departure from the book – par for the course when you're adapting a novel into a film -- but he seemed genuinely excited. And I'm just glad the film's release will strike up more interest in his books because the story he starts in Blackbird continues across several more novels.
GS: Blackbird is also notable in that it is a collaboration with gay actor/writer/filmmaker Rikki Beadle Blair. How did that come to be?
P-IP: After living with my screenplay adaptation for several years, I decided it needed an injection of something different. Rikki and I had become friends and collaborated on my series Noah's Arc. Rikki, who is British, served as a story editor and wrote several episodes. I asked him to take a stab at rewriting the script and he did a fantastic job. I literally told him I wanted the role of Claire, the lead character's mother, to be the kind of meaty part that attracts Oscar-caliber actresses. Little did I expect that we would end up getting an Oscar winner (Mo'Nique). So obviously bringing Rikki on board was a smart decision. He continues to make major waves in the British theatre and independent film scene.
GS: I'm so glad you mentioned Mo'Nique who plays Randy's mother Claire. What was the experience of working with Mo'Nique like for you?
P-IP: Mo'Nique is a consummate professional. I was pinching myself when she told me she wanted to, not only star in Blackbird, but executive produce it with her husband Sidney Hicks. As you can imagine, we don't get a lot of rehearsal time on independent films, but Mo'Nique didn't need any. She came to set ready to play, and she made magic with every take. I am in awe of her! That Oscar was no fluke, let me tell you!
GS: At the opposite end of the experience spectrum is newcomer Julian Walker, who plays lead character Randy. Why was he chosen for the role?
P-IP: As usual when casting my gay black films, I encountered difficulties when approaching Hollywood actors. There's always silly trepidation about playing gay black characters. But I just trusted that the Universe would send me who I was supposed to have in that role. And then young Julian Walker sent in an audition tape. He's a sophomore at the University of Southern Mississippi (the college in my hometown, Hattiesburg, Mississippi, where we filmed the movie). Julian was a novice and it showed. But I saw a natural talent, an X-factor that told me he was the one. After a few in-person auditions and coaching sessions, he nailed it. And it didn't hurt that he sings like an angel as well. And music plays a big part in Blackbird, as the lead character is a star of his church choir. And I love the fact that Julian is openly gay. It's so refreshing and indicative of how much farther the next generation is going in terms of fearless expression of their sexuality.
GS: Patrik-Ian, I'm so glad you mentioned the way music plays a prominent role in Blackbird. In some ways it feels like a non-traditional movie musical. Please say something about the way music is incorporated into the movie.
P-IP: The lead character in the film is a singer, in the church choir. He sings at school in the chorus and in theatre productions. And he's genuinely devoted to his Christian faith. And all this takes place in a small town in Mississippi. It was important to me that the music reflects all these characteristics: traditional Southern gospel, Mississippi roots music, bluegrass, country, soul. So I picked an array of traditional gospel hymns, which I re-worked to reflect a teenager in 2014. And I wrote some country-pop songs for him to sing as well. I even sing a couple of songs on the soundtrack. And we found an amazing local band, the Rooster Blues, who provided all the great country/bluegrass tunes. It's a nicely eclectic mix of music, but perfectly fits the movie and its locale.
GS: Blackbird also makes comments about religion, as well as other hot button social topics including being gay, coming out, teen pregnancy and abortion. What can you say something about the relevance of social commentary in your work?
P-IP: As far as I think we've come in my home state, Mississippi is still very conservative when it comes to politics and legislation. It's one of the leading states in terms of abortion restrictions and recently signed a bill into law allowing businesses to discriminate or refuse services based on religious beliefs. Meanwhile, the state is last on many key issues in terms of education, healthcare, teen pregnancy, poverty rates. Since we have a teen pregnancy in the film, it was the perfect opportunity to reflect the struggles we are having there with access to abortion and keeping it safe and legal and accessible. There's only one clinic in the entire state and many women are having to travel across state lines to access these services. It's shameful.
GS: Prior to opening in theaters, Blackbird made the rounds on the film festival circuit. How was that experience for you?
P-IP: The film festivals have always been an invaluable resource for independent filmmakers, but especially for a filmmaker like me. There's no one out there doing gay black films right now. I'm the only one. Mainstream Hollywood still largely ignores us as a demographic and as a subject matter. If it were not for these film festivals, both gay and straight, my work would not have reached half the people it has. It would be very difficult to do what I do without the existence of the film festival circuit.
GS: Have you started thinking about or working on your next project?
P-IP: I am fortunate enough to have a little space and time to choose what's next. I'm reading scripts that other producers and companies are submitting. And I'm writing an array of projects, trying to decide what I want to focus on. I'm also allowing the Universe to talk to me and guide me to whatever makes most sense. I spend my work days writing for about four hours in the morning, then a little exercise, followed by about four hours of songwriting and producing music demos. I'm a storyteller, whether it be in films or music. So I feel pretty lucky to be able to do what I do professionally. But whatever I do next, it's going to be bolder than anything you've seen so far. And you won't expect it. I can promise you that.
Interviewed by Gregg Shapiro. Gregg Shapiro is both a literary figure and a music and literary critic. As an entertainment journalist, his work appears on ChicagoPride.com and is syndicated nationally.