A GoPride Interview
Jonathan Weir
Chicago's Jonathan Weir brings Jafar to life in Disney's Aladdin musical
Besides the fabulous make-up and eyebrows, I get to be the antagonist, come in and mess up everyone's good time.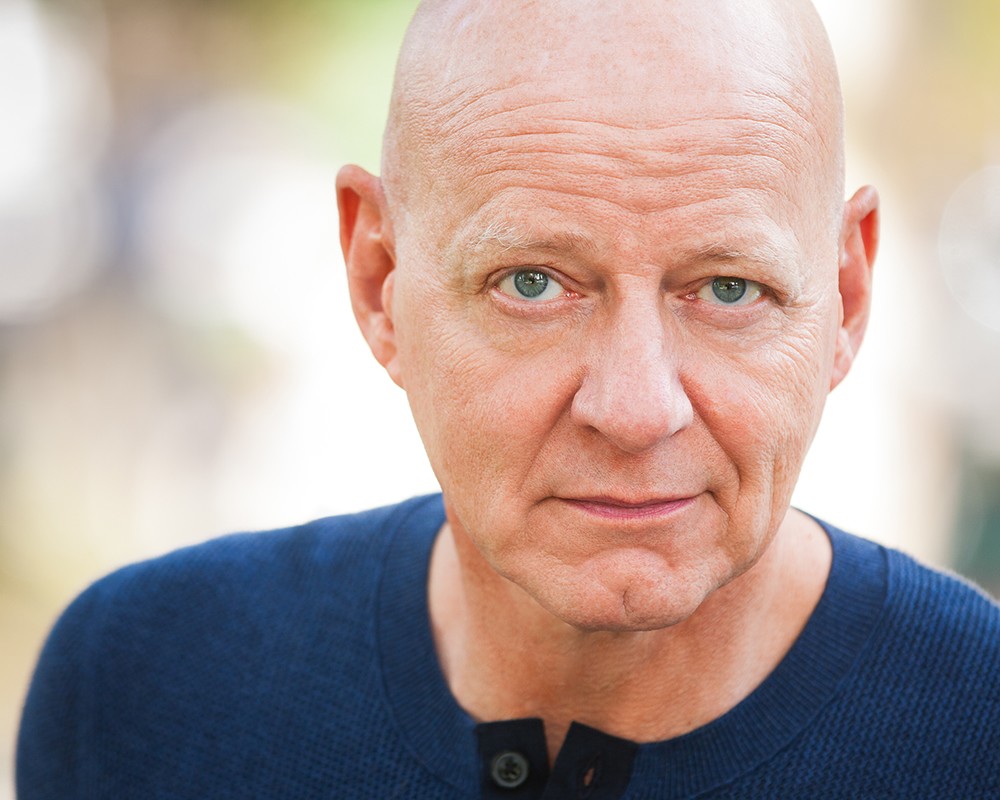 photo credit // broadway in chicago
Jonathan Weir brings the villain "Jafar" to life on stage in the national production of "Aladdin," which opened in Chicago this past April.
The veteran theater performer talks to ChicagoPride.com about how he got bit by the theater bug, growing up in the arts, what it's like working on a grand scale Disney production, a third Disney villian he'd love to portray (he previously played Scar in The Lion King on Broadway), and his favorite Chicago hotspots that he's shared with the  "Aladdin" company.
MI: Hey Jonathan, thanks for taking time out to chat and congratulations on the success of the Aladdin national tour!
JW: Thanks man, thanks man! Did you get to see the show?
MI: Yes, I've seen it a few times since it started here in Chicago early this month! I was there on opening night applauding with everyone there, and then recently just this past Friday.
JW: Oh my God... you're a super fan! 
MI: When you combine Disney and musical theater, I'm there.
JW: I love it, I love it, I love it... Well thanks for the support!
MI: So, I'm really excited to have this chat with you! Can you start by telling us about your journey to being a part of the Aladdin musical? What drew you to the project and what was that it like to go through the process?
JW: I was in the national tour of Lion King that started in Chicago back in 2003. I did the tour for a year then came back to Chicago and had a family. 
I wanted to see my kids grow up, but they kept calling me to come out; so I stood by for Scar and Pumba and every couple of years I would go out and fill in - for 6 weeks, 8 weeks, and then you know, 6 months! It's this long fruitful relationship that ended up happening as a result of that first year. 
So I have had this thirteen year relationship with Disney and I was in New York. They called me two years ago to standby in the Broadway production where I got to make my Broadway debut - which was really thrilling! 
When I was there, Aladdin had just opened. I even met Adam Jacobs [who played Aladdin in the original Broadway production and now plays Aladdin in the national tour] in the dressing room because he used to be Simba in Lion King. It was a chance meeting. 
In September 2015 they were doing general auditions for a tour for possible placements in Chicago and then called me to an audition in New York. I went to that audition and got called back and about a week later I found out I got it.
I was there again in 2016 and I had the wild idea to deliver my resume/headshot the old fashioned way and drop it off of at the stage door, expressing interest and saying that I had heard they were going to do a tour. I have sort of been in the Disney family for a while, and on the radar, so I think that didn't hurt. 
That was my trajectory to it. Then we started rehearsing end of February here just this last year.
MI: You mentioned that one of the roles you've played was playing Scar and Pumba in the Broadway production of the Lion King. So what's it like working on a grand scale Disney production?
JW: Honestly it's no different than any play or musical anywhere. Yes, it has all of the Disney magic - it's got all of the support - it's a larger scale but the work is still the work. 
You know, I still the approach the role the same as if I was working at the Goodman or the Marriott or Oak Brook or Chicago Shakespeare whether it be a musical or play. So in that regard that is the thing you can control, that's something you can focus on, just the work. For me, the goal is to focus on the work and the connections and all that stuff takes care of itself. 
And it's a thrill. It's thrilling to hear an audience laugh every night as robustly as they do, especially in our current times. You've seen the show a couple of times, so you know that energy in the theatre; I can feel its palpable.
We also are very fortunate we have an amazing ensemble of actors, and the crew, and the orchestra - the Chicago band is just phenomenal. I feel like we are so fortunate to be doing this show here in Chicago at this time. With this group of people because it is one of the most generous group of actors I've worked with: supportive, driven, funny and caring and that makes the job that much more fulfilling and gratifying when you get a chance to work with that those kind of people across the board. 
MI: What's your favorite part, about playing Jafar?
JW: Well I think, besides the fabulous make-up the eyebrows [laughs], it's because I get to be the antagonist; I get to come in and mess up everyone's good time. In the show, there is a happy moment, a beautiful love ballad that's just happened and then Jafar and Iago come onstage and crap all over it; we come in and throw a wrench into it. 
So it's always more fun for me to play a character with a strong point of view, who can come in and mess up somebody's good time! That's great fun. To that end, Reggie DeLeon who plays Iago is hysterical onstage and a beautiful person offstage. I think my favorite thing about doing the show is that I get to work with him because we are on together all of the time. 
MI: Yes! You guys are amazing onstage together!
JW:  From the first read through on the first day of rehearsal, we had a meet and greet. We sat down and read through the show. Reggie's from California and I'm here, We just had an immediate connection - and that's great, that interconnection.
MI: Speaking of villains, if you were given the chance to portray a third Disney villian, who would that be?
JW: Oooh, it would be Ursula. I know it would be completely wrong!
But I think Ursula is just so over the top, that it would be great fun. They'd never do it. But nonetheless, it would be great fun in a fantasy world.
MI: Take us back a little bit. Where did you find your passion for theater? How did you get started?
JW: I was born in a small log cabin back in 1812…. No, i'm just kidding!
I am the youngest of 10 kids. My parents got divorced when I was in 5th grade, and I lived in Southern Illinois, near the St Louis area. 
My mom got a job and transfer to Tipp, Iowa, Davenport, Iowa Area, so in 9th grade I moved and became kind of an only child. My two brothers stayed with my dad to finish high school, so I kind of became an only child. 
On a fluke, I took a drama and debate class in the 9th grade and auditioned for a play.  I got cast in the play and I just got bit. It suddenly felt like I had a place, a home. There is something about the collaborative nature of the theatre that seems so natural to me, working together. 
She got transferred after that first year and we moved to Ohio where she found a great high school because she knew that theatre had really clicked for me. She found a great high school with a really good drama teacher outside of Columbus, so during those three years of high school I got uber involved. 
I went to undergrad in Ohio and two different grad schools, Temple and then the University of Alabama, and I never stopped. I did a few other things, I did some massage therapist work, but I got started and never stopped. 
My wife and I we had a 10 month old when we moved to Chicago in 1987. I had just started auditioning, and for a while it seemed like a party where I wasn't invited. 
And then I got cast as a standby at this thing called the Body Politic Theatre, then bounced around doing a little more theatre - and then within a year I turned equity doing a show at Steppenwolf. 
I think it was persistence. I think that is a big part of this business. You can't win if you're not in the game. 
So, I started when I was in the 9th grade and never stopped. I've been in Chicago now for 30 years and I'm a Chicago actor in a talented town. And all of the actors and directors, all the people I've worked with in this town, I have learned from and had lots of fun. Im fortunate that I have had a variety of experiences both in Chicago regionally and through these tours. 
I did Jersey Boys and Lion King, this and a small production of Scrooge The Musical and I realize how fortunate I am still doing the thing I love.
MI: So, have you had the chance to share some of your favorite Chicago restaurants/sights with your fellow cast and crew? 
JW: Funny you should say that, I have! 
The cast and crew are spread all over, were here for 22 weeks running the show.  I live up in the  Andersonville/Edgewater area, and there are several other actors who are up in this area.
I'm a fan of Little Bad Wolf, on Berwyn and Clark in Andersonville and I have introduced several folks to that cause it is one of my goto's, It's right down the street from where I live. 
It's funny you ask this, this last Monday I set up a thing in Berger Park, right by Loyola.  It's a park with one of those houses they've given to the park district. The coach house is a restaurant where you sit right along the lake and you feel like you're in the city - your toes are in the sand while having a cocktail. But the pipes had burst and they weren't open, so we went to Little Bad Wolf and introduced some more to that. 
I have taken some people to Wishbone. A lot of people are downtown in the Loop by the theatre and I keep encouraging them to get out of the Loop and into the neighborhoods, because as you know, there is a whole big city out there. I encourage them to explore some of the neighborhoods. 
So, yeah, I've been sort of a referral to the out of towners for a lot of things, food, bars, voice teachers, that kind of thing. It has been a treat to be home working on this and at the same time to be introducing the company to Chicago.
MI: What do you enjoy doing on your days off? You're also a professor at Loyola; do you even get a day off?
JW: Yeah, so here is the thing. I'm an adjunct professor, so I didn't teach this semester at all. I don't teach full time, it's just when my schedule works and they have a slot open. 
Yes, I do have a day off, especially with this role, because it kicks my butt - the show is high energy up there and we're putting on a lot. So come Sunday evening, there is generally a cocktail in order.
I love to workout, I love to bike ride and support other friends by seeing their shows when I can. I like to tinker a little bit. We lived in Oak Park for 21 years and we had a big yard. Now we live in a condo in a greystone so I like to do a little of the yard work and gardening. 
I love hanging with my fam and my dog Louie.
MI: What's the best advice you've ever given one of your students?
JW: The best advice? Well I have a couple of goto's.
One of them is, particularly when it comes to auditioning, is something I learned from an ex-professor and that is to "be the solution." They've got the problem - they've got to cast the show - so go in and be their solution, solve their problem for them. It gives you the mindset to go in and do your best work. 
The other is, as I said earlier, "you can't win if you're not in the game". Persistence, I get asked a lot, "what's the secret?" Everyone's journey is different, but being someone that people want to work with is key. I also say "Show up, shut up and take the money". 
MI: Any charities or causes that are near and dear to your heart that you'd like readers to know about?
JW: I am a big donor to the ACLU, especially now. And I have donated to HRC. And Planned Parenthood. I got very involved after the election, and those are the ones I support.
I also like working with students and giving back. I think giving back is very important.
MI: Here's the final question - sum up your theatrical life in a musical title.
Well I have been joking lately with the cast. The term "down and one" refers to downstage, in wing one, the entrance right or left it is the spot closest to the audience. I was joking last week that "Down and One" would be the title of my memoirs because that is where Reggie (Iago) and I always enter, down and one. 
The other, I'm gonna steal from Elaine Stritch, "I'm Still Here." Thirty years in the business. There have been people doing it longer, but I am very self-effacing. I think of myself a schlub like everyone else, I'm just a working stiff who's trying to make a living. 
MI: Well, we're glad you're still here! Loved chatting with you Jonathan, thanks for the fun morning!
JW: You're welcome. Thank you, good sir, it was a pleasure!
Weir's Chicago credits include The Merry Widow at Lyric Opera of Chicago; Days Like Today, The Liar, A Little Night Music, Bach at Leipzig, Arms and the Man, The Doctor's Dilemma, Misalliance and The Father at Writers Theatre; Stepping Out at Steppenwolf Theatre Company; Billy Elliot, Ragtime and Most Happy Fella at Drury Lane Oakbrook; Side Show at Northlight Theatre and The First and Grand Hotel at Marriott Theatre, Candide and A Christmas Carol at the Goodman Theatre. Broadway credits include The Lion King. His national tours include Jersey Boys (Chicago Company), The Lion King (first and second national tours) and Scrooge the Musical.
Disney's Aladdin is playing at the Cadillac Palace Theatre through September 10, 2017. For tickets, visit BroadwayInChicago.com.
Related interviews:  Isabelle McCalla (Jasmine) and Mathew and Lissa deGuzman (Swing, Ensemble) from Aladdin.
Photo Credit: Deen Van Meer
Interviewed by Matt Inawat. Ron Matthew Inawat is president of the GoPride Network and contributes to ChicagoPride.com, PrideLA.com and other sites within the GoPride Network. Follow @cpmatthew