A GoPride Interview
Absolutely
Singer Absolutely thinks outside the box with Cerebrum
The first cover song I recorded was "Twinkle, Twinkle, Little Star."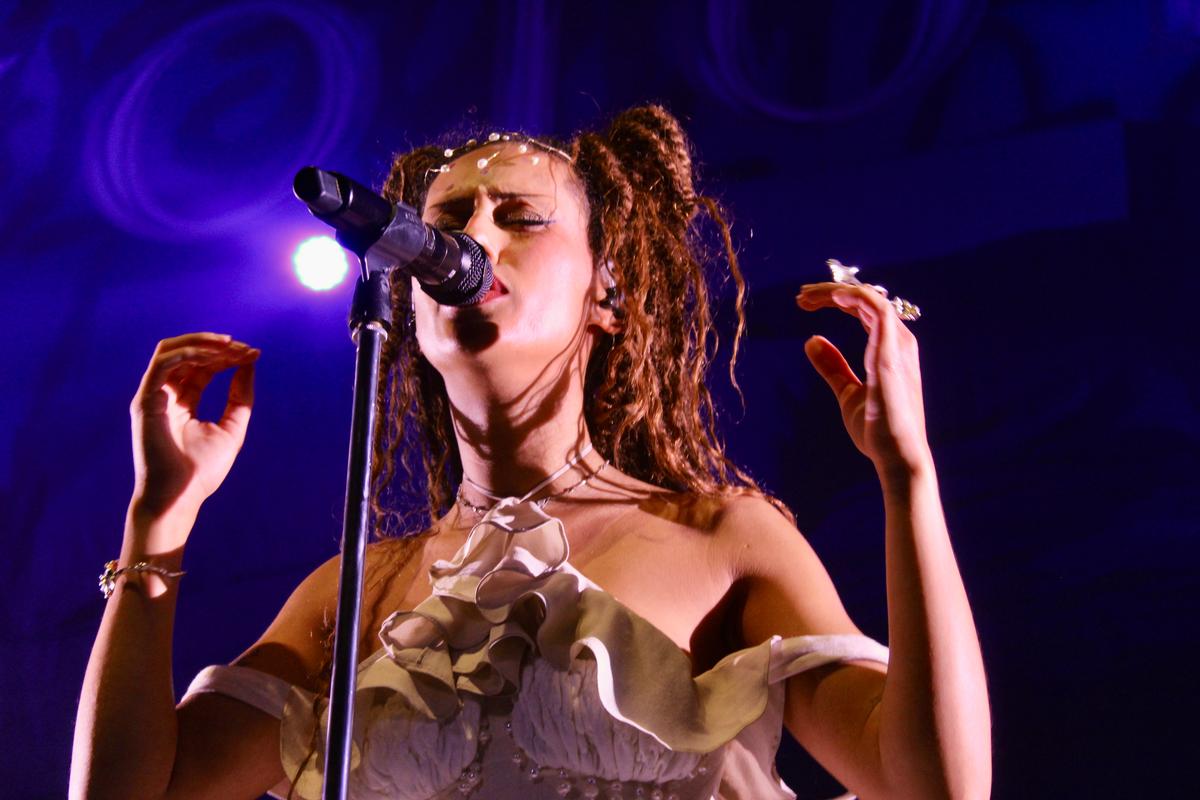 photo credit // jerry nunn
Vocalist Abby Lynn Keen is a rising star who creates musical soundscapes as the artist Absolutely. The singer from Tooting, London has changed her name and evolved as a performer in a short period of time.
Abby is currently out on a world tour as an opener for her sister Raye connected to My 21st Century Blues. Their father is English producer Paul Keen and their sister Lauren Keen is on the way to making more music industry waves.
Absolutely is under exclusive license to Epic Records, a division of Sony Music and performed this past summer at Lollapalooza with Louis The Child as part of the "Stay With Me" collaboration.
Keen wrote the song "Amor Real" for queer Brazilian singer Anitta and was featured on David Guetta's track "Get Together."
Her debut solo single as Absolutely "Higher" displays a variety of influences and the upcoming album titled Cerebrum, debuting on November 17, 2023, is produced by Dave Hamelin, who has worked with Beyonce and 070 Shake.
This talented force of nature sat down for a brief chat backstage after her set to discuss her background and upcoming music.
JN: (Jerry Nunn) Hi, Abby. Sorry, I missed seeing you at Lollapalooza where you performed with the electronic duo Louis the Child. How did you meet them in the first place?
A: (Absolutely) I met them in a session with my friend M-Phazes. They pulled up some beats and I laid some melodies down. It ended up being the song "Stay With Me." We only met once to create the song.
JN: Where did the moniker Absolutely first begin?
A: It is my new artist name to release my latest work. I was featured on Tinashe's song "333" in 2021 as Absolutely.
JN: You grew up surrounded by music didn't you?
A: I learned to record and produce myself from my dad and my sister too. They would record music in a little studio in our utility room. We had a setup there to record cover songs and one day I asked to go in the studio too.
JN: How are the acoustics in the utility room?
A: We actually soundproofed it out, so it is good! My dad taught me how to produce and I watched him making music before I started doing it myself.
JN: Did you have a favorite cover song?
A: The first cover song I recorded was "Twinkle, Twinkle, Little Star." I did my own rendition of it. I also did "True Colors."
JN: Cyndi Lauper's song is a big gay anthem for my people.
A: [laughs] That's great.
JN: There was a front row of gay fans that I know watching your set just now. Have you visited Chicago before this many times?
A: I came as a child but don't remember and the second time was for Lollapalooza. I really like the energy here.
JN: You have an interesting ethnic background from what I read.
A: Yes, my mother is Ghanaian-Swiss and my father is British. He is from Yorkshire.
JN: You have other siblings?
A: I have three other sisters including Raye. Lauren is starting to work in music and little Katelyn loves to sing.
JN: Do both your parents sing?
A: My mom sings in church in the congregation and my dad has always been musical.
JN: Are the girls competitive?
A: No, we are all a team and support each other. We are all doing our own thing right now. When one wins we all do.
JN: I love that. What artists have influenced you?
A: Growing up I was discovering my own taste in music. I would listen to random SoundCloud artists. Nowadays I listen to Enya and Pink Floyd.
JN: So very atmospheric and I can hear that influence in your current work, but you still make it your own.
A: Exactly, but by writing for other artists it has allowed me to introduce the pop element into that. I write a lot of pop and R&B songs so that is imbedded into me. I bring all those influences and make a concoction.
JN: The "Higher" video looked expensive. Was it?
A: [laughs] It cost a little bag of coins.
JN: Talk about the creation of your album Cerebrum coming out on November 17, 2023.
A: We didn't really overthink it. I made it with Dave Hamelin who is a producer that thinks outside the box. That is what I like when I work with people. Somebody who doesn't have confinements to explore and expand.
We started working together and never really thought of making an album while we were creating. Personally, I am not a big fan of E.P.s because they are overlooked a bit.
I want to make a statement when I release my music, so we put together an album with the songs.
Cerebrum is the larger part of the brain that controls someone's thoughts and dreams. Music is my first language and is my way of translating my emotions and feelings into something that I can understand really. It is hard to express myself through talking sometimes, but as soon as I jump on the mic the feelings just flow out.
That is what Cerebrum is about, letting those feelings flow and I didn't overthink anything. I just let my heart speak.
JN: So very organic. Do you speak other languages?
A: Hablo español un poquito and I speak in tongues!
JN: Any snake handling at the house? [both laugh] How was playing Lollapalooza?
A: It was really crazy for me. I was scared because it was my first festival performance and my body was frozen the entire time. I was not interacting with anyone very well. That is why I had to cancel the interview with you.
Overall, it was an amazing experience just seeing the crowd was very exciting.
JN: We all get nervous and I am the same way. Your song "MIA" really spoke to me out there just now. It's not about the singer MIA is it?
A: Oh no, she is great though! I don't enjoy parties as much as people my age do. At clubs, there is so much superficiality and I live in LA so there is a lot of that. People flex about money and what they have. "MIA" is showing how I don't fit into all of that.
JN: Was "24 Hours" filmed in a desert?
A: No, it was in LA and made with a green screen.
JN: I was worried you were outside frying in that outfit. Where does your style come from?
A: It was an array of different things. FKA Twigs is one of my main inspirations and so is Bjork. I love the drama and story they have to tell through their looks.
I am still delving into brands that I like, but anything ethereal that tells a story works for me.
JN: How is it performing barefoot onstage?
A: Great. The last show I did was the first time I tried it. I always wore my shoes too tight and wore platforms. When I am onstage and thinking about moving around it is better to be free. It helps me stay grounded.
JN: I would be worried about stepping on a nail.
A: Well, I have seen my sister do it and she is fine.
JN: They better keep that stage swept! Is there a dream collaborator you would like to work with?
A: FKA Twigs for sure and Frank Ocean.
JN: Frank is part of my community, yay! What are your future plans?
A: After this tour I will be working on album number two. I am just letting everything happen and seeing what is next for me. I am very excited for the rest of my album to come out.
I really miss the studio…
JN: The utility room?
A: [laughs] Yes, the utility room!
JN: Has there been talk of all four sisters singing together in a group?
A: At Christmas, yes.
JN: I want to go to that Christmas party. Is it in LA?
A: No, in London.
JN: So you live in LA and your family lives in London. Does Raye live in New York?
A: She lives in London also, but she is everywhere.
JN: Got it. How would you describe yourself as an artist?
A: I am somebody that doesn't fit into a box. People are categorized so much in everything such as what they believe in. As an artist I don't want to be forced into fitting into one category.
I am everything that I have experienced and everyone that I have met has been an influence on me. No one has to be one thing.
JN: I think that is generational as well. Society used to put people in boxes, but the younger generation doesn't like to be put in a box, especially with gender or identity.
A: That is true, absolutely!
Interviewed by Jerry Nunn. Jerry Nunn is a contributing writer to the GoPride Network. His work is also featured in Windy City Times, Nightspots Magazine and syndicated nationally. Follow @jerrynunn