A GoPride Interview
Sav Souza
Meet Sav Souza from the all female, trans, and nonbinary cast of the 1776 musical
there have been moments where we've needed to navigate just transphobia in the world and in the industry...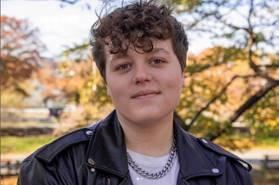 An exciting new production of 1776, the Tony Award-winning Best Musical, has blazing new life. Suddenly, this musical masterpiece's songs, humor, and passion soar like never before. The fiery founders of this nation are portrayed by a magnificent multiracial cast of female, transgender, and nonbinary actors, giving history to those who were excluded from it the first time around. The result is an epic display of passion, contention, and musical fireworks.
The Chicago oremiere of the Broadway Revival of 1776 is currently running at the CIBC Theatre (18 W. Monroe) as part of a major national tour across North America. Tickets are on sale for the final week at www.BroadwayInChicago.com.
We chatted with Sav Souza, who takes on the role as Dr. Josiah Bartlett. Souza is a Barrymore nominated, queer, transgender, theater creator and performer who is always challenging audiences to look at life through a queer lens in an attempt to normalize queerness in all its theatrical and human forms.
MI: (Matt Inawat) Let's talk about your journey to 1776. What drew you to audition for the show originally?
SS: (Sav Souza) Well, actually funnily enough, when I got the request to audition, I was quite confused and surprised. I wasn't super familiar with the show, but I was familiar enough to know that that me as a trans person being called into the show was not usual.
I immediately felt like, okay, something must be up there, but there must be a new spin on this. And sure enough, I went in and I found out that they were taking a look at re-casting the show in this, I say this in quotes, "radical way", with casting only bodies that were not in the room when the Declaration of Independence was signed. And I was really excited by that. And I ended up going in and I had a first audition and it went really well, and they shared that they wanted to see me again. And I got really nervous because before I had gotten this audition, I had already planned to travel to go home to California for the holidays and I wasn't going to be able to move my flights and all of these things.
And so I was like, shoot, you know what? I'm going to have to maybe let this one go because I can't come to the callbacks. And so I just kind of released it in the way that you do with most auditions. You just kind of forget about it. It's a surprise if you get it later. And so I forgot about it. And then lo and behold, I came back to the city about three weeks later and I got a call from my agents and they said, 1776 wants to have you back.
I was so happily surprised. Apparently they were still interested in seeing me, which was really rare. And I was honored and excited. And so I went back in and I think I ended up doing two more final callbacks. And then the day of my very last callback, I had enough time to take the train back up to Washington Heights, change out of my audition outfit and sit on my couch. And then my agent called me and she said, I am very happy to tell you that you have an offer for the show.
And it was so surprising because it so rarely happens that where you actually find out so quickly. I know that that was an anomaly in that way, but it was really special and really exciting and I was so honored and I was fresh off of moving to New York and fresh off of getting top surgery. And so it just felt like a really exciting time.
MI: Tell us a little bit about your role as Josiah Bartlett, and how did gender identity affect your approach to playing Bartlett?
SS: Dr. Josiah Bartlett is a delegate for New Hampshire. He's a simple guy. He is a pediatrician known for his work with fevers and children. And in terms of my identity playing a factor in how I play him, one of the things that we were talking about in the room was how we were taking on the male form and how we were presenting masculinity in this space. And when I say male form, I say that in quotes because you can't narrow down mail being a man to one form, but this satirical sort of version of masculinity that we were trying to portray is probably more accurate. And so for a lot of people who are in the cast who walk through the world either presenting femininely or identify as women or are not quite as masculine as me, I feel comfortable saying that I'm probably one of the most masculine folks in the cast.
For me, it was less of a transformation that I was trying to make happen physically because I already walked through the world with a pretty masculine centered physicality. And I shop in the men's section for clothes and I wear boxer briefs and I have top surgery. And so I have short hair and I often get read as male.
The way that I walk through the world is already very mask of center. And so for me as an artist and a performer, I had to really investigate what, if I'm not transforming, what am I highlighting about masculinity? What is my opinion on masculinity and the ways in which I perform masculinity day to day, and how can I heighten that to comment on masculinity's effect the world and the homoeroticism of the world of male politicians and masculinity and all of that.
And so that's been really fun and interesting to explore. And in terms of my relationship and proximity to masculinity and in the United States.
MI: You mentioned that you're performing a musical about a time in history where the actors on stage were definitely not represented in the room. Having that experience of performing a show composed entirely of women, non-binary, and trans actors is definitely not something that we see every day... yet... But what has it meant to you personally to be able to experience all that?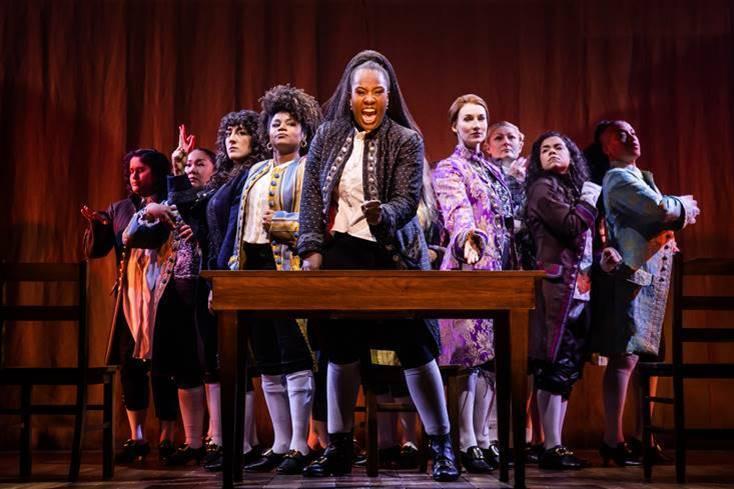 1776 the Musical; credit: Broadway in Chicago
SS: Oh, it's been so special. This cast has absolutely just been such a magical, just conglomeration of humans from different walks of life. And I'm so honored to have intersected with all of these beautiful people from ART to Broadway to tour. The cast has just absolutely been glued together like a unit and a family, and we have advocated for ourselves and worked together and worked through artistic challenges and figured out what this play is together and all through play and through curiosity and investigation and much of that that we've gotten to do on stage together, which has been just such a delight. And I mean, everyone's just so freaking talented. The people in this cast are just stars on stars and it's such a huge ensemble cast that some of us only have a couple lines and you don't quite get to see the full scope of people's talent and ability.
And I'm so honored to gotten such a up close personal look at that. But in terms of being in a group like this, I so often have been the only trans or non-binary, gender expansive person in the room in these shows that are trying to say that they're trying to do radical casting and things like that. But in this group, I luckily have been in great company with other gender expansive folks, and I'm so grateful for that because there have been moments where we've needed to navigate just transphobia in the world and in the industry. And having a support system built into the cast has been really lovely. And we did work to put a gender insert into the playbill that we had on Broadway, which was sort of a kind of gender 101 sheet. Working as a resource for audience members who are coming into the show and seeing they/them pronouns next to people's names in the playbill and who maybe that was their first time seeing that, giving them a bit of context and some definitions and some language.
And so we put that into every single playbill at every single show. And we worked together as a group of gender expansive folks to create that document with Roundabout. It was really amazing, and it was just a little piece of paper that was printed out and put into the playbill, but actually on tour it's been implemented and printed into the actual playbill pages and on the page where it has the cast listed in all of our names. On the bottom of that, there's all of the gender information and these definitions and even a little QR code that can take you to some pronoun practice and other resources.
It's been exciting to be in this community because we've been able to put our brains together and figure out what are the things that we feel like this industry isn't set up to support us or see us in the ways that we want to be support supported and seen, and "how can we help folks that are eager to learn in an audience and eager to have an experience and learn about different life experiences, how can we provide them with all the tools and resources that we possibly can?"
That's been a really exciting collaboration in this process for sure.
MI: Is the tour coming to any states where we're currently seeing challenges to LGBTQIA performances and basic rights?
SS: We actually are going to Tennessee, which just yesterday passed the bill that is restricting public drag performance as well as a trans healthcare ban for youth. And these are both just completely detrimental and so deeply harmful to the queer and trans communities in Tennessee. And in a couple of other states where laws like this have been passed in are in motion.
We are watching these bills very closely as a company and we are in conversation with our producers to figure out how we can actively support the community that we are showing up in and how we can make our stance very clear. And that as a company, we are hoping to represent these bodies that have been marginalized and are still being oppressed by the decisions made by our founding fathers in 1776 by their lack of consideration for people other than them in this document.
And I think that this is just a prime example of the ripple effect from that moment that we're still facing the repercussions of, and we feel so passionately myself, and the other gender expansive and queer babes in the cast, feels so deeply passionately about using our platform to support the local queer communities that we are coming to.
And honestly, and there's a question of, will shows that tour through these states that pass laws like this "drag ban;" will our show with the premise of it, a bunch of people who are not cis men playing cis men; will we run into issues? And so there are lots of lawyers and lobbyists that are on the job and trying to figure this stuff out.
And I'm grateful that they're putting all that energy into trying to figure this out. And I am just hopeful that we are able to support in whatever way that can the folks who are going to be affected all of the time because they live in these states. And so that is top of our list at this moment.
MI: Is there a dream role in any play or musical that you would just love to portray in the future?
SS: That's a sweet question. I would say roles that exist right now, I'd love to play the princes in "Into the Woods" or Fiyero in "Wicked" and Raoul in "The Phantom of the Opera;" and maybe "The Phantom" one day when I'm older.
Those are pipe dreams moments. There's also, of course, Orphius in Hades Town, obviously a dream.
But really what I'm passionate about is telling new stories and developing new work. And I really am so hopeful that in the next few years there will be more opportunities for trans leads in musical theater and on Broadway. And that really would be the ultimate dream.
My partner and I, Ariella Saroar, we are writing a musical together that is sort of based off of the start of our relationship. And that's also something that we are as queer and non-binary artists. If we're not seeing the roles out there for us in the industry already, we're going to make them. We're also trying to take all of that into our own hands by creating our own work and doing that. That would also be a dream to get to originate some of my own original work.
MI: Awesome! Thanks for sharing and we'll be looking forward to that soon! You're currently in Chicago, so what's on your top three lists of things to do while you're in town for the show?
SS: I really want to see some Chicago drag that is top of my list. I really know some drag performers here, and some of them are going to take some me and some of my castmates out to some amazing venues to see some incredible drag this weekend. And I'm so excited for that. I've heard nothing but incredible things about the Chicago drag scene and seeing videos online and whatever. I'm so excited to dive in and that's something that's really important to my partner and I on this tour because she's also in the show.
It's very exciting to us to get to go to these cities and try to connect with the local queer community. That's definitely number one priority. I've been to Chicago before, but I've never actually seen The Bean, so I have to go take a classic photo there. And then, I know it's so cold, but I'd love to go to the lake at some point.
MI: I hope you get to see them and get to enjoy the city! Any final words about the show?
SS: Come see the show. It's a really beautiful thing that we've made together. And to see this ensemble of bodies telling this story, just to hear the words come out of the knowledge of people who are not considered at the time is really profound and really reframed the whole thing. And I would just encourage people to come and experience that and let themselves learn a bit little bit more about the reality of the country that we are often told to feel prideful about.
---------
Individual tickets for the Chicago premiere of a limited Broadway revival tour of 1776 are on sale now. Ticket prices range from $30 - $98 with a select number of premium tickets available. Individual tickets are available at www.BroadwayInChicago.com. Tickets are available now for groups of 10 or more by calling Broadway In Chicago Group Sales at (312) 977-1710 or emailing GroupSales@BroadwayInChicago.com.
1776 features music and lyrics by Sherman Edwards and a book by Peter Stone. It is based on a concept by Sherman Edwards.  Tony Award-winning director Diane Paulus (Jagged Little Pill, Waitress, Pippin) and MTV Music Video Award-winning choreographer Jeffrey L. Page (Beyoncé's "Run the World (Girls)" video, Memphis in Tokyo; Violet starring Sutton Foster at Roundabout Theatre Company) direct the production.
The 1776 design team includes Tony Award-winning Scenic Designer Scott Pask (Waitress, Finding Neverland, Pippin); Tony Award-nominated Costume Designer Emilio Sosa (The Gershwins' Porgy and Bess); Lighting Designer Jennifer Schriever (In the Body of the World at A.R.T./New York City Center; Fingersmith at A.R.T.); Tony Award-nominated Sound Designer Jonathan Deans (Jagged Little Pill, Waitress, Finding Neverland at A.R.T./Broadway; Pippin on Broadway) and Drama Desk Award-nominated Projection Designer David Bengali (We Live in Cairo at A.R.T., Associate Designer of Witness Uganda at A.R.T./Invisible Thread at Second Stage).
The 1776 music team is comprised of Music Supervisor/Music Director Ryan Cantwell (Pippin); Original Music Supervisor David Chase (Finding Neverland); Tony Award nominated Orchestrator John Clancy (Fun Home; Mean Girls); Vocal Designer AnnMarie Milazzo (Finding Neverland). Casting is by Stewart/Whitley. The Associate Director is Brisa Arelis Muñoz and the Associate Choreographer is Courtney Ross.
Interviewed by Matt Inawat. Ron Matthew Inawat is president of the GoPride Network and contributes to ChicagoPride.com, PrideLA.com and other sites within the GoPride Network. Follow @cpmatthew