A GoPride Interview
Irene Dubois
Good night, Irene Dubois
We all have a bond now and call ourselves "The Porkchops."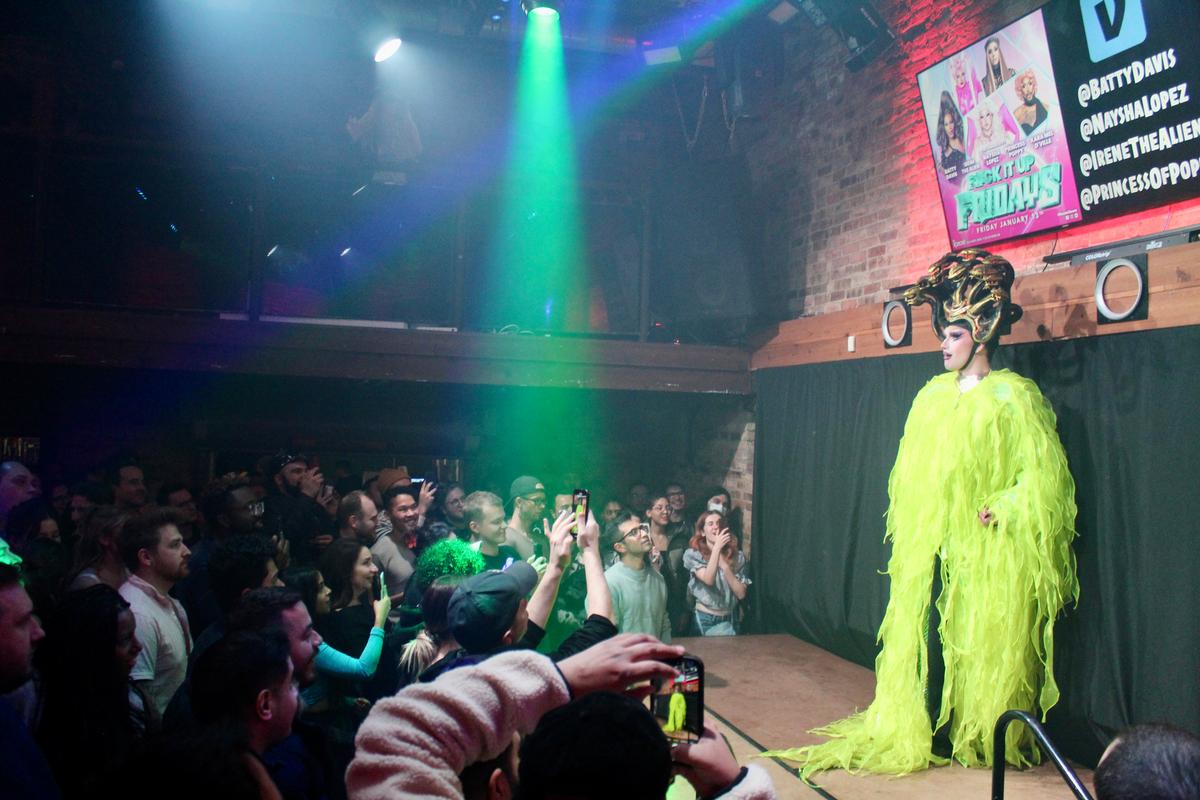 photo credit // jerry nunn
RuPaul Drag Racer Irene Dubois talks about experience on the show
Irene "The Alien" Dubois joined RuPaul's Drag Race for the 15th season of the reality competition show. Searching for America's next drag superstar can be tough on contestants and Dubois may have received the chop a little soon.
She was the first to enter the werkroom, first to win the mini challenge and the first to go home. There were 16 contestants racing for the crown on season 15 making the competition stiffer than ever with a healthy mix of seasoned queens and social media superstars.
The competition and reality show series has snatched up many trophies over the years including several Prime Time Emmy Awards.
Dubois spoke on the phone after arriving in Chicago for an appearance at Roscoe's Tavern scheduled later in the evening.
JN: (Jerry Nunn) Start off with your pronouns and identity.
ID: (Irene Dubois) Any pronouns are fine. I identify as non-binary.
JN: You are originally from Texas?
ID: I am. It has been a while since I called Texas home, but it is where I grew up.
JN: Where are you stationed now?
ID: Seattle.
JN: What made you fascinated with aliens?
ID: My fascination started when I was a kid and watched Star Wars. With fantasy, there are so many rules, but when it comes to space there are a million ways to create an alien. There are many interpretations so it is not as limiting creatively.
JN: I heard you are a big fan of Patricia Arquette and your drag name was inspired by her character Allison Dubois.
ID: Oh my gosh, yeah, I used to watch Medium religiously.
JN: I gushed about her to her brother David during an interview one time. Have you seen one of my favorite movies Wildflower that she did?
ID: No, I haven't. I really got attached to her after seeing her performance in Boyhood.
JN: How did you become a drag sister to Bosco, who competed on RuPaul's Drag Race on season 14?
ID: People refer to us as drag sisters but we are not really formally related. We are mostly very close friends. We admire each other's work and we use each other as a sounding board for inspiration. We have a similar aesthetic and started doing drag in Seattle around the same time.   She is my best drag friend.
JN: How was your overall experience after being a contestant on RuPaul's Drag Race?
ID: It was really cool. Every day I wake up and can't believe it is my life.
JN: Did you gain a best friend from the Race?
ID: I wasn't there long enough to come out with a best friend. There were several people on the show that I grew closer to than others. I am working with one of them tonight at Roscoe's. Princess Poppy and I are pretty close.
JN: Is this your first time at Roscoe's?
ID: I haven't, no. That time I was in Chicago I was underage.
JN: What did you spend the $2,500 on from the mini-challenge?
ID: I reimbursed myself for the money I spent getting there.
JN: Do you think RuPaul should have an All-Stars season where it is first to go contestants from past shows?
ID: Of course I do. That means I would be able to go back on TV.
JN: Do you have a favorite past contestant from previous RuPaul Drag Race competitions?
ID: It is hard to pick a favorite. After being voted off first, I had a new perspective on what it is like to go home first.
We all have a bond now and call ourselves "The Porkchops." I will say Kahmora Hall has been really sweet and has reached out to me several times to make sure that I am doing okay and handling everything well.
JN: What would you like people to know about you as a performer?
ID: Whatever opinion they may have taken away from the show about my talent, they should know that I am very aware that it was stupid. It was intentionally stupid. Everything that I do is supposed to be stupid.
JN: Many people feel you were voted off too soon.
ID: It is hard to know what is coming at me because of the bubble that social media algorithms are choosing to show me and what the general consensus is. It is very nice to hear you say something like that. That was very sweet and I appreciate that!
JN: Over the years several of the queens have told me how overwhelming the social media part of the experience truly is.
ID: People are very mean. The propensity for human cruelty was certainly illuminated by becoming somewhat of a public figure.
JN: I am sorry to hear that. On a positive note, you have a new single out?
ID: I do and it is called "Take a Sip." It is streaming on all platforms today. It is one of those things. I wanted to let people know that if I wanted to perform a one minute single for the talent that I could have. It is absolutely in my wheelhouse. I just chose to do something different.
JN: What was your reaction to Ariana Grande appearing on the show as a guest judge?
ID: I was not expecting to meet a celebrity like that. She was so sweet and down to earth. She was incredibly generous with her time. I have nothing but positive things to say about my experience with her.
JN: Ariana seems very into drag queens.
ID: She is. I think she might have been more starstruck than we were.
JN: What are your plans for the rest of the year?
ID: I want to tour as much of the year as I can. I want to get out there and meet my fans. After that, I want to return to Seattle and have a more structured routine. I want to work on my long-form routines instead of just a five-minute performance in a nightclub.
JN: I need to see a sci-fi miniseries out of you.
ID: Exactly!
JN: What perfume will you be wearing tonight?
ID: I always wear Alien by Mugler!
Stay tuned for more RuPaul Drag Race on MTV and an upcoming viewing party at Roscoe's on Friday, January 20, 2023.
Interviewed by Jerry Nunn. Jerry Nunn is a contributing writer to the GoPride Network. His work is also featured in Windy City Times, Nightspots Magazine and syndicated nationally. Follow @jerrynunn