A GoPride Interview
Anthony de Mare
Pure (re)imagination: an interview with Anthony de Mare
I think he's one of the greatest lyricists we've ever had. One of the greatest poets we've ever had.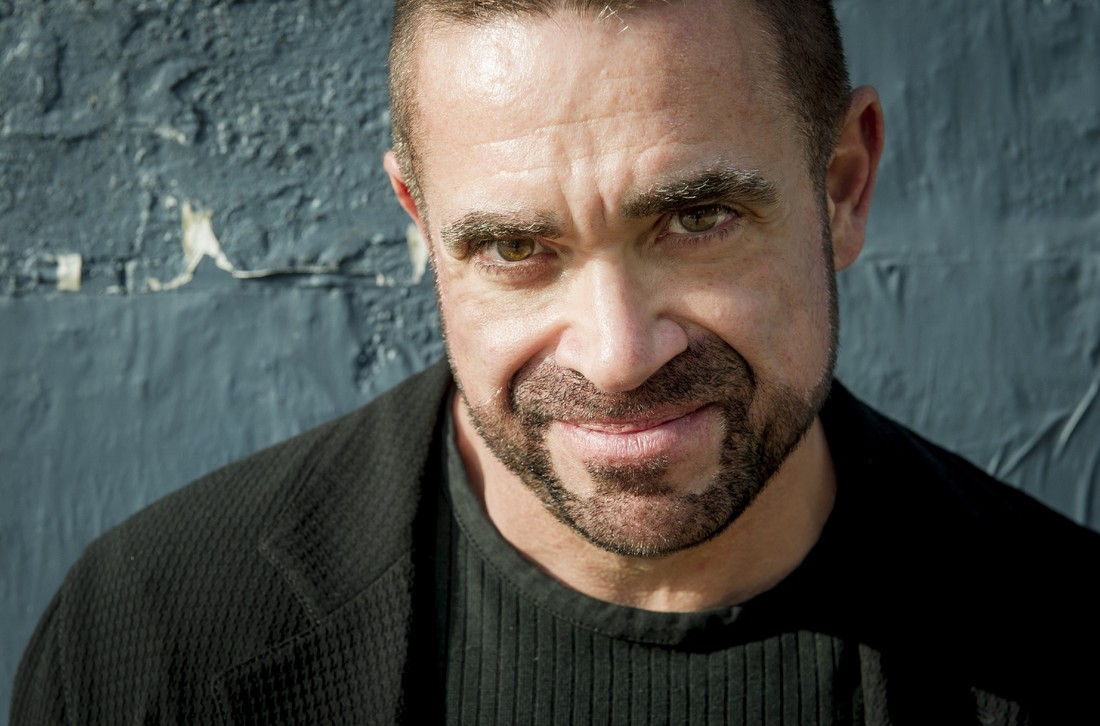 photo credit // paolo soriani
Gay composer Anthony de Mare discusses his Sondheim project
If Stephen Sondheim fans need a new reason to rejoice, such a cause for celebration can be found in gay composer Anthony de Mare's ambitious and rewarding project Liaisons: Re-Imagining Sondheim from the piano (ECM). The triple CD set, featuring de Mare at the piano, consists of three dozen Sondheim compositions recreated for piano by a stellar array of composers from the classical, theater, pop and indie music realms. As dazzling as it is daunting, the rewards are nevertheless plentiful when you get to experience what composers such as Duncan Sheik, Fred Hersch, Nico Muhly, Steve Reich, Wynton Marsalis, Thomas Newman and others, did to leave their own personal mark on these Sondheim standards. Ultimately, Liaisons permits listeners to hear Sondheim in a fresh and thrilling new way. I spoke with de Mare about the project in the fall of 2015. [de Mare performs songs from Liasons on Dec. 12 at PianoForte Studios, 1335 S. Michigan in Chicago.]
Gregg Shapiro: Anthony, what can you tell me about the process of selecting composers to commission for the Liaisons: Re-Imagining Sondheim from the piano project?
Anthony de Mare: The project began about eight years ago. I had talked with a couple of composer colleagues and friends to let them know I was interested in doing this. Of course, they were very supportive. By the time I started to work with a producer, Rachel Colbert, who took charge of the fundraising for the commissions and acted also somewhat as an advisor in many facets of the project, we decided, first and foremost, to extend the boundary of the project to include not only contemporary classical composers, many of whom blatantly admitted how much they admired Sondheim and his work and have been influenced by him, we wanted to extend beyond the classical composers to include composers from the other genres, such as jazz, theater, film, opera, pop and indie.
GS: How did Mr. Sondheim react to the concept of this project?
AdM: In my correspondences with Steve, I sent him a list of who I was thinking of and he was graciously very humbled by the list. He said he couldn't believe that so many of these wonderful composers would be interested in setting his melodies, but he was quite intrigued and honored by it. Then I asked him for a list. I was surprised that several of the composers he sent were already on my list. Additionally, he said that many composers from the theater world were very fine pianists and would write good piano works, such as Jason Robert Brown and David Shire. There were others that we approached. Some were too busy. One was on the roster and had to drop out, but they were replaced by composers such as Duncan Sheik who was very eager to take part. Casting that net wide with the different genres, I started to invite composers who I had worked with in the past, who I revered and thought wrote strongly for the piano, and also who had strong connections with Sondheim's work. There were different criteria given to the composers as well. I asked them to retain the melody and the original harmonies as best they could. Of course, since they're creating a piano piece out of what is a song, minus the lyrics, they could reimagine it in a way to allow that the structure would probably alter just a little in that regard. Many of them went the direct transcription route. Others were a little more creative. In nearly all of the cases, with the exception of maybe two or three, the works are what we would call a marriage, if you will, between the composer's style and Sondheim's own work and style. That was how it all began. The project has basically [laughs] dictated its own path. Every time we would go in a certain direction [laughs], we'd end up with good twists and turns along the way for the most part, but nonetheless surprising and causing us to have to gear up and move in that direction.
GS: I'm glad you made reference to Sondheim's lyrics, which are as distinctive as his music. What do you think of Sondheim as a lyricist?
AdM: I think he's one of the greatest lyricists we've ever had. One of the greatest poets we've ever had. Richard Corliss, who is a theater writer for Time Magazine, in an article he wrote in 2010, he said that "while Sondheim may be arguably the greatest American composer of his time, he certainly is one of the finest American playwrights." He was calling him a playwright. I always believed that while he was collaborating with other writers for the books of his musicals, his lyrics are so integrated. I think because he not only uses lyrics to extend the narrative to move the story forward, he also uses them in a way to reflect life and all the different aspects of life that we are more than aware of and often times afraid to face [laughs]. He brings them out humorously and with great pathos and deep feelings in the way he writes. These composers in this project, I think, were very aware of that. One of the missions of the project was to illustrate Sondheim as one of the great composers, to focus on the music. The composers often said that this was one of the most difficult challenges they had encountered [laughs] simply because the songs are already perfect. What do I do with it? Many of them, being aware of the lyrics, having collaborated with librettists on their own operas or song cycles, were aware of how to allow the music to reflect what the lyrics were doing. I can cite one example; the composer David Rakowski, who did a setting of "The Ladies Who Lunch" from Company. I had made a wish list of songs, which was very long, and they didn't have to stick to the list. They could choose whatever song they wanted, but many chose from the list. I didn't put that song on the list because originally I didn't think it would make a great piano piece because it's so lyric driven and so much about the character. David felt it was the only choice he wanted. Amazingly, what he's done is capture her humor, bitterness and sadness, as well as everything that the lyrics say in the song and he frames that in a piano setting that also incorporates the bossa nova, all of that. It really is one of those incredible settings. There are others who did the same thing. They had to struggle with how to meld the perspective of the lyrics with the music into an instrumental piece.
GS: You mentioned your wish list; are there one or two songs that didn't make the cut that you had hoped would be included?
AdM: Oh, yeah [laughs]. There were several. The one that I pushed constantly, that three or four composers came close to choosing before going with something else, was "Not A Day Goes By." Jazz composer Fred Hersch said that he had narrowed it down to three – "Not A Day Goes By," "No One Is Alone" and "Joanna." He went with "No One Is Alone" from Into The Woods and did a stunning, beautiful setting of it. I think I pushed "Not A Day Goes By" with Wynton Marsalis and a couple of other composers, but everybody always chose something else [laughs]. There are others. The opening of Company, no one chose the title song. There's a great lesser-known song, the opening number from Pacific Overtures, "The Advantages of Floating in the Middle of the Sea," not the most appealing title for a song maybe, but I really wanted that one [laughs] and nobody chose it. There were others along the way. He has such a rich canon of work and so many fabulous songs. Some people said it was hard to choose because there are so many. Ultimately, it came down to if there was something that really resonated with them, they went with it.
GS: You mentioned Fred Hersch. There is, of course, a gay presence in the project, in addition to you and Sondheim. How important was it to include gay composers such as Fred Hersch, Nico Muhly and Ricky Ian Gordon?
AdM: It was important, but it wasn't one of the first criteria. I had worked with Fred in the past, as well as some of the other gay composers. It just so happened that so many of them ended up being gay [laughs]. Let me just footnote that by saying one of the things we've been doing over the course of the past three or four years is that we've been interviewing each of the composers, asking them the same questions. We actually filmed the interviews. Nico Muhly had a very funny comment. He said, "I, like every homosexual teenager at the time, only listened to Sondheim" [laughs]. With that, I realized that, straight or gay, these composers were tied to him in some way; aesthetically, spiritually, musically or whatever. When you look at the list – Eve Beglarian is a gay composer, also Jake Heggie, and Eric Rockwell from the musical theater world who did a very funny setting of "You Could Drive A Person Crazy." In his interview, he also had a funny comment. One of the questions we asked was, what was your first encounter with Sondheim's work? He said that he, like many others, was one of several gay Tonys in West Side Story [laughs]. Canadian composer Rodney Sharman is also gay. There's a good representation, but that just sort of surfaced. It was more about showing Sondheim from a worldly musical standpoint, to encompass everyone.
GS: Can you please say something about the process of performing the program live?
AdM: I've been performing it since 2011 in different concerts. I'm always mixing and matching in the programs. Presenters will ask for certain works or composers because they know that work. Sometimes it's based on a song and I'm asked to include a piece. There's a large group of pieces that I now know work really well with audiences. Some are more unusual settings. Some have more bells and whistles. One of the settings of one of the songs from Assassins requires the shooting of a gun. One is for prepared piano with the sole purpose that the preparations that alter the timbre of the piano are imitating the sounds of the voices from the original recording of the song, which I thought was ingenious of the composer who is also a percussionist. There are different angles that go with it. I love to program and I'm known for my clever abilities [laughs] in programming.
GS: Finally, Anthony, is there other musical theater composers that you have in mind for future "re-imagining" projects?
AdM: Yes. I just wouldn't do anything this big again [laughs]. This kept growing – from 20 or 25 to 36 (composers). The producer and Sondheim thought that was a good round number [laughs]. It kept growing because he would suggest people. We realized we wanted to create a balance between the different genres. In terms of other composers, I have to give it some thought. Sondheim, to me, is just one of the strongest, most legendary theater composers. I had originally wanted to play his songs as piano pieces, the way a lot of Cole Porter and Gershwin song have been made into piano pieces. I would have to think about who else I would want to do. It would probably be selected pieces by different theater composers. You never know what will transpire.
Interviewed by Gregg Shapiro. Gregg Shapiro is both a literary figure and a music and literary critic. As an entertainment journalist, his work appears on ChicagoPride.com and is syndicated nationally.