A GoPride Interview
Courtney Act
Caught in the Act: Jerry Nunn talks to female illusionist Courtney Act
I thought that drag queens lip sync because that is what they do, not because they can't sing.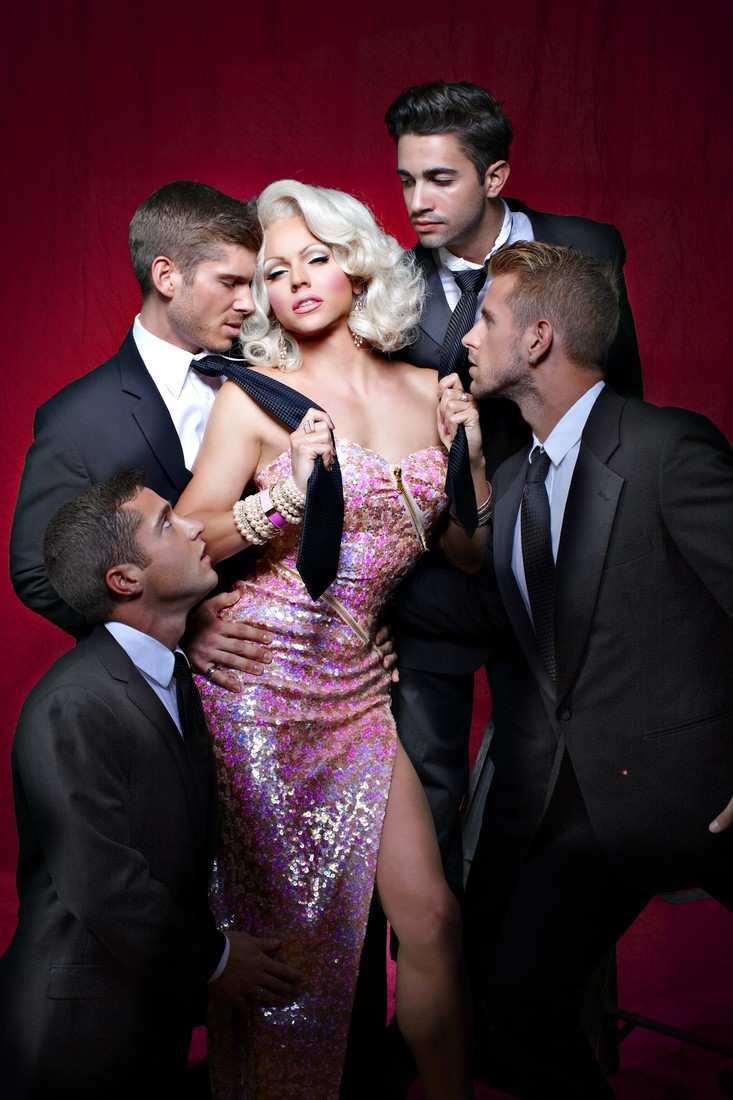 photo credit // magnus hastings
Hailing from the brand new season of Logo's hit television show
RuPaul's Drag Race
, Shane Jenek is now transformed into the female illusionist Courtney Act. The girl from Down Under moved to West Hollywood to a career that was launched thanks to
Australian Idol
. Act uses those pipes in her new song "To Russia With Love."
Act opened for Gaga on her Australian tour and sang at her birthday party. Bette Midler called Courtney a "sensation." Act played the role of Angel in RENT the musical and became the face of Sheer Cover makeup in past years.
Watch this blonde bombshell take over season six this spring on
Drag Race
. Jerry Nunn reached out to Shane in Sydney via Skype to get the scoop on what makes him a winning Act.
JN:
(Jerry Nunn) Hi, Courtney. Will this be your first time in Chicago?
CA:
(Courtney Act) I spent a day in Chicago in 2010. When I flew into America I flew from London to Chicago. I was there for one night before going to Columbus and I chose to go to the Oprah gift store. I bought a pair of purple and gold Louis Vuitton sandals that had been worn by Oprah herself. That is the beginning and end of my Chicago experience so I am looking forward to experiencing more.
JN:
How much were those shoes?
CA:
They weren't much cheaper than they would have cost if you had bought them on a store. They were $250 but I felt like they would been 1,000 bucks if they were new but Oprah had worn them.
JN:
Are you a big Oprah fan?
CA:
I love Oprah.
JN:
You were born in Australia, grew up there and then moved to LA?
CA:
Correct. I moved to LA two and a half years ago.
JN:
What made you want to move there?
CA:
I am 32 now so I was in my late twenties. It came to that time where I had lived and worked in Sydney professionally for 12 years. I was turning 30 and was thinking about what I would do for the next ten years. I released a single in 2010 called "Welcome to Disgraceland" and was working in Europe doing some shows there. Sorry this is going to be a long winded answer. We had booked Amanda Lepore to come to one of our clubs in Sydney in a nightclub called Disgraceland, which was what the song was about, but I booked some gigs with her management, over 20 all over America. I wasn't even excited about coming to America but when I got there I knew that this was it! In 2011 I got my visa and I moved on over.
JN:
So Australian Idol happened before you left Sydney?
CA:
Yes, that was in 2003 so 11 years ago now. It was the first season.
JN:
How did you do in that competition?
CA:
I went along first as a boy and got knocked back so I went the next day in drag. I then made it through to the semifinals to the top 13. I was then signed to Sony/BMG and went on the Idol tour. Even when I got kicked off they kept asking me back because they found me amusing I guess. That is one thing that I learned, being the drag performer on a fairly regular show like Idol it was easy to stand out and be different but being on RuPaul's Drag Race is a very different playing field. I felt dreadfully normal. Even in the little snippets I have seen I wondered if I would be boring. When in drag I speak as if I wasn't in drag where other people tend to have characters. I'm interested to see how that plays out.
JN:
They just showed a few snippets before your big debut on Drag Race.
CA:
Even the first episode felt like a commercial for the show. It didn't actually feel like the show had started yet.
JN:
Was it hard for you to get on Drag Race?
CA:
I sent in a video. I had auditioned for season five but my visa wasn't accepted. For season six I auditioned again then they asked for my visa details and spoke to my immigration lawyer. They worked it out and allowed me to enter the competition. I am the first non USA resident to ever be in the competition and have opened the doors up for girls that just have working visas. So you don't have to be a US resident to be on the competition.
JN:
Before RuPaul could only go as far as Puerto Rico so he couldn't include people from Europe and other countries.
CA:
If people have a work visa in America they can now audition for the show, which is really cool.
JN:
Tell people about your new single "To Russia With Love" a political song for you.
CA:
It is and interesting because it could have been a lot more political. There are no lyrics that are aggressively political. For me it is a statement of love, support, and solidarity for the people of Russia. Obviously for the LGBT community but women's rights as well there. I read some absolutely shocking statistics. People can get really angry but I don't know whether that helps. You have to have passion and a desire to do something but not from an angry point of view. Sometimes the constructiveness of it can get lost so I wanted to write a song about the message of support. I wanted to raise awareness in that area to bring about change. I spoke with UprisingOfLove.org who are a conglomerate of a lot of LGBT and human rights organizations over there. There is the Russian Freedom Fund where a hundred percent of the funds raised go to the LGBT community.
JN:
You are singing live at Roscoe's for your appearance?
CA:
Yes.
JN:
On Drag Race the other contestants seemed intimidated when you told them that you are a singer.
CA:
Well, it is funny because I genuinely don't lip sync. I did when I began at 18 years old. I wasn't great at it. I have a lisp when I lip sync, which I know sounds odd. I thought that drag queens lip sync because that is what they do, not because they can't sing. I started singing live then Idol happened a month or so later.
JN:
Jinkx Monsoon sings live but many didn't know that until her performances after the show.
CA:
I actually hang out with her in an hour because she is in Sydney doing her show the Vaudevillians. She is a brilliant singer and live performer. You get that she is brilliant from the Snatch Game episode of Drag Race but you didn't get that she is such a prolific singer on the show. I am really looking forward to seeing her perform live on Sunday for the first time.
JN:
What was Chaz Bono doing in Australia?
CA:
I just had breakfast with Chaz. You are the meat in my Chaz and Jinkx sandwich! Chaz and I met on Drag Race because he was judge. He was doing 30 Minute Musical where they turn a blockbuster film into a musical. Chaz learned from World of Wonder that I was a singer and took a shining to Courtney. He is partial to Australian women but generally of the biological variety. He asked me to be in the musical, which I did and then we became friends after that. I was doing the Sydney Mardi Gras, which is our Pride Festival that is a month long celebration of events. I was doing a show at a very prestigious theater here for it where Maggie Smith and Cate Blanchett performed with a thousand seats and a full live band. I asked Chaz to be my special guest. I got here on Saturday and I flew from New York after the Drag Race premiere then joined Chaz in LA and we flew on to Sydney. We just came from a morning news program. I wasn't in drag thankfully. We have done basically every television program in the country now either together or separately.
JN:
You identify as a gay boy?
CA:
Yes and for me I love doing drag and being Courtney. I don't have any desire to be a woman or live as a woman. When I am Courtney I do enjoy straddling the gender divide. I do consider Courtney as more female than most drag characters consider their alter egos. It is almost like Courtney is a trans woman but only for a few hours each week!
I guess my performance is more gender illusion. Sydney has a history of more female illusion performances even in the '70s. There was a venue called Les Girls at King's Crossing that was a dinner theater. It was an all male revue but it was all glamorous showgirls as opposed to the theatrical drag you may know from Priscilla.
JN:
Did you like Priscilla the movie or musical?
CA:
I loved the movie when it came out just before the Spice Girls happened. It was a pivotal moment in my life. I remember Guy Pearce had these muscles but was really faggy and I kind of loved that. I still love that, which is great because I live in West Hollywood so there is a lot of that!
I auditioned for the musical and they kept calling me back. Eventually they explained that I made everyone else in the cast look like a man. I was auditioning for the Guy Pearce role but then the older Bernadette just didn't work having me play opposite him because I was so feminine and girlie. There is actually a reference to me in the Broadway musical, it wasn't in the Australian or West End one. Felicia comes down singing "Venus" and she says, "Drag queens sing live now" and Bernadette says, "I know, I have seen Australian Idol." That was a reference to me which I thought was strange because no one in America would know that.
JN:
Where did the name Courtney Act come from?
CA:
My friend Vanity and I were planning my drag debut. I wanted to be called Ginger Le Bon. I wanted to be a red headed, raspy voiced, bourbon swilling cocktail singer. Vanity thought I needed a cute girlie name like Courtney. Then I said it slowly in an Australian accent, "Court...Caught in the act or Courtney Act." In America it doesn't work as well.
JN:
Tell me about your Lady Gaga experience.
CA:
Gaga is amazing. I performed at her birthday party in Australia on her first tour. In 2011 the night before I moved to LA she was in Sydney and wanted to perform at Disgraceland. She brought ten dancers to this intimate boutique nightclub. She did four songs and it was electric. It was one of the most inspiring things as an entertainer I have ever seen. Every time I go onstage I think of her and watching her from the audience with that raw energy.
In LA when "Applause" came out her team called me and asked if I could do the makeup for the video and be in the lyric video that she would be filming.
She is normal and fun to be around but when you are in public with her it is surreal and the world is spinning twice the speed as it normally goes. It is really fascinating.
JN:
How long a flight is it to come back to LA?
CA:
It is 14 hours then I fly to Indianapolis, New York over the weekend, then I am heading to Chicago!
Catch Courtney's Act on March 11 at Roscoe's Tavern, 3356 N. Halsted Street, for more information visit www.roscoes.com. For more on Courtney check out courtneyact.com.
Interviewed by Jerry Nunn. Jerry Nunn is a contributing writer to the GoPride Network. His work is also featured in Windy City Times, Nightspots Magazine and syndicated nationally. Follow @jerrynunn