A GoPride Interview
Randy Harrison
'Queer as Folk' star Randy Harrison heads up new production of Cabaret
I really think time caught up with it and has liberated the story.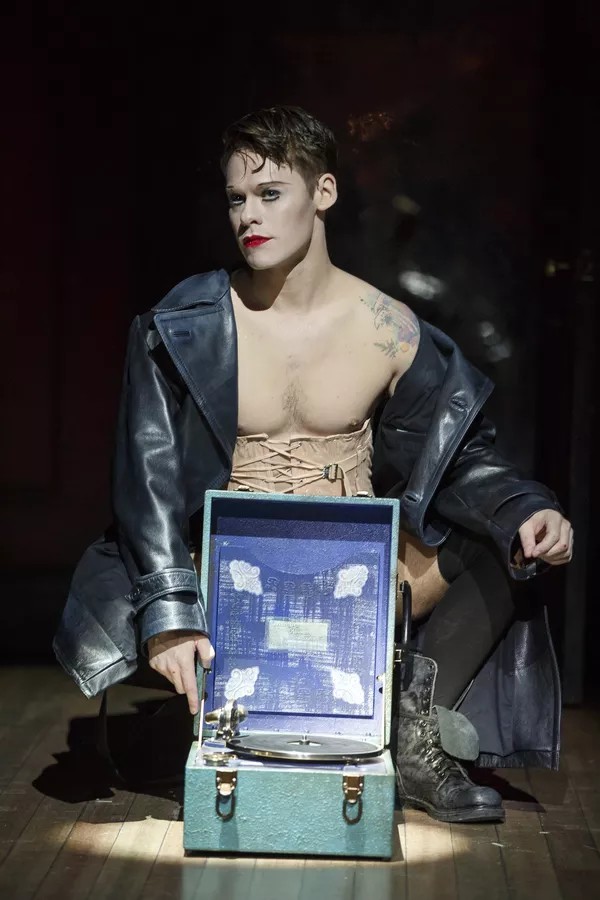 randy harrison in cabaret
photo credit // joan marcus
It has been 16 years since we were first introduced to the gorgeous Randy Harrison who played Justin Taylor in the groundbreaking Showtime television series Queer as Folk.Since then, he has devoted most of his time to the theatre starring in Wicked, Pop! and Antony & Cleopatra. Now Randy is taking on the iconic role of the Emcee in Roundabout Theatre Company's intensely brilliant revival of Kander & Ebb's CABARET, which plays Chicago's PrivateBank Theatre from February 9-21.
ChicagoPride.com's Michael J. Roberts caught up with Randy to find out how he landed one of musical theatre's greatest roles and how his life has changed in the decade and a half since Queer as Folk hit the airwaves.
MJR: (MICHAEL J. ROBERTS) Congratulations on snagging the role of the Emcee!
RH: (RANDY HARRISON) Thank you Michael. Cabaret is such an incredible production and I am so lucky to be a part of it.
MJR: How did the playing the role of the Emcee come about?
RH: I've always loved Sam Mendes' production of Cabaret and saw it three times, twice with Alan Cumming and once with John Stamos when the Roundabout first revived it in the 1990's. So, when I heard that they were going to tour again, I auditioned. Let me tell you, it was quite an extended process.
MJR: What song did you audition with?
RH: Willkommen. They had me do a lot of the introductory dialogue with the music. Then, I met with the associate choreographer and learned the steps. Then had to come back and do it all again. And then….I got the part! Yay!
MJR: How do you wrap your head around that particular part and a play that is so emotionally connected?
RH: It sort of cumulates through the course of the show. At the beginning of the production I am having a good time because my job is to be the mediator with the audience. As the Emcee and have to make sure they have a specific reaction as well as a good time. But it really wasn't until we had the first audience with tech and costumes when I really felt the cumulative power of what happened to these people. I had to go off stage and weep, and just couldn't stop. Even now that I have some performances under my belt, it still hasn't stopped affecting me.
MJR: How has the audience reacted to show?
RH: What's so incredible is that all of my interaction is with the audience. They are my scene partner. I talk to them; I try to get them to talk back to me; I go out in the audience; I dance with them… and for the most part, because of the lighting, I can never see them. So I am talking to the audience for the entire two and half hours show and the only time I really get to see them is at the very end of the production because they end up being lit. And then I finally see their reaction. That moment for me is extraordinary.
MJR: Who directed you in the new Cabaret tour?
RH: Sam (Mendes) and Rob (Marshall) would oversee my rehearsals by video, but it was Cynthia Onrubia who is Rob Marshall's associate director and choreographer who mainly directed me. I swear Michael, Cynthia has the soul of the show in her bones. She was part of the creation of the initial 1990's revival and has staged all the remounts and revivals since. She is incredible.
MJR: What makes Cynthia such a great director?
RH: I think because she knows the show so well that she was able to give me this clear structure and vessel to play the role yet still allow me to put my own mark on it. Cynthia let me bring my own humanity, my own since of humor, my own idiosyncrasies and my own opinions to the part, knowing that would make the structure work even better.
MJR: Do you think the musical is more relevant now than it was when it first opened in the 1960's?
RH: I do. I just finished reading "The Making Of Cabaret" which chronicles all the various stage productions and the film. Sam (Mendes) would tell us the show was pretending to be what is wasn't when it opened in 1966, as it was more a musical comedy then in its current incarnation. I really think time caught up with it and has liberated the story.
MJR: So let's talk about the groundbreaking Queer As Folk!
RH: Yes, I can't believe it has been sixteen years since its we first started filming it. Lots of people still say what in impact that show had their "coming out". It was groundbreaking in that Queer as Folk and the Soprano's really began to change how television shows were produced on cable.
MJR: What are some of your dreams roles you would like to play on stage?
RH: I would love to play Vanya and Hedwig. Some of my favorite experiences I have had is doing Samuel Beckett. I had the chance to play Lucky in Waiting For Gagot and also did a great production of Endgame and there are other roles of his I would love to tackle.
MJR: So what's next for you after Cabaret?
RH: Well, I'm really interested in developing new work and I work alot with young writers. I also just developed and directed a new web series that I shot over the fall which is in post production called "New York Is Dead".
MJR: Thank you Randy for taking the time for this interview.
RH: Thank you Michael for asking some great questions. Come to the Cabaret everyone!
CABARET will play Broadway In Chicago's newly named The PrivateBank Theatre (18 West Monroe) for a limited two-week engagement February 9 – 21, 2016. 
Tickets for CABARET at The PrivateBank Theatre range from $25 – $98.  A select number of premium tickets are available for many performances. Group tickets for 10 or more are available by calling Broadway In Chicago Group Sales at (312) 977-1710. Tickets are available at all Broadway In Chicago Box Offices (24 W. Randolph St., 151 W. Randolph St., 18 W. Monroe St. and 175 E. Chestnut), the Broadway In Chicago Ticket Line at (800) 775-2000, all Ticketmaster retail locations and online at www.BroadwayInChicago.com.
Interviewed by Michael J. Roberts. Michael J. Roberts is theatre editor for the ChicagoPride.com covering Chicago's diverse arts and entertainment scene.