A GoPride Interview
Julia Wolf
Julia Wolf packs up for a tour stop in Chicago
My music speaks from a place of experience.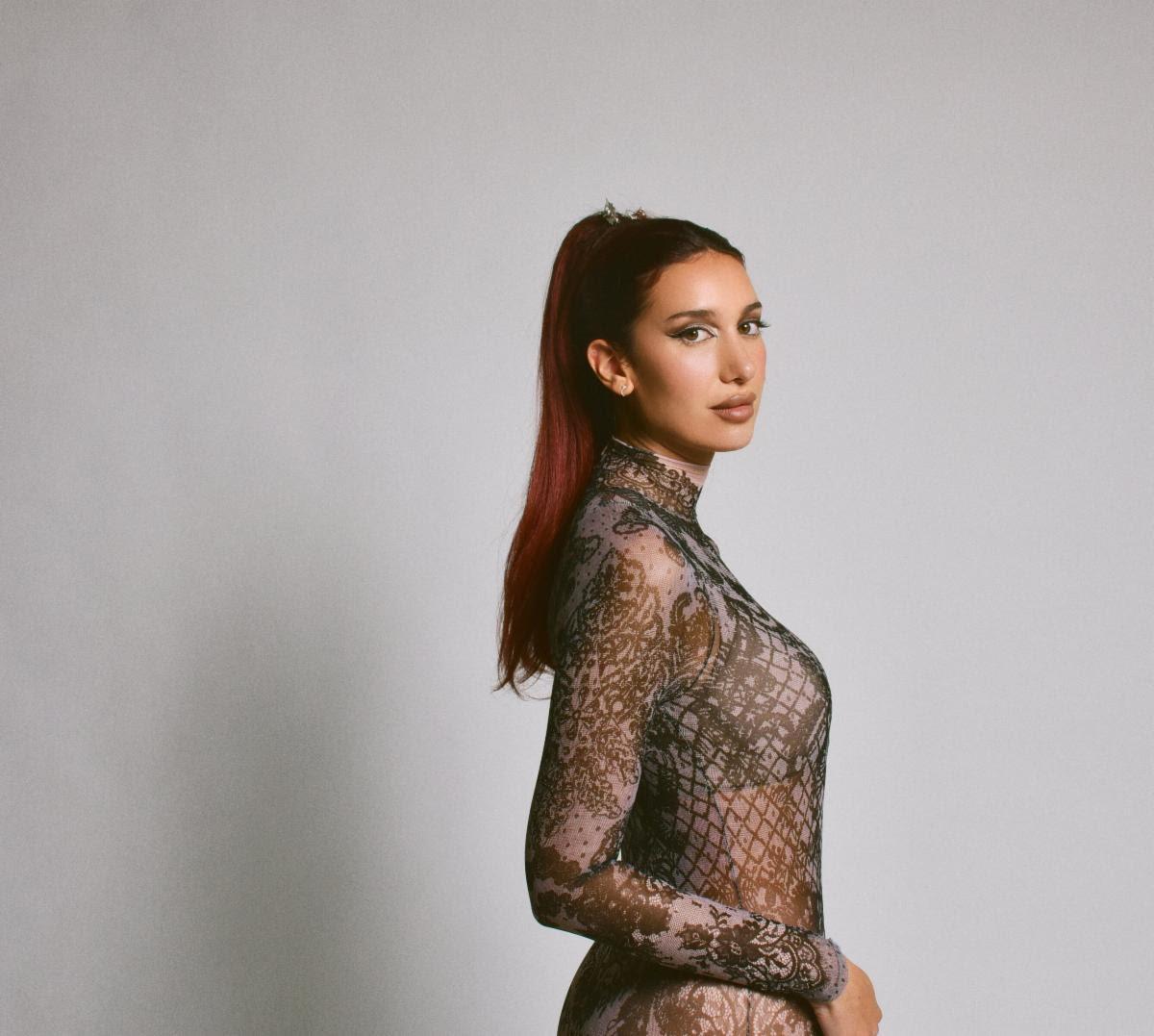 photo credit // shervin lainez
Singer Julia Wolf headlines for the first time in Chicago on February 20
Indie pop singer Julia Wolf bites into Chicago for the first time as a headliner at Schubas Tavern this February during her bi-coastal run of shows. Her Gothic Babe Tendencies Tour takes her bedroom pop out on the road to meet and greet fans in various intimate venues.
After a debut EP released in 2021 called Girls in Purgatory, her new project Good Thing We Stayed continues to explore a wide variety of subjects and themes.
With tracks like "Dracula" and "Get Off My" on the record, this show promises to be a unique experience.
Wolf talked about her upcoming concert in the Windy City and much more during a recent interview.
JN: (Jerry Nunn) Hi, Julia. Where in the world are you calling from?
JW: (Julia Wolf) I am in Queens, New York.
JN: That is where you are from?
JW: Yes, I grew up on Long Island, but I spent my weekends in Queens, so now I live here.
JN: Have you been to Chicago before?
JW: Only once and it was on the Fletcher tour last year. It was great! I saw the Bean and had my deep-dish pizza, which I might need to revisit.
JN: I met Fletcher at Lollapalooza last summer. Isn't she the coolest?
JW: Yes, she is very chill and down to earth. She has been blowing up and doing so well as of late. It is very exciting.
JN: Your career is exciting as well. Has it felt very fast even though you have written songs for a long time?
JW: When I zoom out things are happening very fast and I am grateful for the wins that are accomplished. I feel I have been leveling up, but while I am in it things can feel slow. I look at everyone else and try to remind myself that I am on my own timeline. It is good though and motivating to keep me working.
JN: Did your song "Rookie of the Year" come out of that?
JW: That is one of the older songs, but it is about betting on the project. I am "Rookie of the Year" I guess! [laughs]
JN: Your family is in the video. How do you balance your private life?
JW: My music speaks from a place of experience. I write about what has affected me. A lot of that is friends and family. Whether they like it or not they are going to be a part of the music. They are always cool about being on video because it solidifies everything and gives it a visual.
JN: You have an Italian background and speak the language fluently?
JW: I speak enough. My whole family is fluent of course but the children of later generations don't always get to speak it because my parents chose that route.
JN: What part of Italy are your family members from?
JW: My dad is from Turin, which is north, and my mom was born here, but her parents were from a small town near Rome and she lived there when she was younger.
JN: Has being Italian influenced your work?
JW: It has. My family is in everything that I write and do. They are always a part of it. They are consistently behind the scenes pushing me to keep going. My mother came to every open mic night and my father drove me to many gigs over several summers. They are so supportive and have always been there.
JN: They should come to Chicago!
JW: Believe me, if they weren't working they would be in the van with me.
JN: How have you developed your overall sound and who influenced you?
JW: Sonically, I knew I was into rap in college. I wanted my sound to be like it, but I am no rapper. I started mixing in Phoebe Bridgers and Taylor Swift. That is who I grew up listening to.
Lyrically, I gravitate towards their sheer honesty and storytelling. Lyrics should be first over everything and the main priority for me.
In 2012 I listened to the Take Care Drake album and that solidified everything for me. In college, I fell into the punk pop scene. I went to shows alone all the time and loved it! [laughs]
Now I feel I am a blend of everything.
JN: So hence the Gothic Babes connection.
JW: Yes and it comes from my childhood. My mother showed us Tim Burton movies and I got attached to that aesthetic.
JN: I noticed some Harry Potter references in your music.
JW: Always. My dog's name is Malfoy!
JN: Talk about the creation of the track "Hot Killer."
JW: That song is interesting because I went into the studio wanting to say, "She's a hot killer. She's a big thriller." It was my producer Jackson Foote that wanted me to change it to "I." It felt weird at first but after thinking about it I wanted it to be a song for the Wolf collective to put on and sing along to. I want them to feel empowered by it and feel good about themselves.
I put in my Harry Potter references and I feel that Draco is the most misunderstood character ever. I feel like people underestimate the shy kid all the time, so I wanted to correlate those two ideas. Being shy doesn't mean you put the rest of the world on a pedestal. That is a common misunderstanding. I wanted to make a fierce track!
JN: You have been described as shy in the past…
JW: Well, I am a completely different person than I was a few years ago. It is really because of the music and people supporting me. Their direct messages describing how I have helped them just by talking about certain subjects have helped me continue. That really brought me out of my shell.
Definitely growing up I was the purest definition of an anxious, shy kid.
JN: Your actual last name is Capello. Where did the Wolf moniker start?
JW: The name itself comes from my younger sister Cami. She is my whole world. While growing up she had an imaginary pet named Wolf. She would say goodnight to the wolf and me. She still does it now, which is very cute.
I picked Wolf and I think it is great. Sometimes I need a pack and sometimes I can be sufficient without one. I can get things done at night, just like a wolf. I love it!
JN: What are your thoughts on the LGBTQ+ community?
JW: I want them to always feel like my shows are a safe space and be able to reach out to me whenever. I do Sunday confessions and will have that on tour, where people can write things. I usually get many confessions about people's experiences of being a part of the LGBTQ community. They write about what it feels like and being nervous about coming out.
I always try to pick those confessions weekly or even biweekly to reinstate that I am there for them. To encourage them to be themselves through and through. At the end of the day that is all any of us can do. I want people to feel welcome all the time.
JN: That is important. How exactly does the confession work?
JW: For Instagram it is easy. Every Sunday people can type in a message and I will answer it. During the tour, I will have a physical box at the merch table. People can put in their confessions and halfway through the set I will stop the show and we will read through some of the confessions. I will give my two cents and I hope I can open it up to the audience as well. I want everyone to realize that we sometimes go through the same things.
JN: This Nunn might have a confession or two!
JW: I love it!
JN: Describe your live show other than confessions.
JW: A lot of the songs will have different arrangements than on the record. The audience can still sing along of course, but some of the music is extended. Some songs rely heavily on crowd participation. I hope everyone gets ready for that.
I also change out songs to switch up the setlist. I noticed fans were coming to multiple cities and didn't want them to see the same show. Every show should make people feel like they have to be there. I will always be at the merch table afterward to hang out.
JN: Schubas is an iconic and intimate venue, so it's a great place to connect with your fans.
JW: That is all I want.
JN: Bronze Avery is opening for you?
JW: Yes, I just met him recently and he's a star. His music is amazing and everyone is going to fall in love with him.
JN: I look forward to seeing you and him at the concert.
JW: Great, I will see you in Chicago!
Wolf pounces on Schubas Tavern, 3159 North Southport Avenue, on February 20, 2023, with information on the sold-out show at LH-ST.com.
Interviewed by Jerry Nunn. Jerry Nunn is a contributing writer to the GoPride Network. His work is also featured in Windy City Times, Nightspots Magazine and syndicated nationally. Follow @jerrynunn