A GoPride Interview
Louis the Child
Louis the Child Celebrates the "Weekend"
We love Taylor and everything she is doing. We are thankful to her.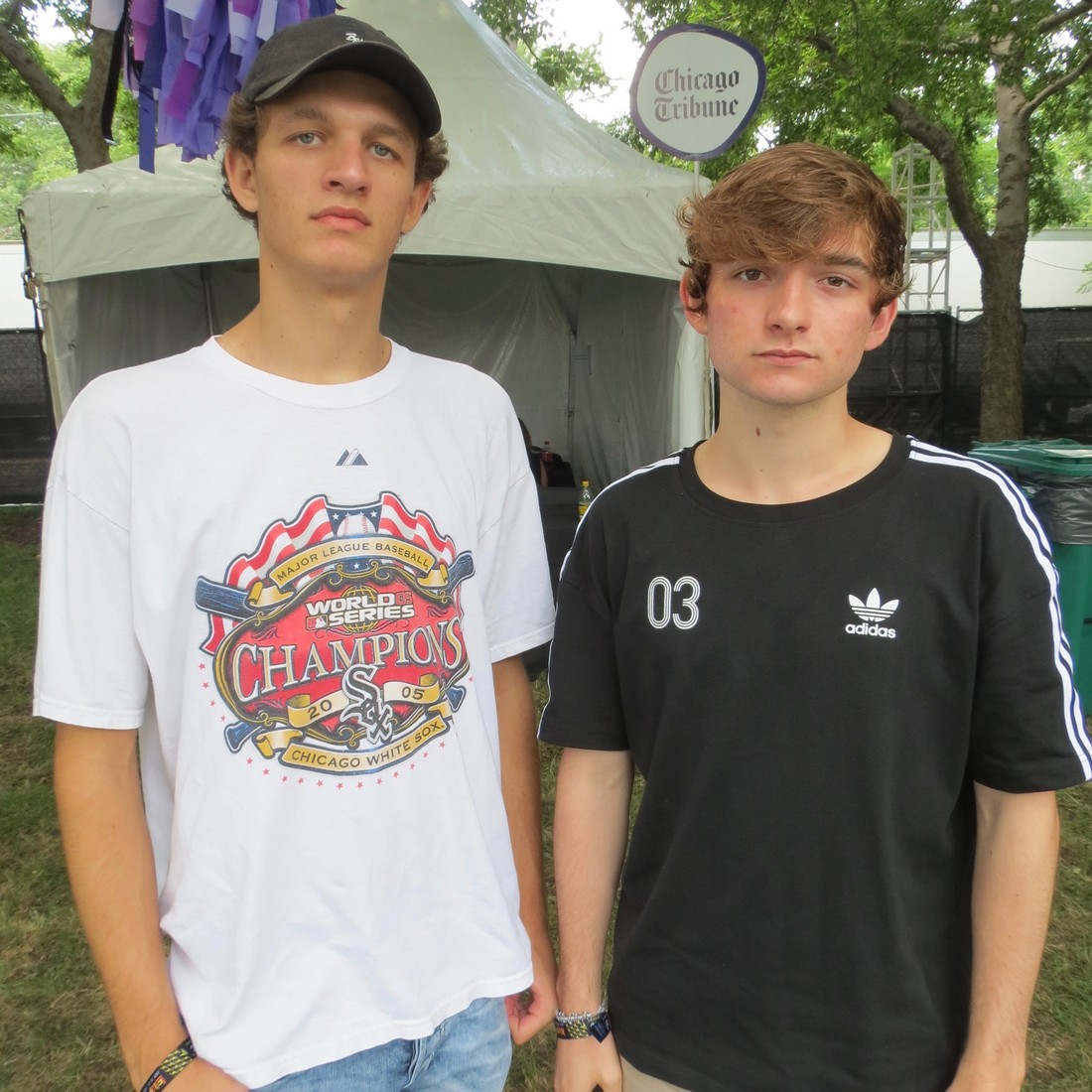 photo credit // jerry nunn
Duo Louis the Child goes from local to global music
Chicago based group Louis the Child is made up of Robby Hauldren and Freddy Kennett. The duo met in the suburbs of the Windy City. 
Their single "It's Strange" with K.Flay caught Taylor Swift's attention and landed them a spot on the FIFA 16 soundtrack. Since then they have recently worked with Icona Pop and starting touring around the world. They have performed at music festivals like Coachella and the Electronic Forest Festival. 
They returned home to another huge music festival and Nunn talked to them backstage at Lollapalooza. 
JN: (Jerry Nunn) So you are both from Chicago. Where did you grow up?
FK: (Freddy Kennett) We are from Wilmette and Northfield. It is near Evanston and north of Northwestern. 
JN: Did you go to school there?
RH: We went to New Trier.
JN: You are a hometown act. Where did the name come from?
RH: (Robby Hauldren) Wikipedia with random articles until something came up that sounded like a good name. We don't even say it correctly. We say, "Lu-is" not "Lu-ee." Technically I guess it is "Lu-ee."
RH: We are Americans and making it modern. 
JN: Did you read up on the original King Louis? He started when he was really young. 
RH: Yeah, when he was twelve. 
FK: He ghost wrote for Mozart a bunch. 
RH: He was king of East Francia and died at the age of 17. He was beheaded. Not a happy ending. 
FK: Hopefully we are a happier story. 
JN: Did you start very young also?
RH: Probably when we were 11 or 12. 
FK: Together at 14 and 15.  
JN: Where did you meet?
FK: Through friends at school. 
RH: We were both doing electronic music. We thought, "Why not get together?"
FK: It has been four years. We are 18 and 19 now. 
RH: Going from then to playing for thousands of people has been crazy!
JN: It can happen fast these days.
FK: Very fast. It was just with "It's Strange" really that we saw that difference. We had remixes that got millions of plays on SoundCloud. It took an original song like "It's Strange" to get more plays. It is at eight million right now. 
Now we see the festivals with big crowds. We have been to Coachella and now Lolla. 
JN: That song blew up with Taylor Swift correct?
FK: That was the craziest thing. I came home from a family thing and looked on Instagram. Someone Facebooked me and told me she liked the song. We love Taylor and everything she is doing. We are thankful to her. 
JN: Maybe you could tour with her.
FK: We would love to. 
RH: The Icona Pop "Weekend" song just came out.
JN: How did you get with them?
FK: We were with friends in LA and stayed at their house all the time. They were in a session with Icona Pop and they said to just come in. We showed them some beats. They decided to do something with it. We had the instrumental on the track beforehand. They wrote to it with some writers. 
JN: Why were you not in the video?
RH: It was shot in Stockholm so it was hard for us to be there. 
FK: We decided what the visuals would be and mapped it out. 
JN: I thought maybe you wanted to be mysterious. 
FK: Yes and no. We start off mysterious but want to be more involved in the videos. 
JN: They are nice girls. It is an interesting song. It is not a simple pop song. 
RH: Yeah, it sounds different. It is not straight forward. 
FK: It is a weird melody but still catchy. It catches your ear. It appeals to a pop crowd but feels central to the Louis the Child sound we have created for ourselves. 
JN: Is that the goal for you to have a unique sound?
RH: Yes, we want to connect this side of music to this side of music. People may not know what genre and how to categorize it, except for it being Louis the Child. 
JN: Are you influenced by artists like Disclosure?
RH: Yes, all of them like Porter Robinson, Madeon, Flume, even Robert Glasper, a jazz piano player. 
FK: We are influenced by people all across the board. 
RH: Check out people like RAC and James Blake. 
JN: What goes into making a good remix? Is it changing the song a lot or keeping it close to the same?
FK: We like to use just the a cappella vocal track and create a new song with new instrumentation around it. We want it to feel a different way. We want to forget about the original instrumentation so we can create something new around the vocal. We start with a new backing melody and make a progression. 
JN: I'm taking to someone that you remixed Oh Wonder. What should I ask them?
RH: Ask them which remix of "Body Gold" by Louis the Child is there favorite. 
FK: There's only one!
JN: When are you coming back to Chicago? 
FK: We have a big headline tour in the fall so in November and we are bringing Quinn XCII. It will be a really cool fun show. We are excited about that. 
RH: We are working on an EP. We have the songs chosen. We are getting it finalized with about 95 percent of every song done. 
FK: We would like to get that out in September. 
RH: Definitely before the tour. We will see how "Weekend" plays out and decide from there. 
Look for Louisa at The Pygmalion Festival in Champaign, IL on Saturday Sept. 24 and in Chicago on Nov. 25 and 26 at Metro.
Interviewed by Jerry Nunn. Jerry Nunn is a contributing writer to the GoPride Network. His work is also featured in Windy City Times, Nightspots Magazine and syndicated nationally. Follow @jerrynunn