A GoPride Interview
Caleb Dehne
Portraying Tori Spelling: 90210 The Musical's Caleb Dehne
she gets her moment of empowerment and she is like: look I am a valuable person here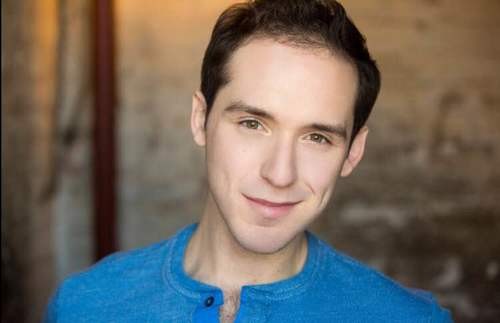 photo credit // caleb dehne
Broadway In Chicago and the producers of Bob and Tobly's Beverly Hills 90210: THE MUSICAL are delighted to announce that 90210: THE MUSICAL will play Chicago's Broadway Playhouse at Water Tower Place (175 E. Chestnut) for a limited five-day engagement September 13 through 17, 2017. 
The comedy musical, which debuted off-Broadway on New York City's East Village, is an "unauthorized parody" of the 90's TV cult-classic, "Beverly Hills, 90210." (You might remember Luke Perry as Dylan McKay, Brandon Walsh's (Jason Priestly)  sideburns, and Sharknado's Ian Ziering as Steve Sanders)
The show features a number of original songs that include, "The Ballad of Andrea Zuckerman," "We Are Drama Zombies," and "Will Tori Spelling Graduate?"
The GoPride Network took a moment to chat with Caleb Dehne, who plays Tori Spelling in 90210 The Musical. 
MI: (Matt Inawat) Hi Caleb, thanks for taking the time out to chat and congratulations on the role in 90210: The Musical.
CD: (Caleb Dehne) Thank you!
MI: Share a little bit about the production. What's the fresh take on the musical that'll get people excited to see the show while it runs here in Chicago?
CD: I think the show does a really great job of paying homage and getting you just enough nostalgia from the old TV show while still making fun of it. It's great for any 90210 fan but it is also hilarious to someone who has never seen the TV show. I had some friends come and see it when it was here in New York and they had never seen 90210 because we are babies - and they laughed hysterically the whole time. It was one of the funniest things they had ever seen.
MI: Very cool. So tell us about the role you play in the production. In a way, you get to play a role within a role since you play Tori Spelling and you play her in drag, right?
CD: Yeah, it is pretty amazing! The role was originally written for a female actor. I came in and Bob Toddley and I just meshed on the joke. I said it wasn't my original joke but I referred to Tori Spelling and Mr. Tori Spelling and they all laughed and they said, "why don't you read for her?" We took this idea that she is iconic, that she is beyond the show, and that is why she is the only character in the show referred to as her actor name. I read a lot of her books in preparation for the role - not so much even watching the show but trying to figure out who this woman was - and what I think is the best part of the show is yes, we do joke about her and her nepotism and her looks and all of that throughout the whole show, but at the very end she gets her moment of empowerment and she is like "look I am a valuable person here."
MI: In doing all of this research, what were some of the most fascinating things you learned about Tori?
CD: Oh my gosh, so I really recommend reading her first book, Stori Telling. She talks about how one Christmas she had said something earlier that year that she would never get to have a white Christmas, and so Aaron Spelling - this was when they had moved into this house that was like a whole block of Rodeo Drive and they had this whole huge mansion - made it snow for her on Christmas. She woke up and they had shaved ice fall down and covered the entire block. That was one of the craziest stories. 
Another great story, she was really klutzy and that was one of the things I loved about her, I think that added to our comedy.  It showed the dynamic between her and her mother and why it has never been close. And she tells this story about a maid and that her mother could see that Tori was getting really close to the maid so the mother let the maid go. One night Tori had a nightmare and her mom Candy came running in and Tori was like, "I don't want you. Never come. I want the maid," and she said it was at that moment when Tori realized that her mother loved her because she brought the maid back and her mother would do anything for her.
MI: That's a pretty inspiring story.
CD: Yeah, a very interesting story
MI: Take us back and tell us about yourself. How did you get involved in theater?
CD: So I am from Illinois myself, southern Illinois. 6 hours south of y'all.
MI: So is that near Carbondale?
CD: Yes! Exactly Carbondale! I can't ever tell anyone about Illinois because everyone is like "oh Chicago." But it is amazing when people do know. Thank God you know.
MI: All you have to say nowadays is that it was the perfect spot to see the solar eclipse.
CD: It is a funny thing! 
I always sang, that is how my mother knew where I was as a kid - I was always singing Little Mermaid. And how I got started in theatre – I was at choir competition in fifth grade and this woman came up and she said, "I want you to audition for The Wizard of Oz." I was like, "oh, this is it - this is a talent scout," but it was just for a community theatre production. But I had an amazing woman, Pam Kimball, who fostered my love for theatre and I had her all through high school. 
I went to college for music education and then I had the opportunity to study in Germany for two summers after that. I was doing musical theatre in Germany and I was like, "hey, I don't want to teach right now because I'm a kid and want to be flippant and I just want to explore and do musical theatre and stuff," and she said I should come to Boston and spend a year out there and take lessons with her and get my master's degree in musical theatre there. That is what I did and it was the best training I have ever gotten and it has always been something that has been a part of me. I've really enjoyed it and I think I am finally brave enough to pursue.
MI: You mentioned Little Mermaid - were there any performances or specific actors or actresses that inspired you over the years?
CD: Oh yeah. I mean, well if we are going with Little Mermaid, I always wanted to sing like Jodi Benson my entire life - which will never happen now - but I always wanted to have her voice. Another Illinois actor, and actually from the same hometown as me, John Malkovich, is one of my favorite actors. And I mean, you can't go wrong with Meryl Streep.
MI: Living just 6 hours from Chicago, do you have any favorite places or restaurants in the city.
CD: I have actually only been to Chicago once in my life. It was so much closer to go to St Louis instead. The only reason I have ever been to Chicago was because I won an abstinence essay contest.
MI: Cool! Tell us a little about that essay contest.
CD: Well it was a required essay we had to write in 7th grade. Kids from all around southern Illinois got to go and we had to write that we would always abstain from drugs, sex and alcohol. It was a fine trip. It was exciting for the country bumpkin kids that we were. We went to places like Bubba Gump Shrimp and the Navy Pier and we saw an Imax film - and I remember the biggest disappointment was they gave us the option, we can either see Nascar in 3D in Imax or Harry Potter and the Prisoner of Azkaban and I was like come on guys there is clearly only one answer and everyone chose Nascar. 
So you guys have to fix my view of Chicago.
MI: We'll try! So I hear you are an LGBT activist as well?
CD: Yeah! Well one of my best friends is trans. And that was something that was so new to me when he spoke to me about it. I was young, and I think I was 18 and he was 17 or 16. And especially from southern Illinois that was just not a thing we talked about. I mean, me being gay was a big deal for southern Illinois. So I think it was a hard thing to swallow not knowing a lot about it, me being 18. I just kind of realized how much this person meant to me and it didn't really matter who they were. So I think it is just something I like to promote in life: this person matters to you, they aren't hurting anything or anybody so why should you be upset with them?
MI: That's pretty awesome.
CD: Yeah, it is pretty cool to have all of those different people in your life to teach you something. I was ignorant, I truly believe that.
MI: Are there any causes that are personally important to you?
CD: My friend Ben who is trans lives up there in Chicago now. He is doing a lot more work and I get most of my knowledge through him and all of the work he is doing. He is doing a lot of social work there in Chicago and helping a lot of people in the LGBT community that are struggling through all of that. 
One of the biggest things for me when Ben started his transition was that we were really on the conversation of what not only the mental therapies he was having but also the voice therapies as a singer he was going through. That was a big conversation and something I had an interest in. I think more people need to know that your body is going through a voice change when you are taking hormones.
MI: What are you most excited about seeing when you are here in Chicago again?
CD: The Bean! I have a list on my phone of things I am supposed to see. The Girl and the Goat, I am supposed to go there.
MI: Great things to have on the list so far!
CD: The underground. I'm supposed to go to Cindy's for brunch if I want to spend a lot of money. There is a place called Rock that is a whiskey bar. 
MI: So are you a whiskey fan?
CD: No, but I would go for a cool bar!
MI: So is there a dream role in any play or musical that you'd love to portray?
CD: Oh God, yes! I have actually been able to play the role, but I would love to play it professionally. It sounds like a minor role because it is just called The Man in Chair, but he is this lead character in The Drowsy Chaperone and he is this man who is the narrator and he tells you about his favorite record and it comes alive onstage around him. In the end you find out why he is alone there in his house. He has had this hard life, and I loved playing him but I was also like, "this is me, this man who escapes through musical theatre," I connected with it and I would love to do that again!
MI: Alladin is playing here in Chicago now - so if there were a Disney musical that you would love to be in which character would it be and which musical?
CD: I hate the Little Mermaid so much, because it isn't the movie, but I would die to be the Little Mermaid!
MI: Is there anything else you would like to tell our readers? Something that you have never mentioned in an interview before.
CD: Well, one, this is the first interview I have ever done and I was telling Todd that this could go either way either amazingly or this could be the next Diane Sawyer/Whitney Houston interview.
MI: (Laughs)
CD: Well it could be! 
What else have I never told anyone? Well I mean, my mother is one of my biggest heroes in my life. And she would kill me for telling this, but because I brought up John Malkovich before, that I just want the world to know what a badass woman she is, because she once punched John Malkovich's sister. 
MI: Oh my gosh.
CD: And that is our claim to fame. 
MI: What an amazing way to end the interview!
CD: She will kill me when she sees this. Make sure you add in that I love her!
MI: Yes, we will surely leave that in! Hey Caleb, this was alot of fun! Thank you so much for taking the time to chat! Can't wait to see the musical. Have fun while you are here!
Interviewed by Matt Inawat. Ron Matthew Inawat is president of the GoPride Network and contributes to ChicagoPride.com, PrideLA.com and other sites within the GoPride Network. Follow @cpmatthew