A GoPride Interview
Trannika Rex
Meet Benjamin Bradshaw and his drag doppelganger Trannika Rex
Sun. February 23, 2014 by Adam Guerino
I've gotten my share of hate mail, but it's under a pile of love letters so I'm OK with that.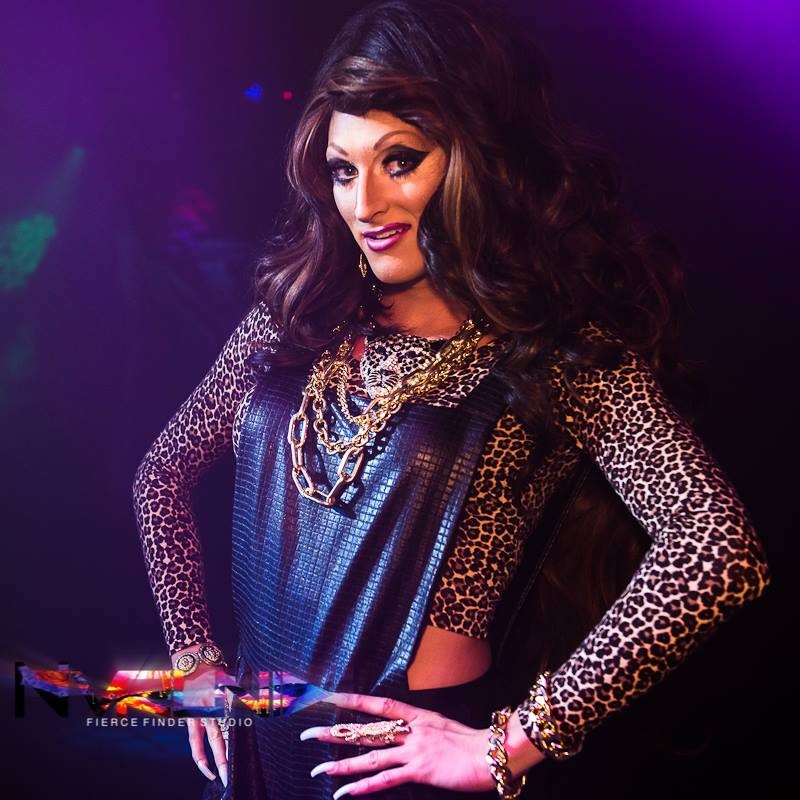 photo credit // fierce finder studio
Meet Benjamin Bradshaw. Whether you know Benjamin or not, you may be more familiar with his drag doppelganger Trannika Rex.
As Trannika Rex, Bradshaw is master of ceremonies in Chicago, the regular host of Drag Matinee at Berlin Nightclub and Trannika's Most Wanted at Scarlet Bar. Known for her hilarious and scathing sass, boozy and baudy crowd work, the diva brings her comedy styles to the stand up comedy stage for the first time Tuesday, Feb. 25th.
In anticipation of the show, host Adam Guerino gets some one on one time with Trannika Rex to talk about her drag character, inspiration and intoxication.
Adam:
How did you get started in drag?
Trannika:
I made friends with a queen named Roberta Cleveland and begged her to be my drag mother. She said no so I went out without her help and I looked like a homeless person so she said "come over here right now, you're a mess." It was downhill from there.
Adam:
Let's talk about the your stage name. The "T" word can be quite divisive in the queer community, was there a message from your variation of it?
Trannika:
The joke is a play on the term "train wreck" and if my name alone is offensive to you, you sure shouldn't come to a show and hear the words I call my cast members.
Adam:
Contrary to most drag acts, you don't generally lip synch as part of your act--was this a conscious choice or more organic?
Trannika:
I took lots of clowning and comedy classes as a kid and studied improv at Second City in 2009, so when I started drag in 2010 I stuck with what I knew. I performed in the beginning because I thought I had to but once I got my first hosting gig it just clicked. I'm also a terrible performer so it works out for all of us.
Adam:
Speaking of your signature styles, you're known for calling out cast members and audience members alike. It seems like anyone who is in a room when you have a mic is fair game. Have you ever had trouble with offending people?
Trannika:
The underlying joke in my act is that I'm just this ignorant, alcoholic, bigoted white girl in the same way that Stephen Colbert is a conservative prick. A good joke has layers and sensitive people can check out before they get to the actual punchline. I've gotten my share of hate mail, but it's under a pile of love letters so I'm OK with that.
Adam:
One of your shows, Trannika's Most Wanted parodied the Duck Dynasty homophobia news stories with the name "Tuck Dynasty" for one of your shows. Not soon after,
Rupaul's Drag Race
did the very same. Considering how closely you've worked with past and upcoming cast members, do you think this is an example of great minds thinking alike or something more?
Trannika:
That was a shitty rip off but it was flattering. Next question.
Adam:
Will the upcoming Queer Comedy at Zanies be your first comedy show performance? What can people expect that may be different from seeing you before?
Trannika:
Yes. The difference is that I don't know the cast and that I'm not in control of the show, but I can promise I will be just as hammered and problematic as I am at Scarlet and Berlin.
Watch Trannika Rex get drunk on a new stage Tuesday, Feb. 25th at Queer Comedy at Zanies presents Casey Ley at Zanies Comedy Club, 1548 N Wells, 8:30pm. Tickets are $15 and available at chicago.zanies.com or at the door. Or catch her at her two regular shows, The Drag Matinee the first and third Saturdays at Berlin at 10 p.m. and Trannika's Most Wanted on the third Monday of the month at Scarlet at 10:30 p.m.
Interviewed by Adam Guerino