A GoPride Interview
J'Royce Jata
Talking musical with Dirty Dancing on Stage's J'Royce Jata
Stay open, trust yourself and stay open to working with other people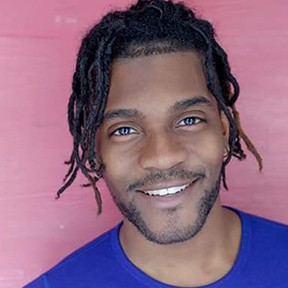 Dirty Dancing (the Classic Story On Stage) makes it's way to the theatrical stage the next two weeks in Chicago. It's a vibrant take on the classical story portrayed in the film version by Patrick Swayze ("Johnny") and Jennifer Grey ("Baby") where girl goes to summer camp, girl meets troubled boy, girl and boy fall in love, girl's dad is having none of it, boy teaches girl to dance, and boy and girl live happily ever after.
We had the opportunity to talk with fun and out ensemble cast member J'Royce Jata who plays u/s Tito Suarez, Johnny's friend and "good conscience."
Jata's credits off-Broadway include Endangered! (Tour Guide/Snoop); NYC: BroadwayCon, LaMama, and Symphony Space. His national tour credit include: Fame (Tyrone Jackson), Memphis (Swing/Black DJ u/s). TV/Film: "Killer Unicorn", "Royal Pains", and "Babylon".
MI: (Matt Inawat) Hi J'Royce, congratulations on the role and on the success of the show - which sounds exciting! Tell us a little bit about the theater adaptation of the film. What will theater goers enjoy most about the show?
JJ: (J'Royce Jata) It's literally the classic story on stage so you're getting a lot of your familiar scenes and songs that you'll know from the movie. A lot of the script is kind of verbatim, so I'm being very honest when I say you're kinda really getting the movie on the stage when you come to the show.
MI: And tell us a little bit about the roles you're playing.
JJ: I'm in the ensemble and I also understudy Tito Suarez, a musician and a singer who's probably one of the only positive male influences that you see in Johnny's life.
I can be seen dancing any time and then whenever our Tito goes out then I would come in and fill his role.
MI: So you get to play the guy that sets Johnny on the right path?
JJ: Yeah, you know it!
MI: Do you have a personal favorite message that comes from the musical?
JJ: That's a good one. As broad as it sounds and I say it all the time, there are more things that bring us together than separate us. I think that this particular production shows that no matter really where you come from or what you've been through. honestly speaking, anyone can fall in love. 
And it really does show that it doesn't really matter what your background is - as long as you are a hard worker, then pretty much anything can happen. So I do love the fact that Baby and Johnny come from two different worlds and they just can't help but fall for each other.
MI: It's an amazing message and one you can never hear too often. So tell us a little bit about you and your own personal story. Where'd you grow up? And how'd you get involved in theater.
JJ: I'm originally from Jacksonville, Florida and I went to the arts high school there - Douglas Anderson School of the Arts. Shortly after graduating high school, I moved to New York and I did my first tour for "Memphis" which was actually how I got to Chicago for the first time.
And that was really, really fun! Crazy as it seems, I kind of always knew what I wanted to do, so I was always studying. I went to New York for the first time when I was 14 and I actually realized, "okay, so in order to be on Broadway you have to be a great singer, a great actor and a great dancer. You have to have all three." So I began to figure that out and I've been pretty fortunate to have studied at really cool places and I moved to New York a couple months after I graduated high school.
Once I began working and meeting people, it was kind of a drive for me and I'm very appreciative of that. Obviously there was a lot of hard work that took place.
Everything else kinda worked itself out. And I currently live in Brooklyn and I love it. And when I'm not performing I write music and I host really cool parties - lots of performance art, and performance spaces, safe spaces.
MI: That's awesome!
JJ: Yeah, yeah. It's really fun.
MI: Who has inspired or influenced you in terms of acting or performance over the years?
JJ: When I was growing up it was definitely Sammy Davis, Jr. and Ben Vereen and Leslie Odom, Jr. Leslie Odom, Jr. got the Tony (Best Actor in a Musical) for Hamilton and he was really inspiring.
As far as people that drove me, my mother and my father were always obviously inspiring, hard workers, and they used to sing, actually. They used to be wedding singers so I grew up hearing them sing all around the house. And my brothers are artists as well, so it has surrounded me even though I was the only dancer or actor in the house.
Growing up in Florida as a queer little boy, even though I wasn't necessarily open with my family when I was growing up. Everybody knew. I mean I was just like flying around, going to theater camp, and so that was really cool for me to have those open experiences and just be around art so it was just like, "okay, let's just do this!"
MI: You definitely can't beat growing up with entertainment in your blood! 
Okay, so I'm going to turn that question around just a little bit where you're the role model. Any words of advice that you'd love to share with aspiring dreamers - whether they're actors, performers, singers, dancers - that are hoping to make it in the industry.
JJ: The first thing is to just be as open as possible. You don't know everything. This is my third tour, so no matter how many tours I've done and no matter things have happened you can always grow. 
I think there's a quote from Lauryn Hill, an amazing singer - I love her - where she goes, "Anything that is not growing is dead." I truly truly believe that's real.
And trust yourself.  I'm not going to say that rules are meant to be broken, but yes, there rules - and you have to learn the rules and you have to learn the game before you can do your own thing. I remember having many, many teachers tell me ... they would give me the facts they would also say well there's always leeway with something and you never really know, you know? 
Continue to be yourself. It's really, really hard. Many people think that musical theater is for cookie cutters or that you have to brown nose, but you just really have to stay on your path.
MI: Definitely be yourself!
JJ: Yeah, I remember two years ago I decided to grow my hair out. I have locks and typically you don't find people with locks getting jobs, but I knew that it shouldn't matter because dreadlocks have been a thing literally throughout history - from the beginning of time. It's not new. So I just had to say, "well I know my worth and I know what I can bring to the table and it's not about me, it's literally about the whole art form." 
So three things would be: stay open, trust yourself and stay open to working with other people. That's why I love it!
MI: Thanks for sharing your amazing and positive advice. I hope it helps someone out who's reading this. Is there a dream role in any play or musical that you would love to portray?
JJ: That's so hard. Let's see, okay. Well I'm just gonna go ahead and say it. I cannot wait to be Aaron Burr in "Hamilton". It's definitely a dream role. But can I give you three? Burr definitely would be one.
MI: Of course!
JJ: Okay, so it's going to be Aaron Burr from "Hamilton", Sebastian from "Little Mermaid" it's hilarious and I love that guy, and then Papa Ge from "Once on this Island" which is currently in a revival on Broadway right now. It's really fun.
MI: Good choices. So you've visited Chicago before. What do you miss the most when you travel?
JJ: When I was in Chicago, unfortunately I was 20 and I was a swing - it's basically when anyone ensemble goes into fill one of their understudy roles - and I was like really focused so I didn't really get to see a lot of the city.
I'm really excited about the excellent art and to see what else is out there. I love nightlife when I'm not performing so I definitely want to see the boys and I want to see what's going on in the city in the arts. 
Also my mom's coming and it's her birthday, so it will be fun to see her!
MI: Happy birthday, Mom! Have you thought about any restaurants or places to celebrate or hang-outs to have fun while you're in town?
JJ: Oh man, I don't know. You gotta help me out with that. You have to let me know because I really don't know.
MI: Sure, we'll touch base after the interview! Are there any charities or causes that have a personal importance to you?
It's funny that you're asking me this because I was literally thinking about ways to transfer my energy like you described, charities and causes. And bullying is something that I went through as a child. A lot of people don't understand that a lot of adults go through bullying as well, it's just in a very different way.
MI: Right.
JJ: Sometimes it's very subconscious or low key bullying and as a young kid, I wasn't as strong as I would like to be so I had a lot of like self inflicted pain. I know there's an organization called "To Write Love On Her Arms" that helps people who inflict pain on themselves.
It's for people who go through depression, anxiety and all these things. Actually even though I know Pride is coming up in June, right now is mental health awareness month and that's a really big deal for me because my daddy is a mental health practitioner and there's a couple close to my family who are working through several things. And I just think that's it's really, really important to treat each other well because you never know what anyone's going through.
MI: And that's definitely something each one of us can play a role in when we see people who need our support. This has been a fun interview and time just got away from us, so here's one last question: if there were a biography to be written about you, what would the title be?
JJ: Oh my gosh, that's really funny. It'd be called, "Fate and Wisdom".
MI: I love that!
JJ: Yes. It's because somebody gave me that. I just said we live in a world where sometimes people before they get to know you, their judgment's passed on to you and I personally don't fit well with that. I'm not perfect, but I will say that I believe that light travels faster than darkness and positive energy is a lot more conducive to any working environment and to just being alive. 
I'll just give my opinion on things, very quickly, very swiftly and then I'll walk away.
So "Fate and Wisdom" is my autobiography.
MI: That's awesome! J'Royce, thanks so much for taking the time to chat! We'll see you at the show!
ABOUT THE SHOW
Dirty Dancing – The Classic Story On Stage, playing in Chicago May 28 through June 3, is an unprecedented live experience, exploding with heart-pounding music, passionate romance and sensational dancing. Seen by millions across the globe, this timeless love story features the hit songs "Hungry Eyes," "Hey Baby," "Do You Love Me?" and the heart-stopping "(I've Had) The Time Of My Life."
It's the summer of 1963, and 17-year-old Frances 'Baby' Houseman is on vacation in New York's Catskill Mountains with her older sister and parents. Mesmerized by the racy dance moves and pounding rhythms she discovers in the resort's staff quarters, Baby can't wait to be part of the scene, especially when she catches sight of Johnny Castle, the resort's sexy dance instructor. Passions ignite and Baby's life changes forever when she is thrown in to the deep end as Johnny's leading lady, both on-stage and off.
Leading a company of 24 are Aaron Patrick Craven as Johnny Castle and Kaleigh Courts as Francis "Baby" Houseman. They are joined by Anaïs Blake as Penny Johnson, Erica Lee Cianciulli as Marjorie Houseman, Nickolaus Colõn as Billy Kostecki/Singer, Ryan Cupello as Robbie Gould, Buddy Daniels Friedman as Mr. Schumacher, Rick Grossman as Max Kellerman, Demitra Pace as Lisa Houseman, Owen Russell as Neil Kellerman, Christopher Robert Smith as Dr. Jake Houseman and Torrey Linder as Tito Suarez. The ensemble is comprised of Alex Caldwell, Ayla Ciccone-Burton, Lane Halperin, Benjamin T. Henley, J'royce Jata, Hunter Mikles, Honza Pelichovksy, Erica Philpot, Joshua Clifton Powell, Hannah Straney, Kelsey Walsh and Aidan Ziegler-Hansen. 
Individual tickets for Dirty Dancing – The Classic Story On Stage at the Cadillac Palace Theatre (151 W. Randolph) range from $18-$85 with a select number of premium seats available. Tickets are available now for groups of 10 or more by calling Broadway In Chicago Group Sales at (312) 977-1710. Tickets are available at all Broadway In Chicago Box Offices (24 W. Randolph St., 151 W. Randolph St., 18 W. Monroe St. and 175 E. Chestnut), the Broadway In Chicago Ticket Line at (800) 775-2000 and online at www.BroadwayInChicago.com.
Interviewed by Matt Inawat. Ron Matthew Inawat is president of the GoPride Network and contributes to ChicagoPride.com, PrideLA.com and other sites within the GoPride Network. Follow @cpmatthew