A GoPride Interview
Stache
Fan-favorite local band Stache plays Navy Pier concert series this weekend
basically nothing is off limits for us due to everyone's musicianship and talent level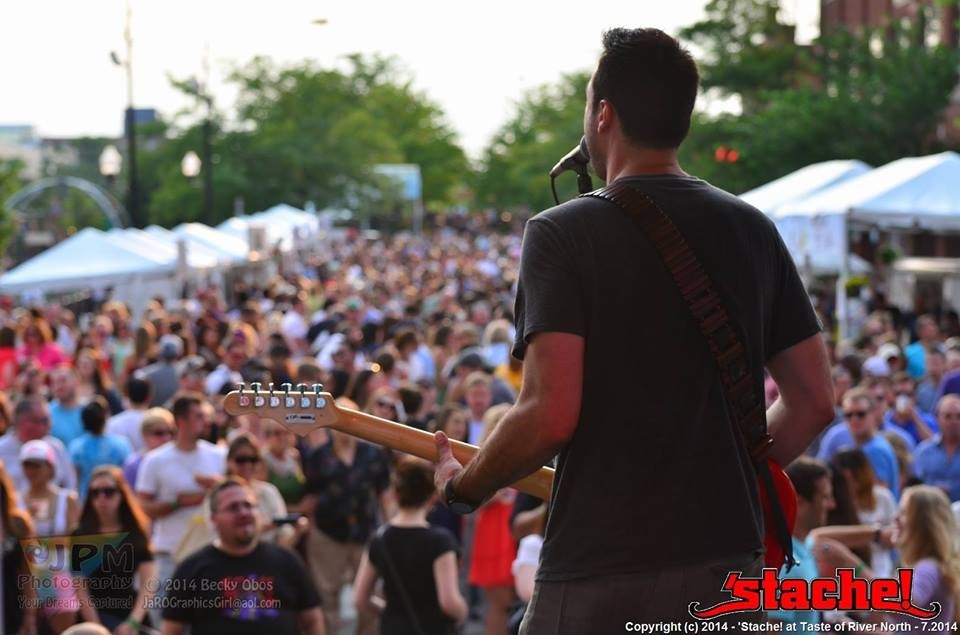 photo credit // https://stacherocks.com
The popular local cover band Stache performs Saturday, June 1 at Navy Pier's "Live on the Lake!" concert series at the Miller Lite Beer Garden in Navy Pier. The group brings a unique twist to everything from today's pop hits to the 80s rock anthems and mixes them into a setlist filled with perennial rock and dance favorites.
We talked to Stache band members Jay Pullano (Guitar) and Jake Serek (Bass) ahead of their weekend performance at the Pier.
GoPride: How did the band get started, how do you all meet?
Jake: Jay that is you, you have been in it longer than I have.
Jay: Yeah, Jake is relatively new; Jake and I are related – he's my cousin. Jake has been in about 5 years. The band is in its 11th year. 
As I was told it was all over a Craigslist ad. I actually joined about 8 years ago, maybe 9. I actually saw a flyer at the rehearsal space; I was in another band then I contacted them and that is how I ended up joining the band, so essentially Craigslist.
GoPride: What drew each of you to want to pursue music and then join the band itself and what continues to inspire you after each event?
Jake: I'm the bass player in the band, I've been playing bass half my life, about 15-16 years. I had been touring around in another band called Bad City and when I got back home I wanted to continue playing and I had been sort of starting to sub for Stache and then the beautiful bass player Kevin, it was getting to be a little too much for him, so he had to bow out and I took his place and just kind of never looked back.
It's fun, because we are all friends in the band and like Jay said, we are cousins, there is a little family element there. We get to stay local. Our summer times are great, we get to play street fests and weddings and all that and it is a nice way to stay sharp on your instrument and have some fun and entertain people.
GoPride: So what do you love most about the band?
Jay: Not having to travel!
Jake: We make the most of it when we do travel, though. We do have fun. Occasionally we go outside of town maybe 3 or 4 times a year.
I think my favorite part is the variety of type of different shows we get to play. This band has taken us to some pretty crazy venues and places. We have done some really cool outdoor gigs, like the Shamrock Shuffle where we were playing right by Buckingham Fountain facing the skyline of the city or we played in Millennium Park Pritzker Pavilion for a wedding, places that you normally wouldn't get to go this band have given us access to and it's really cool when we get to do that stuff.
Jay: For me, I feel like every night when I'm on stage with this group of guys, kind of "going to battle," I really wouldn't choose anybody else musically and for lack of friends standpoint as well. The versatility we are allowed in this band, basically nothing is off limits for us due to everyone's musicianship and talent level which makes it really enjoyable for me. We are not really pigeonholed into one type of tribute style music or one era of music. Nothing is really off limits for us, so that makes it really fun for me, as well.
GoPride: Each of you has a different music inspiration growing up. How do you select the new songs you are going to learn?
Jake: We fight. Everyone comes in with a song idea and we set up a bracket and we physically fight, we have boxing matches at the rehearsal space and whoever comes out ahead gets their song choice.
Jay: Or the least bloodiest. It's a tough process because our musical tastes are all over the map. We are pretty eclectic when it comes to that. But we have figured out a way somehow to do it and I'll be honest, a lot of stuff drops off musically almost more than the stuff that we incorporate – the new stuff – so it is kinda just like a revolving door.
Jake: One thing that has helped us accommodate everybody's tastes is we have been doing a lot more medleys these days. So were not playing entire songs, we are taking 1-2 minute chunks of a bunch of different songs and throwing them together into a mix so it is almost like a DJ set. Someone can add in what they want to that which is really cool.
Jay: So if one of us hates a song, we only have to hate it for about a minute.
GoPride: So with such a huge play list, over the last year what are some of the most requested songs on your songlist?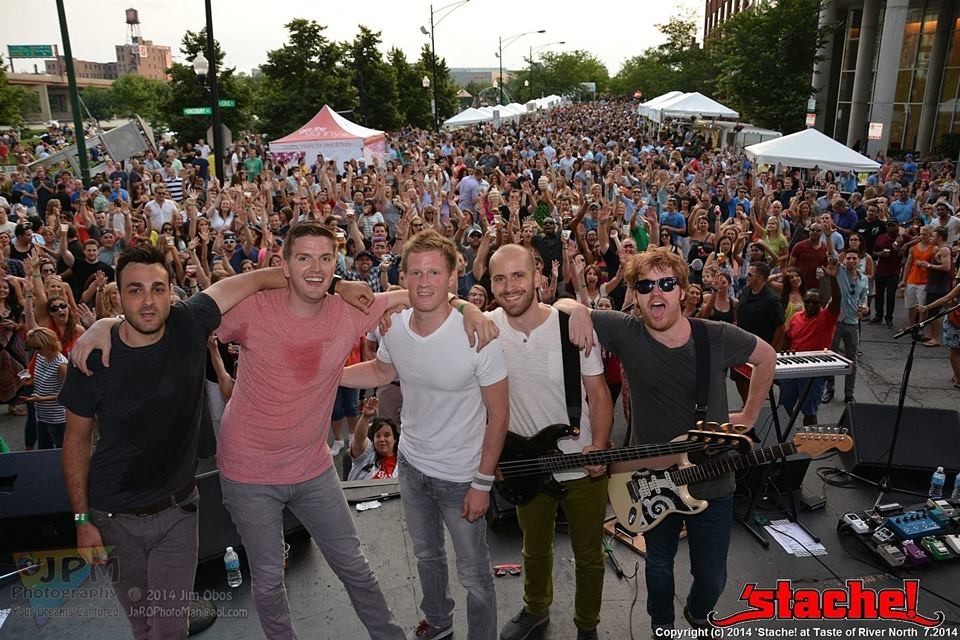 Jay: We don't do too many requests to be honest. Even if we are doing weddings and stuff like that I basically run a lot of logistics as far as the weddings and stuff go with Ryan, our lead singer. We just let people know we have played hundreds of weddings and I don't know how many shows and we have a real keen sense of what works and covers a large demographic and kind of let them put that in our hands. I'll be honest, the only time we do a request is if we know we know it, which is on occasion. We kind of just do our thing and people seem to enjoy it and we know what works and we try and incorporate that and let people know we'll take care of this and everything is gonna work out in the end.
GoPride: So tell me one of the most memorable or craziest things that has happened in one of your shows.
Jay: Oh, I don't know if I can say the one that is coming to the top of my head.
Jake: Might not want to go there! Beatbox is always crazy.
Jay: It's a crazy night. I'm always worried about my pedal board getting cereal on it, or Jaegerbombs on it.
Jake: Everyone is in costume, there is cereal flying around everywhere, people on stage.
Jay: New Year's is always fun too. We have been doing that now for about 6 years down at the Marriott, the Hyatt last year I believe. That's always a fun one too. Really nice stage.
Jake: Let's just say the craziest things that happen to this band happen offstage, but we won't tell you what they are.
Jay: Yeah, I have to agree with that.
GoPride: So you mentioned you are playing Navy Pier this weekend for the Live on the Lake Concert Series. So what is your favorite part of playing such an iconic, super high energy stage with the city as your backdrop?
Jay: I think you hit it on the head, it's the view, it's being outside. I'll tell you what, Ryan their sound guy over there is in my opinion one of the best in Chicago. He makes it sound so good night after night on that stage. I just like the way it sounds. I like the openness of it and I'll be honest it's really good for potential clients and people to come see us at, and then you've got the backdrop which is just kind of a nice addition to everything else.
Jake: And the fireworks! Can't forget those.
GoPride: So what are some of the other event dates we have to look forward to over the next few months?
Jay: I think the World's Largest Block Party [Old St. Patrick's in Chicago's West Loop] is gonna be great.
Jake: That's on June 21st.
Jay: Oktoberfest is always fun.
Jake: We are playing Tacofest in September. September 21 st is Tacofest, September 28 th is Oktoberfest those are always great. We are doing a lot of weddings this year. We have been gearing ourselves toward doing more weddings and private events. It has been working. Jay has been working really hard to push us in that direction.
The popular live concert series hosted at the Miller Lite Beer Garden started last week, and continues every Saturday and Sunday, as well as other select dates, through Monday, September 2. With an exciting roster of local musicians, cover bands and emerging artists and a variety of food and beverage options at the beautiful lakeside venue, guests will enjoy rotating music genres on Saturdays beginning at 2 p.m. In the evenings, music lovers will have prime viewing of the Aon Summer Fireworks at 10:15 p.m., followed by another set of live music until 11:30 p.m. On Sundays from 2 p.m. to 8 p.m., the Pier will host "International Pier Sounds," featuring DJ Papa G, rotating local and touring world music groups and Chicago reggae bands, such as Gizzae, Hurricane, Indika, and Kofi and the New Roots.
Interviewed by Matt Inawat. Ron Matthew Inawat is president of the GoPride Network and contributes to ChicagoPride.com, PrideLA.com and other sites within the GoPride Network. Follow @cpmatthew