A GoPride Interview
Dave Koz
Collaborator and innovator: an interview with Dave Koz
I feel like collaboration in music has allowed me to grow musically beyond my wildest dreams.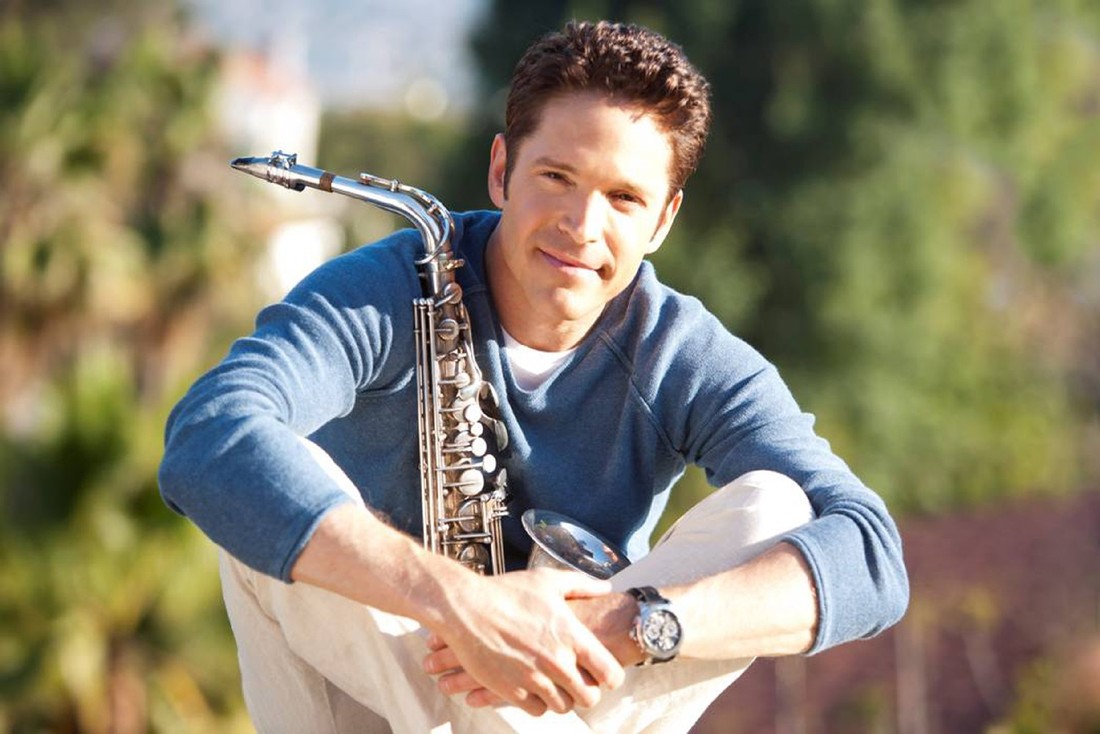 photo credit // greg allen
Dave Koz talks Barry Manilow and collaboration
Smooth jazz's gay sax man Dave Koz commemorates the first quarter century of his prolific recording career with the compilation Collaborations: 25th Anniversary Collection (Concord), comprised of both new and previously released material. The set includes some of the usual smooth jazz suspects including Boney James, Kenny Lattimore, Rick Braun, Jeff Lorber, David Benoit and Brian Culbertson. Where the set really excels is in delightful collaborations with Stevie Nicks ("Let Me Count The Ways"), Herb Alpert ("This Guy's In Love With You"), Luther Vandross ("Can't Let You Go") and even Barry Manilow ("Apartment 2G: I Hear Her Playing Music"). I spoke with Koz, who is currently on tour with Manilow, about the disc and more.
Gregg Shapiro: You have a long history of collaborating with other musicians and you included "Apartment 2G: I Hear Her Playing Music," the collaboration you did with Barry Manilow, on your 2015 disc Collaborations: 25th Anniversary Collection. What does that song mean to you?
Dave Koz: It was the first time that we had met, so I'll never forget it.  I remember coming in to the studio and meeting him. I was kind of star-struck. He said, "I want to play you this song." We get to the end of the song and I hear him actually sing my name as part of the lyric. I had to pick my jaw up from the floor! That's why that song is on the 25th anniversary collection. It was the first moment we met, our first collaboration, and I think it cemented, at least for me, a lifelong friendship. It was very special for me. We've had many collaborations since then and all have been equally rewarding and musical. I've learned so much from him. I like being a student around him; observing him in his environment. This is a guy who's had a tremendous  longevity that few have had in the music business. I'm in awe of what he does.
GS: What do you think it is that makes you such a good collaborator?
DK: I find that if left to my own devices, if it was just me in the room or just me putting together my shows or whatever, I'd probably end up doing the same thing over and over. We're creatures of habit. We know what we know. With collaboration…and I'm not just talking about music, I'm talking about in life – if  you're a good listener and you have your ears open, and to be a good collaborator you have to be able to listen, you can learn something from somebody else. You can move off of the spot you're on and find a new spot. I feel like collaboration in music has allowed me to grow musically beyond my wildest dreams. I credit my collaborators for allowing me to do that. Without them I wouldn't have that opportunity.
GS: Do you have a collaboration wish list, and if so, who would you like to work with that you haven't had a chance to do so yet?
DK: The list is huge, very long. It goes from people like Elton John, for whom I have an unbelievable amount of respect, to Snoop Dogg, whom I also respect a great deal. Talk about two people on the opposite ends of the spectrum! For me, it's always been about creating these opportunities with people who come from different perspectives. That's the beautiful thing about the saxophone. It can peacefully coexist with just about anything – whether it's hip-hop, rap, rock music, pop, R&B or jazz, there's a place for the saxophone in all of those styles. I love a lot of the young, new artists who are coming up, including Adele. I suppose anybody would freak out to work with her. To be able to play a saxophone solo on one of her songs would be the most ultimate thing ever. Norah Jones, Frank Ocean, there are so many, I could go on and on.
GS: Without naming names, have you ever arranged to collaborate with someone only to discover that it would be like trying to mix oil and water?
DK: I think that there have been times, especially with writing songs, where you sit in a room with somebody, and they could be a very well-respected songwriter, but for whatever reason, the chemistry is just not right. [Laughs] you try and you get to the end of the day and you say, "Well, we had lunch, we had a nice conversation, we tried writing music and it didn't happen [laughs]. That's the funny thing. It could have just been that day. You have to be willing to get back on that horse and try it again if the mood strikes. That was one of the great pieces of wisdom that I got early on in my career in terms of being blocked. If you get to a creative roadblock, you can sit there and rack your brain. Or you could say, "Let's go to the movies" or "Let's go for a walk on the beach" or something like that. Just get out of your head. Where I learned that was from crossword puzzles.
GS: You close the Collaborations disc with your rendition of "Let It Go" from Frozen. Do you have ambitions to write the score for a movie, animated or otherwise?
DK: I think it would be an awesome experience to do something like that. I'm not actively going after that, but I'm a fan. Alan Menken, for example, is one of my heroes for all of the music he's written for Disney. Some of my best friends have written Broadway shows. Allee Willis and Brenda Russell wrote The Color Purple which has been recently revived on Broadway. That to me is such a different hat that you have to wear, but music is music. A Broadway show is something I would love to have the opportunity to do.
GS: Have you started working on your next album?
DK: I have not yet. I'm just coming off of the Christmas tour from last year. But it's starting to percolate right now.
GS: In April 2015, Barry (Manilow) married his long-time manager Garry Kieff. Is there a marriage in your future?
DK: [Laughs] My sister would like that [laughs] probably more than I would. I would never say no to that. It hasn't been my path up to this point. I think it would be nice to look forward to that. Meeting somebody of that caliber of "Yes, I want to spend my life with you." Of course, why not. I love the fact that that is legal in every state.
Interviewed by Gregg Shapiro. Gregg Shapiro is both a literary figure and a music and literary critic. As an entertainment journalist, his work appears on ChicagoPride.com and is syndicated nationally.