A GoPride Interview
Betty Who
Betty Who on her new music, connection to the LGBTQ community and Market Days
I am really proud of everything I am doing right now. I feel very grown up, which is strange to say.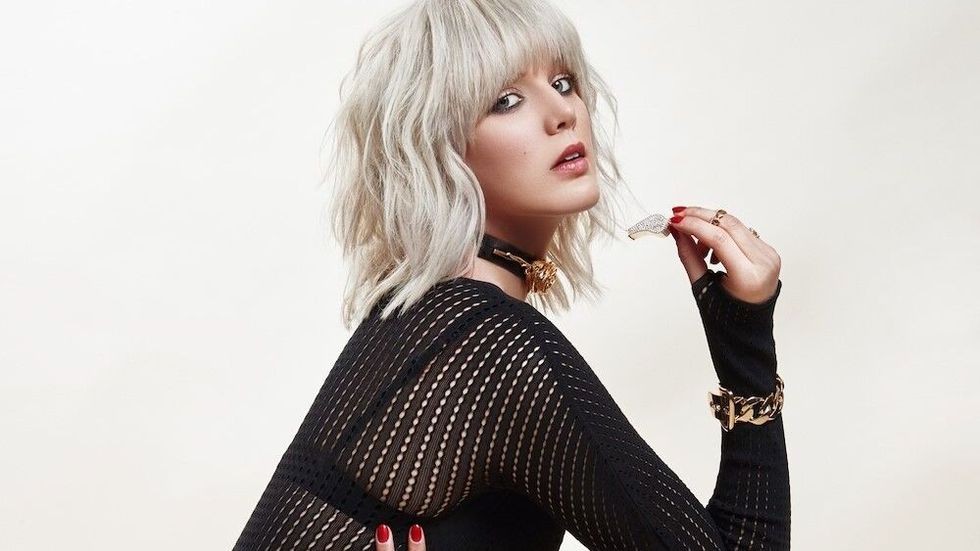 photo credit // zak cesar
Betty Who Bursts with Pride
"The LGBTQ community is where I feel the most at home," Jessica Anne Newham, better known as Betty Who, tells ChicagoPride.com ahead of her August 12 appearance at Northalsted Market Days in Boystown.
The 26-year-old Australia-born singer-songwriter has long been an ally to the LGBTQ community, having performed Pride festivals around the country and lent her voice to fundraising efforts by the Trevor Project and GLAAD.
In 2013, Who's infectious single "Somebody Loves You" was used in a viral same-sex marriage proposal video at a Salt Lake City Home Depot. The song hit the top of Billboard's Dance/Club chart and has since become a gay wedding staple. And recently, Netflix asked Who to remix "All Things," the theme song to the second season of Queer Eye.
Standing 6'2", Who has never been a traditional pop star and she credits the LGTBQ community with kickstarting her career, which began with the RCA Records releases The Movement and The Valley, and got its own reboot with the independent EP Betty, Pt. 1 released on June 15.
Who recently performed an exclusive Pride event at the AT&T Michigan Avenue flagship store in Chicago, which is where ChicagoPride.com's Jerry Nunn caught up with the pop phenomenon.
JN: (Jerry Nunn) Does everyone think your name is really Betty? [laughs]
BW: (Betty Who) Yes and no. [laughs] But it's funny, everyone calls me it now. Even my finance will talk about me. He'll be like 'hey Betty' and his family will be like that's literally not her name.
JN: Is it nice to distance yourself a little bit?
BW: That's the reason I did it in the first place. I just wanted some part of my life to be mine and nobody else's.
JN: How did the Queer Eye song happen?
BW: Isn't it so fun, the video? Netflix actually reached out and said they felt like I was the right person for this particular project. I said, "Hell yeah I am!"
It was really awesome and I was very honored to be a part of it. 
JN: So which one do you think you're closest to? 
BW: Everyone always asks me that. [laughs] Out of all of them I think maybe Karamo [Brown]. He likes to dig deep. Bobby needs to help me in my normal life, so it couldn't be him. I do make a mean guac, so Antoni would be really proud of me!
JN: Where did your activism in the LGBT community originally start?
BW: Honestly it started at my very first show in New York at Pianos on the Lower East Side when 80 gay men showed up to see me perform. I had no idea that this would be the thing I would be doing. I was just making music. I didn't know a social responsibility comes along with it. I was 19 and putting out free music online so who cares? 
It fell into my lap and I am so grateful it did, especially since I have gotten older. It is a social responsibility and not to be taken lightly. I am also excited about it and not burdened by it. I speak out about the things I want to.
Earlier I was calling senators about the Keep Families Together Act. I posted my story about how easy it was. It took three minutes and everyone should do it. Stuff like that is very important to me. 
I feel really honored to be here and get to celebrate Pride. The LGBTQ community is where I feel the most at home. 
JN: You're coming back for Market Days.
BW: I can't wait! I heard someone say it was gayer than Pride! And that it's going to literally be so fun, they say they shut all of Boystown down. It's going to be lit!
JN:
 It is a lot of people.
BW: It's going to be great!
JN: How do you decide on a set list for events?
BW: For Prides and festivals I always just want to keep it upbeat. No one comes to see me sing slow songs. Everyone wants to dance and everybody wants to have a good time, so I want to give that show. I am usually way more tired when I get offstage after festivals and think I can't do that again. It's an hour of nonstop dancing. 
For Prides I always like to include songs like "Beautiful" and songs that I feel are important to share like in a moment when people are talking about being vulnerable and yourself. I want to put that in a set for the message. 
JN: Your new EP Betty Pt.1 just came out. Did you have a party?
BW: We sort of had a party by accident. We were in New York and had rehearsals for a little mini tour. We went out to a bar to get a drink and I told the group that the album was about to come out in 14 minutes. We all did a round of tequila shots, which I hated myself for in the morning for. It was OK; that was a celebration. 
JN: What do you want to tell people about the new music?
BW: I am really proud of everything I am doing right now. I feel very grown up, which is very strange to say. I am adulting and such. I am in control of my destiny and making my choices for the first time in a long time. I am really proud of the music I am making; it is expressing who I really am.  Not that the other stuff hasn't been, but it just feels like the music is coming from me, straight to you, and there is no middle man telling me a song isn't good, and then I have to convince them it is and when it makes it on the record I have a weird relationship with it. I hand it to my fans hoping they will like it, but second guessing myself for a year and a half. 
Everything I put out now is in three or four months of writing it. For me that was unheard of before this. I am so very excited about that. 
JN: It is a fresh way to release music.
BW: Yes and I can't wait to share it with the world. I haven't even finished the second EP yet and it is coming out in a few months. That is exciting to me. I want to make stuff that I am still excited about, not something that sits on a shelf for a year and a half. I wrote "Mama Say" a year and half before my record came out. By the time it came out I thought it would be a fan favorite but I didn't know because it had been so long. I am happy it did well. 
JN: Is your song "Taste" about a vampire?
BW: [laughs] It is really a song about junk food and bad habits. It is me at 2:00 in the morning just having one more slice of pizza. 
JN: I was connecting with the vampire story I read. 
BW: No I was saying if they remake True Blood I would hope they use this as a theme song for it. 
JN: "Friend Like Me" seems very personal. 
BW: It is. I wrote it about a relationship in my life where I feel I am very close to somebody. I also have control issues and think I know what is best for everybody all the time. There are particular cases where I want to help people be the person they want to be or can be, some people are not ready to hear that so I stick around and hope it gets better. People make their own decisions even if you feel it is the wrong thing for them. Sticking around for them and being there is really important. It is easy to drop someone and make judgments about their life. It might not be the best decision for them but they will learn that eventually. They can learn it on their own and just support them. 
JN: "Alone Again" is one of my favorites. 
BW: It is one of my favorites too! We never play it anymore, but on the next tour I try to add it in. It's one of my absolute favorites! 
JN: Anymore collaborations coming up like "Rocket Girl" with Lemaitre?
BW: Isn't that a fun song? Not any that I can tell you about especially not on these EPs. I want them to be no features and just songs like it used to be when I was first coming up. If you don't get the right artist to do it with then why do it? I want to shut down that conversation until an album. For the EP I just want to make songs. 
Betty Who headlines the Northalsted Market Days North Stage at 2 p.m. on Sunday, Aug. 12. 
Visit the AT&T Store, 600 N Michigan Ave., on July 12 to hear Imagine Dragons frontman Dan Reynolds discuss his LOVELOUD Foundation, more details at TurnUptheLoveATT.com.
Related: Todrick Hall, Betty Who, and MAX among entertainers for Market Days, Aug. 11-12
Interviewed by Jerry Nunn. Jerry Nunn is a contributing writer to the GoPride Network. His work is also featured in Windy City Times, Nightspots Magazine and syndicated nationally. Follow @jerrynunn