A GoPride Interview
Adam Cohen
Adam Cohen is much more than a snack
My friend Ryan Cabrera calls me "The Snack Queen!"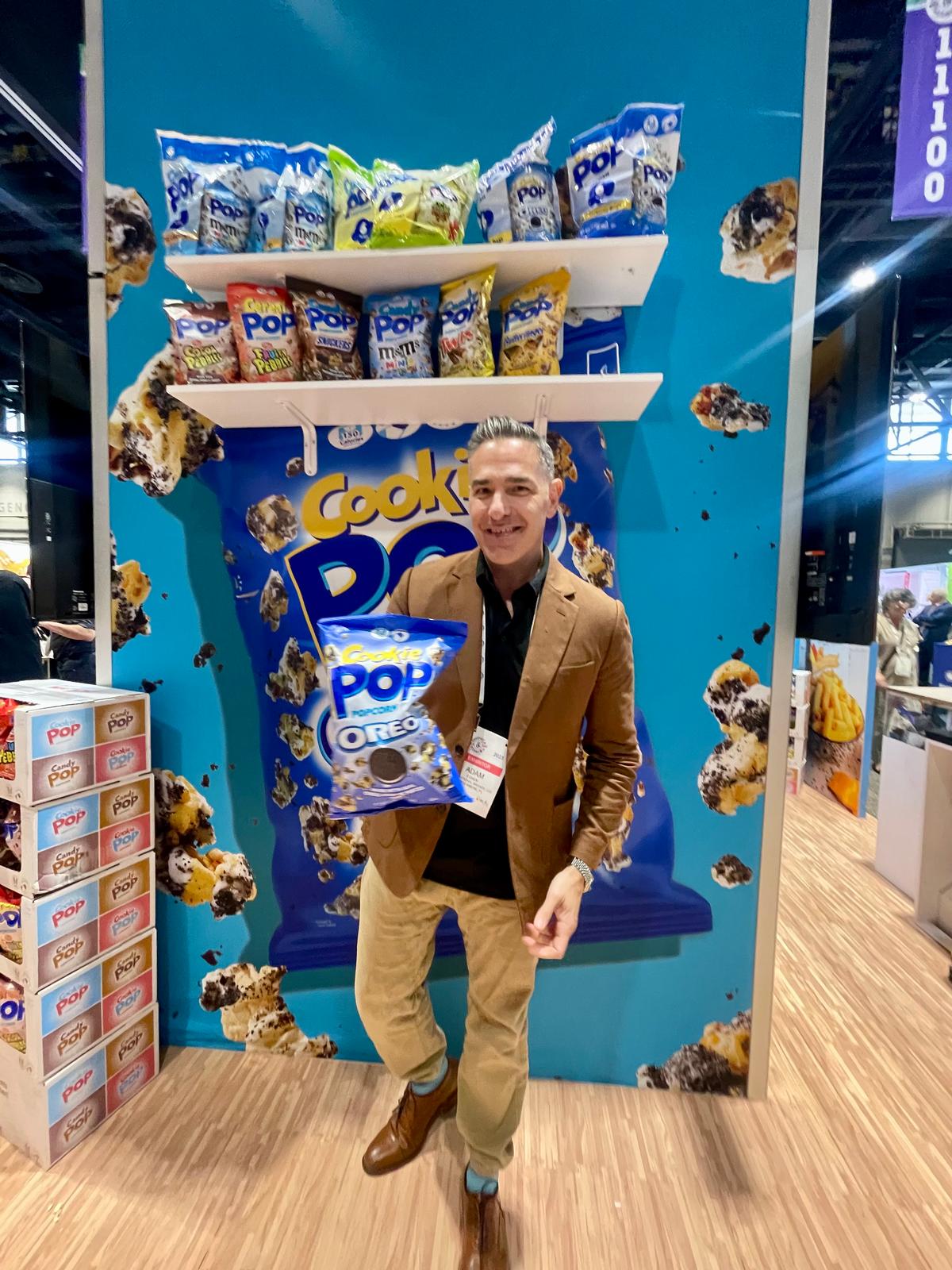 photo credit // jerry nunn
Interview with snacks expert Adam Cohen
Out and proud Adam Cohen is much more than a snack expert. He's the chief marketing officer of cookiepopcandypop.com, a Snax-Sational Brands Group. He has worked as a marketing consultant with Heineken and Moet Hennessy USA as well.
Cohen sat down for a few minutes at the Sweets and Snacks Trade Show in Chicago to chat about his endeavors.
JN: (Jerry Nunn) Start off by talking about your background.
AC: (Adam Cohen) I started working in media through a family company in 1995 right out of college. My dad created advertising in shopping malls nationwide. His vision was to create those directories in malls.
Through that experience, I became head of sales and marketing for the company over the next decade or so. I became familiar with brand opportunities and what they do in a space.
Over the years my passion for media took me into filmmaking and television. I became a producer for Entertainment Tonight and worked on integrating brand strategy. I created segments and made a marketing company.
My family eventually moved into the food and beverage space. Jerry Bello right here created Veggie straws and asked me to be a consultant to produce content. That started my foray into the snack business and digital media as it was emerging. This was a lightbulb moment for me as I began working as a consultant for many companies.
I wanted to shift from content to equity stake partnerships as I was building brand identity. Now 20 years later I am part of two companies Keen Growth Capital and Snax-Sational Brands with a portfolio of about 20 different brands. I am CMO to many and consult on others, for example, I am the chief marketing officer of Cookie Pop & Candy Pop brand at the Sweets and Snacks show today.
I usually give 90 percent of my time to focus on one brand and then 10 percent to all the others. I will build their brand identity and strategy. We will work with celebrities such as the Ryan Seacrest Foundation for Cookie Pop & Candy Pop. We have an Indian yogurt brand called DAHlicious and Padma Lakshmi is our partner.
JN: Where is she?
AC: She was just at Expo West with us. We work closely together and are building this yogurt brand in the United States.
We also work with her co-star from Bravo's Top Chef Tom Colicchio for The Jersey Tomato Co.
JN: When I met Tom all I wanted to talk about was Padma. I am obsessed with her!
AC: She is great to work with and helps spread the word about the Dahlicious yogurt brand. It is such a good yogurt and retains the probiotics because it is slow-cooked. There is a variety of flavors like mango and strawberry.
Padma is a big advocate and it is the first brand she has invested in as a partner. It is very exciting to have her bandwidth at our disposal. She brings it all to the table!
JN: Where are you based?
AC: I live in Orlando, Florida.
JN: How do you identify?
AC: I am a gay man. My friend Ryan Cabrera calls me "The Snack Queen!"
JN: Future projects?
AC: With our popcorn line we are celebrating National Donut Day and will do a popup in LA on Friday, June 2, 2023. One of the donuts will be for Pride.
Oreo is a partner of ours for Cookie Pop and they do a big Pride campaign every year with their cookies and work with PFLAG. In 2024 you will see a bigger partnership possibly with Pride packaging for Cookie Pop so more to come with that!
Interviewed by Jerry Nunn. Jerry Nunn is a contributing writer to the GoPride Network. His work is also featured in Windy City Times, Nightspots Magazine and syndicated nationally. Follow @jerrynunn