A GoPride Interview
Seth Bogard
Seth Bogard: I think with YouTube we make funny videos. The Internet is the way to go.
I think with YouTube we make funny videos. The Internet is the way to go.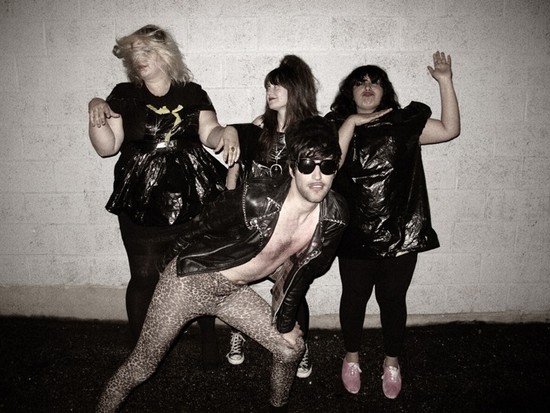 seth bogard of hunx and his punx
photo credit // daniel pitout
Jerry Nunn chats with Seth Bogard, the openly-gay frontman of Hunx and His Punx
Hunx and His Punx are on their way to Chicago. The openly-gay fronted band got their start in California with a unique sound and look. GoPride.com caught up to lead singer Seth Bogard while he was out on the road.
JN:
(Jerry Nunn) Hi, it's Jerry in Chicago.
SB:
(Seth Bogard) I just got your tweet.
JN:
Did you? Where in the world are you?
SB:
I am in Florida. We are on tour.
JN:
How is it going?
SB:
So fun.
JN:
Are you with Punks or Punkettes?
SB:
A combo, two of the punkettes quit. Well, they didn't technically quit. They just didn't want to tour anymore.
JN:
Where do you find them?
SB:
In California. I like to go to the malls to find them.
JN:
Where are you from?
SB:
Tucson, Arizona.
JN:
How did you get in the music biz?
SB:
I have been in bands for a long time since I was in high school.
JN:
You were in a band called Gravy Train. I luv that name! Where does your unique sound come from?
SB:
From being a teenage girl in an old man's body.
JN:
What kind of music did you listen to growing up?
SB:
The Sister Act Soundtrack and Nirvana.
JN:
Have you gone to see the musical Sister Act yet?
SB:
No, I didn't know about it until I was in New York recording an album. I saw the ad and got kind of excited. I have only been to one musical and it was Xanadu.
JN:
I enjoyed that one. It got mixed reviews but I liked the humor.
SB:
I thought it was really good.
JN:
Do you still have your John Waters moustache?
SB:
Sort of, yes. It was so funny last night. Some weird punk guy, that I will have to admit was kind of cute, had a rattail. I was drunk and said, "Eww why do you have that?" He said, " Eww why do you have that creepy gay little moustache?"
JN:
I like the stache!
SB:
I like it too. I think it is weird when I don't have anything on my face.
JN:
John Waters got that style from Little Richard.
SB:
I'm reading a Little Richard book right now. I just started it.
JN:
You are? Richard has had an interesting life.
SB:
I love Little Richard. I literally just got the book. I think there are two and I have the one that is less scandalous. The one that is really scandalous is hard to find.
JN:
I saw your video for "You Don't Like Rock 'n' Roll." What do you think of people that don't like rock music?
SB:
I think people should like whatever they like. I only wrote part of that song. It was a reaction to most gay guys I know liking dance music. But I like dance music too.
JN:
The stereotype of liking Liza and Barbra is in the video.
SB:
Yes, it is a funny thing.
JN:
Are you going to be wearing a thong this week at the show?
SB:
You will have to wait and see. Someone threw great thongs at me last night in Florida. They kept flying at my feet.
JN:
That is not a bad thing, right?
SB:
It was really funny.
JN:
Your new album came out this year correct?
SB:
Yes, it came out in February. I am sick of it already. I am making new music but it takes forevs to come out. When you play songs a bunch you kind of get over them...
JN:
How do you get music out into the world?
SB:
I think with YouTube we make funny videos. The Internet is the way to go. We have a record label and publicist so we get it out that way too. I need to make a website.
JN:
People can follow you on Twitter like me.
SB:
Yeah, tweet me!
Follow Hunx @HunxandhisPunx and see his show in Chicago at the Double Door, 1572 N Milwaukee Avenue on September 14. Visit www.doubledoor.com for ticket information.


Interviewed by Jerry Nunn. Jerry Nunn is a contributing writer to the GoPride Network. His work is also featured in Windy City Times, Nightspots Magazine and syndicated nationally. Follow @jerrynunn