A GoPride Interview
Mike Maimone
Seperation Anxiety: Mutts lead singer addresses coming out process on new LP
Yes, the Separation Anxiety that if I came out to my parents that I should be natural and honest.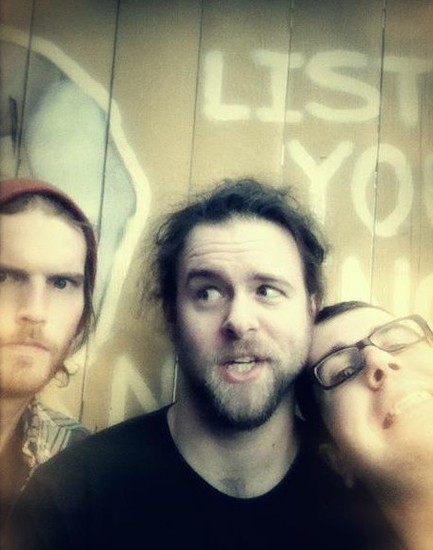 mutts' mike maimone (center)
photo credit // wearemutts.com
Chicago's Mutts are an emerging three-piece blues rock band with grunge and garage influences -- headed by openly gay front man Mike Maimone. Mutts are "poised to become one of Chicago's top acts," according to Loud Loop Press.
Mutts will pounce on the stage at the Fireside Bowl on Thursday, Aug. 2 to celebrate the official release of their latest album, Separation Anxiety – available on vinyl with a poster inside.
On the new LP, Maimone addresses the coming out process.
ChicagoPride.com's Jerry Nunn caught-up with Maimone at a coffee shop in Andersonville where they discussed the rocker's journey from the closet to the stage.
JN:
(Jerry Nunn) Hi, Mike. First off, where are you from?
MM:
(Mike Maimone) I am from Ohio. My family recently moved to North Carolina to have a change of pace, retire, and get out of the snow.
JN:
Did you always like music growing up?
MM:
I took classical piano lessons in grade school. I was never really in a band until college. It never occurred to me that I could write music. It was just something that happened on the radio growing up. When I was in college playing piano in the catholic school and someone asked me to be in their band. I had no idea at the point how to play rock music.
JN:
What groups did you like listening to when you were younger?
MM:
A lot of what my parents were listening to. It kind of rubbed off on me, The Beatles, The Doors and The Rolling Stones, also what was on the radio. Since there was no Internet I didn't have a chance to listen to the cooler kind of music. But there was music like Nirvana and Pearl Jam on the radio.
JN:
How did Mutts get started?
MM:
After a few bands I had been in broke up, I had just played keyboards and never sang, I knew I had to start singing if I wanted something consistent because when the singer moves on then what can the band do? It is the voice of the band. I opened my mouth and this weird sound came out. I thought that I could work with it. That is where Mutts came from. We had to drop the The because there is another band called The Mutts who don't play anymore. We try to differentiate ourselves from them.
JN:
Are members in the group from different backgrounds hence the name Mutts?
MM:
We are Americans but from different lineages. We felt like that reflected each one of us as people but also the music we were making because like I said I listened to more mainstream music coming up. Our bass player was really into jazz and off the wall avant garde rap music. Our drummer at the time was into early rock like Yes and Genesis. When it all came together it was mash up of things.
JN:
Did you come up with the title Separation Anxiety as the title to the new album?
MM:
Yes. I was reading about self-object relations in psychology. It is a double album but we are releasing them at different times because it didn't make sense to release twenty songs at once. The first one is called Separation Anxiety and the second one is called Object Permanence. It is to reflect as we get denser as a society we are also growing apart from each other and from the earth. Separation Anxiety is picking your side and Object Permanence is when an infant realizes its mom is gone and its not gone forever. Things are still aware even when not out of sight. It is a progression that we are in or need to be in. This is existence will still be around when we are not so we should probably treat other people like they are more of a permanent fixture than more of a fleeting thing.
JN:
The track "Uninvited" is about you growing up in catholic school, right?
MM:
It is. I just had a dose of it this morning. I went to Notre Dame and it is one of the top twenty five institutions and one of the few schools that doesn't have a recognized LGBT Association. They don't have a Homosexuality and Non-Discrimination Act. It is so archaic. Even other universities have these things. So I was having a little argument with my mother about it this morning. She said something about them still having values.
JN:
That sounds judgy.
MM:
Yes and "Uninvited" is about how hypocritical I feel the Catholic Church is holding on to its "values." If they hold onto Jesus' teachings then I am pretty sure he was down with gay people.
JN:
It was never recorded that he said anything bad about them.
MM:
Right, I think it is pretty unfounded and very archaic.
JN:
"Tire Swing Blues" is the song about coming out to your parents?
MM:
Yes, the Separation Anxiety that if I came out to my parents that I should be natural and honest. That it will lead to a change in our relationship. I think every gay person probably goes through that in coming out to their parents.
JN:
So a very personal song then.
MM:
Yes. I have always written about personal things even if it is in a general way. The catalyst for songs with me always has to come from something that has happened otherwise I just don't feel comfortable singing it. I want to sing stuff that really means something to me.
JN:
It is like therapy too.
MM:
It is and a total catharsis.
JN:
When did you come out?
MM:
It was very recent, within the last album. I didn't even know. Looking back I should have known I was raised too conservative and religious. I was an athlete growing up. These were shields that were around me even keeping me from noticing it myself. I was heavily in denial I would say. So within the last six years I started getting honest with myself. That was really affecting my songwriting. The first relationships I had were with closeted guys that were married. It was a terrible thing that I became aware of. It felt wrong.
JN:
It probably doesn't help things when they have issues and you are trying to work on your own issues.
MM:
Right, it wasn't a great introduction but then I met some great people and got more comfortable with myself. Bob our bass player's brother is an activist and made me realize it does do good for the community the more that people are honest and don't try to hide things. It makes sense. I came out to my friends then my parents.
JN:
Do you go out to the bars?
MM:
I started when I was Portland, Oregon. I would feel uncomfortable then scamper away. I started going to piano bars when I moved back to Chicago. That is where I met people that I would strike up real relationships with. So places like Davenports and 3160. I would go up and sing then get my education in show tunes and jazz standards.
JN:
You are getting some good gigs around here and in Milwaukee.
MM:
We are playing out more and more so we are meeting people that help us get better gigs. We have a booking agent now and we have a tour manager in Champagne so wherever he goes he drops off CDs.
JN:
The Fireside Bowl will be a release party for this album?
MM:
Yes. I am excited for it. When I first moved to Chicago I heard about it being a punk rock venue. They put up a fence in front of the lanes to keep people from spilling out on the lanes. There are ceiling panels coming down and chaos. They stopped having show but recently started again so I thought it would be the perfect place for us. It is not your typical music venue so I thought it would be fun.
JN:
This is the first time you have played live some of these very personal songs?
MM:
Yes, we haven't played "Tire Swing Blues" or "Univited" before so we will bust those out!
More on Mutts can be found at wearemutts.com. Don't miss a special show at the Fireside Bowl, 2646 West Fullerton, on August 2.
Interviewed by Jerry Nunn. Jerry Nunn is a contributing writer to the GoPride Network. His work is also featured in Windy City Times, Nightspots Magazine and syndicated nationally. Follow @jerrynunn