Everything you need to know for Northalsted Market Days 2023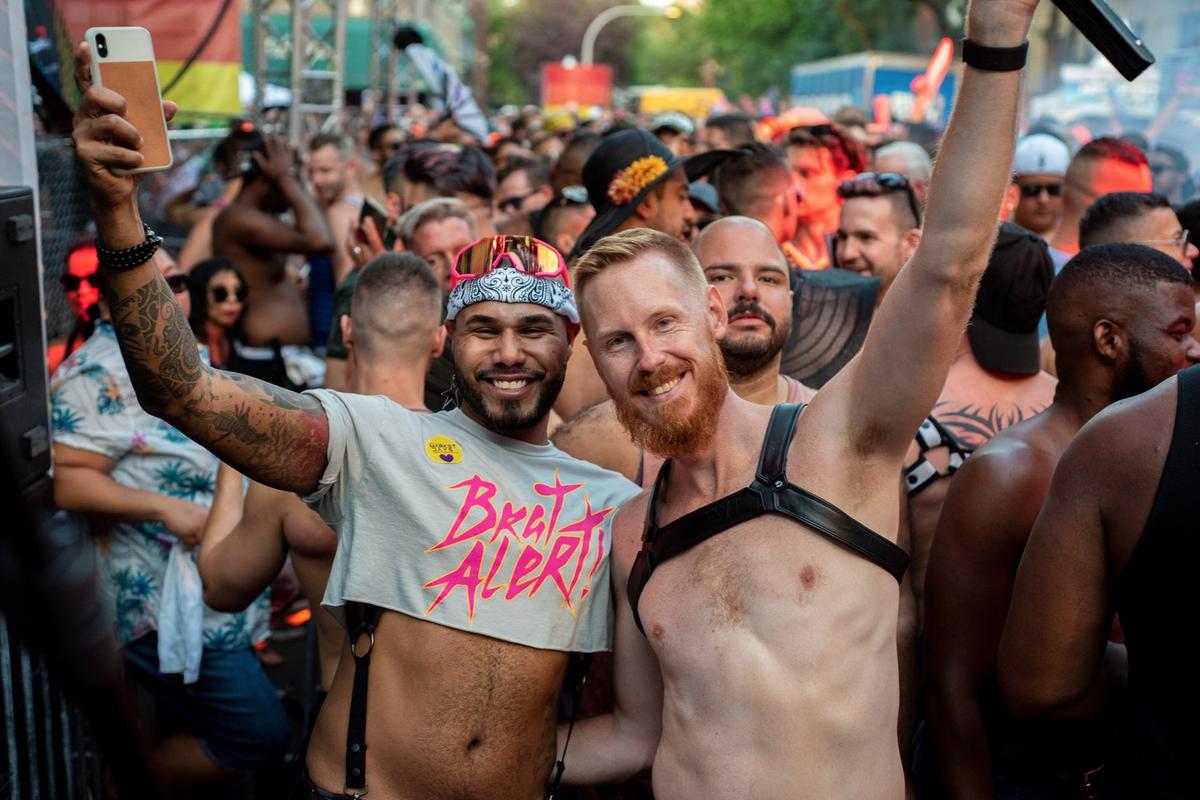 northalsted market days, 2019
photo credit // steven koch
Market Days is ready for its 41st year: Saturday, August 12 and Sunday, August 13
The Midwest's largest street festival is back as Northalsted Market Days takes over Lakeview with some of the biggest parties and performances in Chicago this weekend.
Opening at 11 a.m. on Saturday, August 12, the two-day street festival turns N. Halsted St. into one enormous party complete with five entertainment stages featuring local and national headliners, drag queens and DJs. 
"Market Days has the irresistible energy and colorful spirit of the Northalsted community that keeps people coming back every year from all over the world," said lead event organizer Mark Liberson. 
Nearly 100,000 people are expected to attend this year. 
Here is some need-to-know information about the festival.
Where's the party?
The event stretches the 1/2 mile length of what is popularly known as "Boystown" in Chicago's Northalsted neighborhood. Once there, follow the herd of excited revelers or the gaggle of drag queens, or just follow the music. But seriously, Market Days is located on North Halsted Street from Addison St. south to Belmont Ave. The seven event gates at Belmont (Main South), Addison (Main North), Cornelia (East Only), Roscoe (East, West), Aldine (West Only), Melrose (East) open on Saturday and Sunday at 11 a.m. and close at 10 p.m.
Is there a charge for admission?
Not officially, but a $20 donation is suggested. Your donation will help support local nonprofits and fund community projects like the Chicago Pride Crosswalks.
You can skip the entry line with an all-new VIP Pass for a $50 advance donation available online at
northalsted.com
. 
What acts are performing?
With appearances by NÜTRL Vodka Seltzer Stage headliners Betty Who (Sunday at 2:45 p.m.), Shea Coulee (Sunday at 9 p.m.), DRAMA (Saturday at 9 p.m.), and Kylie Sonique Love (Saturday at 6:00 p.m.), among others, Market Days is set to deliver on its reputation as a must-attend event.
Also on the bill is CupcakKe, Crystal Waters, Boyfriend, KC Ortiz,
Sofi Von
, and many more. 
"I can't wait for Market Days; the lineup is incredible; I'm hoping people vibe with me and my music," 
Vonn told GoPride.com
. 
And, we can't forget local favorites including Too Much Molly Band, Rod Tuffcurls & the Bench Press, Hello Weekend, and Sixteen Candles.
What about the DJs?
If you love to dance, the ViiV Healthcare Stage at Cornelia, powered by
Hydrate Nightclub
, is the place to be for unstoppable music all weekend. The DJ line-up includes
Jace M
 (Saturday at 3:30 p.m.),
Joe Pacheco
(Saturday at 5:30 p.m.),
Danny Verde
(Saturday at 7:30 p.m.),
Sam Gee
(Sunday at 3:30 p.m.), and 
Jesus Montanez
(Sunday at 5:30 p.m.).
"Market Days is a very special weekend because all the Chicago people go and have fun, and thousands of people come from other countries to enjoy this amazing festival,"
Montanez told GoPride.com
. 
Related: 
Meet the DJs bringing the music to Market Days Weekend
This year,
organizers announced
the addition of the Cuervo Tradicional Dance Party at Aldine, where seven popular Northalsted destinations will be showcasing their DJ party events along with drag performers and hosts.
Is there a complete schedule that I can look at?
Yes, the festival features an all-day lineup of non-stop entertainment!
Here's the breakdown
.
Are there other things to do or see?
If people-watching is your thing, grab a refreshment and watch the throng of festival attendees. With over 100,000 expected to attend, there will be no shortage of eye candy for sure. In addition to the live entertainment, Market Days includes over 250 unique vendors, arts, crafts, food and drink booths.
What should I wear?
Plenty of sunshine is forecast for both days with a slight chance of a stray shower on Sunday, according to the Weather Channel. Highs are expected in the 80s throughout the weekend, so dress accordingly and stay hydrated. Ultimately, look fierce!
Can I bring a bag?
Short answer is no. Large bags and backpacks, coolers or outside alcohol are not allowed, and all smaller bags will be inspected prior to entry. Please be aware of pick pockets. Don't place your phone or wallet in your rear pockets. If carrying a bag, considering using a front facing fanny pack or cross body sling. 
The info tent, first aid and lost-and-found will be at the festival command center near the intersection of North Halsted Street and Newport Avenue.
How do I get there?
Market Days is easily accessed via the CTA Red Line Addison station, CTA Red/Brown/Purple Lines at Belmont, and multiple CTA bus lines. Check
transitchicago.com
for routes. There won't be much street parking available, so if you're driving be prepared to park outside of the immediate area and watch for parking restrictions. 
What about parking? 
North Halsted Street will close from the 3200 block to the 3600 block at 11 p.m. Friday so crews can begin staging the festival. Parking will be restricted at this time, along with access to surface parking lots and garages on Halsted Street.
Additionally, parking restrictions will be placed on various side streets in stages starting Friday. All cars in the below areas will be towed.
Parking bans begin 10 a.m. Friday at: 732-820 W. Cornelia St., 800-840 W. Newport Ave., and 800-832 W. Aldine Ave. More parking bans will start 11 p.m. Friday at: 721-769 W. Brompton Ave., 720-820 W. Buckingham Place., 725-825 W. Roscoe St., and 720-758 W. Melrose St.
Honestly, public transportation is your best option. 
Are there more events happening for Market Days weekend?
Absolutely! With some of the most talented local and international DJs in Chicago for Market Days weekend, things kick into high gear with parties from CircuitMOM Productions,
Furball at Metro
 (Friday),
BRÜT Party at Fantasy
 (Friday), and Hydrate Nightclubs's weekend of some of the most in-demand figures in dance music, including DJs
Allison Nunes
(Friday),
Dan Slater
 (Saturday), and Ethan Cole and Karsten Sollors (Sunday). 
"Summer in Chicago is probably one of the best places in the country," 
said Dan Darlington
, owner of BRÜT. 
You can check out all the
Market Days Weekend events and parties here
. Chicago's
LGBTQ calendar
is on GoPride.com. 
Related: 
CircuitMOM Productions is going all-in for Market Days Weekend
Who organizes Market Days? 
Founded in 1982, Northalsted Market Days is celebrating its 41st year. The event is organized each year by the
Northalsted Business Alliance
, the group behind Chicago Pride Fest, Northalsted Halloween Parade and more neighborhood events.  For more information visit
northalsted.com
. 
What about health concerns?
The
Center on Halsted
, located just north of the festival at 3656 N. Halsted St., is offering free MPOX and COVID vaccines Saturday and Sunday for people visiting the festival. You can register
online
.
More information about MPOX is available on the Chicago Department of Public Health
website
.