A GoPride Interview
Adam Guerino
Funny man: An interview with comedian-producer-genius Adam Guerino
Thu. January 23, 2014 by Kris McDermott
I've always been a writer and I like to think humor has always come easily to me.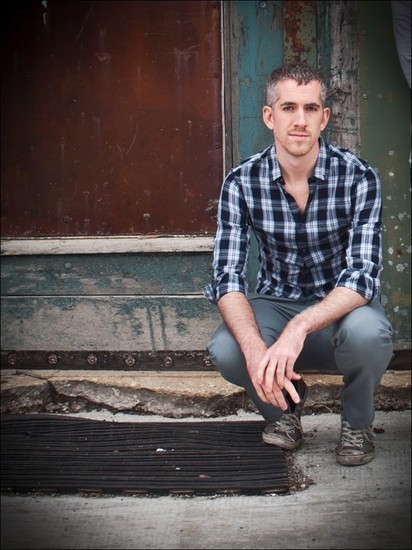 If you've attended a LGBT-friendly comedy event in Chicago recently, there's a very fair chance that Adam Guerino was involved. Credited as a "comedian-producer-genius" by the Chicago Reader, Adam's brought queer entertainment to the mainstream for over 2 years in Chicago via his production company, OutLoud Chicago. One of his pet projects, Queer Comedy at Zanies, is back this month with headliner Maggie Faris (winner of Stand Out: The National Queer Comedy Search). I talked to him about the Chicago comedy scene, how it's changed and the state of queer entertainment in Chicago.
KM:
(Kris McDermott) How'd you get started in comedy?
AG:
(Adam Guerino) It's really quite silly. I've always been a writer and I like to think humor has always come easily to me. Well, about 8 years ago, I was talking to a group of new friends after an acoustic music show at a dive bar in Roger's Park. I was, naturally, being hilarious. One of them said, "Hey, you're funny, you should do comedy" and I said, humbly, "I get that ALL the time."
Turns out, she was a booker for the bar and they were doing a comedy night. And behold, a star was born (of course, by that I mean-- I did HORRIBLY). Imagine your first open mic, your sweaty palms, your inability to see your audience, your nervous ramblings and crippling doubt--stretched out for 20 minutes. But I must not have done as horribly as I thought because they asked me back a few times and I started meeting other comedians and doing shows elsewhere.
This is the worst story to tell anyone who wants to start doing comedy, because there is nothing more obnoxious than a comedian who wants to be discovered by just being conversationally funny and hoping someone will ask them to be in their show. That's just not how it works. I was lucky, that's all. If the cosmic coincidence of my being in a conversation with a booker didn't happen, I'd still be writing for hours in coffee shops with maybe someone reading what I write every once in a while.
KM:
How do you label yourself? Comic? Producer? Actor? All of the above?
AG:
My preferred slashes are Producer/writer/performer (though that has changed a few times). It really comes down to hours of work and a certain level of denial. I spend at least two hours a day (and sometimes eight) producing shows. [Producing] entails venue negotiations, writing press releases, press/media correspondence, booking correspondence, Facebook and Twitter management.
If I have more time in the day, I get to write (which I do as much for other people as I do for myself). At any given time, I'm writing essays for live lit shows or my blog or I'm writing screenplays, comic books and novels that no one may ever read. If I go a week without being able to sit down and write recreationally, I feel irritable. So, in a way, writing for me is a lot like pooping.
And performing kind of goes hand in hand with the other two. I perform in my own shows because having someone else host your show is like finding a babysitter—and I'm a very nervous daddy about someone else taking care of my kid. I also perform around the city and nationally when given the chance, though it usually gets put behind everything else as far as priorities. The slash that I don't publicize is "barista" which is my part time job. I work usually 2 to 3 shifts a week but if you ask my mom, she usually says that's what I "do for a living."
KM:
How'd you get into producing?
AG:
Just like performing, I got into it accidentally and with no intent of ever doing it for a living. I like doing comedy shows, I love performing and I love performing in shows with other funny people. After a few shows, I started asking the bar I started in if I could do a show on a certain night and bring some of my comedian friends. Looking back, I see that I was producing those shows at the most basic level. I negotiated with a venue, I booked the talent, I got word out, and I plugged in the microphones.
I was very blessed to meet such amazing talent so quickly into my career. My very first shows I produced included such legendary talent as Cameron Esposito, Beth Stelling, The Puterbaugh Sisterz, Joe Fernandez, Matt Drufke and New York's Ben Lerman (who I met on MySpace.) If anything, my career as a producer (and I can't deny it's anything but at this point,) is a testament to how much I love doing shows with the people I started doing comedy with.
KM:
What purpose does a queer comedy night serve?
AG:
I think queer inclusive shows are terrific in moderation and with the right approach. When I started producing queer inclusive shows, there weren't many queer comedians so I booked the ones I could find and paired them with straight comedians who had accessible material, as well as up and coming queer comedians who weren't welcomed at mainstream open mics and showcases. These weren't "gay shows," they were explicitly inclusive. They were always high quality shows but I kept an eye for curating the Chicago queer comedy community and giving people opening slots and later feature and headlining slots because, at the time, there were oftentimes hostility in other rooms.
That being said, niche shows are important! But only if they are inclusive and not perpetuating exclusivity. (And only if they are not coming after other inclusive shows).
KM:
Is comedy an innately hostile place for queer folks?
AG:
I like to use this example: coming out to someone can be an unnerving experience. You don't have to be talking about queer sex to come out, either--just a mere pronoun will do. And you don't know until you do it whether people will take it well or not.
Now imagine that scary and intimate exchange being between yourself and a group of strangers sitting in the dark. Whether necessary or not, it's more welcome for queer comedians to come into their own in a queer-inclusive room. That being said, I did it [in those mainstream rooms]. I went into rooms, followed comedians who made horribly offensive jokes about gay people then went up on stage and had to come out in order for my material about relationships, family dynamics and, sure, the butt sex, to work.
When I started comedy, there were basically 3 queer comedians and 0 queer inclusive shows; now there are dozens of amazing queer comedians and a handful of queer inclusive shows. I want these opportunities to exist!
What I do find interesting is how I have produced a monthly show for years on the same day of the month and the other queer inclusive shows that have popped up around the city are always within a day of my show. I mean, you literally have at least 25 days in the month that are not within a day or two of my monthly show so it's hard not to see the coincidence. When they do that, they aren't giving opportunities to queer comedians anymore, they are splitting audiences in an effort to ride on the coat-tails of a successful show.
KM:
What should people know about Queer Comedy At Zanies? (Or, for that matter, OutLoud Chicago?)
AG:
First of all, I think the difference between the two is confusing. Outloud Chicago is my production effort to install queer entertainment in mainstream Chicago venues. I've done so with music and spoken word/live lit at The Hideout and comedy at Zanies Comedy Club. The show that I produce at Zanies, under the umbrella of Outloud Chicago, is Queer Comedy at Zanies. When I was brainstorming names for the show, I thought about being coy or aloof with a pun but the end result was "If I'm going to do queer comedy at one of the longest running comedy clubs in the country where all of the greatest comedians have performed--I'm going to say exactly what it is." Is it a bit obvious? Yes. Because I'm proud.
I hope people consider Queer Comedy at Zanies a hilarious and safe space for everyone. I strive to book a show that not only includes gay and lesbian comedians (as the name suggests) but also straight, bisexual and trans comedians. The goal is that if everyone on stage isn't the same then no one will feel left out. That being said, it's a comedy show and you'll still need a thick skin. My favorite type of comedy takes you out of your comfort zones. I think how I like to start shows applies here. I begin by asking who has been to Zanies Comedy Club before then asking who has been to a Queer Comedy at Zanies show, explaining that they are going to see the same high quality stand-up comedy they expect from Zanies but we're focusing on an intentionally diverse lineup.
KM:
Let's talk about your comedy for a second. Do you fear being pigeonholed as a gay comic?
AG:
Of course not! I'm a comedian, I should strive with every joke to stand out and be unique. Being from a minority group is advantageous in that way. I think fearing being pigeon-holed as something that I am, especially when that is an underrepresented group, is kind of cowardly and closely relates to a sort of self-loathing. I don't understand the thought process behind it--if someone is going to come after me for my sexuality, I'm sure as fuck not going to do the work for them. Do I fear coming off as cliched? Yes, but that relates to all jokes. If the only gay jokes you can think of are cliched, the problem isn't your sexuality.
KM:
What are you working on right now?
AG:
In addition to booking the rest of 2014 for Queer Comedy at Zanies, I'm also working on my sister project Stand Out: The National Queer Comedy Search. Queer Comedy at Zanies has some amazing talent that we're trying to bring to town including James Adomian, Casey Ley, Jen Kuber, Natasha Muse and more that are either in negotiations or confirmed. With Stand Out, I'm trying to get shows for our victors as part of a tour as well as setting up the 2014 edition in the Fall which will start with submissions and online voting in the Summer. I've been brainstorming with the amazing Advocate comedy editor Jami Smith on how to bring more national exposure to more queer inclusive comedians than the year before.
KM:
Who are your comedic inspirations? Who/what are you loving right now?
AG:
Usually when someone finds out I do comedy, they ask who I like. I think they're expecting me to say Louis CK, Amy Schumer or someone that has had comedy specials and national tours but generally I tell them comedians they've yet to see. When they ask, "Who's that?" I explain how I do a show with them and they are thrilling to watch on stage. I think this is confusing or seen as self promotion but the reason I feel that way is because I see their approach, I see them work and win and slowly but surely get recognized for their talent. Just like with Beth Stelling and Cameron Esposito who I started doing comedy shows with, their years and years of hard work will pay off and it's amazing to be able to see their success. But for me, I enjoy seeing the process just as much if not more.
Right now I'm really inspired by Candy Lawrence whose brilliance can sometimes be confused for random zaniness. Bill Cruz who could teach a master class on how to get any room, no matter their background, on his side. And the Just Dicking Around ladies who are, as a group collaboration under creator Amy Eisenberg's vision, running multiple queer inclusive rooms all across the north side.
KM:
Any advice to people just getting started in comedy?
AG:
Be proactive but stay humble. Get up there on stage and let yourself be horrible but realize that everyone starts where you are and embrace it. More than embrace it, remember it. There's no greater feeling than putting yourself out there, learning and getting better than you were before. I hold my horrible first few shows very near and dear to my heart.
When looking for inspiration, don't turn on the TV or search comedy pros online--go to local shows. Who at the show is new? Who is doing their first show? That's who you're starting with, those are your peers. Be kind to each other and support each other. You'll all be the better for it.
Queer Comedy at Zanies presents Maggie Faris, Tuesday, Jan. 28 at 8:30 p.m. Zanies Comedy Club, 1548 N. Wells. Tickets are $15 and available at chicago.zanies.com or at the door.
Interviewed by Kris McDermott