A GoPride Interview
Million Dollar Listing
Million Dollar Listing interview with ChicagoPride.com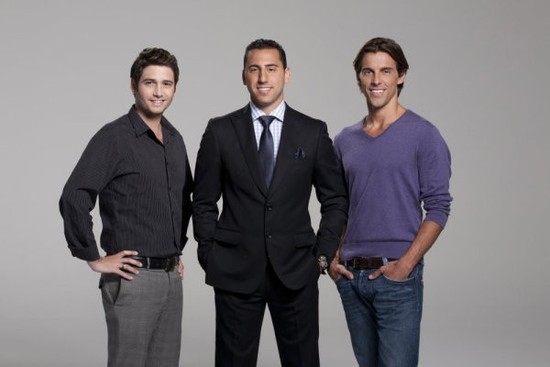 josh flagg, josh altman and madison hildebrand
Jerry Nunn talks to the stars behind Million Dollar Listing LA
Million Dollar Listing Los Angeles returned earlier this month for its fifth season on Bravo.
The reality show follows a group of realtors in California selling high-end properties. The series has even released a spin off with a New York cast that has been renewed for a second season.
ChicagoPride.com talked to the three LA stars Madison Hildebrand, Josh Flagg, and Josh Altman.
Q:
(Jerry Nunn) Hi, guys. Good to talk to Madison and Josh Flagg again. Altman is a new one for me!
A:
(Josh Flagg) I remember you from last year.
Q:
This season looks like the gayest one ever. Josh is in bed with his boyfriend and Madison is practically naked doing pushups! Does anyone have any gay clients?
A:
(Josh Flagg) No, I don't.
(Madison Hildebrand) Funny all my clients are men this season which is interesting because I usually have a lot of divorced women, but it's completely shifted and I don't even have any gay clients.
(Josh Altman) I do. I have a gay client and he's amazing. It's funny the one gay guy on the call does have the gay client this season.
Q:
How did you all feel about Million Dollar Listing New York?
A:
(Madison Hildebrand) I loved it. I thought it was a great show. We now we have our show franchised and I think it's a great concept.
(Josh Altman) I think that everybody loved to see what it's like on a different coast. I think those guys are hustlers. I actually just closed a $10 million brownstone with Frederick last week in Manhattan and I think he's great.
Q:
Do you think you would fare as realtors in New York?
A:
(Madison Hildebrand) I don't like elevators that much. I prefer to be out here than in LA, but I certainly would love to negotiate some of the deals that they do. Some of the building and architecture is amazing. There's just a lot more information there.
(Josh Altman) Yes they definitely dress good out there, but at the end of the day I don't think they can hang with us.
Q:
After working all day how do you relax at home?
A:
(Madison Hildebrand) For me that was something that I had to learn. It took a couple of years to learn to not be affected emotionally when I left the office and not let the things that were going on with my clients and the deals not bring me down or bring me up. But now I feel like it's been compartmentalized and I have to have my time to go and exercise or go out in the ocean or have a nice lunch or a dinner.
(Josh Altman) I mean look when you're a realtor of this caliber it's a lifestyle and it's a lifestyle that you choose. I love what I do for a living so as far as separating it, I do bring it home with me. I don't mind dealing with it all the time. I'd rather be doing that than anything else.
(Josh Flagg) I like to travel a lot. That's what I do to relax.
Q:
With you coming out of the closet last season, Josh, what is your focus for season five?
A:
(Josh Flagg) Without revealing too much, this season we go more into my relationship and we look into the family aspect of the relationship if you know what I mean. So that's what we focus on on this season.
Q:
How about you, Altman?
A:
(Josh Altman) Closing deals all the time, 24/7 closing deals. I've sold $75 million so far in the first five months of this year trying to break the $150 million mark for 2012, all business all the time.
Q:
Are you showing a lot of your personal life this time out, Madison?
A:
(Madison Hildebrand) Yes. I mean I feel like I revealed a lot about my personal life, but this season I feel even more that I become very vulnerable. I have a lot going on this season emotionally and so I deal with it as I was dealing with it in real life just the cameras happen to be there. So I think you get to know me on a little bit more vulnerable and emotional place than I've shared with before.
Q:
Is it hard having your salary broadcasted on the show?
A:
(Josh Altman) My favorite thing is when I get the emails just from random people around the world asking me to send them money, which is just funny.
(Madison Hildebrand) People don't normally go up to me and ask me ho much money I make. I think that would be very awkward and that's never happened to me. I would hope somebody would have more couth than that.
Q:
When is there going to be a Million Dollar Listings Chicago? We want you to come visit us.
A:
(Josh Altman) Oh, I love the Windy City. I think it is great.
(Madison Hildebrand) I love Chicago but it has to be the right time of the year.
Q:
Anything else you want to say about the show?
A:
(Josh Flagg) I think this is the best season so far of what I've seen. And when you go to the iTune store check to out my new app - Storm Apps by Josh Flagg.
(Josh Altman) Follow Josh Altman
@TheJoshAltman on Twitter or you can check me out at the altmanbrothers.com.
(Madison Hildebrand) I think you're in for some of the best real estate, some of the best scenes and negotiations and certainly some drama.
Watch what happens on Wednesdays with Million Dollar Listings Los Angeles. Visit www.bravotv.com for details.
Interviewed by Jerry Nunn. Jerry Nunn is a contributing writer to the GoPride Network. His work is also featured in Windy City Times, Nightspots Magazine and syndicated nationally. Follow @jerrynunn