A GoPride Interview
Adam Devine
Bumper Allen breathes new life into Pitch Perfect franchise in Berlin
She's not only bisexual, but she just loves love, honey!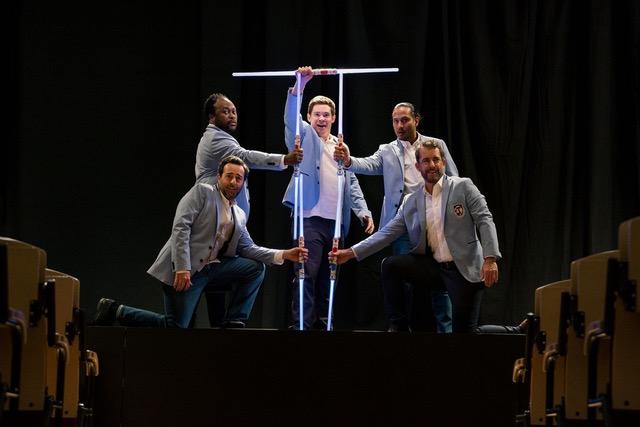 Press junket for the Peacock series Pitch Perfect: Bumper in Berlin
Several years after Pitch Perfect, Bumper Allen played by Adam Devine moves to Germany to pursue a music career. He reunites with Modern Family castmate Sarah Hyland who portrays Heidi in the six-part Peacock series Pitch Perfect: Bumper in Berlin.
The duo spoke about the experience on a recent Zoom call. 
JN: (Jerry Nunn) How was working together on this project different than when you were both on Modern Family in the past?
AD: (Adam Devine: We were in Berlin, Germany, so that was different! There wasn't much American food there. I ate so much schnitzel over there that I was half schnitzel by the time I returned home!
It was so natural to work with each other again that it felt natural to just fall into our rhythms.
JN: I saw a lot of pretzels in various scenes. Did you eat a lot of them in Germany?
AD: A lot of pretzels, a bunch of bratwurst and beers the size of my head. They don't even come in smaller than large sizes over there or at least that is what I told myself. They just come in a giant bucket!
JN: What is your all-time favorite musical?
SH: (Sarah Hyland) It is Sophie's Choice for me. I am a big musical theater person. Into the Woods is up there for me. I am a Stephen Sondheim girl over here.
AD: Newsies because I am a Christian Bale fan. [Sings] "Look at me. I'm the king of New York."
SH: We are going to get that dance in season two. Here we come!
JN: Was there a cover song that on Pitch Perfect: Bumper in Berlin that grew on you? Maybe you didn't like "Barbie Girl" before but now you do.
AD: Funny you mention "Barbie Girl" because I had that song in my head forever. We had so much fun shooting that song and it was done all in one take. The choreographer told me the path I needed to be on and could do all of the wiggles that I wanted to. If they told me I had to hit a certain move then I would have a hard time with that. If they let me do my own wiggles, Jerry, then I could wiggle with the best of them!
SH: It was cool and like a Ziegfeld shot and just like an old-school golden age musical film.
JN: What projects are you working on next?
AD: I have a movie called The Out-Laws I did for Netflix with me, Nina Dobrev, Pierce Brosnan and Ellen Barkin. It is a big action comedy that is fun where I worked with Adam Sandler's company.
I also have the new season of The Righteous Gemstones. I am currently shooting season three and that should be out at the top of next year too.
SH: I host a competition show called Play-Doh Squished on Amazon Freevee which is fun and just released.
JN: I need some Play-Doh in my life!
SH: I was sniffing Play-Doh the entire time…
Several other cast members from Pitch Perfect: Bumper in Berlin spoke about the LGBTQ+ environment surrounding the show. Some may recognize Jameela Jamil from The Good Place and the recent Marvel Studios television series She-Hulk: Attorney at Law. Flula Borg returns as Pieter Kramer from Pitch Perfect 2 and Lera Abova plays his sister. 
JN: Is your character Thea Kramer/DJ Das Boot bisexual on the show, Lera?
LA: (Lera Abova) She's not only bisexual, but she just loves love, honey!
JN: Jameela, did you have a favorite wig that you wore on this show?
JJ: (Jameela Jamil) Yes, the orange wig that I wore was a saucy Ronald McDonald on OnlyFans if you know what I mean.
JN: How did you feel about the LGBTQ+ representation on this project?
JJ: It was a fun show where the main theme is the human heart and spirit. We had a lot of pansexuals on our show and I think Berlin was the perfect place to do that because it is not a big deal in Germany, especially in Berlin.
At one point, I just went to buy a simple top and skirt then someone just gave me handcuffs from behind the counter. They were really nice leather sex handcuffs.
FB: (Flula Borg) Are you sure? I think that guy thought you were shoplifting.
JJ: [laughs] Yeah, just a police officer out of nowhere… no, it is just a very sexually liberated city. We should all be like Berlin!
LA: Berlin is a place where they embrace the way you are and it doesn't matter what your sexuality is or preferences are, there is a place to go with people who have the same mind as you do. It gives us the possibility to get to know people in a way where it doesn't matter where they come from or who they love. You get to know the person on a personal level and it is beautiful. In Berlin that is normal.
JN: Was there a favorite song for you that was on the show?
FB: This wasn't on the show but every time I was in my trailer I would play "Tiptoe Through the Tulips" just to get hyped.
FB: I find all of the songs pretty amazing, but the original song that Sarah Hyland sings is just beautiful. Her voice is like honey. I think fans of the first two Pitch Perfect films will be so excited about the music.
JJ: The songs for my character are pointedly ridiculous. We sing about farmyard animals in a very serious way. I really enjoyed the singing battle between me and Adam where I get to sing, "My milkshake brings all the boys to the yard" and that was incredibly fun for me to do. That was the moment when I felt we were really in Pitch Perfect and the cast comes in. Me and Flula going against each other felt like such an iconic moment of the Pitch Perfect franchise. That felt like a big deal!
JN: I just want to say that I love you as a judge on HBO Max's Legendary.
JJ: Thank you. I will keep changing up those looks on the show!
Series creator Megan Amram answered a few questions during the press junket. 
JN: Can you speak on the LGBTQ+ representation portrayed in Pitch Perfect: Bumper in Berlin? I saw rainbows in one crowd scene during one of the episodes.
MA: Berlin where the show takes place is an incredible bastion of LGBTQ culture and we wanted to show that along with the positivity that we felt in Berlin. For Gisela (played by Jameela Jamil), I think she would be a gay icon if she really existed. She is modeled after an evil Lady Gaga in my head, so we wanted a crowd scene that represented that and Pride.
JN: I have been to a gay bar there that had fur on the walls called Roses.
MA: I also went to a gay bar there and it was incredibly fun. It was part of my job, in case anyone is listening to this that I worked with, I was doing my job! [laughs]
JN: You wrote for the television series Transparent previously, didn't you?
MA: Yes, I did. It was an incredible experience. Between seasons of The Good Place, I wrote for season three of Transparent.
JN: Did you consider having cameos from past Pitch Perfect movies?
MA: We had to walk a fine line with Bumper and Pieter Kramer's characters from the first and second movies who were antagonists. For this outing, we didn't want to have too many Pitch Perfect actors bleed into their world and instead wanted to focus on developing their characters.
I will say if we are able to have a second season I would love to explore more cameos to bring into the fold.
JN: Would Bumper possibly go to other countries in the future?
MA: This was a big topic of conversation on set partially because this show was shot in March in Berlin and it was so cold that everyone suggested Bumper in Bali!
Again, if we get a second season I believe this show has an exciting future ahead of it because after bringing Bumper to Berlin he can now go all over Europe. He could go back to America and possibly Buffalo, New York. There are many ways he could continue his international journey.
JN: What other songs would like to see performed in the future if Pitch Perfect continues on?
MA: I was very surprised overall with how many rights to songs we were able to get. It is a testament to the staying power and pure love that people still feel for Pitch Perfect.
We, the writers, decided to put "Message in a Bottle (Taylor's Version)" in episode two. It was the song that we all loved and wasn't we would get the rights. Lo and behold we got to do it.
I really like the song "Unholy" by Sam Smith and Kim Petras. That is the first one off the top of my head and I think it would make a great Cappella version.
JN: What are you working on next?
MA: I am always writing and hoping for a second season of this show. Sarah Hyland is an incredible singer and has been on Broadway before, so maybe I could write a musical that she could be in. I am a huge musical theater fan.
Sarah and I were singing Wicked a lot on set. It was a fun vibe for us, although I don't know if everyone else liked it the way we did!
JN: Well, I hope Pitch Perfect: Bumper in Berlin is "Popular" and a big success!
Visit PeacockTV.com to stream and sing along with the new series today!
Interviewed by Jerry Nunn. Jerry Nunn is a contributing writer to the GoPride Network. His work is also featured in Windy City Times, Nightspots Magazine and syndicated nationally. Follow @jerrynunn