A GoPride Interview
David Wright
David Wright talks Cruel Intentions: The 90's Musical, opens this week
We all have that dark side. None of the roles I've ever done before have been this promiscuous and scheming like Blaine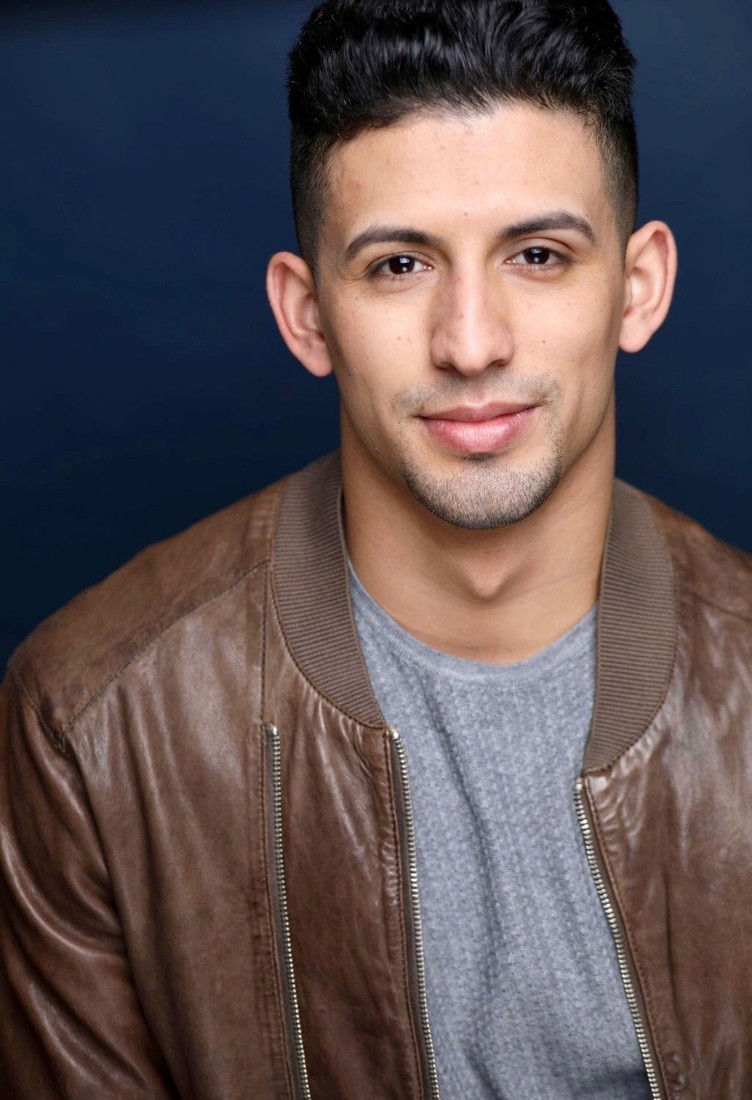 David Wright, whose national and regional theatre credits include Rodgers and Hammerstein's Cinderella, Beauty & the Beast and Newsies, takes on the role of the light-hearted jock-seducing Blaine Tuttle in Cruel Intentions: The 90's Musical which plays for a limited two-week engagement at Broadway In Chicago's Broadway Playhouse at Water Tower Place (175 E. Chestnut) from April 2nd to 14th.
Set to the greatest pop and rock hits of the '90s, the show is an exhilarating and funny musical that pulls you into the manipulative world of Manhattan's most dangerous liaisons. Audiences experience the intoxicating story set to the greatest throwback hits of the decade by such artists as Britney Spears, Christina Aguilera, Boyz II Men, Goo Goo Dolls, No Doubt, R.E.M., Ace of Base, Jewel, 'NSYNC and more – in addition to songs from the film's iconic soundtrack such as "Bittersweet Symphony" by The Verve and "Colorblind" by Counting Crows.
Wright is thrilled to join the Touring Company of Cruel Intentions and took a break to chat with us prior to Tuesday's opening night performance.
MI: (Matt Inawat) Welcome, David! What are audiences going to love in the musical production that connects them to the 90's classic movie and then what are they going to see that is a little bit of a unique twist?
DW: (David Wright) I'd have to say what is awesome about this adaptation of "Cruel Intentions: The Musical" is they are pulling the lines straight from the movie. So it still has that old 1999 feel to it. You just fall in love with the characters. Everything is still essentially the same; but what is different, especially in this day and age with the whole "Me Too" movement, is that our director, Kenneth, is wonderful with trying to adapt these characters more and to be careful with and show how everything is changing in today's time and also Jennifer our choreographer is wonderful. 
You get to see these characters in a little bit different light where the choreography is a little different from the off-Broadway production that they did in 2017. So it's really fun to see these characters evolve and the differences in their character and the choreography now is coming out as well.
MI: Tell us about your own personal journey. What drew you to the musical and what was that like?
DW: My journey with the musical is a little bit of an interesting one. My friend, Jeremy Pasha, who is also a vocal coach of mine was at lunch with one of the casting directors and the casting director had brought up that they were looking for someone to portray the role of Blaine and they needed him to dance and sing and all of that and my friend said, "Oh my friend David is wonderful we just did a contract on Disney Cruise Lines together," and the next day I had an appointment and I went in. 
It has always been a dream of mine to sing a Britney Spears song. So I went in and sang "Sometimes" by Britney Spears for this audition and danced a little bit and it was just awesome. I waited a few months and then heard back and went back and auditioned again and then I got the phone call for the offer.
MI: Oh wow, so are you planning to audition for the new Britney Spears musical that's opening in Chicago this fall?
DW: Oh absolutely! That is a must on my to-do list!
MI: In the original movie, Blaine Tuttle was played by Dawson's Creek's Joshua Jackson. He's the guy who seduces the school's jock for "information." So were there any previous roles that prepared you for playing Blaine? And what do you love most about playing his character?
DW: My background in musical theatre, I've always been a gymnast and a dancer. I have always been a dancer in the ensemble that covers the supporting roles and such. This is my first time stepping into a role as an actor. 
None of the roles I've ever done before have been this promiscuous and scheming like Blaine is which is fun. We all have that dark side. Blaine is fun for me. I've really enjoyed getting to play this sassy queen, if you will, in the show. 
Like I was saying before with Kenneth, he has really molded his character so that Greg, who is my love interest in the movie and the show; we really kind of start to cultivate a relationship in there. So yes, Blaine is a nasty guy at points, but towards the end of the musical, with Greg, you start to see the different lights in them - like there actually could be more to this. Blaine and Greg could be the ones that get this happy ending between the two of them, which is nice. 
They are really playing it in a different way, which I am enjoying.
MI: And I love it that the two have a classic 90's boy band song between the two of them in the show.
DW: That is great! "I Want It That Way" is everything to me.
MI: Do you have a specific favorite scene or message from the show?
DW: I think my favorite scene right now has to be Cecile's number, she opens act two with "I'll Make Love To You" and our lead who plays Cecile, Brooke Singer is just phenomenal. Her choices, everything will just make you want to roll on the floor everytime. She is doing the worm in her number, she is just brilliant. I love her relationship between Ronald. Her mother has a problem with a man who is black, unfortunately, so the message we present is just beautiful. Richard, who plays our Ronald, and Brooke, our Cecile, just do a wonderful job trying to bring that message to life that love is love, same as with Blaine and Greg, love is love and just be open and love everyone. 
That is it. That is all we need in life.
MI: Where did you grow up? How did you get your passion for the theatre and how did you get started in the industry?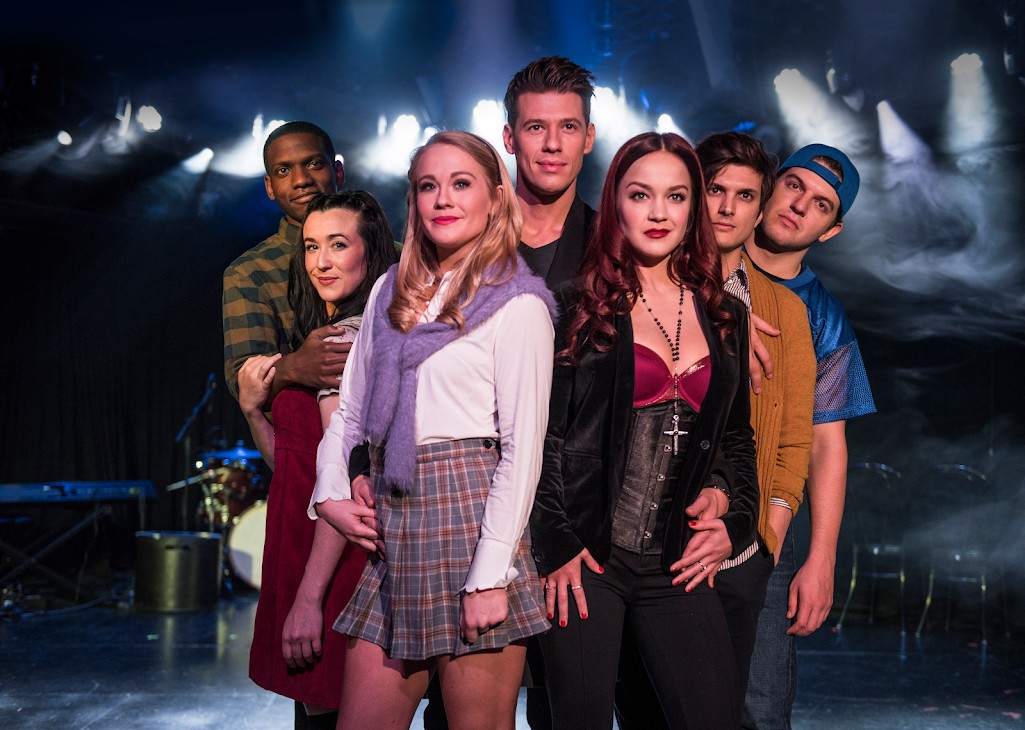 Company of Cruel Intentions (Off-Brodway)
DW: I'm from Los Angeles, California. I got started actually, coming full circle with Britney Spears, growing up whenever we had a holiday function my whole family would come to our house and I was the one who would put Britney Spears on, "Oops I Did It Again" was one of my favorite songs and I would put on a full concert for my family. That was me and from a time when I was maybe 5 or 6 years old and from there my parents put me in classes. 
I started training at the Los Angeles Ballet Academy and I was in a hip hop group called the LA Hip Hop Kids at the time. From there my parents continued to push me in that direction. I just always loved performing and I went to a performing arts middle school and high school and went to UC Irvine for musical theatre and I was very, very fortunate to have parents who supported me in everything that they could. My mother was a massage therapist and she would go and massage my dance teachers and stuff so I could get private lessons and such in exchange. 
My parents were truly wonderful and supported me and always pushed me to do my best and just be a sponge and soak everything up that I possibly could.
MI: Did you have anyone who was an acting or performance influence throughout all of those years?
DW: My mother actually, yes. My mother taught me how to do gymnastics in our backyard. She used to be a gymnast. She really was my biggest motivation in life. She was always dragging me to all of my auditions and always helped me with all of my songs and my lines. My mother was not a stage mother. She is a wolf trainer now. She just always had it in her to push me and support me.
MI: Is she traveling with you from city to city to see you on stage?
DW: As of now she has my 15 year old brother with her back in LA, so she trying to balance everything out, but she absolutely is coming out to see me in Cruel Intentions. She is very excited about this production.
MI: How has being out and gay prepped your journey through the theater business?
DW: To be honest, I feel like I have been very lucky in that realm as well. 
Whenver I was auditioning for anything my parents always had their hands on my shoulders trying to guide me in a safe and healthy direction that they thought suited me and they have always been there to support me. I have been very lucky as a dancer and gymnast starting out. I haven't really had any problems being gay, but I have always been an activist in that way, stepping out to support younger performers such as myself when I was coming out in middle school and high school and performing so I often try to go back home and be a guide for these younger men and women who don't really have that support system at home. My parents opened their home up to a few of my friends who, unfortunately, didn't have that same support when we were growing up. I'm completely blessed.
MI: Is there a dream role in any musical you would love to play?
DW: I think Lola in "Kinky Boots" has always been a dream role of mine. It's just such a fun show. I am sad to see it close so soon. I also think Simba in "The Lion King". Those two are two very different roles, right? Two amazing roles.
MI: Yes, both amazing roles! So, you're going to be in Chicago in about two weeks, are you excited?
DW: Absolutely! I am excited. I actually did a contract at Lincolnshire Marriott Theatre out in Chicago so Chicago has a place in my heart. That is where I first went equity as a performer and joined the union so Chicago holds a very special place in my heart.
MI: Any favorite hangouts or restaurants or must-eat food while you're in town again?
DW: I actually need to do this research again. I can't remember this place. I went to see "Hamilton" I have a few friends who are in the production of "Hamilton" there and they took me to this place afterwards that had the best deep dish pizza I have ever had in my life. It was incredible. It was right near the Bean. We went to the Bean and it was right over there.
MI: Gino's, Giordano's, Pizzeria Uno?
DW: That was it! Giordano's! That is on my list. I definitely am going to try and see "Hamilton" again. A few of my friends are doing "A Chorus Line" as well, so I am going to try and see that.
MI: Alright, here come the speed round questions - just answer with what first comes to mind! Name something you can't live without.
DW: Chicken wings
MI: What is something in your home that would make a stranger think you were gay?
DW: Probably my pair of heels.
MI: What is something that might make a stranger think you were straight?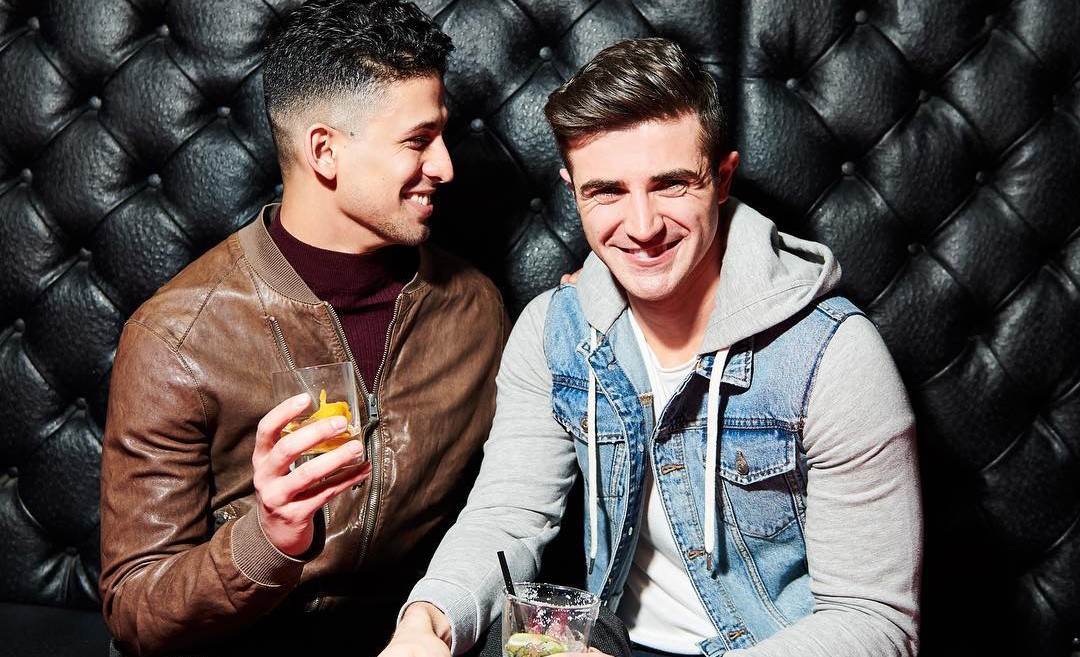 David Wright (Blaine) and John Battagliese (Greg); credit: Instagram: @davidjr_wright1
DW: I'm not even sure. Maybe my collection of hats. I love my fitted caps.
MI: What do you miss most when you travel?
DW: Just being able to see my friends. Don't get me wrong I love to travel. I worked for Disney Cruise Lines for almost 4 years and was able to travel the world. I absolutely love traveling, but it is hard not having a home base and not being able to see your best friends and your parents every once in a while. Things that really help you reenergize yourself being with your friends and family. So that sometimes takes a toll, but this cast already have stolen my heart so I don't think I am going to have much of a problem there.
MI: If your life story were made into a made-for-tv movie who would play you?
DW: I would want to say Zac Efron because I think he is gorgeous and pretty and I like to imagine myself being that cute and muscular, so I am going to go with that.
MI: What are you most superstitious about?
DW: Ghosts. I am not a fan of ghosts. I am so skittish when I hear something late at night. When I was watching "Stranger Things" and my furnace in my apartment would start going on it would take me a moment to calm myself down.
MI: Any charities or causes that are personally important to you?
DW: One of my favorite ones, and this isn't LGBTQ related or anything, but as I said before my mother is a wolf trainer and she is an animal activist and she works for this organization called Wolf Action that goes around and rescues these wolves and gives them a place to live because it is illegal to have a wolf as a pet and if ever caught by the state or a town they are killed. So all throughout high school and college, and whenever I get the chance to go home, I still go there and I volunteer my time and we get to go around and take care of these animals which is one of my favorite things to do. Whenever my career as a performer comes to an end I want to switch over into that realm in some way and work with animals. There is no more purer joy that I can find than working with an animal.
MI: Agreed! So we have one final question we always ask: sum up your life in a musical title.
DW: "The Wright One" or "The Wright Direction" because my last name is Wright I am always using "right" as a pun so something in that realm of trying all of the different paths in life and finding what makes you happiest cause that is the journey for everyone.
MI: David, thanks so much for your time. Get to Chicago safely and we can't wait to see you and the cast perform next week!
DW: Thank you!
Cruel Intentions: The 90's Musical plays for a limited two-week engagement at Broadway In Chicago's Broadway Playhouse at Water Tower Place (175 E. Chestnut) from April 2-14, 2019. Individual tickets are currently on sale and range in price from $35-$72 with a select number of premium tickets available. Tickets are available now for groups of 10 or more by contacting Broadway In Chicago Group Sales at (312) 977-1710 or GroupSales@BroadwayInChicago.com.  For more information, visit www.BroadwayInChicago.com. 
Coinciding almost perfectly with the 20th anniversary of the Roger Kumble film from which it is based, the new off-Broadway musical uses hit songs from the 1990s as its central motif.
The show debuted at The Rockwell Table & Stage in Los Angeles in 2015, where it ran for 38 sold-out performances, before being remounted for a second sold-out run at LA's Prospect Theatre in November 2016. In February 2017, the musical played a sold-out "pop-up" engagement at (le) Poisson Rouge and returned in November 2017 to play a successful twenty-one-week engagement at the downtown NYC nightspot before its final performance on April 8, 2018.
The production was created by Jordan Ross ("The Royals"), Lindsey Rosin and Roger Kumble ("Cruel Intentions") with original direction by Lindsey Rosin (The Unauthorized OC Musical), Kenneth Ferrone ("RENT Live!") is the tour director. The production features Choreography by Jennifer Weber (West End: & Juliet), Set Design by Jason Sherwood ("RENT Live!"), Costume Design by Tilly Grimes (Small Mouth Sounds), Lighting Design by Jeanette Yew (The Idiot), and Sound Design by Matt Kraus (Kathy Griffin Wants a Tony).
The national tour is produced by Eva Price, Sucker Love Productions, Marty Bowen, Neal Moritz, Hunter Arnold, Blood Orange Pictures, Mark Lonow & Joanne Astrow, Tom McGrath, Rachel Weinstein and Sara Beth Zivitz.
Interviewed by Matt Inawat. Ron Matthew Inawat is president of the GoPride Network and contributes to ChicagoPride.com, PrideLA.com and other sites within the GoPride Network. Follow @cpmatthew