A GoPride Interview
Andy McCluskey
Andy McCluskey: Now it seems people are interested in us again. They seem to have very fond memories of what we did in the past.
Now it seems people are interested in us again. They seem to have very fond memories of what we did in the past.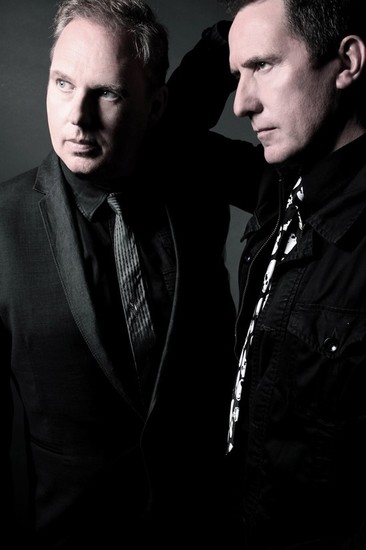 paul humphreys and andy mccluskey (right)
Jerry Nunn interviews Orchestral Manoeuvres in the Dark's Andy McCluskey
Orchestral Manoeuvres in the Dark fit into the '80s like a glove with their hit heartthrob song "If You Leave" for the movie Pretty in Pink. Although there is much more to the synthpop group than meets the eye. The singles scored bigger in Europe and although the duo split for a time they are back together with History of Modern. Andy McCluskey and Paul Humphreys return to Chicago after successful gig at the Park West.
JN:
(Jerry Nunn) Hello, Andy. Last time I talked to Paul before the album came out.
AM:
(Andy McCluskey) Okay, you get both sides of the story now. Hopefully we will be on the same page.
JN:
Exactly. How long have you worked together? It has been a really long time.
AM:
The original band lineup of Paul, myself, Malcolm and Martin disintegrated at the end of '80s. Paul and I did a little bit of work on the last studio album that I did in the '90s when I was in LA. After that we were doing our own things. It wasn't until we hooked up about six years ago and we did a TV show. We liked it and everyone wanted to play live. That is when it all started again. The next logical step was to make an album last year. Maybe it was a stupid step (both laugh)! It is a dangerous thing to do when you are our age.
JN:
The live show is something everyone should see. People talked about the Park West show for a long time after.
AM:
Oh, great. It was an amazing show. I had a few issues with my monitor pack but it didn't prevent me from enjoying the show. The crowd was wonderful. We are hoping this new show will be another good one. I believe from some locals that the Vic Theatre is a nice place to play.
JN:
It's bigger. The first time I saw OMD was opening for Depeche Mode in Tennessee in the 1987.
AM:
That was the last tour that we did as a band. We had done so well in the rest of the world in the early '80s but not really broken in America. Then it flipped over. We started doing well in America and were supporting people on tour. Ultimately I think we paid the price because we became very tired out of touring. We were working to a schedule that the business was determining rather than the creative side of things.
JN:
You have a new live video for "New Babies: New Toys."
AM:
When we spoke to the American record company they wanted something to use as a promotional device for our tour. A lot of people said it should be a single anyway. We had been filmed that night in New York for the video. I must admit I don't enjoy watching it although it captured a great evening and vibe. But some of the camera angles when you are 50 years old are not flattering.
JN:
How does the new album in the United States compare to Europe?
AM:
It has done okay. Globally it has sold considerably more than we had anticipated. It has been really well received. That is the important thing. Paul and I said the nice thing about making the album and releasing it last year is in many respects if felt like going back to the early days. It was entirely done on our terms. We did it for ourselves and we had no label. We made the record and went to see who wanted it. I think that is reflected in the record itself. We have learned our lessons for doing things for business purposes. We just made a record we wanted to make. That can be somewhat self indulgent if you are not careful. We were confident that we had good ideas and strong songs. We consciously went back to the voice that we had invented for ourselves in the very early '80s. We went back to the synthesizers and the electronics to use that as a foil for the emotional vocals and melodies.
JN:
It fits very well with the old hits.
AM:
Well, thank you. I think the tour was testament to that. The five or so songs from the new album slotted in with the old material seamlessly.
JN:
Is the "Sister Marie Says" about someone?
AM:
Yes it is. In the mid '90s… how can I put this politely? I can't really. There was a loony Polish woman who took it upon herself to call herself a nun and basically was predicting the end of the world if we didn't all repent and turn our faces to Jesus. I have always been fascinated as an outsider as an atheist with a certainty of religious belief. It is an interest of mine. The song took about 30 years to finally get right but yes it is about someone named Sister Marie Gabriel.
JN:
My last name is Nunn and I'm Polish so that is pretty funny!
AM:
(laughs) Okay, oops!
JN:
My website is NunnontheRun.com. People can keep up with you on your website correct?
AM:
Yes and we have a fairly active Facebook presence. It is quite nice these days where you can have an interaction with people. My way of keeping up to speed with people is there is a page on our website where there is a thread where people can go on there and ask questions to me. I will reply directly to them. Many bands will have a website where fans will have a forum to talk to each other but there is seldom interaction with the band. For us it is a nice opportunity to correspond with people. People have questions and it is nice to get the band to answer them.
JN:
You mentioned that your hit "If You Leave" messed things up but you have to keep playing the tune.
AM:
To a lot of Americans it is the big iconic hit but for people that are not even fans of the band know that song. It is almost the benchmark song for '80s American music. It was in the prom scene in Pretty in Pink and everyone seems to recall it as their prom song. I did quite delight in announcing it as "we used to be a cool synthesizer band and then we blew it!" Many of the fans who liked the simplicity of the early synthetic songs felt we had moved on but change is not always better. "If You Leave" is a great song but not necessarily within the genre of OMD. We have just released a live record of when we played in Berlin last year. A couple of American people mentioned that "If You Leave" is not on there. It is a standout hit in the states but didn't chart in England and barely in Germany. When we play in Europe we don't always play it. Most Americans will be amazed at that fact.
JN:
I personally like an obscure song "Flame of Hope."
AM:
Thank you. One of the things we will be doing on this next American tour is places like Chicago where we played six months ago it will be a show for the diehards. We played it safe in the spring. It was all the hits with a few new tracks. In Chicago this time you will get hits and "If You Leave" but we are going to change about five of the songs. We are going to put in a few of the weird ones. "Flame of Hope" is not of them, I'm afraid, but for people that know the deeper catalogue this will be the show for them.
JN:
I am excited to see the show.
AM:
Great, this whole last year has been a voyage of discovery. We stopped because we felt like we were banging our heads against a brick wall at the time. Now it seems people are interested in us again. They seem to have very fond memories of what we did in the past. The turnout and response we saw at Park West was really amazing. It was a band and an audience that was really happy to see each other again after all of this time. I hope we can capture that again this fall. I think we will. We adore playing live. It is the most instant and rewarding feedback you can get. We are all in the same room together. There is an energy and electricity that is there. I still bounce like an embarrassing idiot. We give it a hundred percent onstage. Let's be honest some bands of our generation go out there and go through the emotions. I think there is not point in doing that. You have to be there because you want to be there. Believe me we still want to be onstage.
OMD arrives September 24 at the Vic Theatre, 3145 North Sheffield. Visit www.omd.uk.com for details about the tour and purchasing tickets
.
Interviewed by Jerry Nunn. Jerry Nunn is a contributing writer to the GoPride Network. His work is also featured in Windy City Times, Nightspots Magazine and syndicated nationally. Follow @jerrynunn