A GoPride Interview
Netta Barzilai
Netta is tough as "Nails"
I will forever stand beside and with the LGBTQ+ community to celebrate with them!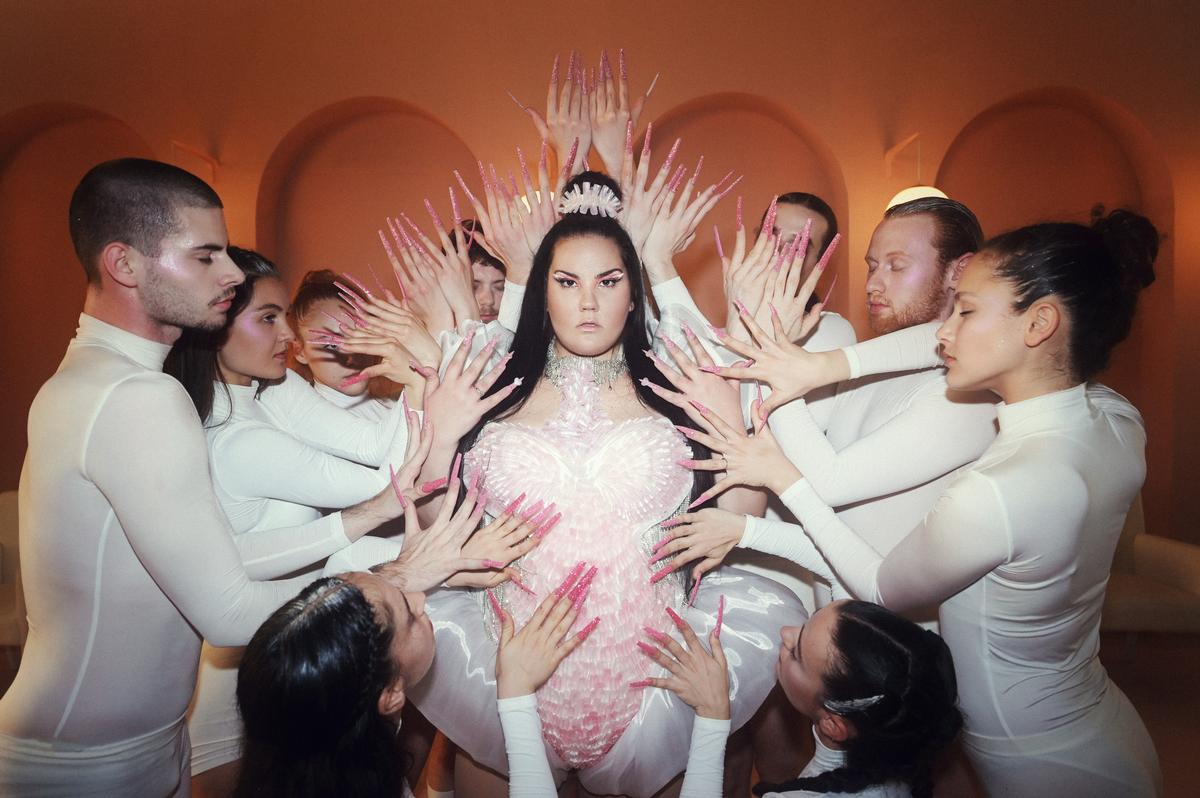 photo credit // shorefire media
Netta brings her music act to Chicago for the first time at Pride Fest
Netta Barzilai is on her way to perform for fans at Chicago Pride Fest on June 18. This talented won the Eurovision Song Contest in 2018 as the Israeli representative in the competition that year. Her song "Toy" became a quirky anthem for the LGBTQ+ community and her latest single "I Love My Nails" may just top it in popularity.
Her debut album drops this year after a string of Pride festivals. Barzilai is certainly one to watch and this Pride Fest appearance is a rare chance to see her perform in this type of setting.
This is her first time in Chicago and she talked about her history with the gay community on a recent phone call.
JN: (Jerry Nunn) Did you always want to be a singer?
NB: (Netta Barzilai) It is a bit cliche, but I was a natural singer and I feel like singing chose me. I grew up in Nigeria and was studying in an international school. There were kids from all over the world and every one was different. We studied other languages and cultures. It was the true definition of diversity.
When I came back to Israel it was a situation with 40 white kids in the classroom. I was someone who was very sensitive and that was a shock. I felt different. I looked and talked differently than others.
I felt like a weakling that wasn't worthy of love at the time and I wasn't a social leader. I needed a way to survive. I would come home from school sobbing every day.
My mother sent me to a choir and after a month I got a solo. When I opened my mouth I realized I had a significant talent. I felt extraordinary and all of the heads in the room were turning!
It helped me survive bullying and I used music as a way to express myself. It was a defense mechanism and I was able to become a singer where I didn't let other people define me.
I eventually took off a year from singing then returned when it was my passion instead of doing it just for people to like me.
JN: Do you think that is why you connect with the LGBTQ+ community since you are unique and different?
NB: I am a straight girl with a very gay story. I was always surrounded by people from the community. When people ask me how I feel about gay Pride I have to remember that I am not a gay man! While it is true I will never completely understand how it is to be discriminated against for loving someone, I can sympathize and show my support. I will forever stand beside and with the LGBTQ+ community and celebrate with them!
JN: I attended Tel Aviv's gay Pride in 2018 and it was one of the best parades ever.
NB: It is amazing isn't it?
JN: Yes, people just march in the streets together and there are no barricades like in Chicago.
NB: Israel is a religious country and it is a difficult climate. We value human life so much and we are here to live and love. People are religious, but also very open-minded. Tel Aviv is one of the most liberal cities I have ever been to. It is colorful and artsy. There is a vibe of feeling free there.
JN: I saw you perform at a circuit party that year and a bunch of us followed you offstage and got locked in a room by accident.
NB: You were at that Forever Pride party?
JN: Yes!
NB: Oh, that was right after winning Eurovision.
JN: Did the Eurovision experience feel like it happened fast?
NB: Yes, I was suddenly well known. It gave me wings so I could fly and it was a way to reach so many people's hearts. For that, I am forever in debt to Eurovision.
JN: Talk about your new song "I Love My Nails."
NB: I have come a long way in loving who I am. One time a guy rejected me and in that second my self-esteem was taken away. I walked hunched over and wanted to hide. I was very insecure.
I started to work on myself and began wearing long nails. I would put little messages on them for myself. It became such an empowering thing. Building my nails built myself back up again so I put that into a song.
JN: Where does your fashion style come from?
NB: It comes from my inner kid that I didn't let myself be in the past. When I was young I had difficult experiences so I tried to be somebody else and an adult. I left six-year-old happy Netta back in Nigeria. I sometimes try to bring her back and it shows with my clothing and the way I dress. The way I sing is very much like a little child and it is very intentional. It is all a technique to free myself. I just want to play dress-up.
JN: How was making the video for "Bassa Sababa?"
NB: When I was young they called me a rhinoceros because I would fight and be aggressive in Israel. After I won Eurovision and started revisiting this trauma, I read that the lavender rhino in the 1970s became a symbol for the gay community. The rhinoceros is a misunderstood creature. It can be aggressive but is also a vegetarian and maternal wanting to protect others. I really identified with this animal and wanted to reclaim it in a fierce, festive way.
I told the music video director that I wanted to be a pink rhino and run around. I saw myself as a pink rhino, just like some people call themselves a queen, I identify as a rhinoceros. I'm not a queen. I'm a pink rhino!
JN: Are you bringing backup dancers to Pride Fest?
NB: No, I am bringing musicians and my loop station machine. I could never compete with dance queens. I can dance and love to move, but something about choreography is so difficult for me to do. I feel a lot of the time it takes away from the actual music. My musicians and I will be making it an amazing party!
Look for Netta Saturday, June 18 at 2 p.m. at the Bud Light Seltzer North Stage on Halsted and Grace. For more information visit northhalsted.com.
Interviewed by Jerry Nunn. Jerry Nunn is a contributing writer to the GoPride Network. His work is also featured in Windy City Times, Nightspots Magazine and syndicated nationally. Follow @jerrynunn