A GoPride Interview
John Gardiner
John Gardiner shares the "Hot Stuff" from the Donna Summer musical
it puts you in that perfect mindset for how this odd little period of time in the mid '70's of like where there were just no rules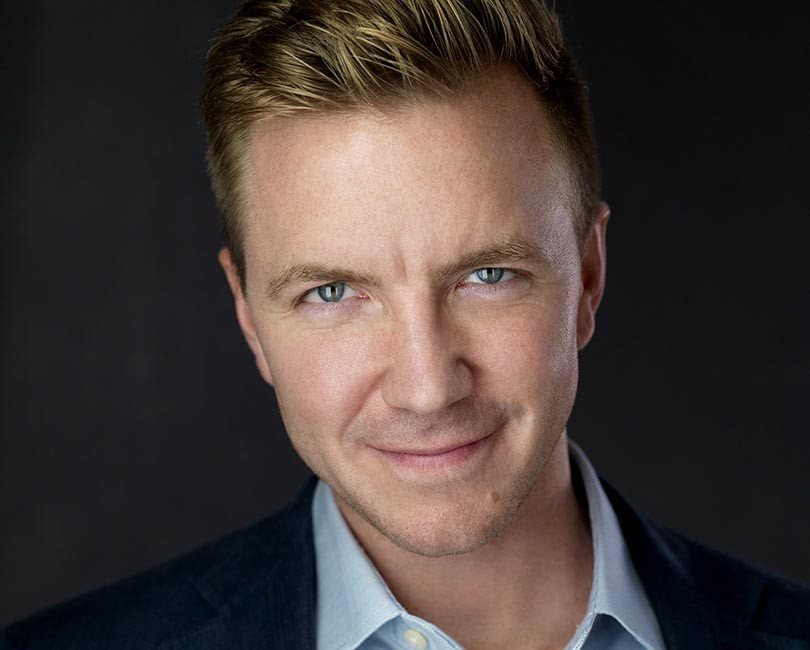 John Gardiner shares the "Hot Stuff" from the Donna Summer musical
Donna Summer was a girl from Boston with a voice from heaven, who shot through the stars from gospel choir to dance floor diva. But what the world didn't know was how Donna Summer risked it all to break through barriers, becoming the icon of an era and the inspiration for every music diva who followed. 
SUMMER: The Donna Summer Musical, which plays Broadway In Chicago's James M. Nederlander Theatre (24 W. Randolph) for a limited two-week engagement February 12-23, 2020, features a score that's a tribute to the voice of a generation, featuring more than 20 of Summer's classic hits including "Love to Love You Baby," "Bad Girls" and "Hot Stuff."
We spoke with John Gardiner who plays several roles in the production, including Neil Bogart, the founder of Casablanca Records, who is associated with the rise of disco and promoted artists like Donna Summer, KISS and the Village People.
Gardiner shares the stage with his wife Kyli Rae and currently have a great time touring SUMMER with their baby boy Finnegan. He's been in national productions of Jersey Boys (Tommy DeVito), A Bronx Tale (Rudy), The Lion King (Timon), Jersey Boys. Regionally he's been in Million Dollar Quartet (Tuacahn), The Tempest(Alabama Shakespeare Festival), Big River (St. Michael's Playhouse), and Sound of Music (Flatrock Playhouse).
MI: (Matt Inawat) Hi, John! Ae you a Donna Summer fan?
JG: (John Gardiner) I am! (Laughs) It is one of those ones where, to be perfectly honest, I never realized just how many hits she had until I got involved in the show. You know people said 'oh Donna Summer - "Hot Stuff," "Last Dance," sure' and the more we worked on the show and really delved into her work I was like "holy moly!", there were songs I never realized.
MI: You're in "Summer" as Neil Bogart - label founder, producer and, for the good and bad, Donna's promoter. So what drew you to the production originally?
JG: For me it was when I had worked with the director Des McAnuff On "Jersey Boys," as well as Sergio Trujillo. 
I knew all these folks from "Jersey Boys"-land because I did that show on and off for the better part of a decade. I did it in Chicago, actually! And so the chance to work with them again on anything. The crossovers Des McAnuff who is the director, Sergio Trujillo, who is the choreographer – he just won the Tony for "Ain't Too Proud" this year – and Ron Melrose who is the unsung hero of all of these Broadway shows. He did all of the musical arranging and music directs the shows. So yeah, any chance I get to work with them, I'll jump at the chance!
But the material itself, honestly I grew up playing in rock bands and wanting to be involved in that kind of area of the music industry. And so to play Bogart, who founded Casablanca Records, who basically pioneered the idea of being a promoter as addition to being the founder of a record label. Nobody really did that before. He helped shape what we know as Donna Summer's 'Queen of Disco' niche. She had the music chops and the songwriting, but he was the one who was like "Oh, let me jump in here!" and he did the same thing for KISS and The Village People and you name it. He was a legend!
MI: So what do you love most about playing Bogart? Like you said, here is this guy who basically helped shape the Disco era.
JG: I think anytime you get to play a character.  I mean let's face it, I'm the bad guy. They butted heads because he tried to screw her out of millions of dollars, which is kind of like a tale as old as time in the music industry. So, in addition to helping shape her career, he was kind of embezzeling money against her.
And so anytime you get to play a villain, I find that fascinating because you have to create yourself as the hero of your own story. But the other thing that drew me to him is characters that have that much perseverance and moxy, you know what I mean, that will just run through walls to get they want, and I think something that Neil and Donna were very in line, were simpatico when it came to that. Where nothing was gonna stop them.
MI: So what kind of research and preparation did you have to do for the role?
JG: Well there is a really great book called "Going Platinum" which is actually about Neil Bogart and Casablanca Records that just coincidentally enough they are making into a movie. I think it is going to be out in about a year. Originally Justin Timberlake was going to play Neil Bogart.
MI: Now it is going to be Jeremy Jordan, right? Another Broadway icon!
JG: Exactly. I was about to say, I always love that. I love when they give people in theatre a chance to do movies. Because look, the chops are there. You need to look into the theatre industry. 
So yeah, that book as well as there is another one. It doesn't dive as deep. It has a million funny stories. It's called "Whatever It Takes". It is a biography written about him. And also, like Donna Summer, she recorded/wrote an autobiography. I also feel like it is very important to hear what other people say about you instead of like what you and your family say about yourself. So I found it very interesting to listen to Donna do interviews talking about Neil, cause that gives you the more well-rounded, hear what he said about himself, but also what other people said about him. And because this took place in the '70's watching TV interviews with him. You know to watch how his not only mannerisms, but kind of what he found funny. And it's all of that stuff you do the deep dive into a character.
MI: So do you have a favorite scene or message from the musical?
JG: I would say those are two different things in terms of the message or scene. 
I love the scene where it is brilliantly directed and choreographed, where you have a whole female ensemble which is that is one of the things I feel is the most groundbreaking with this musical which is, never do you have a cast that is like 85% women. One thing that they do in sort of a nod to female empowerment and Donna breaking glass ceilings and all that, is that they have the majority of male roles are played by women. 
I'm one of only 5 men in the entire cast and two of those are swings. So many of the main male characters in the show, for instance my wife, who is in the show with me, in addition to singing and dancing her face off, she plays the music icon Giorgio Moroder who invented the sound of disco in the '70's, he is having a huge resurgence now with the DJ culture. He works with like Daft Punk and all of these different DJ's because he invented the sound of disco over in Germany. So anyway, my wife plays Giorgio and I play Neil so it is very funny to be like the two guys who influenced the disco era the most and it is very funny my wife playing the other guy.
MI: Well that's is pretty awesome! Now that you brought that up, what's it like getting to work with your wife every single day?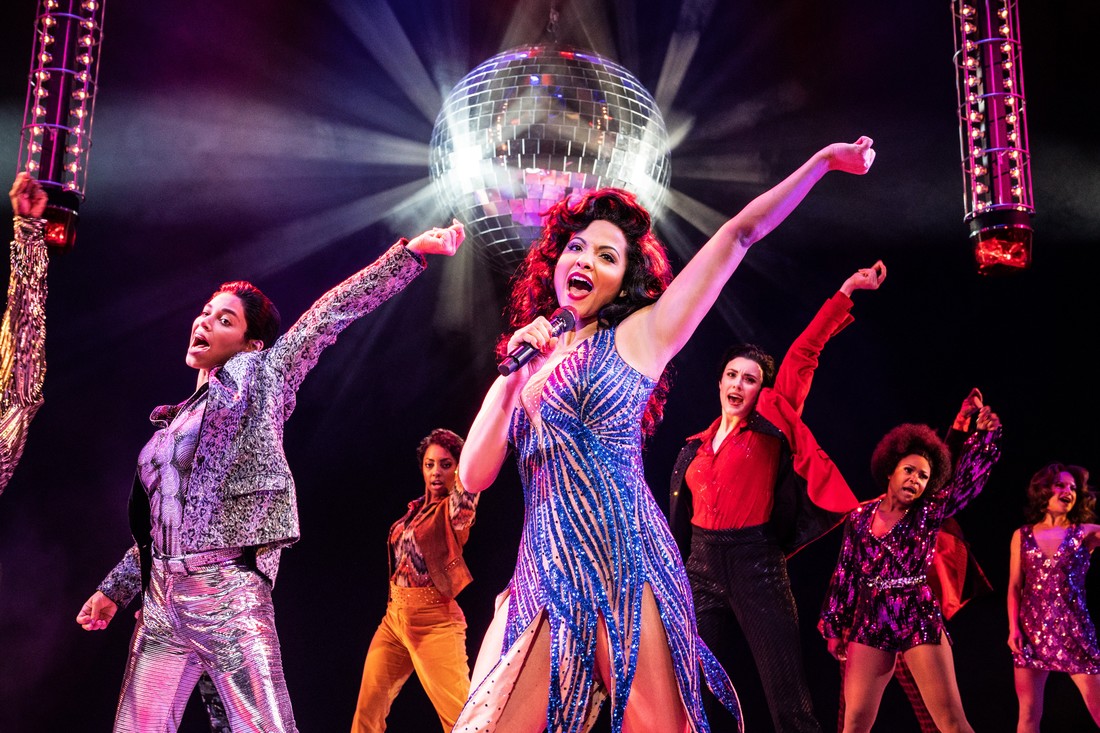 Summer the Musical: company, by Matthew Murphy
JG: Oh it is awesome. This is our third show together. We came through Chicago with "Jersey Boys" together and that is back when we were just friends and we just did, right before this, we did the tour "A Bronx Tale" together and now we are doing the tour of "Summer." So not only are we working together, we are on the road with our two year old son and a traveling nanny - so we have a circus. We have disco circus out on the road!
MI: So were those the two most recent tours of "Jersey Boys" and "A Bronx Tale?"
JG: "A Bronx Tale" we did just last year. There was only a one week gap between us doing "A Bronx Tale" and starting rehearsals for "Summer," so we were very blessed in that sense. But we just came through Chicago last year with "A Bronx Tale." Nothing like playing an Italian wise guy in "A Bronx Tale"
and then come back this time to play like, I don't know how you describe Neil - I don't want to disparage him because I love the guy. A complicated music executive. I'll put it that way. So when we came here with "Jersey Boys", that was on the first national tour. I think that the second national tour, the smaller tours have come through, but we were with the big huge production of it when it was originally coming through Chicago.
MI: Since you've been to Chicago on previous tours, what's going to be on your top three list of things to do while you are here this time?
JG: We are big foodies. Especially now that we have a baby, it's not like we can go party it up, so our big thing is to go to restaurants as entertainment. And the last time we came through we splurged big time and went Alinea, which was the greatest culinary experience I have ever had in my life and we also we like everything in between. I like The Purple Pig. We love Girl and the Goat. I actually keep a running list of favorite restaurants from around the country. So it is like this huge list I keep on my phone and there are so many entries for Chicago I could talk your ear off.
MI: Any new places you're planning to try out?
JG: Well the one thing I do when I land is I immediately go to my dressers, you know, the locals. I don't presume to know. So if I do any press that is one of the things I always ask them. I am like, "OK, what's new, what's hot, what should I check out?" 
I have to say, one thing we always do, maybe it is a little odd for a straight, married couple to do, but we always go get the purple slushies at Sidetrack. There is Musical Mondays... that is legendary, I don't care who you are in the theatre world. Like straight, gay, you name it you go to Sidetrack. When we were here with "Jersey Boys" we lived a block from there. So that was like theatre's "Cheers" going to that place. Everybody knows your name!
MI: Yep, you'll find me there on Monday nights.
JG: We will have to raise a toast while we are there!
MI: Definitely! So, last question, what is a dream role that you would love to play in a future show or musical?
JG: The current show, you know because it changes with the wind, you know most artists are like, "oh I'd love to play that". I have friends that are in "Come From Away" on Broadway and I would love to do that show. There are a couple of different roles in there, but yeah that is a show just because I love shows that are sort of minimal sets, where the actors get to do the storytelling and where you get to play multiple characters.
And I have to say, that it is not that far off from what I am doing in "Summer" which is, in addition to playing Neil, I have a little cameo as the wine sommelier just kind like get one big laugh and leave the stage, and, on the flip side, I also play Gunther, which was Donna's abusive boyfriend from Germany. So there is this huge fight scene and this and so the same thing that draws me to "Come From Away", which is multiple characters and really stretching myself as an actor, I also get to do that in "Summer" because I am playing two completely different characters with one being Gunther and one being Neil. So, I was gonna say, similar to what my wife does where one second she is like this hot dancer in a sequin jumpsuit and the next second she is like a man with this wig and doing this German accent. 
The one thing I would add as a final comment about this is that I feel like everybody knows Donna's music. You'll hear songs and she has this catalog and you're like "oh yeah," and it is all part of like Studio 54. That is one of the other things I did, there is a great documentary on Studio 54 and it puts you in that perfect mindset for how this odd little period of time in the mid '70's of like where just there were no rules. 
Close the door and I feel like it was way ahead of its time in terms of the openness, like fluid sexuality, and women could be men, men could be women. There were no rules at Studio 54. And I really feel like we try to show that onstage with the sort of androgyny that we play with; but also I think people have that in their mind like" oh we are gonna hear some disco songs,' and let me tell you I have friends around the country and they will get groups of friends and they will dress up with wigs and disco outfits and they will come and dance and sing along and all of that and then I talk to them afterwards and the thing that they always go "holy crap, the thing I didn't realize was how dark periods of her life were." The people that died around her. The abuse and all of this are like laying under this glitzy surface, you know what I mean?
---
Tickets for SUMMER range in price from $27-$100 with a select number of premium tickets available. Individual tickets are available by calling the Broadway In Chicago Ticketline at (800) 775-2000 or by visiting BroadwayInChicago.com. Tickets are available now for groups of 10 or more by calling Broadway In Chicago Group Sales at (312) 977-1710.
SUMMER features a book by Tony Award® nominee Colman Domingo, Robert Cary and Tony Award® winner Des McAnuff, with songs by Donna Summer, Giorgio Moroder, Paul Jabara and others and is directed by Des McAnuff and choreographed by Tony Award® winner Sergio Trujillo, with music supervised by Ron Melrose and scenic design by Tony Award® nominee Robert Brill, costumes by Tony Award® winner Paul Tazewell, lighting by Tony Award® winner Howell Binkley, sound by Tony Award® nominee Gareth Owen and projections by Sean Nieuwenhuis. This tour is produced by the Dodgers and Tommy Mottola.
Interviewed by Matt Inawat. Ron Matthew Inawat is president of the GoPride Network and contributes to ChicagoPride.com, PrideLA.com and other sites within the GoPride Network. Follow @cpmatthew