A GoPride Interview
MS MR
Lizzy and Max Are MS MR
It feels good in your mouth and is gender bending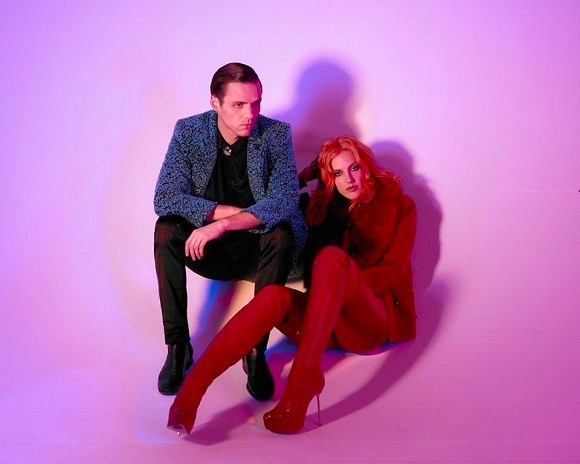 MS MR opens up about new music and fashion
For those that don't know MS MR is a music duo made up of Lizzy Plapinger and Max Hershenow. Their music can be categorized as between indie pop to alternative rock. Their unique sound has had them touring all over the world and being compared to groups like Florence and the Machine. Their second album How Does It Feel has them releasing their latest video for "Criminals."
After stopping in concert again in Chicago Nunn caught up to them backstage.
JN: (Jerry Nunn) Welcome back to Chicago and the Park West. Are you ready to blow it up in concert?
LP: (Lizzy Plapinger) I sure hope so!
JN: Talk about how the band came together and the name of the band.
MH: (Max Hershenow) We went to Vassar together and the studied there. The name came from us being a miss and a mister. It feels good in your mouth and is gender bending.
LP: It was anonymous also with the formal titles.
JN: People thought I was interviewing Mr. Mister. Who have not had a hit in a while.
LP: A few people do that and also say Mr. Mrs. which is confusing.
MH: It seems sexist to assume that the mister will come first.
LP: The miss comes first and I like how it sounds.
JN: How was your experience at Lollapalooza this past summer?
MH: Amazing.
LP: It was mind blowing and awesome. It was the hottest show we have played in our lives.
JN: Hot as far as heat?
LP: Yes, it was a hot, spicy, and sexy show anyways but it was so hot even for the first song the bottom of shoes had melted off. Through the whole set they were flapping about. I knew I shouldn't take them off because our bass player at Coachella played with no shoes on and he was miserable. I did not want to do that at Lollapalooza so I persevered. Toast to Chicago!
JN: Very rock n' roll with shoe melting and face melting. Is your single "Think of You" and revenge song?
LP: Not so much revenge as healing. It is saying there was enough closure on the relationship to have perspective on it. Maybe in that moment I was the weakest version of myself but I am not weak anymore. The other person was the jackass in the whole thing and he is still a jackass. I don't know. We don't talk anymore. It is great that every time I have a show I feel that again.
JN: In the video for "Hurricane" you wore a jumpsuit.
LP: I love jumpsuits. I hope when you see a jumpsuit that you immediately think MS MR.
MH: I have just recently started wearing long johns. I am all about making my own fashion statements.
LP: You should wear that tonight.
MH: Maybe I should. We will see.
JN: Where does this fashion sense come from?
LP: The chicken or the egg?!?
MH: We tend to think of fashion more in terms of clothes, fun, and costume as opposed to just industry or trends.
LP: No pretension.
MH: Or having to spend a lot of money on it. It is about doing something entirely unique to us. Ideally it is super cheap and handmade. We are having fun with it more and more. As we have become more confident in our roles as performers the fashion has caught up in the same way. It gets more and more extravagant.
JN: What have you learned from one album to the next?
LP: It is a pretty big contrast between the two records. With the first album it was the first songs we had written in our life. To tour that record for three years then to make the second record we were much better musicians. We were better vocalists. We had the skills to intentionally articulate our sound and not just throw things together. We can experiment and see how the song came to be. We know how to get across emotionally now what we want to say and get our ideas out there. There is a great power in that.
MH: We didn't have that vocabulary on the first record. We spent three years together and talking about what made certain songs and what resonates certain ways, we can now apply that in a more focused way.
JN: With videos like "Painted" how much is it your idea?
MH: A lot.
LP: We have a lot of pride over ownership in every corner of the project. We live in a time when audiences want more and more sincerity and authenticity from an artist. They want to know that it is coming directly from that artist.
I think we have come out of the darker ages of pop when it was really manufactured and constructed. Now it is very self made and authenticated in a way. That is something that we are really proud about is that we are pop artists. We are able to create a visual landscape that people experience.
JN: Are you planning on making more remixes for other artists?
MH: Yes, we love doing them when they reveal themselves. It is funny, sometimes there are four in a month then none for nine months. It just depends on which of our friends are releasing songs and asks us to remix it. It is whatever comes up.
LP: We have some really good remixes in our back pocket and coming the future so stay tuned!
JN: What are your future plans?
MH: We are touring for the rest of the year. We finish up in the US and head to Europe for a few weeks. We have a New Years show in and we will see what happens next year.
LP: We have a video for "Criminals" in the works that we are excited about. This record is written for stage and we toured so extensively on Secondhand Rapture that we are looking to cover all of the corners of the world that we haven't had a chance to go to yet.
MH: Especially when we have worked so hard on the record we feel that we owe it to the music to milk it for all it's worth for better or worse. We want as many people to hear it as possible.
Interviewed by Jerry Nunn. Jerry Nunn is a contributing writer to the GoPride Network. His work is also featured in Windy City Times, Nightspots Magazine and syndicated nationally. Follow @jerrynunn