A GoPride Interview
Jasmine V
Jasmine V Talks Backstage
The gay bars have always been so fierce and welcoming.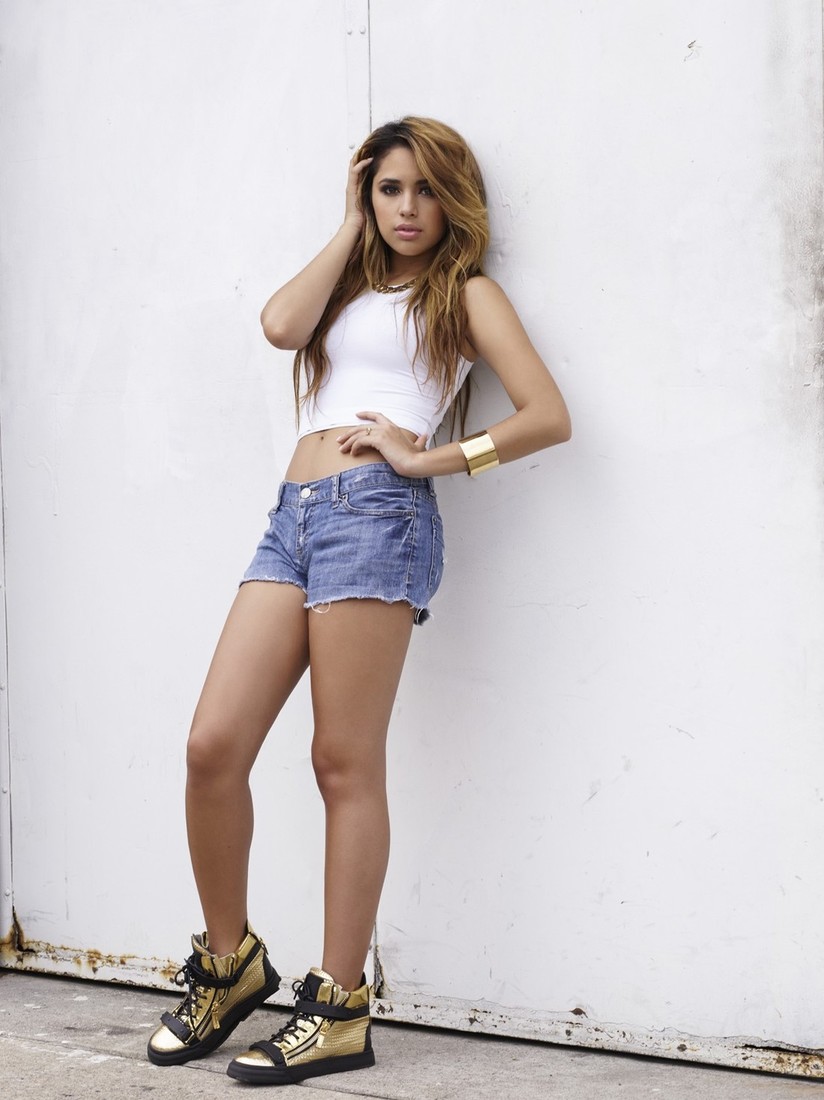 Opener for Fifth Harmony sings true
Jasmine Villegas has cultivated a huge teen fan base over the years. She was on TV at age 9 in a commercial for The Land Before Time then sang the national anthem for the Los Angeles Clippers.
Villegas appeared in Justin Bieber's video for "Baby" then went on tour with him.
In 2013 she was signed to Interscope and released "That's Me Right There" with Kendrick Lamar. Her EP released last year has brought her on tour with girl group Fifth Harmony.
JN: (Jerry Nunn) Hi, Jasmine. Tell me your background.
JV: (Jasmine V) I am Filipino and Mexican. I am originally from the Bay Area. I started singing when I was 11 years old. I am 21 now so it has been a good ten years since I started.
JN: You were signed to a record deal when you were 16?
JV: The first record deal was Damon Dash and I was 12. My second record deal was with Sony Epic and Interscope at 19.
JN: How did someone discover you at 11 years old?
JV: I was starting off with acting and modeling. I was walking down the street from my agency when I was younger. I ended up meeting this guy. He heard me singing, he put some videos up on YouTube then I met this lady named Gabby and she has been my manager for ten years. She is with Damon Dash, who signed me when I was 12.
JN: Did you feel that you grew up fast?
JV: Oh yeah, definitely because I am from the Bay Area so I had to grow up a lot faster. I didn't have any friends out here and my friends were older. I had to grow up a little faster than usual but it worked out in my benefit.
JN: You were in many television shows.
JV: Yes, many from the Disney Channel. I did a spin off of The Suite Life of Zach & Cody. It was a show called Housebroken. It didn't get picked up because Wizards of Waverly Place did instead. I was on That's So Raven though.
JN: Do you want to do more acting?
JV: Of course. I love singing. Singing took off faster than acting but acting is the thing I would love to pursue as well.
JN: Have you eve seen a drag queen do you song "Werk?"
JV: I haven't.
JN: It just seemed like a song they would be proud to do.
JV: Now that you have sparked some ideas in my head I might want to go check that out.
JN: I could see you tapping into the gay market.
JV: Definitely.
JN: The video for "All These Boys" has gay hit written on it.
JV: Oh, that song is so old but I am glad you noticed.
JN: It is still out there. Your song "Walkaway" has a really good range to it.
JV: That was my first dance record that I have ever done. I like the message behind it. The timing is perfect for my fans.
JN: Is it hard to perform that live?
JV: No, I am doing it live tonight. It is so much fun. Like you said it is a big range but I practice it well enough. When I perform it in front of a crowd it has a great energy so that helps me.
JN: Isn't the national anthem challenging also? You used to perform that a lot I read.
JV: You know what? It is scary but I grew up on it so after a while it is something that I did all the time. Now to this day because I do it less now than I did back then I don't get as many goose bumps and butterflies but I love doing it.
JN: You wrote music with Nick Jonas?
JV: Yes, that was a couple of years ago. We were in the studio and he wrote a song. He is super talented. I am glad to see all of his success now. He's cute and talented so it works out!
JN: How was it working with Kendrick Lamar?
JV: It was amazing. I was in the studio with him a couple of times before we did "That's Me Right There" and I got to meet him and chill with him. He's very down to earth. When he was able to hop on the record for "That's Me Right There" I was more than excited. It was a dream come true honestly. I was fan of his before I got to Interscope.
JN: How is touring with Fifth Harmony compared to touring with Justin Beiber?
JV: It is different because they are different artists but everyone has been so sweet and so nice so that part is the same. I have never met so many people that I can actually be happy with and share the tour with. Opening up for them is a great opportunity and I am forever grateful. They are such sweet girls, talented, and beautiful.
JN: They are huggers.
JV: Exactly, they love to hug! The whole crew is super nice. That is what you look for in a tour. You just want people to be nice to everybody.
JN: You just released the single "One Night."
JV: It is with Problem and Jeremih. It's a dope song. I don't normally put out dance records. I put out mid tempo or slow songs usually. To collaborate with these artists is amazing. I am excited and can't wait to see where this song takes me.
JN: You used lyrics from singer Sade?
JV: I did for the song. I love her. She's beautiful. It wasn't my idea at first because Jeremih wrote the record. We were vibing out in the studio when he played that melody it reminded me of Sade. I started hearing the song all the time after that with those lyrics. I was happy that we got to incorporate that in the song.
JN: Is there anyone that you would like to work with but haven't yet?
JV: Alicia Keys, Chris Brown, Rihanna, and G-Easy would be great.
JN: Now that you are 21 you can hit the bars and hear a dance song of yours.
JV: Yes! We actually went out for St. Patrick's Day. We went to get stuffed pizza here in Chicago. It inside out pizza with the sauce on top.
JN: I saw that on your Twitter.
JV: Yes, it was from Giordano's and perfect.
JN: There are gay bars around the corner from here.
JV: I love the gay bars. They are always so fierce and so welcoming. I have to check those out here in Chicago for sure.
JN: What are you doing after this tour?
JV: I am actually going to go home and record some more for my album. The album should be out in the fall. The grind never stops. We are going to keep working. I might go to Vegas for a weekend off.
JN: Now that you are 21 you can gamble and drink.
JV: I don't know if I would have much luck with gambling.
JN: There's always the Britney Spears show.
JV: That would be perfect!
Keep up with Jasmine V at www.jasminevmusic.com.
Interviewed by Jerry Nunn. Jerry Nunn is a contributing writer to the GoPride Network. His work is also featured in Windy City Times, Nightspots Magazine and syndicated nationally. Follow @jerrynunn