A GoPride Interview
Naomi Rodgers and Zurin Villanueva
Naomi and Zurin inspire audiences as Tina Turner; in the musical about the legendary diva
I hope they leave floating on a high note; I just really want them to ride that back into their lives, into their jobs, into whatever it is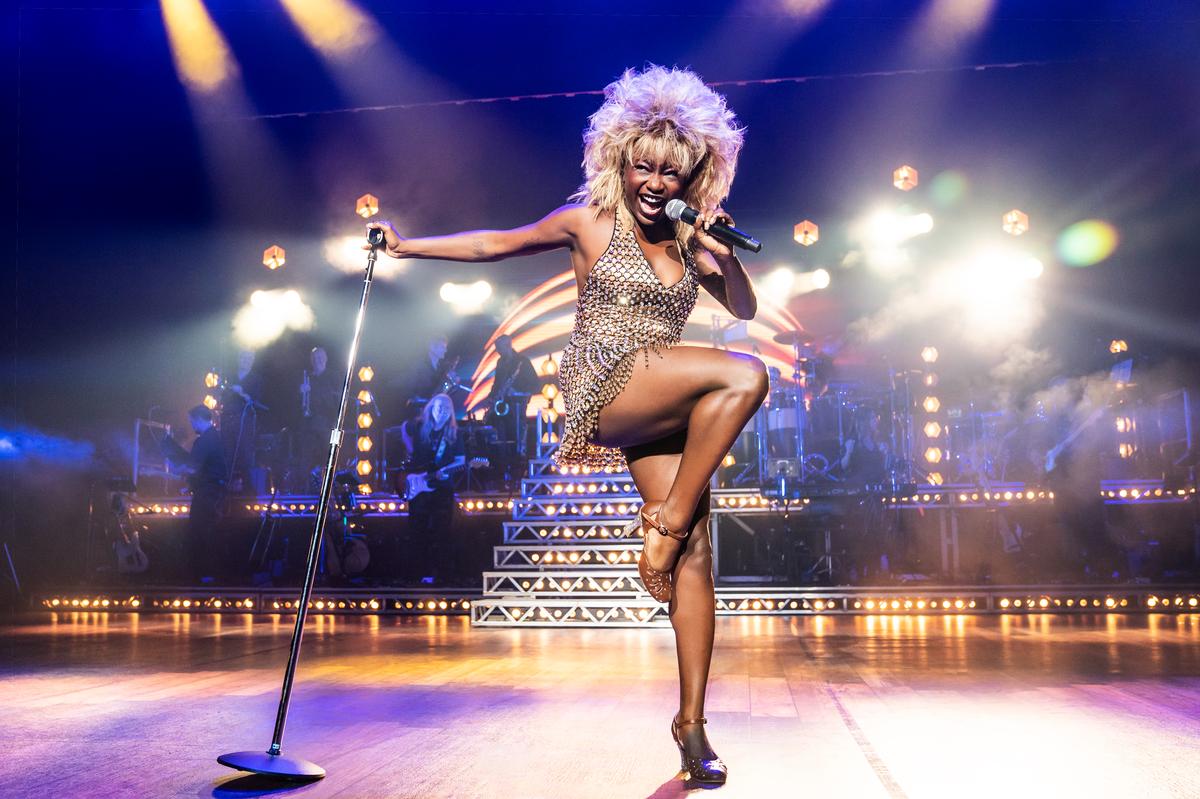 naomi rodgers as tina turner
photo credit // matthew murphy for murphymade
"It has been years since I toured the US," said Tina Turner, "and I am very excited that my own musical can now bring my music and story to my fans in their home cities across America. It's a homecoming and that is very special to me," as the legend talked about the touring production for TINA - The Tina Turner Musical. It's an uplifting comeback story and the inspiring journey of a woman who broke barriers and became the Queen of Rock n' Roll.
This tour clearly has special resonance for Tina herself, and now more than ever "we can't wait to uplift audiences across America with her joyful and triumphant story," the producers, Tali Pelman from Stage Entertainment and Jimmy Nederlander said. "We can't wait to introduce America to the two megawatt superstars—Naomi Rodgers and Zurin Villanueva — who will share the role of Tina and the incredibly talented company who are hitting the road on tour!"
The cast is led by Naomi Rodgers (Frozen) and Zurin Villanueva (The Lion King, Mean Girls, Shuffle Along, The Book of Mormon) who will evenly share the role of Tina Turner, each playing four (of eight) performances a week. 
ChicagoPride.com talked to the two leads, currently sharing the role of the iconic diva and celebrated artist.
MI: (Matt Inawat) Congratulations you both on this amazing tour. Everyone's talking about this show right now, and your performances as Tina Turner have been just absolutely amazing! How did you prepare for this role of a lifetime?
ZV: (Zurin Villanueva) We started by reading "I Tina," her book; and I did a lot of squats and planks! But the only thing to do is to do it. You know you've gotta get on your feet, and you've gotta run it. Run each number over and over again. And that's how you get ready before you notice an entire show.
NR: (Naomi Rodgers) I'm just a ball of energy, period. So like this is just up my alley, so preparing for this wasn't physically demanding. The story is what it is; so you know you have to prepare yourself before you even say "Yes, I will take the job." But definitely preparing for the role was a lot of fun.
ZV: I was, during quarantine, doing squats, building muscles, and my legs and the booty, and everything. I was trying to gain weight down there, and then I got the role!
MI: Naomi, how did you connect with who Tina Turner was? What do you admire most about her?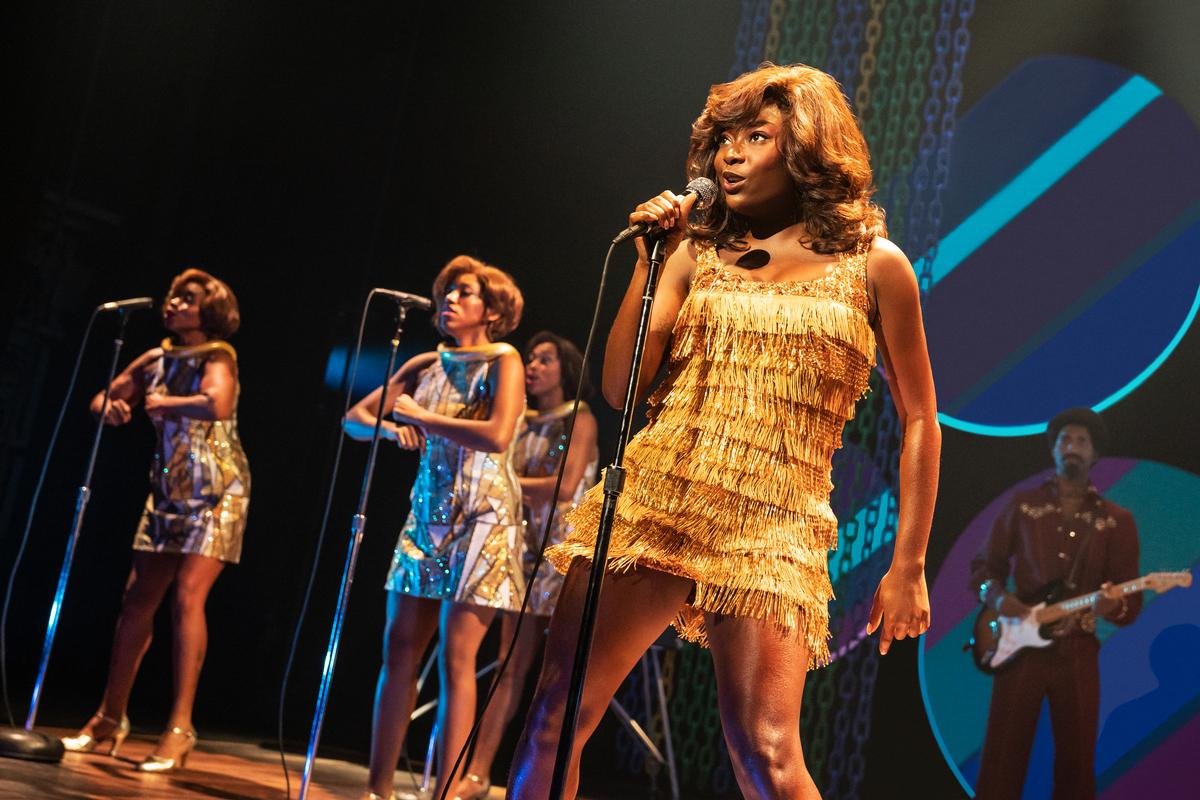 Naomi Rodgers performs Proud Mary; credit: Matthew Murphy and Evan Zim
NR: The more that I learn about her, the more that I admire that she did it. 
She has the same kind of background as me, a southern girl. Our fathers left us at a very young age, and our mothers took care of us. So I connected with her later on, just learning more about her life and realizing that she built herself from the ground up. Everything that she learned was from experience. It wasn't because it was taught to her. And I grew up a lot like that myself. 
My mom was there for me, but, there were a lot of things that I had to go through in life where I had to figure it out on my own. My mom wasn't the type to let me out the house, or anything like that. So when I went stepped into the real world it was just like a eye opener, and everything that I had to face. I had to challenge it and figure it out on my own. And that's one thing that I admire about her, and I aspire to continue to be a a person like that for other young women. That's why i'm glad her story is the way that it is told, because it just hit literally every challenge; every obstacle to where she is now.
MI: Zurin, can you share any insights that you learned about Tina Turner through your portrayal? Especially how it impacts your understanding of her legacy in history.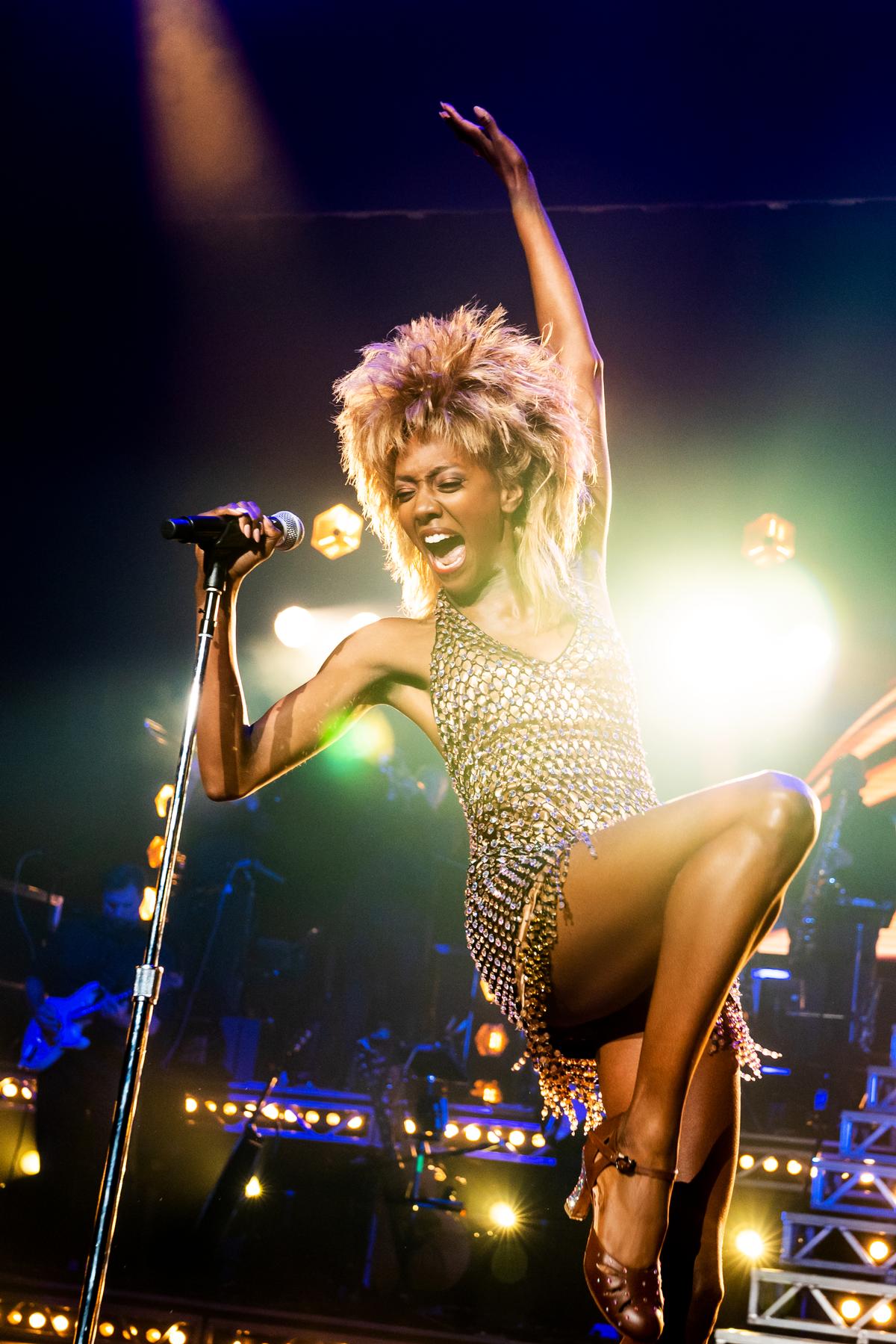 Zurin Villanueva as Tina Turner; credit: Matthew Murphy for MurphyMade
ZV: The biggest thing that really impacted me is her willingness to just jump in and find new things, and reinvent herself as she went from 17 to singing professionally. And having that taking her on the road, and just like just constantly jumping in and trying new things.
It moves you in places that you don't think you'll go very, very quickly. Knowing that no matter how far in your journey you've gone, and how how long you've been doing anything, you can always decide to change your direction  and do something else, and pivot and do different music styles at any point.
It is up to you, and nothing is over until you say so.
MI: How do each of you bring authenticity to the role of someone not only who is so famous, but so loved universally.
ZV: It really is such a an honor because it feels like she lets us borrow her fans. Her fans' love for Tina comes towards us when we when we perform, and  that's really when I when I feel the most like a true rock star. I'm thinking, "who gets to feel that?" That doesn't come around so often. So that is a true blessing.
NR: There's a lot of ways to really study. You know her aura and who she is; and when you know that she built a lot of her career around peace; and being at one with herself, and one with her mind and body; it can really allow you to step out of the role for a second and apply that to your own life, so that when you do step into the role. 
You know what what you're about to get into. So I think that's what helps me bring the authenticity -- is to really think about Tina; to practice those things that she practiced just a little bit.
MI: What was your favorite part about working with the rest of the cast and creative team to bring the story to life on stage?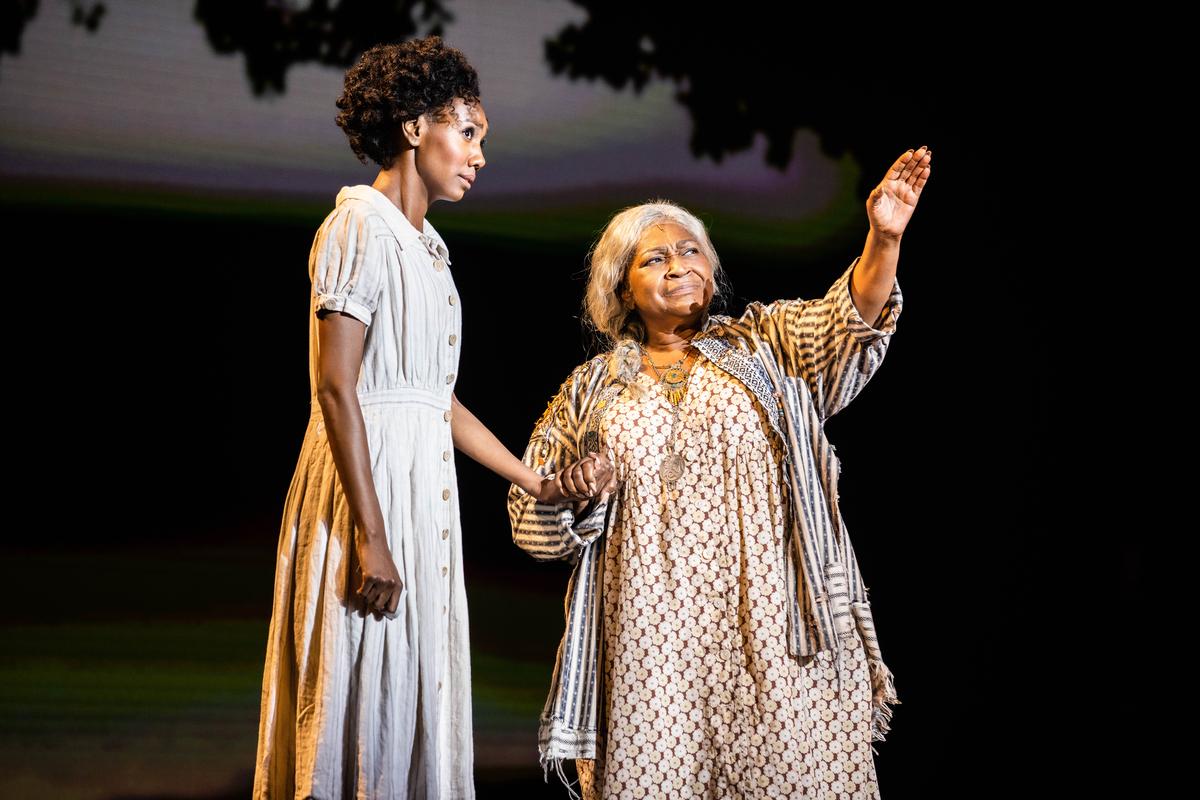 Zurin Villanueva and Ann Nesby as Tina and Gran Georgeanna; credit: Matthew Murphy and Evan Zim
ZV: Oh, I had so much fun with all of the relationships! The scene where we were going back and forth and feeding each other like that was the part that I loved the most in the rehearsal process.
NR: We had been connecting since rehearsals, so to be on stage with them all the time. It's a comfortability and a vulnerability that you really just don't feel with a lot of people. Even in your personal life this person knows you on stage and off stage.
Literally, I'm having such a good time, and we're continuing to bring new people into this cast, and I'm giving them hugs and love, and I just can't wait to connect more with everybody.
MI: Can you share any in anecdotes or interesting stories from the rehearsal process.
NR: Well, since there's 2 Tina's, I think the most interesting part that literally no one was ready for was the fact that you know this. They didn't know that they were going to be 2 different shows, right. So being in rehearsal one day literally where me and Zurin were in rehearsals, and they flipped a coin to see which one of us was gonna go. Who's gonna go first? 
She would do a whole show in New York, and then I didn't. Then I would do a full show, and it was just what it was. It was the most interesting thing. I know it was 2 different shows, and to see it on stage now, and to be able to watch her now, it's like, "okay, yeah!"
MI: You'll be taking the stage at the beautiful and iconic Nederlander Theater in Chicago. What are the top 3 things that you just have to do while you're in Chicago?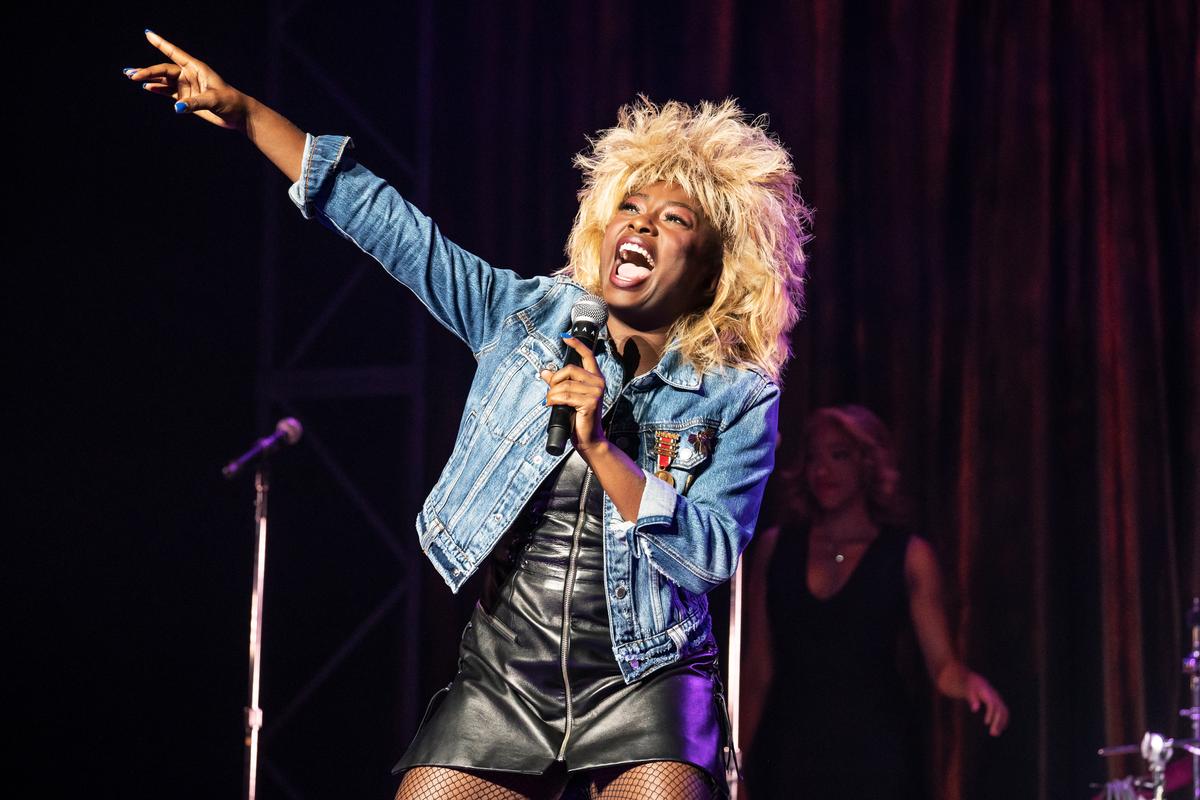 Naomi Rodgers performs Whats Love Got To Do With It as Tina; credit: Matthew Murphy for MurphyMade
ZV: I really need to get a plan. But maybe there's a matinee somewhere I can squeeze in.
NR: I'm ready to walk across that beautiful bridge and go and see the other side of Chicago. It was way too cold when I was last there.  We did a Christmas show the day before Christmas. So to go back, and just like actually sit down at the restaurants and actually enjoy myself with my big coat, that I will have this time because I am one of those girls. I'm a Southern girl. So when it's cold, I stay inside. I'm definitely going to enjoy just walking this time, and really seeing everything.
MI: What do you hope audiences take away from the musical, especially from your portrayal of Tina Turner.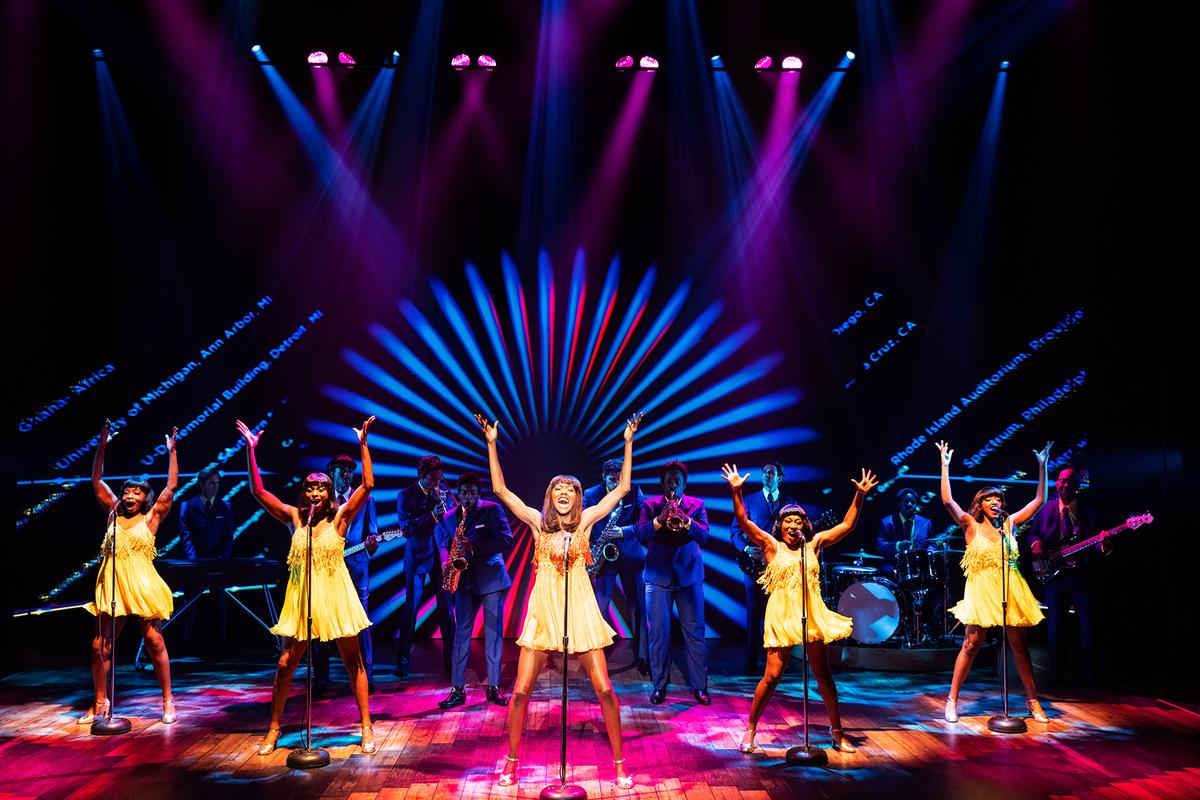 Zurin Villanueva performing Higher as Tina Turner; credit: Evan Zimmerman for MurphyMade
ZV: I hope they leave invigorated. I hope they leave floating on a high note. I just really want them to ride that back into their lives, into their jobs, into whatever it is they've been hesitating to do, or haven't done yet, and they just jump with both feet as a result and see. I hope so.
NR: Yeah, I would love for them to take away the strength and the power; and feeling like out of this world ecstatic and happy. But also I would love for people to take the time to go and look at and research more about Tina.
I tend to hear people after the show say things like, "she had a hard life," and that's not really what we want people to take away. We want people to go and research more about - after the ugly life - and how she rose definitely.
About the musical
One of the world's best-selling artists of all time, Tina Turner has won 12 Grammy Awards and her live shows have been seen by millions, with more concert tickets sold than any other solo performer in music history.
This new musical, based on the life of legendary artist Tina Turner and presented in association with Tina Turner herself, received its world premiere in April 2018 in London, where it opened to five-star reviews and has broken box office records at the Aldwych Theatre. In March 2019, the German production opened at Stage Operettenhaus in Hamburg, and the Dutch production opened at the Beatrix Theater, Utrecht, in February 2020. A third European production opened in the Fall of 2021 at the Teatro Coliseum in Madrid, Spain.
TINA – THE TINA TURNER MUSICAL originally opened on Broadway on November 7, 2019, and was nominated for 12 Tony Awards including Best Musical. The production reopened at Broadway's Lunt-Fontanne Theatre on October 8, 2021, following the 18-month industry-wide shutdown due to the COVID-19 pandemic. The Broadway production ended performances Sunday, August 14.
About Broadway in Chicago
Broadway In Chicago was created in July 2000 and over the past 22 years has grown to be one ofthe largest commercial touring homes in the country. A Nederlander Presentation, Broadway In Chicago lights up the Chicago Theater District, entertaining up to 1.7 million people annually in five theatres. Broadway In Chicago presents a full range of entertainment, including musicals and plays, on the stages of five of the finest theatres in Chicago's Loop, including the Cadillac Palace Theatre, CIBC Theatre, James M. Nederlander Theatre, and just off the Magnificent Mile, the Broadway Playhouse at Water Tower Place and presenting Broadway shows at the Auditorium Theatre.
Tickets
Individual tickets for TINA – THE TINA TURNER MUSICAL went on sale Friday, January 13, and range in price from $52.50 - $132.50, with a select number of premium tickets available. Individual tickets will be available by visiting www.BroadwayInChicago.com, or going to any Broadway In Chicago venue box office. Tickets are available now for groups of 10 or more by calling Broadway In Chicago Group  Sales at (312) 977-1710.
Interviewed by Matt Inawat. Ron Matthew Inawat is president of the GoPride Network and contributes to ChicagoPride.com, PrideLA.com and other sites within the GoPride Network. Follow @cpmatthew