A GoPride Interview
Tim Nelson
Australian band Cub Sport has "Always Got the Love"
It is more than I could have hoped for that one day we would be together unashamed and on stages around the world singing songs about our love.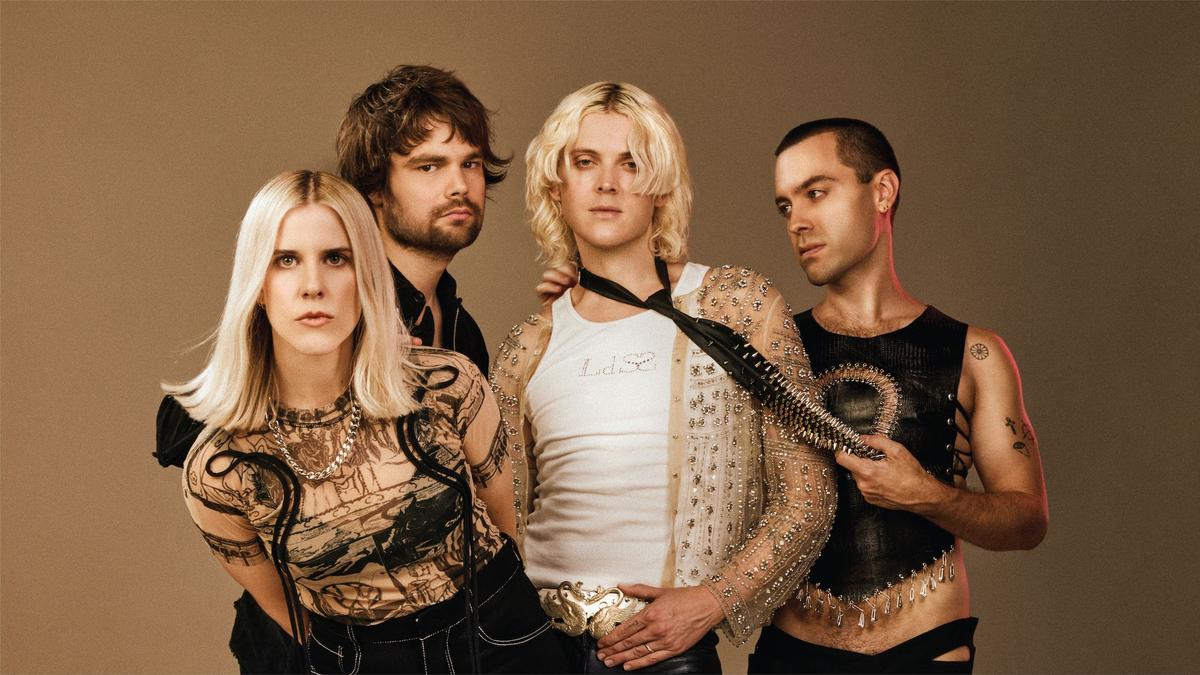 photo credit // diego camponar
Australian singer Tim talks about his band Cub Sport's inner queer love story
Cub Sport is an Australian band formed in Brisbane in 2010. Their message encompasses an inner queer love story told through music and live concerts. The four-piece is comprised of Tim Nelson, Sam Netterfield, Zoe Davis and Dan Puusaari.
After several previous singles went ARIA Platinum and Gold certified, they released their fifth studio album Jesus at the Gay Bar. This mix of independent music has the band playing uplifting tunes while traversing the world on tour.
This talented, queer, lead vocalist talked about his career in the front bar of Beat Kitchen in Chicago, before Cub Sport's soundcheck the day of the show.
JN: (Jerry Nunn) Welcome to Chicago, Tim. Have you been here before?
TN: (Tim Nelson) Three times before, but the last time was over four years ago.
JN: Do you have any downtime today to explore?
TN: I have a few hours, but it is a pretty speedy turnaround.
JN: Where are you off to after this?
TN: Toronto.
JN: Where are you based?
TN: Brisbane, Australia.
JN: Is Kylie Minogue the biggest thing there?
TN: Well, she should be bigger. The UK gets her, but "Padam Padam" is her first Top 40 hit in Australia in over a decade. She has now set a record for hit songs each decade and the song is still growing.
JN: Talk about your background in Australia.
TN: I grew up in a religious environment and I went to a Christian school attached to a church. It was conservative and pretty homophobic. Cub Sport's keyboardist Sam Netterfield and fell in love at the end of high school. We dated in secret for a year and at the end of that year we decided to follow the path that we were raised to follow. We planned to be friends and become dentists. I got a girlfriend and tried really hard to push against what my heart was telling me.
Eight years later after fighting it for so long, we had just finished a North American tour for our debut album. On the last night of that tour, Sam said to me, "I don't want this to ruin our friendship, but I am in love with you and I want us to be together." I told him I felt the same way.
The next week we flew home to come out to our families and friends. That opened the door to embrace authenticity and a creative vision without fear that people would find out that we were queer.
JN: What an important story to share with the world.
TN: Yes. I have spoken about it many times now, but I think about our younger selves and when we were 17. It is more than I could have hoped for that one day we would be together unashamed and on stages around the world singing songs about our love.
It all panned out and both our families have been really good with it.
The music and the songs all reflect the journey we had. After a couple of years, we became engaged and married. It has been five years this year.
JN: Congratulations! Your music chronicled all of this on your fifth album Jesus at the Gay Bar?
TN: The most recent album tells parts of that, but the main takeaway for me is a celebration for getting this far. A lot of my songwriting over the years has been processing the trauma of it all.
I was able to get out a lot of the emotions that I held down for a long time.
I wanted this album to be lighter and more fun. There is so much joy that comes with embracing your true self.
JN: This is a good month to celebrate it.
TN: We talk about Pride a lot. I remember when I first came out I was comfortable with myself and acknowledging I was gay, but I wasn't fully proud of it yet.
Now I am so happy that I am queer. It is a blessing. I can create music that is joyous to celebrate and it feels very special.
JN: Where did the name Cub Sport come from?
TN: We were originally called the Cub Scouts when we were super young. We used to wear little neckties for shows sometimes. After a couple of years, we received a letter from Cub Scouts Australia stating that we had to stop using Cub Scouts, so we changed it to Sport.
I am glad we had to change it because we feel more like Cub Sport now.
JN: There is a Cubs game right down the street from here today.
TN: I heard. Zoe is going to the game. We saw the Iowa Cubs play two nights ago and they won. It was my first baseball game.
JN: I am not a sports gay at all…
TN: Me neither. I was on my phone when the game ended and I looked up as they won!
JN: What do you tell people about the band that are not familiar with Cub Sport yet?
TN: We have a unique story and sound. I am drawn to beauty with the music that I make, but it still has an edge to it at the same time. It is very genuine, which makes it special.
JN: Your latest album Jesus at the Gay Bar is inspired by what?
TN: A poem by Jay Hulme. It talks about Jesus being at a gay bar and a boy approaches Jesus begging to be healed of his gayness. Jesus tells him, "My child there is nothing in this heart of yours that never needs to be healed."
When I read that poem and saw that depiction of Jesus after leaving Christianity so far in my past, really affected me since it was still such a massive part of my upbringing. The title of that and the message of the poem felt so fitting for the journey that I have been on of unlearning all of that shame that I took on from religion.
The setting of the gay bar for a dance album was even more fitting. I sat with the title for a year because I didn't want it to be misconstrued. I didn't want people to think we were a Christian band or that I was trying to be offensive for the sake of being offensive. It does sound controversial, but there is a deeper, genuine intention to naming the album.
It felt like the right thing and now I know it had to be Jesus at the Gay Bar.
JN: What moved you into producing this upbeat dance record?
TN: Yes, every stylistic evolution of the band has been intuitive. I have been creating music that I want to hear most and this is a new chapter.
JN: Were you influenced by other queer artists such as Olly Alexander in Years and Years or Troye Sivan?
TN: In a way. I did some writing with Troye earlier this year. and I have been a fan of his for so long. I have gotten to see firsthand how incredibly talented he is. He is lovely and I am really excited for Troye's new album that he is launching.
JN: Are you on his new album?
TN: No, but I am excited about the new album regardless!
JN: Do you know Olly too?
TN: We follow each other on socials and we played a festival together at the end of last year, but we haven't met in real life yet.
JN: I took him out to the gay bar after his show the last time he was in Chicago. Is it hard to protect your voice to hit those falsetto notes when you are out on tour?
TN: Not too much. I take care of myself when I am on tour. I try to get seven or eight hours of sleep each night before a show day. I don't party and try to eat nutritious food.
I do everything I can to give the best performance I can.
JN: What is it like traveling with your husband on tour?
TN: It makes the whole thing much easier. There is always a familiar feeling of home wherever we are.
JN: Where did you find the white outfit in the video for "Always Got the Love?"
TN: The jacket is Walter Van Beirendock, the pants are by Australian designer Sschafer and the shoes were by Maison Margiela.
JN: Did you have a stylist to make that happen?
TN: Yes, Kurt Johnson was the talented stylist for that and out of Sydney.
JN: Is the track "Keep Me Safe" a coming-out song?
TN: Yes. It is about the early days of me and Sam being together in secret. It details the complicated nature of having a secret relationship, which a lot of queer people go through when they are starting to realize they are queer and explore all of that.
The start me and Sam's relationship was all in cars because we both lived with our parents. It was the one place that we had. It is about those moments in the car and trying to have a girlfriend to throw my parents off the scent of me being gay.
When the chorus hits on "Keep Me Safe" the beat comes in and it is so euphoric. I wanted that to be the feeling of the song. There's a complicated side to it, but the overall feeling is euphoria.
JN: What are your plans for the rest of the year?
TN: We have some festivals in Australia and a big headline tour there as well. There are more overseas dates by the end of the year that have still not been announced yet.
JN: Who are your openers for the tours?
TN: We have local openers in each city for the current tour, except from Boston onward. We will have Josh Fudge on the back half of the tour.
JN: Is it hot wearing long gloves while playing a concert?
TN: Last night it got pretty hot. As summer is rolling in I was thinking of changing my tour outfit halfway through the tour. Who knows? Maybe!
Follow Cub Sport updates on tour at CubSport.com.
Interviewed by Jerry Nunn. Jerry Nunn is a contributing writer to the GoPride Network. His work is also featured in Windy City Times, Nightspots Magazine and syndicated nationally. Follow @jerrynunn